Henryk Szostak's many adventures have spanned the globe.
By John Johnston, Associate Editor
Perhaps another FMCA member has traveled more miles, visited more countries, and explored more back roads than Henryk Szostak, F85634. Perhaps not. It's impossible to say, for the Laguna Woods, California, resident cannot account for every journey he has made in his 81 years. There are just too many.
Suffice it to say that Henryk, whose last name is pronounced "SHO-stak," has seen more of this world than most of us could ever imagine. "On my epitaph, it will say 'adventurer,'" Henryk said with an accent that's part Polish, part Dutch.
His adventures as a child were the kind no one wishes for. In 1939, he was 3 years old and living in a village in eastern Poland when German Nazis and Soviet communists invaded the country, starting World War II. The Szostaks — Henryk, his pregnant mother, his father, his two brothers, his grandfather, and two uncles — were deported to Siberia by the Soviets, along with many other Eastern Europeans.
His family spent two years in a guarded labor camp, where Henryk's mother gave birth to a girl. Conditions were harsh, and food was scarce. Henryk's sister and grandfather died from malnutrition. At one point, "My older brother was actually pronounced dead. They put him in a makeshift morgue. It was horrible. But my mother took him out and gave him some hot water, some hot soup, and revived him."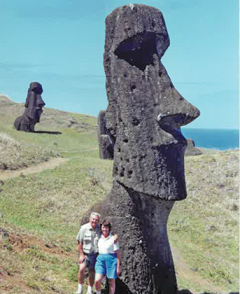 In 1941, after Germany attacked the Soviet Union, the exiled Polish government in London negotiated a deal to free the deportees. Henryk's father left Siberia to serve with the Polish army while the rest of the family traveled first to Kazakhstan, then to Iran, and then to East Africa, where they lived in a Polish refugee camp for six years.
One day while helping unload a Red Cross truck, young Henryk came across newspapers that had drawings with captions. A neighbor in the camp translated the English words into Polish. Henryk began collecting more of the drawings — which were comic strips — and they became his first glimpse into life in the United States.
"I had this dream in my mind to go there," Henryk said.
He was 11 when his family left Africa for England. There, over the next 10 years, Henryk attended school, played soccer, and earned an engineering degree. The family might have remained in England forever, but Henryk and one of his brothers lobbied hard that they relocate to the United States. "I was very stubborn on that issue," Henryk said. "I had that dream of America." The family arrived in 1957.
After two years in the U.S. Army, Henryk married, settled first in New York, then moved to Chicago and had three children. After he and his wife divorced, Henryk met Donna, a nurse practitioner, who also was divorced with three children. When they married in Hawaii in 1978 with all their kids present, it was "like the Brady Bunch," Henryk said.
The couple bought the first of their dozen motorhomes in 1981 and joined FMCA a few years later. They traveled in their coach to all 49 states in the continental U.S., often spending a portion of their winters at a Southern California RV resort. Meanwhile, as a project engineer for Abbott Labs, Henryk traveled abroad extensively.
After Henryk accepted Abbott's retirement package in 1995, he and Donna began planning long-distance motorhome trips. The first, in early 1996, was a three-month journey through Mexico and Central America to Panama. But that was just a warm-up for a 40,000-mile trek through the Western Hemisphere in 1998 and 1999.
Henryk had long admired Ferdinand Magellan, the first European to navigate what is now the Strait of Magellan on Argentina's southern tip. Henryk dreamed of going there. And so, on July 31, 1998, he and Donna left Chicago. On September 28, traveling in a caravan of six motorhomes, they arrived in Ushuaia, Argentina. The city is located on the Tierra del Fuego archipelago, nicknamed "the end of the world."
Many people might avoid such trips for any number of reasons: political instability, bad roads, the possibility of mechanical malfunctions, and concerns about health or personal safety, to name a few. Henryk and Donna were undeterred.
For the South America trip, they bought a 26-foot Lindy Type C motorhome, which they readied by adding a larger fuel tank, an air-bag suspension, a solar panel, and a rebuilt carburetor. They carried as many spare parts as possible. "Mechanics in South America and Central America are wonderful," Henryk said. "They can fix anything."
In the middle of the trip, Henryk began experiencing symptoms associated with kidney stones. He didn't panic. "I didn't want to tell my wife. But being a nurse, she knew something was wrong." After a couple of days, he passed the stone. Disaster averted.
"No matter where we went, people loved Americans," said Henryk, who abides by this philosophy: "Wear a smile on your face, don't poke your business where it doesn't belong, and you'll be just fine." It also didn't hurt that Donna speaks Spanish.
The following summer, the couple completed their eight-month trek through the Western Hemisphere with a trip to Alaska.
In 2006, Henryk and Donna sold what they thought was their last motorhome. Over the next 10 years, they continued traveling, often on cruise ships, while enjoying time-share accommodations. "We went to 125 countries, all over the place," Henryk said.
This year, they decided they missed motorhoming. So, they bought a 25-foot Forest River coach and resumed their FMCA membership.
"We love motorhome people. They are so friendly," Henryk said.
No doubt that also can be said for Henryk and Donna. Whatever city or country they visit or whatever culture they encounter, Henryk said they abide by this rule: "We are the guests. Be very respectful."
Although he has been awed by many of the places he has visited, and could have chosen to live anywhere on the globe, he has never second-guessed the decision he made as a young man. "I really believe in America," Henryk said. "I still believe it's the greatest country."
Henryk Szostak has written two self-published books. American By Choicedescribes the first 40 years of his life. Alaska To Ushuaia: 40,000-Mile RV Adventurechronicles the journey of Henryk and his wife, Donna, through South America and Alaska. The Szostaks can be reached at dorhszostak@msn.com.