Dometic Produces Record Number Of Refrigerators
In June 2017, Dometic's Industrial Parkway facility in Elkhart, Indiana, made 18,069 refrigerators for use in RVs and other mobile applications, setting a new production record. It marked the second time in 2017 that Dometic broke the record for number of units produced in a month. The previous record, set in March 2017, was 17,481 units. Before that, the record was 16,544 refrigerators produced in March 2016.
Book Highlights Hikes In Southwest U.S.
Within easy reach of Las Vegas, Nevada, are five national parks, as well as dozens of state parks, regional preserves, and public lands. The best nearby hiking destinations are featured in a new book, Base Camp Las Vegas: 101 Hikes in the Southwest (Imbrifex Books). Author Deborah Wall lives in Las Vegas and has hiked each of the routes. She identifies the ideal time of year to hike each trail to catch the best flora, fauna, and wildlife; explains how to pack for desert hikes; and points out trails suitable for families with young children. Ms. Wall also took the photographs in the book. For information, visit https://imbrifex.com.
Lazydays Tourney Raises Funds For Youth
The Lazydays Employee Foundation's Seventh Annual Golf Tournament raised more than $100,000 to support at-risk youth. The proceeds will fund children's programs in areas where Lazydays has RV dealerships: Tampa Bay, Florida; Tucson, Arizona; Denver, Colorado; and the northern Colorado communities of Loveland and Longmont.
The tournament took place May 5, 2017, at River Hills Country Club in Valrico, Florida. As the 2018 tournament draws closer, details will be posted at www.ldef.org/golf.
Thor Motor Coach Announces Expansions
Thor Motor Coach in July announced plans for new facilities and expansions of existing facilities in northern Indiana. More than a half million square feet of work space is being added, increasing the overall size of Thor Motor Coach's five Elkhart County campuses to 2.3 million square feet of manufacturing space spread across 300 acres.
*In Wakarusa, the company has purchased an existing building for Type C motorhome production and a new lamination operation.
*An addition to the Type C motorhome campus will support the Quantum motorhome line in Bristol.
*In Elkhart, a major addition to the Type A motorhome plant will make room for a second production line for some of the company's highest-volume gas-powered motorhomes.
Some 400 new employees will be hired as a result of the expansion. Plans called for production at the facilities to begin in late summer and ramp up through the end of the year.
Forest River Acquires Conversion Company
Forest River Inc. in June announced it has acquired certain assets of Battisti Customs Inc., a vehicle conversion company based in Elkhart, Indiana. Battisti produces luxury conversions on Mercedes-Benz Sprinter, Ford Transit, and Ram ProMaster chassis. The company's conversions include day-cruiser RVs, mobile offices, mobile medical vehicles, executive shuttles, and luxury shuttle buses. Battisti Customs recently doubled the size of its manufacturing facility and now operates in a 60,000-square-foot building in Elkhart.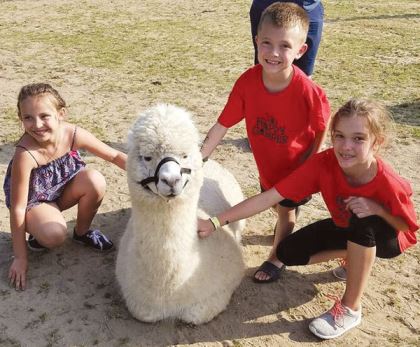 Jellystone Park Offers Petting Zoo
Among the attractions at Yogi Bear's Jellystone Park in Gloucester Point, Virginia, is a petting zoo, which recently added donkeys, alpacas, giant Flemish rabbits, and Juliana pigs, some of which were rescued. The zoo also includes miniature horses and goats. The park offers nature-oriented activities as well, among them fishing and crabbing along the Severn River, a tributary of Chesapeake Bay. This area also is popular with kayakers and boating enthusiasts. The campground has back-in and pull-through sites for RVs. For information, visit www.jellystonegp.com or call (804) 642-4316.
Upcoming RV Shows
Mark your calendar for two big RV shows.
America's Largest RV Show 
September 13 to 17, 2017, in Hershey, Pennsylvania. The show will feature approximately 1,300 RVs from nearly four dozen manufacturers, plus thousands of accessories, numerous service providers, and many educational seminars.
The event takes place at the Giant Center, 550 W. Hersheypark Drive. Admission is $10 for adults; free for children 12 and under. Five-day passes cost $30. Hours are 9:00 a.m. to 8:00 p.m. Wednesday through Saturday; 9:00 a.m. to 5:00 p.m. Sunday. Information: www.largestrvshow.com or (888) 303-2887.
The California RV Show
Set for October 6 to 15, 2017. Approximately 1,400 RVs and more than 100 vendors will set up in 1.3 million feet of exhibit space. Also planned are daily seminars, entertainment, and appearances by sports celebrities.
The event will be held at Fairplex, 2200 N. White Ave., in Pomona. Enter at Gate 9. Admission is $15; free for ages 17 and under and military families. Information: www.thebestrvshow.com.