The future was created in Detroit and Dearborn, Michigan, but the past has been preserved there as well.
By Lazelle Jones
February 2017
Henry Ford's Impact
Seventy years after his death in 1947, Henry Ford's impact on the world endures. Born in 1863 on a Michigan farm, he singlehandedly changed the rules of mass production, taking efficiency and increased capacity to unprecedented levels.
No matter what time of year you visit the many sites related to Ford in Detroit and Dearborn, Michigan, you'll learn amazing things.
The Model T
One case in point is the Model T Ford automobile. Initially, a single Model T was built every 12 hours. Following Ford's rethinking of the manufacturing/assembly processes, production time was reduced to one vehicle every 93 minutes. Today at the Ford River Rouge Complex, where the F-150 pickup truck is built (it's the most popular vehicle in America), a new unit rolls out ready for shipment to dealers every 60 seconds. Amazing!
Henry Ford was an enigma in many ways. On one hand, he improved upon mass production techniques. In many circles, however, the factory process was considered to be dehumanizing, for every worker became just another cog in a giant machine. At the same time, Henry Ford looked in the rearview mirror and seemed to long for the days when things were simple and uncomplicated and individualism reigned king. In Ford's mind, the man of yesteryear was a kind of "noble savage" who was left to his own genius and initiative.
Dehumanizing or not, Ford's new production methods created jobs and meant that the average person could afford more and more manufactured goods. A lower cost per unit resulted from the economy of scale. In 1908, a Model T Ford could be purchased at a dealership for $825. By 1912 the retail price had fallen to $575. By 1927 when the Model A was introduced, Ford's savvy at mass production coupled with his highly competitive nature had the basic Model A retailing for $385. That's astounding, even in 1927 dollars. (The price would be $5,349 in 2016.)
Ford In Detroit
We start with two spots in Detroit that reveal different aspects of Henry Ford.
Begin where it all began: the Ford Piquette Avenue Plant, which houses the Model T Automotive Heritage Complex. This building was home to Henry Ford's first manufacturing facility after he formed Ford Motor Company in 1903.
The building is three stories high; its exterior walls are replete with window upon window, for electric light was in its infancy, and the workers relied upon the sun. At Piquette, Ford built a series of "letter'' cars — Model A, Model B, Model AC, and so on — before finally settling in 1908 upon the Model T. Twelve thousand were built in 1909 at Piquette. By the end of the year, the company had outgrown the Piquette factory and production was moved to Highland Park. Studebaker then bought the Piquette plant from Ford.
Today all three floors are lined with antique automobiles, not only Ford vehicles of every ilk, but also antique makes and models from other manufacturers.
Check out Ford's personal office upstairs. It was only sparsely furnished, perhaps surprising for such a wealthy man. You can ride the old freight elevator that once hoisted Ford up and down the three levels.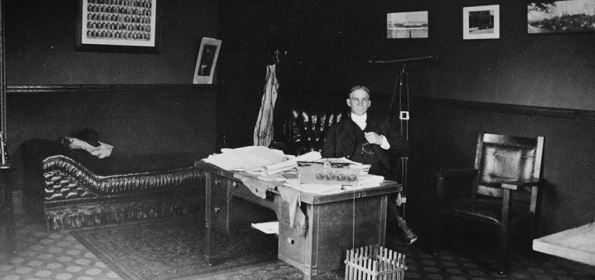 The plant is a National Historic Landmark, and in keeping with its original attributes, it does not have air-conditioning or heating. Time your visit accordingly, or simply be sure to dress for the weather. Admission is charged, and parking is available in the area. For more info: www.tplex.org; (313) 872-8759.
This area of Detroit also hosted other automobile plants, such as Cadillac, Dodge, Packard, and many others that did not survive or that live on in name only. Those were the Darwinian days of the automobile and the "survival of the fittest."
Detroit Industry Murals
At the Detroit Institute of Arts, we face a question. How was it that an avowed Communist named Diego Rivera was paid by Henry Ford's son, Edsel, to paint the frescoes known as the Detroit Industry murals? The answer may surprise you. In the early 1930s, the Soviet Union was enamored by Henry Ford's mass production techniques and Rivera had just returned from Russia. During a short window of goodwill, Edsel Ford, a museum benefactor, paid for Rivera's commission; the rest is history.
Today the 27 fresco panels, created between 1932 and 1933, are seen on the walls of an inner court. Rivera considered them to be some of his best work. Look carefully and you will find depictions of Edsel Ford and Rivera in different murals.
The museum offers plenty more to see, of course, and boasts more than 100 galleries. It even includes Vincent van Gogh's famous "Self Portrait." Info: www.dia.org; (313) 833-7900. Parking is available in the area; call for details.
Ford In Dearborn
A few minutes west of Detroit in Dearborn is the massive River Rouge Complex, where Ford F-150 pickup trucks are built.
The guided tour begins in a museum of iconic Ford vehicles, from which you travel to the observation floor for a panoramic view of the facility, including steel mills off in the background, and docks where lake freighters would offload raw materials (coal, iron, wood, etc.) used to build vehicles. (The Rouge River was widened to accommodate the huge boats.)
Ford didn't want to rely on vendors to supply parts and components, and the River Rouge Complex was his answer. He bought land along the river in 1915, and by the late 1920s, production at the complex included not only Model A cars, but also materials the vehicles required, such as glass and steel. He even built a power-generating plant. During World War II, the River Rouge Complex was quickly converted to build equipment for the war.
The observation deck offers a view of roofs in the compound, which are covered with low-maintenance vegetation that absorbs rainwater. The rain is soaked up and then, like a time-release capsule, is gradually released into the storm drain system below, helping to prevent flooding. Periodically, power mowers groom the rooftops. A display of the rooftop material includes a detailed explanation of how it's designed and how it works.
You're now off to see what you came here to see: the high-tech assembly line. As you walk along catwalks, you witness below the birth of new trucks, followed by the road test that each new F-150 undergoes. It's an impressive sight.
Additional Info
River Rouge Complex tour tickets are purchased at the Henry Ford Museum, which is next door. Park at the Ford Museum/Greenfield Village lot; tourists are then bused to the Rouge plant. The tour is offered every day but Sunday.
The Henry Ford Museum hosts one of the best antique and classic automobile collections anywhere, but it is so much more. Henry Ford believed that the items people make help others to understand history. So, the collection, on display since 1929, showcases transportation (autos, trains, planes, etc.); all types of engines; appliances; gadgets; and much more. It all documents what Ford saw as the genius of America.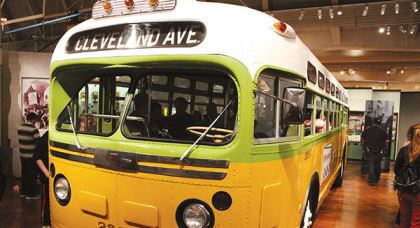 The thousands of captivating items include presidential limousines used by John F. Kennedy and Ronald Reagan; the rocking chair President Lincoln sat in when he was assassinated at Ford's Theatre; a camp bed George Washington used; and Henry Ford's first successful automobile from the 1890s. Visitors can even board the city bus that Rosa Parks rode when she refused to go to the back!
The museum is open seven days a week, year-round.
Greenfield Village
Next to the Henry Ford Museum is the beautiful (and huge) Greenfield Village. Nearly 100 buildings line avenues and streets, with homes and businesses dating back to the 1700s. These are actual historic structures, not reproductions; they were taken apart at their original locations and then carefully rebuilt at Greenfield. The extensive list includes the Wright Brothers' birthplace home and bicycle shop; Thomas Edison's Menlo Park Laboratory; Noah Webster's home; and a courthouse where Abraham Lincoln practiced law, among others.
Visitors can walk the tree-lined thoroughfares, take a horse-drawn carriage for a guided tour, ride a steam locomotive that makes stops in the village, or cruise in one of the Model T cars chauffeured by period-dressed docents.
If you're hungry, you can step back in time to 1831 and experience the delicious food served at Eagle Tavern, which also was moved here from elsewhere. The menu is reminiscent of the fare served when this was a stagecoach stop in the early- to mid-1800s.
Because the village is an outdoor museum, it is closed in winter. In 2017, it is open April 15 to October 29. Greenfield Village, the Ford Museum, and the River Rouge Complex have separate admission fees, but they all share common parking areas. Note that the lots fill quickly on busy days, and parking costs $6. For more info about all three locations, visit www.thehenryford.org or call (800) 835-5237; (313) 982-6001.
Pay all of these Detroit and Dearborn destinations their just due. It's time well spent. You will be impressed by Henry Ford's contributions to the country and, indeed, to the world.
Further Info
Detroit Metro Convention & Visitors Bureau
211 W. Fort St., Suite 1000
Detroit, MI 48226
(800) DETROIT (338-7648)
(313) 202-1800
www.visitdetroit.com
RV Camping
This is a sampling of area RV parks. For more listings, check your campground directory, or see the RV Marketplace at FMCA.com.
Detroit/Greenfield RV Park
6680 Bunton Road
Ypsilanti, MI 48197
(734) 482-7722
www.detroitgreenfield.com
Haas Lake Park
25800 Haas Road
New Hudson, MI 48165
(248) 437-0900
www.haaslakepark.com
Wayne County Fairgrounds
10871 Quirk Road
Belleville, MI 48111
(734) 697-7002
www.waynecountyfairgrounds.net/Camping