A primer on RV sealants and procedures that will keep your motorhome watertight and airtight. 
By Mark Quasius, F333630
January 2017
No motorhome owner wants water to leak into the coach, a situation that can lead to rot, mold, and damage to the interior surfaces. What's more, water leaks can be difficult to correct, because finding the intrusion point can be a challenge. Most leaks occur because a sealant has failed.
Preventing water intrusion is just one of the important tasks of sealants, which are applied at the joints and seams where a motorhome's many materials and pieces fit together. As a motorhome is driven, it flexes and twists somewhat, and its joints and seams give a bit. Sealants also help to prevent squeaks and rattles as joints flex; to stop air leakage; and to block exhaust gases and holding tank fumes from entering the coach.
Sealants do not last for the lifetime of the motorhome. They wear out, and proper inspection and maintenance are necessary to ensure that they continue to perform their assigned tasks. However, not all sealants are alike. It's important to use the correct sealant for each application.
Types Of Sealants
Many sealants are packaged in tubes and are dispensed from a caulking gun or a small roll-up tube. Such sealants cure upon exposure to air or contact with moisture vapor. As long as they remain in their sealed container and do not exceed their shelf life, they stay in their uncured state and ready for use.
Sealants such as butyl tape or rope caulking are commonly found on rolls with a paper liner. They don't require curing, although they can dry out if kept too long.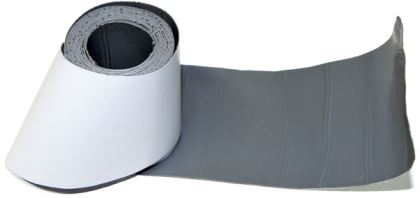 Some sealants are dispensed from foam guns or disposable aerosol cans; they generally have excellent insulation properties and can be used to seal large gaps.
Rubber weather stripping is a sealant that prevents water intrusion as well as air leakage; such sealants often are self-adhesive and feature peel-off backing.
A number of sealants in tape form are available as well. Many are useful for temporary repairs, although some tapes, such as EternaBond, can be virtually permanent.
Elastomeric sealants have elastic properties and can be natural, such as natural rubber, or synthetic, such as butyl rubber or neoprene. A sealant must have some flexibility to be effective; a hard, inflexible sealant will crack and shear when subjected to the stresses of normal travel. A bit of flexibility allows a small amount of movement without breaking the seal. Of course, different applications require different levels of flexibility, so it's important to choose the proper sealant for the task at hand.
Selecting The Proper Sealant
Flexibility is one consideration when determining sealants for a particular application. Although it might seem best to choose a product with the highest tensile strength, those sealants generally consist of stiff materials that don't absorb stress very well. A high-tensile-strength sealant is more of an adhesive than a sealant. If the substrates don't move, the sealant has higher clamping forces to hold two pieces together. For most RV applications, that isn't necessary. Low-modulus sealants are highly flexible (elastic) and don't tear or shear easily. In places where two surfaces tend to move a bit, a low-modulus sealant is the best choice.
Sealants also have sag properties. High-sag sealants are almost liquid-like and flow easily. Self-leveling sealants are commonly used on roof-mounted items such as skylights, vent fans, and vent pipes. Such sealants, which typically are dispensed from a caulking gun, conform to the area being sealed and are an excellent choice for sealing mounting flanges and for covering mounting screws. But self-leveling sealants would be a bad choice for a vertical seal on a coach sidewall, such as a window frame. The sealant would sag and run down the side before it cured. Those types of applications require a low-sag sealant.
Sealants also have adhesive properties that, like glue, determine how tightly a component adheres to a surface. Some sealants, especially high-modulus types, flow and cover well but have minimal adhesive qualities. Sealants such as butyl tape have higher tensile strength and don't flow as well but are perfect in certain applications, especially when used in combination with a self-leveling sealant.
Examples of such applications include a motorized satellite dish or a vent fan. A layer of butyl tape is applied beneath the device's mounting flange, which is then placed on the motorhome roof. Screws fasten the device to the roof. The butyl tape helps seal the base of the unit against water penetration and provides a firm mounting. Finally, a layer of self-leveling sealant is applied over the top of the flange, sealing the screw heads as well as the exterior rim of the flange.
Many sealants cure by exposure to air, but some cure by exposure to atmospheric moisture. This includes foam sealants used on pipe penetrations, wiring loom entry points, or gaps in a motorhome's basement area. To improve adhesion and reduce cure time, many foam manufacturers recommend misting the area with a small spray bottle of water before applying the foam.
When choosing a sealant, perhaps the most important factor is matching the sealant to the substrate's material. Motorhome roofs come in many types. Determine whether your roof is natural rubber, ethylene propylene diene monomer (EPDM), the newer thermoplastic olefin (TPO), aluminum, or fiberglass. A sealant will fail if it is not designed to be used with the roof material.
Sealants Wear Out
Nothing lasts forever. In the case of sealants, not very long indeed. Chalk it up to the time spent baking in the summer sun, getting windswept at highway speeds, and enduring falling tree debris when the motorhome is parked. Regular inspection is critical to detecting sealant problems. In fact, the warranties for most RV manufacturers require service inspections every six months. This means getting up on the roof of the motorhome, so if you're not comfortable with that, be sure it's part of the regular service performed at your favorite RV dealer or service center.
To determine the condition of sealants, first clean the coach to remove accumulated dirt. And, yes, this includes the roof, to a reasonable extent. When inspecting, look for sealants that are not adhering to the roof or sidewall, or sealants that are cracking, peeling, or missing segments. If you find these conditions, determine the type of sealant you need and obtain that product before proceeding.
Applying new sealant over old is just asking for trouble, so the next step is to remove the old sealant and clean the surface before resealing. You'll need a few tools, primarily a utility knife, a razor blade scraper, and a putty knife. Even old, dried-out sealants can make a mess on your hands, so disposable gloves are a good choice, and you'll also need them when you apply new sealants. In addition, you'll need paper towels, a ladder for access to the roof, and a bucket for the old sealant. Once the old sealant has been removed, most surfaces can be cleaned with denatured alcohol. This ensures a perfectly clean surface for the new sealant to adhere to.
Proper Application
Sealants flow best and cure at warmer temperatures. Therefore, unless you are in a climate that is warm year-round, or you have access to a large heated indoor space, it's best for the inspection and application of new sealant to happen when you don't have to worry about cold weather.
Butyl tape is commonly applied beneath mounting flanges to prevent water from seeping in. It's important to place the tape completely around the flange with no gaps, so be sure to pinch the ends together to make a continuous ring of sealant. Sealant that is applied from caulking guns or squeeze tubes should be laid in a pattern to ensure adequate coverage. Self-leveling sealants often are applied on roofs to cover screw heads on a mounting flange and to provide a seal around the flange itself. Fortunately, such sealants flow well, so once enough sealant is on those areas, it levels itself out and looks much better than when first applied.
Vertical beads, such as around window frames, require a low-sag sealant that won't run down the sidewall. Operating a caulking gun with a manual trigger is a bit of an art form. The bead should flow smoothly, evenly, and consistently, without interruption, so that it looks good when finished. Another concern is ending the bead. Most basic caulking guns don't release the pressure when you let go of the handle, which can result in a glob at the end of the bead. The job is easier with a cordless electric or pneumatic caulking gun, because you don't pump the handle as you lay the bead, and the plunger automatically retracts when you let go of the trigger.
To ensure a good seal, use painter's masking tape next to the area where the bead will be. Then apply caulk and use your finger to smooth out the bead. Any excess will spill onto the masking tape; when the tape is removed, you have a nice, consistent bead.
Rubber Seals
Slideouts and basement cargo doors rely on rubber weather stripping to create a weather-tight seal. It's important to inspect and maintain these seals. Rubber basement seals can dry out over time, so apply a coat of silicone spray with a rag to extend their life. When slideouts extend or retract, the slideout seals can get noisy as they rub against the slides. Some manufacturers recommend rubbing baby powder on the seals to prevent them from sticking. This is best accomplished with a duster on a pole to allow you to reach over the tops of long slideouts. Check with your motorhome manufacturer to determine whether a specific spray lubricant is recommended.
Common Sealants
Not all sealants are applicable to the RV industry. Noteworthy suppliers include Dicor, Sikaflex, and Geocel, among others.
Dicor Ultra Sealant is designed for TPO roofs. Your motorhome manufacturer can tell you the roof type, or you can figure it out yourself by looking at the bottom side of the roofing material. To do so, remove the inside shroud of a roof vent fan. A few screws hold the trim piece to the ceiling; the roofing material generally is tucked into the sides of the rough opening. TPO roofing is the same color on the top and bottom, while EPDM roofing is white on top and black on the bottom. Dicor Ultra Sealant is self-leveling and works great for sealing penetrations on TPO roofs.
Dicor Butyl Seal Tape, BT-1834-1, typically is used on roof vent flanges, furnace exhaust ports, etc. It lies beneath the flange, creating a watertight seal.
Dicor Lap Sealant 501LSW is self-leveling and designed for fiberglass roofs. It's perfect for roof vent flanges, skylights, or other roof penetrations, such as air horns, plumbing vents, etc. It flows well and easily covers mounting screws as well as the flange edge.
Dicor Lap Sealant 551LSW is non-self-leveling with low sag properties. It is designed for vertical surfaces, such as roof ladder mounts, window frames, or areas where a self-leveling sealant will not work.
Sikaflex-252 is an elastic bonding adhesive. It bonds and seals, has excellent gap-filling properties, and compensates for loose tolerances. It's strong enough to sharply reduce, or even replace, welds, rivets, screws, and bolts. It bonds to a wide variety of substrates and quickly develops bond strength, which reduces clamping time.
Sikaflex-221 is a high-performance, no-sag polyurethane sealant that cures on exposure to atmospheric moisture to form a durable polymer. It has high adhesive strength.
Sikaflex 219-LM is a low-modulus elastomeric polyurethane sealant, similar to Sikaflex-221 except that it has excellent flexibility to hold up during joint movement.
Silicone has a number of drawbacks. It can be used as drip caps on window frames, but it doesn't hold up for long and is more cohesive than adhesive; silicone doesn't adhere well to many surfaces.
Geocel Pro Flex RV Flexible Sealant is a nonsilicone product specifically designed for RV applications such as windows and body trim. Unlike silicone, it can be exposed to adverse weather conditions right after application. It has excellent expansion and contraction properties to withstand the joint movement and temperature changes associated with RVs. It bonds to many materials, even damp or slightly oily surfaces. It stays flexible and is mildew resistant. It is not to be used on Styrofoam, TPO, EPDM, or acrylic skylight glazed surfaces.
NuFlex 311 RV Self-Leveling Silicone Sealant is designed to seal joints when installing roof vents, skylights, etc. It can be used on fiberglass, aluminum, and TPO roofs.
Alpha Systems 1021 is a self-leveling, high-solids sealant for horizontal applications such as roof vents, skylights, etc. It is paintable and resists sunlight, rain, ice, heat, and cold. It withstands temperatures down to minus 65 degrees Fahrenheit and up to 250 degrees Fahrenheit. The flexible sealant resists shocks, vibration, and stress, as well as chemicals, oil, fuel, grease, and salt.
EternaBond RoofSeal tape is the best known of EternaBond's sealant products. It's available in roll widths of 2 inches, 4 inches, and 6 inches. Once the backing is removed from the self-adhesive side of the tape, it will stick to anything — EPDM, TPO, and fiberglass, as well as old caulk. It can be used as a quick repair or as a permanent fix anywhere it's not visually intrusive, such as on a roof.
Summary
Remember, sealants don't last forever, so motorhome owners should inspect them regularly. When it's time to replace a sealant, first remove the old product and then thoroughly clean the area before applying new. Also make sure you have the correct sealant for the job.
Further Info
Dicor Corporation
2965 LaVanture Place
Elkhart, IN 46514
(800) 837-2059
www.dicor.com
Sika U.S. (Sikaflex)
201 Polito Ave.
Lyndhurst, NJ 07071
(800) 933-7452
www.usa.sika.com
Geocel LLC
2504 Marina Drive
Elkhart, IN 46514
(800) 348-7615
www.geocelusa.com
Alpha Systems LLC
5120 Beck Drive
Elkhart, IN 46516
(800) 462-4698
www.alphasystemsinc.com
EternaBond
175 N. Archer Ave.
Mundelein, IL 60060
(800) 248-4010
www.eternabond.com
Nuco Inc. (NuFlex)
150 Curtis Drive
Guelph, ON N1K 1N5
(800) 853-3984
sealants.sealantcentre.com