By John Johnston, Associate Editor
September 2017
Why do you own an RV?
Ask that of Derrick and Elizabeth Rodriguez, F460755, and like many motorhome owners, the couple from suburban Savannah, Georgia, will tell you they value spending time together as a family; they enjoy sight-seeing; and they like being able to travel with their pet, a Chihuahua named Tic Tac.
But there's more to it than that. To understand why Derrick and Elizabeth bought their first motorhome three years ago requires some backtracking. Start with Derrick's childhood dream: He wanted to fly.
Derrick grew up in the Bronx in New York City. As a young man, he took flying lessons and earned basic pilot certification. After moving to Miami, Florida, because flying was less expensive there, he met Elizabeth. Sparks flew. And so did the two of them.
"He took me flying over the Everglades in a little Cessna," Elizabeth said. "He'd make me have heart attacks up there."
"I'd just do practice maneuvers," Derrick explained.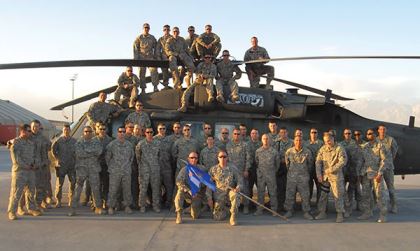 Obviously he didn't scare her off. They married in August 1992, eight months after Derrick joined the Air Force, intent on serving his country as a pilot. But despite his civilian flying experience, the waiting list for Air Force flight training was long. Too long. He finished his bachelor's degree in professional aeronautics, then transferred to the Army, which promised to train him immediately as a helicopter pilot.
That year, 1995, the first of the Rodriguezes' children, Kayla, was born. Derrick missed the birth because he was in flight school. A second child, Adrian, arrived 10 years later.
The Army kept its promise. Within a year, Derrick was flying helicopters. First, a Bell 206, followed by a Bell UH-1 "Huey," and then a Sikorsky UH-60 Black Hawk, a four-bladed, twin-engine transport and air assault aircraft. Over a 17-year Army career, Derrick logged overseas stints in South Korea, Germany, Iraq, and Afghanistan.
As Afghanistan's 2009 presidential election neared, Derrick was part of an Army team assigned to protect voters against a Taliban attack. One day, as his Black Hawk hovered in a dust cloud shortly after delivering U.S. troops to a polling station, a mortar round detonated just outside the helicopter door. The explosive force bowed in his window.
"All hell broke loose," he said. "I saw tracer rounds everywhere, and we heard explosions." Fortunately, all U.S. troops on the ground and in the air escaped that day without suffering casualties.
On another occasion, Elizabeth, at home in Savannah, was speaking with Derrick by phone after he had returned to his Afghanistan base for the night. Suddenly, she heard shouting in the background, "Enemy fire! Take cover!"
Derrick said, "I gotta go" and dropped the phone, but he didn't hang up. The phone stayed on as Elizabeth listened to the sounds of chaos unfolding 7,000 miles away. Her mind raced: "Should I hang up? Will this be the last moment I share with my husband? If the worst happens, how will I tell our children?" She kept listening until Derrick picked up the phone and said he was safe.
While putting his life on the line for his country, Derrick missed many of the milestones people take for granted: the birth of his first child, birthdays, anniversaries.
"That's why we go RVing," he said. "To catch up on all the family time I've missed."
In 2012, Derrick retired from the military. He was a skilled pilot who still wanted to fly, so he took a job with Air Methods Corporation, a private company that provides air medical transport. The Bell 407 helicopter he now flies is much smaller than a Black Hawk. It's like switching from a Cadillac to a Smart car, he said. The crew typically consists of Derrick, a registered nurse, and a paramedic, with room for a patient on a stretcher.
"I served my country for 20-some years," Derrick said, "and now I get to serve the community."
About half of his flights involve transferring patients from one hospital to another. The rest are emergency calls, such as vehicle accidents, fires, and crime scenes. Sometimes he can use a hospital helipad or an airport runway, but makeshift landing spots are common: a beach; a baseball field; a homeowner's yard; parking lots; interstate highways; farmers' fields.
Although Derrick no longer flies in combat zones, Elizabeth still worries. There's always a chance something could go wrong. Wires and poles can be hazardous, especially with reduced visibility at night. Derrick counters that by wearing night vision goggles.
Derrick often is a witness to a tragedy's aftermath. "He comes home, and the (situations) that hurt him the most are the little babies. Those are the ones that get to him and choke him up," Elizabeth said. "His line of work makes him realize how fragile and how short life can be."
And that, too, is why the Rodriguez family goes RVing.
Derrick didn't want to wait until retirement age. "Tomorrow's not guaranteed for anybody," he said. "Doesn't matter your age."
Elizabeth, who grew up in Homestead, Florida, has fond childhood memories of camping with her grandmother. Derrick, on the other hand, said his only previous camping experience was in the Army, "and they definitely don't make it fun."
But it was Derrick who first broached the idea of getting an RV. A friend got him interested. That friend, Hector Rodriguez (no relation), also is a former Army helicopter pilot. Hector is an FMCA member now, too.
Elizabeth recalled: "We were looking at pop-ups, and the next thing we knew, we were driving away with a Type A (motorhome)!"
That was in 2014. Last year, they traded it in for a new 34-foot Fleetwood Bounder. Derrick's work schedule — 12-hour shifts, seven days on, seven days off — is tailor-made for short trips. And taking a weeklong vacation gives the family three weeks of RV time.
So back to that question: Why own an RV?
"Live the life you love," Elizabeth said. "That's what I'm always telling everybody." Such is the well-earned perspective of the Rodriguezes, whose pursuit of happiness is linked to sacrifice and service.