The central part of the Bluegrass State presents travelers with unbridled fun.
By Kathleen Byrne
Kentucky is a wonder! It's a relatively small state but is blessed with such variety. It has an abundance of natural beauty; history and architecture as old as the nation; and a famous horse race at Churchill Downs each May.
Kentucky has about 40 state parks, many of which offer RV camping. And the camping season starts earlier and continues longer in the Bluegrass State than farther north. The following three parks are within easy driving distance of each other. Keep in mind, though, that traveling between them will require getting off the interstates.
The roads of central Kentucky are nicely paved, with rolling hills and mostly gentle curves. Frequently you'll see passing lanes or four-lane stretches. When driving, be especially vigilant for deer, particularly in the early evening.
Kentucky Horse Park, Lexington
Horses have long been associated with the Bluegrass State. With famous racetracks such as Churchill Downs and Keeneland, and white-fenced horse farms where famous equines live, the state is worthy of its reputation.
Kentucky Horse Park is a must-see for anyone, horse lover or not. Not only is this place rich in Kentucky horse history, but it celebrates and preserves these majestic creatures.
Entering the park is like stepping onto sacred ground. Greeting the visitor are life-sized statues of Man O' War and Secretariat. The former was America's first superstar racehorse, winning 20 of his 21 races (one by 100 lengths). Secretariat was the 1973 Triple Crown winner. Both racehorses, born and reared in Kentucky, coincidentally, bore the nickname Big Red. Their beautiful bronze likenesses are frequently visited by camera-wielding fans. Thirteen additional bronze statues throughout the grounds honor other equine legends.
The park is so much more than a tribute to long-gone heroes. Admission gives you access to the world-renowned International Museum of the Horse, a Smithsonian affiliate; the American Saddlebred Museum and its wonderful gift shop; and the Wheeler Museum, housing equipment and photos that focus on show jumping.
Between March 15 and November 5, 2017, the park is on its summer schedule, which adds many activities to the above museum visits. You can take a horse-drawn trolley around the grounds, and you'll want to see live equine presentations that are offered throughout the day.
One of the most popular daily shows takes place at the Breeds Barn, where almost 30 breeds, representing many countries, live and perform. (Seven more breeds can be seen elsewhere in the park.) The show selects different horses daily and highlights the specific breeds as they parade in colorful costumes appropriate to their native lands. It is always a popular and well-attended show.
At the Hall of Champions, visitors can come eye-to-eye with current American legends and winners of various races; these include thoroughbreds, American quarter horses, pacers, and trotters. Giving them a pat on the neck will make your day.
If you have little ones traveling with you, be sure to head to the Kids' Barn, where youngsters can work off some energy and learn about horse grooming, among other things. It is a lot of good fun.
Not everything at the park is child's play. The first-rate facilities often host world-class competitions. An all-day dressage contest was under way when we visited; tension filled the air as hundreds of well-groomed horses and their riders performed for prizes.
Several restaurants, coffee shops, and gift shops are on the horse park grounds. Leashed dogs are permitted to walk the grounds.
Kentucky Horse Park is a wonderful tribute to all horses and is a one-of-a-kind park. Visitors come from all corners of the world, soaking in the history, knowledge, and love of this majestic animal. You will quickly learn that one visit is not enough.
Camping here: Kentucky Horse Park has a popular campground with 260 spacious, paved sites. All feature fire rings and picnic tables. The sites have electricity and water, although the water is turned off during the winter months. Two dump sites are located near the exits. This pet-friendly motorhome park also features a swimming pool and ball courts. A hiking/biking trail starts here and extends 12 miles to downtown Lexington. The campground phone number is (859) 259-4257; reservations are permitted up to a year in advance. Online reservations are encouraged at www.kyhorsepark.com.
Further info: Kentucky Horse Park is open daily from 9:00 a.m. to 5:00 p.m. between March 15 and November 5, 2017; parking is $5. The admission fee includes two consecutive days of entry; admission is $20 for adults, $10 for children 6 to 12, and free for children 5 and under. Rates and operating times are reduced in the winter season. For more info, contact (800) 678-8813, (859) 233-4303; www.kyhorsepark.com.
My Old Kentucky Home State Park, Bardstown
From Lexington, journey west about 60 miles to Bardstown, site of Federal Hill, a gracious Federal-style home completed in 1818. It's now part of My Old Kentucky Home State Park, 290 acres adorned with old oak trees; walled gardens; and spacious, grassy areas.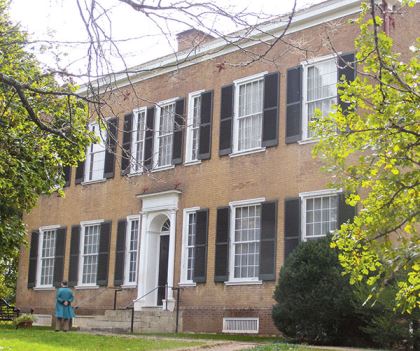 Federal Hill was the family home of John Rowan, who served with distinction as a Kentucky court of appeals judge and a U.S. senator. But it's most closely linked to Rowan's cousin, songwriter Stephen Foster.
Foster (1826-1864) is considered the father of American popular music. He was a frequent visitor and guest at Federal Hill. The composer of "Oh! Susanna," "Camptown Races," "Old Folks At Home (Suwannee River)," "Beautiful Dreamer," and many more classic tunes penned the Kentucky state song, "My Old Kentucky Home," in this house. Foster's writing desk is one of the highlights of the tour.
The house is a solid foursquare noted for its large windows, elaborate wood carvings, and graceful central staircase. On the main floor are a dining room, a parlor, and the judge's library. The upper floors contain bedrooms.
Outside the home one finds the kitchen, smokehouse, and storage buildings. Tour guides, dressed in authentic period clothing, are thoroughly knowledgeable about the house, family, and Foster's music.
The grounds at My Old Kentucky Home State Park invite a visitor to slow down and enjoy an immersion into a bygone era. Shady oak trees cover the grounds and line the walkways, expansive gardens overflow with a multitude of colors and scents, and sunny spots beckon as the perfect place for a quick game of Frisbee or a short nap. Throughout, you can hear Foster's songs being played on a nearby carillon. It is a lovely place to spend a day.
See the musical! Tucked into a corner of My Old Kentucky Home State Park is the amphitheater that hosts a musical called "The Stephen Foster Story," which has been presented for nearly 60 years. The show has beautiful costumes and settings, high-energy dancing, and dozens of Foster's songs. It's a perfect finale for your time in Bardstown. The musical is offered June 10 through August 12 in 2017; to book tickets, visit www.stephenfoster.com; or call (800) 626-1563.
Camping here: A campground is at the back of the state park grounds adjoining the golf course. It has 39 sites scattered along a looped road under large, shady trees. Most of the sites are electric only; a few have full hookups. The campground furnishes showers, rest rooms, and a dump station. A dog park is located directly across the road. And the Kentucky Bourbon Center is about a mile from here. The campground opens March 15 for the season.
Further info: The park has a visitors center and large gift shop where you may purchase home tour tickets. The Federal Hill home is open daily from March 16 to December 30; admission is $10 for adults, $9 for seniors and youth ages 13-18, and $7 for children 6 to 12; free to kids 5 and under. For more information about the park and campground, call (502) 348-3502 or visit www.parks.ky.gov/parks/recreationparks/old-ky-home/.
Green River Lake State Park, Campbellsville
From Bardstown, it's a 44-mile drive south to Green River Lake State Park. This place has been called a recreational paradise, with good reason. The 8,200-acre man-made lake, which opened in 1969, provides ample opportunities for outdoor pursuits.
The water is remarkably clear and warm, the beaches wide and sandy, and the shore tree-lined and shady. Swimming is a must here; the gentle downslope into the water will calm even the most timid. As one would expect, boating reigns here; pleasure craft, speedboats, and water skiers are all welcome and have space to play.
Fishing is, naturally, rigorously pursued at Green River Lake. The lake is generously stocked with bass, bluegill, crappie, catfish, and muskie. If you do not own a boat, that is no problem; they may be rented at the marina, along with pontoons, jet skis, and ski boats.
For a change, you may want to pick a cabin to rent for a while. Some are right along a pier, and look inviting and relaxing. The marina offers a restaurant, an ice cream bar, and a gift shop.
Off the water, the state park includes 28 miles of multiple-use trails for hikers, bicyclists, and horseback riders. Swings, slides and other playground activities are available for the younger ones. A miniature 18-hole golf course can be enjoyed by all ages.
An information/administrative center is just down the road from boat dock 1, where pamphlets, photos, and updated information on trails and water conditions can be obtained. The expansive grounds also feature a covered picnic area and a playground for active toddlers.
Near Green River Lake, but not included in the state park, is the Civil War battle site of Tebbs Bend/Green River. The drive along Tebbs Bend Road reveals informative plaques at battle sites, the location of a former hospital (near the information/administrative center), and a small but well-organized and maintained Confederate cemetery.
Green River Lake State Park is a special place for the outdoor recreationalist; come for a good, vigorous workout on the trails or relax on the pristine waters.
Camping here: Green River Lake State Park has a 156-site campground right at the water's edge, with a grocery store, dump station, laundry room, and three buildings housing showers and rest rooms. It's open year-round; reservations are accepted from April through October.
Further info: Admission to Green River Lake State Park is free. For more info, visit www.parks.ky.gov/parks/recreationparks/green-river/, or call (270) 465-8255.