Each January, the Blythe Bluegrass Festival attracts RVers in search of a toe-tapping good time.
By Maggie Kielpinski
November 2017
We've always bypassed Blythe, California, on our way east to somewhere else. I admit that rather reluctantly, because the countryside on either side of Interstate 10 feels bucolic, with emerald fields of alfalfa that stretch to a ring of purple mountains, rough-sawn and rugged for all their CinemaScope-like grandeur. The Colorado River created all this prosperity, its life-giving water siphoned from turquoise reservoirs as it snakes through this sleepy farm town.
Aware that farming is a dicey, implosion-prone proposition, the people of Blythe have worked hard to build a tourist-friendly town in a low-key sort of way. It is a haven for snowbirds from the north, who wait out the worst three months of winter on the warm, sun-blessed banks of the river. Not in the numbers that flow into Quartzsite or Yuma, Arizona, but enough to generate a little more economic heft.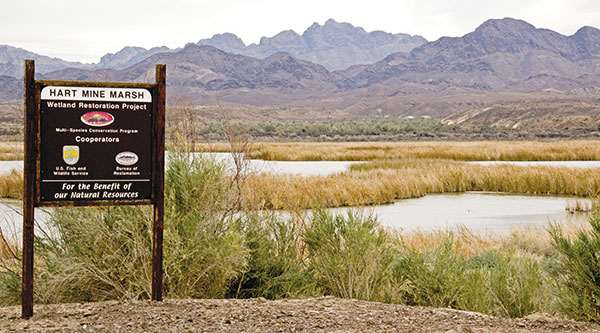 In this perennially sunny clime, outdoor recreation is the norm and the Colorado River and its many irrigation canals offer great fishing, while the Cibola Valley Conservation and Wildlife Area supports duck hunting and dove hunting in season.
The Colorado River Fairgrounds in Blythe is an elaborate venue for a small farm town. Throughout the year it features classic small-town events like fish fries, a farmers ball, the county fair, and the Blythe Bluegrass Festival. The festival takes place every year on the third weekend in January.
Our friend Bill asked us to meet him at Steaks 'n Cakes, a local diner, on the Wednesday afternoon before the 2017 festival started. Bill has carved out a routine as he follows bluegrass festivals while living in his blue-on-blue Lazy Daze motorhome. The Blythe Bluegrass Festival is one of his favorites. It is a convenient stop between Indio, California, where FMCA's Western Area holds its annual rally (set for January 10-14, 2018) and Quartzsite, just across the border in Arizona. Our small group of RVers met at the café and then caravanned to the Colorado River Fairgrounds early enough so that we could park together. The Blythe Chamber of Commerce has outlined an RV city of rectangular gridwork that accommodates hundreds of campers.
"Now, wait a minute," I can hear you thinking already. "Dry camping in a gravel parking lot in the middle of the California desert? That's fun?" Well, it is if you like bluegrass music. And if hookups are a daily requirement, a plethora of RV parks with those and other amenities are located within 3 miles of the festival grounds. But we like to be where the action is, to soak it all in through our pores, so to speak. We can awake in the morning to a feisty bluegrass breakdown and slip into sleep at night after some good old-time fiddlin' around the campfire. For us, it's not about the camping. It's about the music: old-time, down-home, foot-stomping, toe-tapping bluegrass — America's heritage.
Last year, the Blythe Bluegrass Festival celebrated its 30th anniversary. It has become one of the largest bluegrass fests west of the Mississippi. But bluegrass music is as old as America itself. It is rooted in the folk music of Scotland, Ireland, and England and was brought to America by the earliest European settlers. It traveled with them into the Appalachian hills where the music told the story of daily life, including its troubles and triumphs. Instruments were whatever one had available. Over time, standard parts were played on mandolin, violin, banjo, guitar, and bass.
Bluegrass today is an amalgam of folk, traditional country, blues, jazz, and rock-and-roll. The instruments are acoustic and played at speeds that range from lightning-fast to slow and sentimental. The tunes are highly melodic, and the words tell tales of failed love, life lessons, and gospel truth; singers work solo (and lonesome) or are backed up by others to produce a harmonious sound. Whatever you think bluegrass is, one thing is certain: It is dynamic and everchanging, with a steadily growing fan base.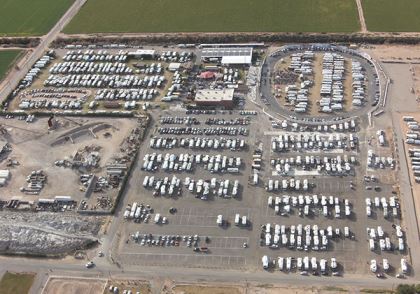 The jam session is an integral part of bluegrass culture. Many die-hard fans are also musicians who come to join in. It gives them a chance to play with the greats, improve their technique, and improvise on an old riff. The jams are open to everyone with the requisite musicianship, and new talent is welcomed. As a first-timer, I felt shy about crashing, but I shouldn't have worried. Everyone else was intensely engrossed in their own improvisations.
Mornings, after a hearty breakfast provided by the local chapter of California Women for Agriculture, we took our folding chairs, consulted the program, and chose our first venue. A lineup of 11 bands from across the country was set to entertain us and the 13,000 others who crowded into the three-day event. Performers in 2017 included old-timers like Flint Hill Special, veterans of the first festival, and The Boxcars, a national Grammy-nominated act. Newcomers included Justin Sherfey and Rye River. Awards or not, each band has its own take on the music, and all are immensely talented.
Rain was predicted that day, so the organizers had arranged stages in two indoor arenas, as well as the traditional outdoor venues.
Empty seats grew fewer around the middle of the first set. I saw the crowd was intently focused on the stage, but nary a head nodded to the beat. Then I glanced under the chairs; every sandal-clad, booted, or sneakered foot was keeping time. And a few country cloggers were boot-scooting in the aisles.
After the first two sets, we took a break and caught up with Francis Rodriguez, the last surviving member of the Colorado River Boys, a band hailed for starting this festival. He's a celebrity here, favored by performers and fans alike. As we walked the aisles of RVs, a burly man rushed up, grabbed Francis, planted a kiss on his broad forehead, and then ran off. Francis didn't miss a beat; he's used to such outpourings of appreciation.
It was bittersweet for Francis this year. His wife, Becky, died months before the festival and it was a passion they shared. At one of the big white tents, some of Francis' old friends, in the Flint Hill Special band, were waiting to rehearse the song they would play with him in tribute to Becky.
I headed back to the arena, through a crowd as diverse as any I had seen. From portly boomers to dreadlocked millennials with toddlers in tow, bluegrass attracts a swath as diverse as a county fair. The vendor stalls were busy with souvenirs and the food sellers had snacks, while at tables outside the stages, musicians signed autographs and sold their CDs. In the world of music, the bluegrass scene is unique. It's family-oriented, generous of spirit, and authentic. Just regular folk enjoying America's signature art form.
Attending The 2018 Festival
The 2018 Blythe Bluegrass Festival runs Friday through Sunday, January 19 through 21. If you camp at the fairgrounds, your camping fee can be included with your festival package. Seniors 60 and over get a discount. Admission-only passes (without camping) also also are available.
For more information, contact:
Blythe Bluegrass Festival
(760) 922-8166
www.blythebluegrass.com
Email: blythebluegrass@yahoo.com
Blythe Area Chamber of Commerce
(760) 922-8166
www.blythechamberofcommerce.com
Campsites at the festival do not have hookups. However, sites with hookups are available in the area, including the following. Please check FMCA's RV Marketplace, found at FMCA.com and in the January issue of FMC, for more listings.
Destiny McIntyre RV Resort
(760) 922-8205
www.destinyrv.com
The Cove Colorado River RV Resort
(760) 922-5350
www.thecovervresort.com
Mayflower Park
(760) 922-4665
www.rivcoparks.org/parks/mayflower/mayflower-park-home/
Area Attractions
Cibola National Wildlife Refuge is 29 miles south of Blythe, via State Route 78. A leisurely meander through farm country rimmed by the blue, velvet Palo Verde Mountains takes you to this area that straddles Arizona and California, bisected by the Colorado River. Farmers cooperate with wildlife management, harvesting during the summer but leaving alfalfa, corn, and millet for wildlife during the winter. A 3-mile driving loop is an opportunity for birders, using their vehicles as a blind, to observe sandhill cranes, snow geese, and Canada geese picking through the fallow fields for grain. A mile-long accessible nature trail takes hikers around a large pond bustling with the busy coming and going of thousands of waterfowl. More info: www.fws.gov/refuge/Cibola/; (928) 857-3253.
Blythe Intaglios (pronounced "in-tal-yos") are located 15 miles north of town along U.S. 95. These large, in-ground markings depict huge figures representing people, animals, and shapes. Their age is uncertain. Discovered by an airplane pilot in 1930, the shapes are believed to have been made by Indian tribes of the lower Colorado River area. Whether they have religious, astronomical, or territorial significance is a mystery. The site is run by the Bureau of Land Management. More info: https://goo.gl/88689T;(928) 317-3200.