If the current schedule is any indication, the "F" in FMCA will stand for "Fun" during the association's 97th International Convention and RV Expo.
By Robbin Gould, Editor
The Peach State is known for many things: peaches, of course, plus pecans, peanuts, and Vidalia onions; the Atlanta metropolis; and Southern hospitality. Another is the annual Georgia National Fair, held in Perry at the Georgia National Fairgrounds and Agricenter.
Perry will see another jump in population when FMCA comes to town March 15 through 18, 2018, for the association's 97th International Convention and RV Expo. Woven into this framework will be four nights of entertainment, plus daytime performers and other activities. Though event planners remain hard at work at press time, here's a peek at the lineup thus far.
Enjoyable Evenings
On Thursday, March 15, convention attendees mingling on a fun first night out will enjoy two musical acts. First is Thomas Michael Riley and his original country music. The Texas native has recorded 10 CDs, including "Tommy," for which he was awarded the Texas Music Album of The Year. He's also been nominated for Texas Music Entertainer Of The Year and Texas Music Song of The Year. "He's as real as it gets," singer Willie Nelson has said. Thomas will reprise his performance on Friday afternoon.
Next on Thursday, get ready for Big Mike and the Booty Papas. This two-time Grammy-nominated group will treat listeners to a collection of tasty blues, contemporary R&B, country, and classic rock. The musicians hail from Macon, Georgia, and have been getting folks on their feet and "in the groove" since 1995. They include Michael Anthony Ventimiglia ("Big Mike") and guitarist Hal Register. People have been known to dance in the aisles during their performances!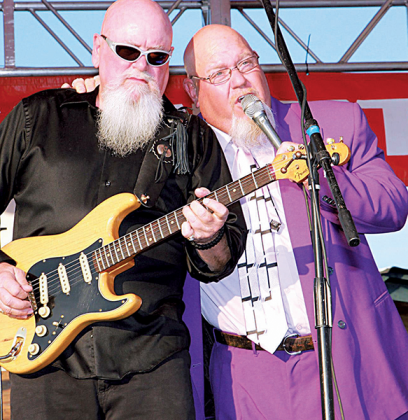 Friday evening, March 16, will mark the first night of entertainment on the "big stage" in Reaves Arena, with The Grapevine, a 10-piece band specializing in music from the 1960s, '70s, and '80s. The horn section brings soul to the Motown, funk, disco, and beach songs that remain popular from those decades. Four male vocalists entertain as the group plays tunes made famous by The Temptations, Wilson Pickett, Prince, Wild Cherry, Chicago, the Doobie Brothers, and Stevie Wonder, for starters. It's been said The Grapevine's goal is to help the audience become better dancers!
On Saturday, March 17, the Macon Pops also plans to have FMCAers "Dancin' Through The Decades" with a symphonic presentation of music from the 1960s through the 2010s. Matt Catingub serves as conductor, performer, and host; vocals come from Christina Souza and drummer Steve Moretti. The studio and orchestral musicians in this 20-piece group put a fresh twist to familiar melodies. Prepare to hear tunes from Aretha Franklin; Earth, Wind & Fire; Kool & The Gang; Lionel Richie; Michael Jackson; Gloria Estefan; Pharrell Williams; Bruno Mars, and others. "It's our goal to break down the barriers of what people think about orchestra," Steve Moretti said.
Anyone who has seen Southern humorist/speaker Jeanne Robertson is likely smiling right now upon reading her name in this article. The 6-foot-2-inch former Miss North Carolina, and Miss Congeniality winner in the Miss America Pageant is as funny as she is statuesque. Jeanne (who pronounces her name "Jeannie") has taken her audiences to many levels of laughter with meandering stories and observations on life, told in a genteel Southern drawl. Her stories digress as she veers off-topic, provides commentary, and inserts one-liners. Jeanne currently is on her "Rocking Chair Tour" — a result of a broken femur, which has her occasionally resting in a rocking chair on stage while she continues to recuperate. One Perry convention attendee will be the winner of a prize drawing held during Jeanne's performance.
Other Diversions
FMCA's event planners continue to add other events and activities, too, including these: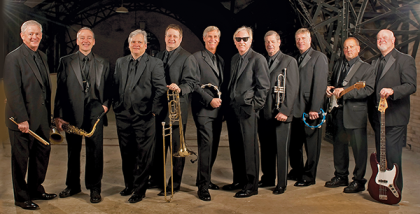 Card Bingo will commence on Wednesday, March 14. Think of regular bingo, but with a twist. Attendees will play for prizes and have fun socializing in the process.
FMCA's own members' music ensemble, the Frustrated Maestros, will provide wake-'em-up tunes of many genres during coffee hour on Friday and Sunday mornings, and at a noontime performance on Saturday. The group is composed of members from FMCA's various Frustrated Maestros chapters; they're recognizable by their red-and-white performance attire.
Saturday, March 17, is St. Patrick's Day. So, why not have an Irish trio add to the festivities? Wielding fiddle, flute, uilleann pipes, banjo, guitar, and harmonica, Ah Surely! will enliven coffee hour on this morning with Irish music and singing, while throwing in some swinging Georgia-style old-time tunes. John Maschinot, Evan Kinney, and Claire Shirey deliver the music; Claire counts her hard-soled dancing shoes as another "instrument."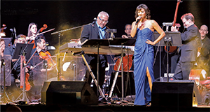 Rumor has it that other St. Paddy's Day shenanigans may occur on Saturday also, so you might want to bring along your best leprechaun gear — or at least some garments for the wearin' o' the green.
On Sunday, March 18, Mike Fuller, The Magician will fascinate young and old alike during this midday performance. Mike, who has thrilled audiences at the Georgia National Fair for years, will amaze attendees with his repertoire of tricks, from simple sleight of hand to making an audience member flat in midair. If you're a bit squeamish, you might not want to sit too close to the front, as one of Mike's tricks involves a box and a sharp cutting instrument. Any volunteers? When he's not pulling his rabbit, Basil the Baffling Bunny, from a hat, he's a part-time meteorologist with WMAZ-TV in Macon.
Registration is open for the "Southern Charm" convention. For more information, see pages 68-70 in this issue; visit www.fmca.com; or phone (800) 543-3622 to sign up. Event additions and updates will continue to be updated online.
"The Meetin' Ain't Over 'Til The Tall Lady Speaks"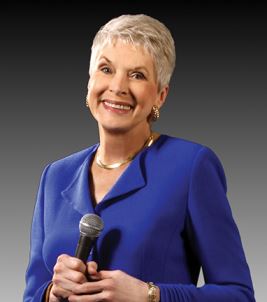 If you're lucky enough to find yourself in Jeanne Robertson's company, you'll want to pull up a chair, grab a glass of sweet iced tea, and spend an hour or two listening to her stories. FMCA members will meet this charming Southern humorist when she visits Reaves Arena Sunday, March 18, on the final evening of the Perry convention.
The 74-year-old speaker has built a 50-year career sharing her humorous insights at pageants, conventions, corporate engagements, and theater shows. She also has performed at the Grand Ole Opry in Nashville, Tennessee.
As a busy Auburn University student in the early 1960s, Jeanne ran for various leadership positions. She visited fraternity houses, dorms, and clubs to deliver humor-laced campaign speeches, which set her apart from her opponents' serious messages. During this time, she was asked to represent her hometown of Graham in the Miss North Carolina beauty pageant, which she did — and won. Jeanne competed in the Miss America Pageant next. Although she didn't take that title, she was named Miss Congeniality.
During her role as Miss North Carolina, Jeanne traveled the state to emcee smaller pageants and speak before civic groups and at corporate events. "In that year it took me one week to realize that I could do this: tell some humorous stories," Jeanne said. "I was six-foot-two and a basketball player, and they said, 'She can also talk if you need it.'"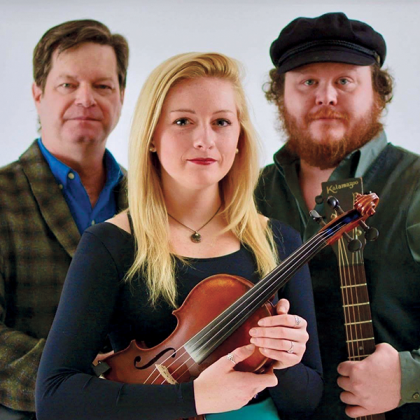 After building a career teaching physical education, and coaching college basketball at Auburn, Jeanne kept up a busy speaking schedule. When her fame continued to grow by word-of-mouth ("I didn't even have a brochure"), she eventually decided to launch into professional speaking full-time. And she hasn't looked back.
You won't find Jeanne calling herself a comedian. She explained: "The comedian's sole goal is to get the audience to laugh. They can use any type of material: innuendos, off-color remarks, or four-letter words; or talk about politics, controversial subjects, current things on TV. Many of them are quite talented. But because of my background, I wouldn't have felt comfortable.
"I don't tell jokes; I just tell stories from life experience."
As the years rolled on, Jeanne's repertoire blossomed from pageant stories to other parts of life, including travel, family, and friends. "I have a whole cast of characters now," she said. They include her "bestest" friend Norma Rose; her son, Beaver; and her administrative assistant, Toni. She also gets considerable mileage from tales involving Jerry, her husband. In the 1990s, she told a story about him and jokingly dubbed him "Left Brain."
"The reaction in the audience was so great, I remember thinking, 'I gotta get off this stage and start writing,'" she said. It's a good bet the Perry audience will hear of his exploits as she pokes gentle fun.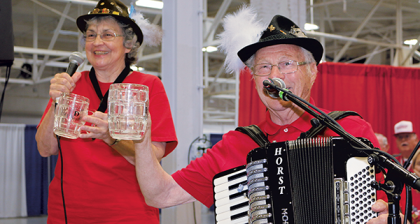 Jeanne said, "What I would like is for the people in the audience to turn to each other and say, 'She's a fly on the wall in my house.'"
Unusual situations seem to occur to Jeanne regularly. Take her recent online post describing Halloween night at her house: "Suddenly, with small tykes coming up front walk, sprinkler system covering front yard cut on. Jolted us. Scared dickens out of children. Drenched 'em. Some danced around. Others screamed in terror. Parents on street, 'What are these people doing?' From then on had to shout to parents and kids in street, 'We're open! Don't know how to turn off sprinkler system!' I'm getting out of town. Left Brain in hiding."
Two years ago, with 26 theater shows and countless convention engagements already lined up, Jeanne fell and broke her femur. But the show went on. "I started writing," she said. "All of a sudden, I had new material." A rocking chair on stage provided a perch when she tired of standing. Hence, her renamed "Rocking Chair Tour."
Despite her hectic travel and performance schedule, Jeanne continues producing books and online videos. A book containing some of her best-known stories comes out next year, titled Don't Bungee Jump Naked. Other stories in the book include "Don't Send A Man To The Grocery Store" and "Don't Go To Vegas Without A Baptist."
Jeanne sums it up: "My whole philosophy is, look for humor, and you'll find it."
— Robbin Gould