An Arctic travel adventure from Dawson City, Yukon, to Inuvik, Northwest Territories.
The trails of the world be countless,
And most of the trails be tried;
You tread on the heels of the many,
Till you come where the ways divide;
And one lies safe in the sunlight,
And the other is dreary and wan,
Yet you look aslant at the Lone Trail,
And the Lone Trail lures you on.
— From "The Lone Trail" by Robert Service
Dempster dirt:A vernacular term for the brownish, crusty layer of mud that smothers vehicles traveling the Dempster Highway. Worn as a badge of honor by locals, Dempster dirt builds up layer by layer, mile by mile, turning vehicles into blobs of mud with eyebrow-shaped openings in the windshield.
By Bruce Davis, F440088
August 2017
The Dempster Highway is a two-day adventure drive through some of North America's last untamed territory. The road crosses the Arctic Circle as it links Dawson City in Canada's Yukon Territory with the far-northern town of Inuvik, where the McKenzie River flows into the Beaufort Sea. It's a 460-mile (give or take) gravel road, built up in layers above the permafrost through some of the most beautiful country on the planet.
Some motorists travel the Dempster in their motorhome, but for many, a towed vehicle may be a better option.
The road for the most part is well-maintained. It dips and turns through the Ogilvie and Richardson mountains and takes long meanders through velvet green valleys of tundra and flaming, bright-red fireweed. Solitude, with only the sound of wind for company, pits a lonely soul against the vastness of creation. Creation wins.
Animals exist here as they have for thousands of years, pretty much free of interference from human beings. Along the highway, unaffected by a traveler's presence, grizzlies, arctic foxes, ptarmigan, bald and golden eagles, owls, lemmings, mountain sheep, wolves, caribou, and arctic hares (to name a few) eat berries; curl up into their tails for a roadside nap; or soar, glide, hop, and hunt. Who wouldn't prefer their version of creation to the tangled mess lurking a few thousand miles to the south?
Drive north on the Dempster Highway, and the clock runs backward. Ancient geology reveals itself in the mountains and valleys shaped by glaciers, which sawed back and forth over millennia, beginning about 3 million years ago. Evidence of these icy invasions and retreats can be seen on rocks and cobbles in streambeds and moraines, whose surfaces bear striations carved by tons of moving ice.
The glaciers captured enough seawater during that epoch so that an entire land mass emerged, today named Beringia. It is believed that this land mass, which connected Siberia to North America, acted as a pathway for human and animal migration. Today most of the Beringia bridge has disappeared under waves of melting glaciers, but the Dempster Highway traverses the eastern portion of what remains.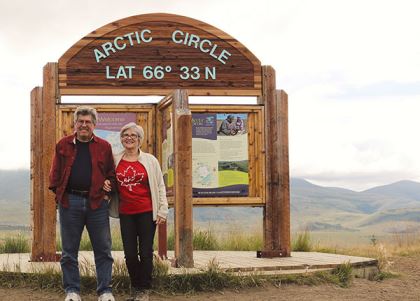 If the Dempster warps time for travelers, nearing the Arctic Circle produces other perceptual distortions, like being able to reach up and touch the sky. Clouds and the pale blue above seem to grow closer as you make your way north. Ice-crystal clouds that may become storms in the Lower 48 linger and meander, sloughing back and forth just above your head. Perhaps this is more rapture than distortion.
The far North does not harbor middle ground. It is beautiful and harsh, bountiful and freezing, tranquil and deadly. Nothing is moderate. And it either grabs you or it doesn't. Stop the vehicle, take a deep breath of air unspoiled by civilization's exhaust, watch the clouds, listen to the rivers and the wolves, and know that you could walk in any direction for hundreds of unspoiled miles and feel the North's visceral grip.
Although we can now tread the highway in relative comfort, before its completion in 1978, the Dempster was an active route followed by animals and people over millennia. The first folks to spend any time along the route were an Athabascan culture called the Hänkutchin, or "people of the river." They camped, fished, and hunted, stopping along the Yukon and Klondike rivers. Today, their successors continue to live in the area traversed by the Dempster between Fort McPherson and the town of Inuvik ("In-OO-vik") at the northern end of the road.
The fur trade brought the Hudson Bay Company into the territory. In 1849 traders established a post on the Peel River that, after several iterations, became known as Fort McPherson. The Dempster crosses the Peel River there, and a small ferry transports vehicles and people across for free. There is another free ferry along the Dempster to Inuvik, the Mackenzie Ferry. Travelers in the spring or fall should check on the availability of these ferries, since they cannot cross when the river is starting to freeze in the fall or during spring break-up. Winter is easy; just drive across. For information, visit www.dot.gov.nt.ca/Highways/Ferry.
A Trapper And A Mountie
Shades of past dramas linger here. One is the story of the Mad Trapper of Rat River.
The Mad Trapper makes a first appearance to travelers in the bar of the Eagle Plains Hotel. Stop there to see photographs of his last days and read about the manhunt, most of which happened in January 1932 as the mercury hovered around 40 degrees below zero. The Eagle Plains Hotel sits on a high plateau near the halfway point on the Dempster, between Dawson City and Inuvik. Rooms, meals, fuel, repairs, and the bar make for a convenient stay-over on the trip north. Several camping areas along the route also provide places to park overnight or pitch a tent, but none have hookups or amenities.
The trapper gave his name as Albert Johnson. No one knows from where he came; few ever heard him utter a word. He ran a trap line on the Rat River near where the Husky Channel and the Peel River converge. Complaints from neighboring trappers about his interference with their traps set off one of the largest manhunts in Canadian history and the first use of an airplane to track a fugitive.
On the last day of 1931, the Royal Canadian Mounted Police (RCMP) traveled about 60 miles from Aklavik south to Johnson's cabin for a conversation. Johnson wouldn't talk or answer the door, so the Mounties trekked back to Aklavik and returned with reinforcements.
When they knocked on the cabin door this time, Johnson shot and wounded Constable Alfred "Buns" King. The Mounties raced King back to Aklavik by dogsled — a 20-hour marathon — where he eventually recovered. The original complaint about interfering with traps was forgotten.
A recalcitrant Johnson waited in his cabin as the Mounties returned again, this time with nine men, 42 dogs, and 40 pounds of dynamite. The latter was used to blow up the cabin. The posse entered the rubble to extract what surely had to be a corpse. Surprise! Johnson emerged from a hole he had dug in the dirt floor and began firing. Another retreat ensued.
Legend has it that Johnson could snowshoe 2 miles for every mile the Mounties traveled by dogsled. When they returned to his cabin this time, he was long gone, and the posse was unable to keep up.
Johnson could not light a fire or shoot game for fear of revealing his position. His last feat was to climb 7,000 feet of ice and cliffs in the Richardson Mountains during a blizzard, at night, with no climbing equipment. The Mounties, all hard men of the North, knew they were outmatched.
Several very cold weeks later, World War I flying ace W.R. "Wop" May spotted Johnson near the Eagle River in the Yukon Territory, and bullets ended the trapper's life. Final score: one dead trapper, two wounded Mounties, and two killed in action.
Fort McPherson, a hundred or so miles up the highway from Eagle Plains, is the locale for another tragic tale, that of the Lost Patrol. In the early 1900s, the RCMP carried mail along the trail between Fort McPherson and Dawson City, about 370 miles south. A few days before Christmas in 1910, four officers set out from McPherson bound for Dawson City. The mail patrol took 30 days' worth of food, three sleds, and 15 dogs. When they failed to arrive in Dawson by the middle of February 1911, a search party left Dawson to locate the missing men.
Inspector Francis Fitzgerald led The Lost Patrol. His last journal entry, made with just four days of food remaining, read: "My last hope is gone. I should not have taken Carter's word that he knew the way from the Little Wind River." He did not. Hopelessly lost, Fitzgerald turned his party around and in desperation headed back to Fort McPherson.
The search party from Dawson, led by Cpl. William Dempster, found the men in two locations, frozen to death and 35 miles from the fort. The trail that Dempster, Fitzgerald, and their men followed had been traversed by humans for millennia. It was named the Dempster after the Mountie who found his comrades.
The Dempster Today
The first requirement for driving the 460-mile Dempster Highway is time. The journey will consume at least two days up and two days back. Several more days could easily be spent touring around the Mackenzie Delta from Inuvik. Insomniacs might utilize summer's 24-hour daylight to make the trip up or back in one day, but that misses the point of the journey.
Summer is a better time to visit for views and animal sightings, and one can be sure the ferries near Inuvik are running. As noted above, spring and fall travelers to Inuvik should check first to be sure the ferries are operational.
Although some RVers do drive the Dempster in their RVs, I suggest leaving your motorhome at a campground in Dawson City and using a towed vehicle. Along the way, we saw a couple of vehicles with broken windows, one off the road, and more than one flat tire. Staff at the Northwest Territories/Dempster Highway Visitor Centre in Dawson City (contact info below) can help you assess current road conditions so you can decide whether to drive your RV.
If needed, motel accommodations are located about halfway up (230 miles) from Dawson City at the Eagle Plains Hotel & RV Campground (867-993-2453). Reservations are a good idea.
Travelers today need not take 30 days' worth of food or 15 dogs with them. But the following items are helpful:
X-A vehicle in excellent mechanical condition, with off-road-type tires, or tires with nearly full tread, is suggested. Don't forget a spare tire or tires, a jack, and a lug wrench. Most of the flats we observed on the way were on vehicles with fairly worn city-type tires. The rough, gravel road surfaces create more friction and heat, increasing the possibility of puncture or failure, so good tires are a good idea.
X-Drivers in regular vehicles should carry extra fuel, plus food, water, blankets, toilet necessities, camera, binoculars, flashlights, pet food if needed, a collapsible shovel, a hatchet, matches, and tow straps. Plan for the best and prepare for the worst.
X-Don't forget bug repellant and bear spray. The average grizzly bear has a keen sense of smell, so keep all food locked inside your vehicle. Keep all garbage locked tight as well. The general rule for wildlife encounters: Observe, don't disturb.
Cell phone service is not available for most of the route. If you have a medical or other emergency, you likely will be relying on fellow travelers to get word of your predicament to someone who can help. This can take a long time. So, be extra careful when driving, and extra considerate of others on the road, too.
The road itself is gravel all the way, and it is very slippery when wet because of an anti-dust substance applied to it. Drivers are advised to wait hours for the road to dry before proceeding after a rain.
Summer is the only time when maintenance can be accomplished, so there will be stretches where construction and maintenance are ongoing. These areas can be rough, muddy, and long. Do not be in a hurry.
Travel guides are also essential. Buy a current edition of The Milepost (www.themilepost.com; 800-726-4707) and obtain Yukon Parks' Dempster Highway Travelogue, available free as a downloadable file at www.goo.gl/TUNNwe, for mile-by-mile details and insights about the trip; or, call (867) 777-7237. Maps of the highway are available by calling that number as well.
Once in Inuvik, your destination, hosing off all of your accumulated Dempster dirt will require a few loonies (Canadian $1 coins featuring an embossed loon). Take a pocket full.
But be sure to make the trip. You won't regret it.
Further Info
Dawson City Visitor Information Center
(867) 993-5566 – May-September
(867) 993-5575 – October-April
www.dawsoncity.ca
Dempster Highway info
www.dempsterhighway.com
Destination Inuvik
(867) 777-8618
www.destinationinuvik.com
Northwest Territories/Dempster Highway Visitor Centre
(867) 993-6167
Northwest Territories Travel
(800) 661-0788
(867) 873-5007
www.spectacularnwt.com
Tourism Yukon
(800) 661-0494
www.travelyukon.com
Yukon Road Report
(877) 456-7623
(867) 456-7623
www.511yukon.ca
Dawson City RV Parks
This may not be a complete list, so check your campground directory or the RV Marketplace, published at FMCA.com and in the January issue of FMC.
Bonanza Gold Motel & RV Park
(888) 993-6789
(867) 993-6789
www.bonanzagold.ca
Dawson City RV Park
(867) 993-5142
www.dawsoncityrvpark.com
Gold Rush Campground
(866) 330-5006 (when calling from Canada)
(867) 993-5247
www.goldrushcampground.com