The road trip never ends for FMCA members Brandon Hatcher and Kerensa Durr.
By John Johnston, Associate Editor
August 2017
Brandon Hatcher and Kerensa Durr, F437547, appeared to be on the fast track toward upward mobility. The young married couple graduated from college with dual degrees — illustration and product design for him; photography and fashion design for her. They landed corporate jobs that led to living in or near the big cities of San Diego, Dallas, and New York.
Dreaming of Becoming Full-Time RVers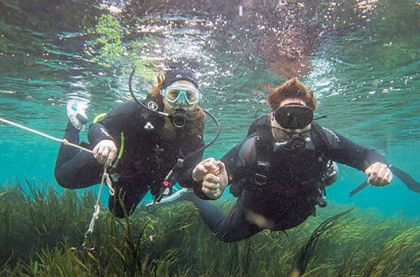 But by the time they reached their mid-30s, they yearned for something different. They were living in New Jersey, just across the Hudson River from New York City. On weekends, they left behind less-than-fulfilling office jobs and headed to the Poconos or the Catskills in their pop-up camper. Inspired by those experiences, they dreamed of becoming full-time motorhomers and working from the road.
"We decided that maybe our next move wasn't to another place, necessarily, but to another way of life, so that we could see a lot more places," said Kerensa, who, like Brandon, is 39. And so, "We went all-in," Brandon said. "We went from the pop-up to a 40-foot diesel pusher."
That was in late 2013. Now, after three-plus years of full-time RVing, they say they have changed in ways they never expected.
Living With Less
First, they find it ironic that they have adapted so easily to living with less. After all, as designers who have worked with brands such as Movado, Luxottica, Buck Knives, and Fossil, their livelihoods have been tied to feeding people's desire for consumer products.
When they began full-timing, they expected that traveling around the country would teach them much about how people shop. "What happened was, we stopped caring about shopping (for ourselves)," Brandon said.
"You have a one-in, one-out policy when you live in an RV," Kerensa said. "It's not like you can keep getting more and more stuff." Or as Brandon noted: "Keeping up with the Joneses isn't important at all."
In fact, it didn't take long for the couple to discover that their motorhome, which had four slideouts, was larger than they needed. So, in November 2015 they downsized to a 30-foot, gas-powered Newmar Bay Star with two slideouts. Now, they say they feel like they could go even smaller.
Laid-Back Attitude
Another change: Although they never were meticulous planners, they have adopted a far more laid-back attitude toward mapping out destinations. Aside from a few scheduled visits with family, "We don't even know where we're going this year, exactly," Kerensa said, adding that their itinerary can best be summed up as "out West." Having an RV equipped with solar panels means they can camp off the grid, as needed, rather than worry about making campground reservations.
The Most Significant Impact
But perhaps the most significant impact RV life has had on these two self-described introverts is this: "We are way more social than we ever were," Kerensa said. Added Brandon: "When we talk about our favorite places, it's not so much that those places are our favorite, but hanging out with the people in those places is what makes it great. It's made the whole experience better and made us want to keep going."
They have formed friendships all over the United States. They've found winter to be an especially good time for meeting up with others, because it's when many RVers congregate in the South. But the internet and social media — Brandon and Kerensa are especially active on Facebook and Instagram — make it easy to stay in touch year-round.
One way people can keep tabs on the couple is through their website, www.drivedivedevour.com, where they write about their passions: exploring the United States via motorhome; scuba diving; and food.
Both are certified divers. But, "I don't do all the crazy diving like he does," Kerensa said.
Before entering a town, Brandon checks Facebook for local diving clubs. "Usually people are pretty cool. They want to show me their place. They'll take me out," he said. "Most dives are cold and dark. Sometimes they're not that exciting."
Sometimes they are, though. Such as the shipwreck graveyard he explored off the coast of Morehead, North Carolina. On that dive, he got an up-close look at sand tiger sharks, which, despite their ragged teeth and vicious appearance, are docile creatures that don't attack humans unless provoked. Brandon's other diving adventures have included former missile silos — now flooded by groundwater — in Washington state and Texas.
Exploring New Food
Life on the road also means diving into local and regional cuisine. "I love to explore areas through food," said Kerensa, a vegetarian. "Even if it's just local food makers, it's always interesting to me." As for Brandon: "Barbecue and pizza — that's what I travel for."
Their food preferences may differ, but they think alike when it comes to being a resource for other RVers. This year they created RV To Freedom – Learning to Live in an RV, a rapidly growing Facebook group with more than 25,000 members as of early July. They describe it as "a place for dreamers, weekenders, and full-time RVers to ask questions, share knowledge, and offer support for those looking into and currently in the lifestyle."
In May, Brandon and Kerensa introduced their online course called "Roadmap to Full-Time RVing." The beta version is wrapping up, and in August they will launch the full program. Sessions are held online so the couple can interact directly with participants. For more information, visit www.rvtofreedom.com.
Brandon and Kerensa are quite familiar with one of RV to Freedom's popular topics: working from the road. Brandon started Brandon Hatcher Design to continue his product design work. And Kerensa teamed up with a longtime friend to form Fireglow Creative, a marketing and communications agency.
Not everyone can become RV entrepreneurs, of course, but Brandon and Kerensa offer encouragement to others whenever possible. For them, the choice was easy. Adventures deferred were adventures denied. The road beckoned.
"I really don't want to go back to a cubicle," Brandon said. "And we're going to do everything in our power not to."