By Robbin Gould, Editor
Photos By Guy Kasselmann, Art Director
September 2017
This past summer, motorhomers made Indianapolis their temporary home while attending FMCA's 96th International Convention and RV Expo, "Crossroads To Fun," at the Indiana State Fairgrounds and Event Center. The July 12 through 15 event attracted 1,477 registered families. The official coach count of 1,724 included 247 commercial registrations.
Can't Fool Mother Nature
The weather is a wildcard for any event organizer. Case in point: coach move-in days in Indy. Almost 4 inches of rain fell on one day alone, which impacted the logistics involved in settling coaches into the parking lots. But with experience, fortitude, and creativity, FMCA's parking crew made it work.
"I really can't say enough about the job [parking chief] Steve Pickens and his crew did that day," said Doug Uhlenbrock, FMCA director of events. "There were times when the rain was coming down sideways, but they continued to direct coaches to their parking spots. I'm sure when they volunteered, they hadn't planned on working in those conditions, adapting to the changes in weather. They are truly the unsung heroes of this convention."
As the motorhome city took shape at the fairgrounds, attendees turned their attention to scheduled activities. Following are some of the highlights.
Learning As We Go
Before the convention began, 85 students soaked up wisdom from a pair of RV industry experts by attending the two-day "RV Basics" course. Instructors Gary Bunzer, known as the "RV Doctor," and Walter Cannon, executive director of the RV Safety and Education Foundation, presented a comprehensive course on operating and maintaining a recreation vehicle — useful information for would-be owners; brand-new owners eager to learn the ins and outs; and longtime RVers desiring a refresher.
During the "Crossroads To Fun" convention, the seminar docket featured 100-plus topics designed to inform, inspire, and entertain. Technical sessions covered such subjects as supplemental braking, a comparison of diesel and gasoline engines, and how to "technically choose" an RV. Wide-ranging lifestyle topics encompassed traveling with pets, exiting the motorhome in a fire emergency, and features of the RVillage social networking site, among others. Make-and-take crafts included two sessions of "barn quilt" painting, where attendees designed their own colorful wood creations under the tutelage of barn quilt expert Suzi Parron, F437637.
Now, That's Shopping!
Convention attendees walked the red carpet . . . not a celebrity's runway, but aisles within the indoor exhibit buildings. Crowds canvassed supplier and component exhibits, plus some indoor coach displays. Nearby, they perused additional motorhome, chassis, and supplier demonstration exhibits outdoors. Approximately 175 companies filled 300 booths; 164 display coaches and 25 demo coaches were on hand for tours and test drives, respectively.
Several products made their debut at the convention. They included two motorhome chassis powered by the Cummins X15 605-horsepower diesel engine: Spartan's 2018 K3 605, outfitted with an Allison 4000 MH electronic transmission; and Freightliner's SL605, incorporating the V-Ride 24,000-pound-rated rear suspension.
New floor plans, features, and models graced the motorhome displays. Among them: the Tiffin Wayfarer Type C; the Coachmen Galleria Type B; and Newmar Corporation's 33-foot-10-inch New Aire diesel pusher.
Official Business
FMCA's Governing Board met Wednesday, July 12. One noteworthy item involved passage of a motion to amend the FMCA Articles of Incorporation and the FMCA Constitution. The entire membership is now asked to vote on this proposal. (For more information, turn to page 46 of this issue.)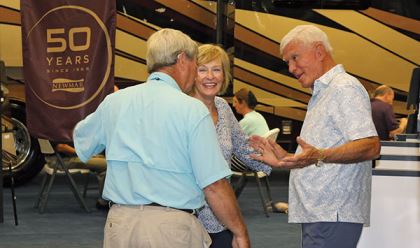 The Governing Board also elected four national officers for the 2017-2019 term: Jon Walker, F268778, president; Rett Porter, F369084, senior vice president; Gaye Young, F284657, secretary; and John Reynolds, F171042, treasurer.
The Annual Membership Meeting convened on Saturday morning. The four individuals above were sworn into office, along with national area vice presidents elected or re-elected earlier in 2017. Among other agenda items, two prestigious awards were announced: Genny Jennings, L26, received the Kenneth T. Scott Pipe Dreamer's Award for her decades-long service to FMCA; Kimberlea Weeks, F144937, was given the Robert L. Richter Award for excellence in chapter communications. Two special guests also were recognized: Charles and Jean Owens, L44. The couple joined FMCA in 1967, and Charlie served as national president from 1967 to 1969.
Another Charlie — Charlie Adcock, L311374 — concluded his four years as national president in Indy. "There's no way I could thank everyone for my farewell rally," Charlie commented later. "It truly felt like they were saying good-bye and saying, 'Thanks for a job well done. Good-bye, and go rest.'"
Ironically, Charlie announced his candidacy during FMCA's first Indianapolis convention in August 2012. He was elected president on FMCA's 50th anniversary, July 20, 2013, at the Gillette, Wyoming, convention. As Charlie handed over the reins to Jon Walker, his good friend, he announced another 50th milestone — Jon and his, wife, Sondra, marked their 50th wedding anniversary on that day. Following the annual meeting, attendees were invited to help the Walkers celebrate and have a piece of cake.
Entertainment Treats
Indiana Farmers Coliseum housed evening entertainment programs on Thursday, Friday, and Saturday, July 13, 14, and 15. On Thursday, singer-musician William Florian presented "The John Denver Story," a tribute to the artist who made many songs famous in the 1960s and early 1970s, including "Take Me Home, Country Roads" and "Annie's Song." Pat Ison, F111818, joined William on stage to sing "Leaving On A Jet Plane," which Mr. Denver composed. And William reprised his own role as a member of The New Christy Minstrels by singing "Today," a popular tune both the band and Denver recorded.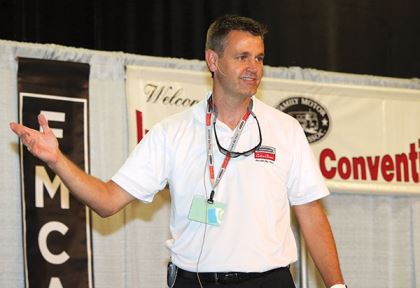 Friday's duo, known as Pamela G. and Jackie B. (Pam Setser and Jackie Thomasson), presented a mix of country, pop, bluegrass, and folk melodies. As they played and harmonized, they seemed to thoroughly enjoy performing for the FMCA audience.
On Saturday evening, Cirque-A-Palooza came to town. Director Stefan Haves and music director Philip Giffin introduced the audience to a diverse lineup featuring physical feats, comedy, and music-variety acts. Among the performers were singer Laura Hughes, fresh off Broadway, and her fiancé, comedian Scott Nery — who cooked a pancake on stage while juggling. Acrobat Ruslan Khusinov exhibited improbable balancing skills and strength, and hula-hoop artist Marawa the Amazing spun multiple hoops with ease. "Baby" Diane Wasnak convinced Charlie Adcock to join her on stage for some zaniness with a bicycle and a bonnet, while percussionist Aaron DeWayne did his best Michael Jackson impression. The Cirque Indy troupe displayed aerial beauty with trapezes and cloths.
The Frustrated Maestros presented several daytime performances, including at Coffee Hour and the Ice Cream Social. The group, dressed in its traditional red-and-white clothing, played popular standards, Broadway numbers, and a stirring salute to branches of the military on Saturday morning that had the crowd on its feet.
Attendees lucky enough to be in the right place on Saturday afternoon witnessed a happy-go-lucky gang: the Circle City Sidewalk Stompers. Clad in mismatched shorts, socks, shirts, and hats, these 11 musicians played brass and percussion instruments while marching through the exhibits and other venues. Delighted attendees whipped out their smartphones in a hurry to video record or snap a shot of this mobile act!
Luck Of The Draw
Several convention attendees were surprised by good fortune. Before Friday's evening entertainment, Nel Filliger from Fantasy RV Tours drew from a hopper holding attendees' names to award a 27-day Great Lakes of North America caravan for two. Jerry and Sally Ayres, F350906, received this grand prize.
On Saturday evening, Nel randomly selected one of the completed game cards turned in by attendees who played the "Start Your Engines Tic-Tac-Go!" trivia game. A 14-day RV vacation for two to the 2018 Alberta, Canada, and Montana Summer Swing, plus free registrationfor FMCA's 2018 Gillette, Wyoming, convention, went to Steve and Jeanette Raileanu, F457026.
Attendees who renewed their FMCA membership during the convention were entered in another prize drawing. On Saturday evening, Jon Walker's grandson Jackson did the honors. Fay Curtis, F253208, won $2,500 in Michelin tires.
The Spirit Of Giving
Several charitable organizations benefitted from Indy convention-goers' generosity.
The Professional RV Vendors Chapter held a food drive for the Hoosier Veterans Assistance Foundation. PRVVC's Geoff and Johana Matthews, who coordinated the event, reported that the foundation received just over 600 pounds of nonperishable food and $238 in cash.
Sewing enthusiasts known as the On-Road Quilters collected quilts that they and other FMCA members had made for the "Quilts For Kids" effort. After being displayed in the Information Center, 28 quilts and nine crocheted blankets were donated to the women's and children's shelter operated by Wheeler Mission Ministries in Indianapolis.
Lastly, 165 pairs of used eyeglasses were collected for the Lions Clubs International Foundation eyeglass recycling program.
Fun For All Ages
Two groups of adults made sure FMCA's youngest attendees enjoyed their own convention activities.
The FMCA Youth Committee organized day trips to Conner Prairie Interactive History Park in Fishers, Indiana; the Children's Museum of Indianapolis; and the Indianapolis Zoo at White River State Park. Youth Committee chair David Marlowe reported that 24 children took part in one or more of these excursions.
FMCA ENERGIZED, which plans activities for the young and young at heart, organized a "KIDZ" meet-and-greet; a child-oriented Fire and Life Safety presentation by Mac "The Fire Guy" McCoy; and informal social events.
The FMCA ENERGIZED folks also led morning walks around the grounds for pets and pet parents. Meeting at a picturesque covered bridge, "DOGZ On Tour" participants set off with their pups.
Another way to get one's blood flowing was offered by health and fitness educators Wayne and Dahelia Hunt, who led three sessions of "Early Morning Functional Exercise."
Bicyclists could explore the Monon Trail, a nearly 25-mile route near the fairgrounds that has been acclaimed by the Rails To Trails Conservancy. Ron Carter, F455925, who was instrumental in the trail's development, led morning rides to downtown Indy and the Carmel Farmers Market, plus a dinnertime trip to Indy's North End Barbecue & Moonshine restaurant.
Tremendous Volunteers
As they do at every FMCA event, volunteers made the "Crossroads To Fun" convention hum with activity. They pitched in for coffee hour duty, worked security, staffed the FMCA Store, entertained with the Frustrated Maestros, provided handicapped and activity golf cart transportation, worked trams, served crowds at the Ice Cream Social, provided information, assisted at the ladies' social, staffed seminars, welcomed members, and helped out with youth activities. Other FMCAers dealt with parking, communications, safety, and utilities. To folks who assisted in these areas and others, our hats are off to you!
Morning coffee hour. Movie night. Card bingo. The ladies' social. Bean bag toss competition. FMCA Area Gatherings . . . one's "dance card" could be as full as desired during the convention. But attendees also relaxed at chapter socials or even impromptu gatherings around their motorhomes. FMCA's 96th International Convention and RV Expo surely became the "crossroads" of many opportunities for fun and new friends.
The good times continue
Registration opens September 13, 2017, for FMCA's 97th International Convention and RV Expo, March 15 through 18, 2018, at the Georgia National Fairgrounds and Agricenter in Perry. A number of changes are in the works to make this convention more enjoyable than ever.