At Land Between The Lakes, a national recreation area at the Kentucky-Tennessee border, visitors are surrounded by nature's wonders as well as local history.
By Anna Lee Braunstein, F351629
"Land Between The Lakes" is a phrase that does not trip lightly off the tongue, so those who know the national recreation area call it "LBL." The land is flanked by Kentucky Lake to the west and Lake Barkley to the east, and lies in southwestern Kentucky and northwestern Tennessee.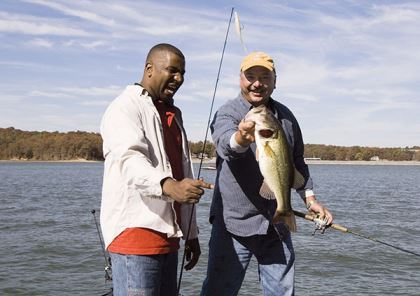 In Kentucky, the easiest access to the area is via Interstate 24 or Interstate 69. Turn south onto State Route 453 and start a scenic trip between the waters. From Tennessee, you can reach the south edge of the preserve using Interstate 40 and other routes.
The recreation area's welcome stations at the north and south ends provide information and maps you need to find the highlights and hidden treasures. This area is so large — 170,000 acres — it's best to plan to stay awhile.
Long before the Land Between The Lakes' designation as a national recreation area, the waters of the Cumberland River (now Lake Barkley) and Tennessee River (Kentucky Lake) attracted humans to the area. For 10,000 years, American Indians hunted in the forests, foraged in the fields, and fished in the rivers. By the late 1700s, European settlers moved onto what was then known as "Between the Rivers," and by the early 1800s the native peoples had either chosen to move west or had been forcibly removed.
Recurring floods caused havoc on crops, but rich farmland kept calling the pioneers back. To control the repeated flooding, the Tennessee Valley Authority (TVA) dammed the rivers, which put some agricultural land under water. Residents moved away, either voluntarily or because they were forced to abandon their property. Memories of what used to be there (and controversy) remain, but so does a great spot for recreation. LBL is now the largest inland peninsula in the United States. Together, Kentucky Lake and Lake Barkley form the largest body of water (210,000 acres) between the Great Lakes and the Gulf of Mexico.
Activities Galore
Hiking is available on many kinds of trails, long and short. The 65-mile North-South Trail spans the entire length of the preserve. It wends through woods, along shores, past springs, and into remote areas. It can be hiked as a whole or walked in sections. Many shorter paths exist as well. The 26-mile Fort Henry National Recreation Trail is a system of 10 connecting trails. It closely follows the route taken by General Ulysses S. Grant and his troops from Fort Henry to Fort Donelson during the Civil War. Shorter trails include Hematite Lake, 2.2 miles, and Woodland Walk, only 1 mile.
Bicycling is welcomed, with regular bikes or mountain bikes. A 31-mile portion of the North-South Trail is open to cyclists. The Canal Loop Bike Trail, a dirt trail with great views, is a favorite; bikers choose routes ranging from 1.5 miles to 11 miles. Several other bike trails are available.
Off-roading at Turkey Bay is a popular activity for owners of off-highway vehicles (OHVs), as they're called on the LBL website. You will need to buy a permit to ride your OHV at Turkey Bay. A three-day permit costs $20; annual permits are $75. This area has approximately 100 miles of trails over a variety of terrain. Primitive camping is allowed in designated areas around Turkey Bay.
Hunting. The forest is teeming with wild turkeys, deer, and small game. Archery hunting is allowed only in the fall. Hunting permits are required; ask at visitors centers regarding seasons and rules.
Boating and fishing. Canoes, kayaks, and boats ply the open water and hidden coves. Kentucky Lake and Lake Barkley are connected by a canal, and the region provides a total of 300 miles of shoreline.
Countless opportunities to fish present themselves along the shore or by boat, and dozens of boat launch ramps are located along the two lakes. In addition, four smaller lakes and several ponds provide many more places to fish. Among the potential catches for dinner are bass, sauger, crappie, catfish, and bluegill. Both visitors centers have maps showing the legal spots for fishing and hunting, as well as permit info. Details are available at www.landbetweenthelakes.us/seendo/outdoor-rec/fishing/.
Stops Along The Trace
LBL has excellent indoor and outdoor museums that offer exciting hands-on opportunities. Following are some places to explore along the 45-mile Woodlands Trace National Scenic Byway, known as The Trace. Sites are listed in rough order from north to south.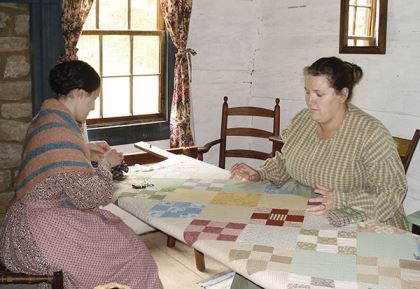 Not far south of the village of Grand Rivers are family burial plots of those who lived here for generations. The small cemeteries remain and are still tended to and used by families. For visitors, the cemeteries offer a vivid history lesson. Stones of veterans proclaim a commitment to serving the country. Other stones show the sad, early deaths of babies and young mothers, and the longevity of family elders. Most of these plots are deep in the woods where homesteads used to be. They are maintained by groups committed to preserving their history.
The Nickell family plot is easily accessible along The Trace and worth a visit. Their ancestors served in the American Revolution. Several fought for the South in the Civil War and some were veterans of more recent conflicts.
Woodlands Nature Stationis all about the wonder and joy of animals. The entire family can get up close to bobcats, owls, bats, groundhogs, and more, depending on what's in the enclosures when you visit. All of the animals are native to the area.
When we visited, the Learning Center had exhibits of reptiles and amphibians and a working beehive. On a guided outdoor tour, rangers explain the natural habitats and share stories of rescued animals. This is as near as most of us can get to these critters. You can gaze into the mouth of a snapping turtle and watch the flickering of a snake's tongue. On a stroll around the station, you may be greeted by turkeys, deer, and a red wolf. Frogs and insects inhabit the Woodland Pond.
The center holds a Parade of Raptors daily at 4:30 p.m. (June 1 through November 30), when the birds are moved to their nighttime shelter. Special programs and guided hikes, canoe trips, and more also make this a popular spot at LBL. Admission is $5 for ages 13 and up; $3 for ages 5 to 12.
For a fee of $5 per vehicle, a 3.5-mile loop road through the Elk and Bison Prairie provides opportunities to view these majestic animals in their natural setting. Each season offers different views: Prairie wildflowers and animal rutting in the fall, and young elk calves as well as birds, butterflies, and other mammals in the spring. During the summer, sunrise and sunset are the best times to view these animals grazing, standing under shade trees, and cooling in the ponds.
Bison also graze at South Basin Range, across from The Homeplace on The Trace. Just remember these are wild animals and best viewed at a distance from behind the fence or with binoculars.
At the junction of U.S. 68 and the Trace is the Golden Pond Visitors Center and Planetarium, where you can check out a gift shop with NASA-inspired items and explore the night sky. A digital projection system presents "Tonight's Sky Live" on the 40-foot dome of the theater, informing visitors of what they'll see outside.
From Memorial Day to Labor Day, a laser light music show is offered on Tuesday, Friday, and Saturday nights. The soundtrack varies from country to Pink Floyd.
The observatory has a Meade 16-inch Schmidt-Cassegrain telescope, as well as a telescope dedicated to looking at the sun. Because star viewing is weather-dependent, check www.wkaa.net for a schedule. The planetarium entry fee is $5 for ages 13 and up; $3 for ages 5 to 12.
Continue south down the scenic byway and you'll cross the Tennessee state line. Soon after that, The Homeplace, an 1850s farm,comes into view. Interpreters dressed as a farm family work the land and are eager to explain what life was like when all work was done by hand. Because of the hot climate, the farm has separate barns and pens, breezeways, and covered porches to keep animals and humans cooler. You can visit the buildings as the family does their chores. On a stroll through the farm, stop to see the pigs, sheep, and chickens, and maybe even feed them. The Homeplace offers family programs throughout the year. The entry fee is $5 for ages 13 and up; $3 for children 5 to 12.
A Small Town And A Battlefield
On either end of the LBL are fascinating stops that are not part of the national recreation area but should be seen.
At the northern tip of LBL, you can't miss the charming village of Grand Rivers. It's right along State Route 453, before you reach the national recreation area's North Welcome Station.
The village's main attraction is Patti's 1880s Settlement, a fun commercial destination for the whole family. It began in 1977 as an ice cream shop and has grown to include restaurants, shops, miniature golf, gardens, and playgrounds. Wander the premises and find an eclectic collection of adornments on walls, doors, and overhead. Patti's is a delightful place to eat and spend a few hours, or an entire day.
Along the lanes of Grand Rivers are lovely boutiques and yet more restaurants, as well as an ice cream parlor and fudge shop with culinary enticements. The town's Badgett Playhouse offers live music shows that have been compared to those in Branson, Missouri. The town calendar is filled with special events throughout the year.
Near the park's southern welcome station is Fort Donelson National Battlefield. Set along the banks of the Cumberland River, this was the site of a significant battle between Northern ironclad boats and Southern artillery batteries. Flag Officer Andrew Foote commanded the boats, and Brig. Gen. John B. Floyd led the Southern battery. Floyd's batteries repelled the ironclads, winning a short-term victory. Days later, Brig. Gen. Ulysses S. Grant captured the fort, making possible an invasion of the South. He wrote, "Fort Donelson will hereafter be marked in Capitals on the maps of our United Country."
The national battlefield is along U.S. 79 in Dover, Tennessee, and admission is free. To pick up free maps and brochures, and see an orientation film, stop at the Stewart County visitors center nearby. (As of this writing, the battlefield visitors center was closed for remodeling.)
Camping At LBL
More than a dozen RV campgrounds can be found in the area, including four within the recreation area. Hillman Ferry, Energy Lake, Wranglers, and Piney campgrounds have hookups and are open March through November. Hillman Ferry has the most recreation facilities, with swimming, fishing, boating, disc golf, trails, a ball field, and an amphitheater presenting band concerts.
A limited number of park campsites can be reserved. General info and details about each campground in the park is available at www.landbetweenthelakes.us/seendo/camping, or call for campground reservations: (800) 525-7077.
For listings of commercial campgrounds, consult your campground directory or check the FMCA RV Marketplace, published in the January issue and online at FMCA.com. A helpful map of the entire LBL area is available at www.explorekentuckylake.com/maps/docs/2015LBLGeneralMap.pdf.
Further Info
Land Between The Lakes National Recreation Area
238 Visitor Center Drive
Golden Pond, KY 42211
www.landbetweenthelakes.us
>Helpful websites:
Comprehensive LBL info: www.explorekentuckylake.com
Grand Rivers: www.grandrivers.org
Kentucky state tourism: www.kentuckytourism.com
Tennessee state tourism: www.tnvacation.com