Innovation and quality construction are keys to this RV furniture maker's success.
By Mark Quasius, F333630
January 2018
RV owners seeking to upgrade their furniture often find what they are looking for at Lambright Comfort Chairs, located 4 miles south of Shipshewana, Indiana, near the heart of the RV industry.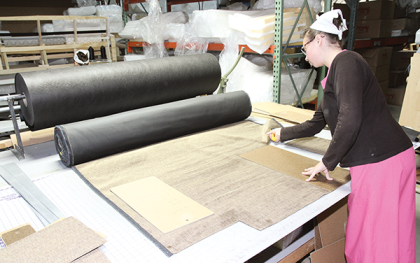 Vernon Lambright's father told him he wouldn't make a very good farmer. So, in 1999 Vernon began making wall-hugging recliner chairs for RVs. Working in a small shed, he made one a month; then, two a month; and then, as word spread, two a week. Vernon could see the potential for growth and wanted to create a family business that included his children once they finished their schooling.
In 2006, Vernon built a 60-foot-by-120-foot building on a large lot just south of Shipshewana. More orders and increased production led to the addition of a 50-foot-by-70-foot wing in 2013. Today, Lambright produces approximately 35 units a day, with some of those manufactured at a second location. The company's spacious property will allow Vernon to follow through on his plans to consolidate production under one roof.
Handmade with Hard Work
The goal is to create innovative RV furniture and infuse Amish quality and craftsmanship into every piece. Components are designed and engineered to be the strongest on the market. Each piece is assembled by hand. Every steel frame is made using tempered steel to prevent metal fatigue and bending over time. The wooden frames are made with maple hardwood. Maple is so hard it can't be fastened with screws without splitting, so Lambright workers drill and bolt together all maple hardwood frames for superior strength. The wooden backrest frame surrounds a tempered steel hoop for improved durability. Lambright does its own wood cutting and milling from large bulk sections of lumber in order to control the quality of each piece. Nylon washers inserted between steel members at pivot points provide easy operation and eliminate squeaks.
All of the fabric is hand-cut. Each piece is inspected for flaws and oriented so that the grain matches in every piece of furniture. The fabric is sewn by Amish seamstresses using manual machines.
It's About Quality
To assure better quality control, much of the work is done in-house rather than outsourced. Lambright now glues its own foam padding after experiencing quality issues with a previous supplier. A breathable membrane beneath the cushions prevents dust or flakes from shedding and landing on the RV floor. Puncture-proof material between the springs and foam stops broken springs from cutting into and damaging the foam.
Lambright produces some furniture for RV manufacturers, but it mainly focuses on retail sales. Most of the company's furniture is sold through dealers, such as Bradd and Hall, but Lambright offers factory sales as well. Customers can bring in their RVs to get exact measurements and place orders. After about six weeks, the furniture is ready and can be installed by Lambright at the factory. Recently, orders from Australia have increased. The furniture is shipped to a California port where it begins its long voyage to the land Down Under.
The Customer is Always Right
According to Vernon, the key to designing furniture is listening to people. Many of the company's products reflect customers' repeated requests for specific features. What began with a simple wall-hugging recliner with a swing-up table has evolved into a wide selection of well-built furniture. Innovation has led to many improvements over the years. Tilting armrests allow a recliner to fit into a space that is only 28 inches wide. Wall-hugging recliners maximize RV floor space without sacrificing comfort.
Theater seating has become a trend as more coaches are equipped with large-screen TVs on power lifts directly across from the sofa. Theater seating allows each person to recline his or her half of the sofa independently. A swing-down center armrest has cup holders and a tray for the remote control or snacks. A large pullout drawer in the base provides extra storage. The seats can recline with only 4 inches of space between the wall and the sofa; it's even possible to recline fully to a flat position.
Lambright's attention to detail is evident. Its planned facility expansion will enlarge the showroom substantially and enable Lambright to meet customer demand for new products.
More Info
Lambright Comfort Chairs
1150 S. 700 W.
Topeka, IN 46571
(260) 768-4820