More than two dozen of these United States preserves have campgrounds with full hookups.
By Fred & Suzi Dow, F435606
January 2018
As you travel in the United States, chances are you have passed through or been near a national forest. You may have heard or thought the parking aprons would be too small for your RV, or the hookups you want wouldn't be available. At one time, that was true. But today, 26 U.S. Forest Service campgrounds with full hookups — most of them with 50-amp service — are scattered across the country.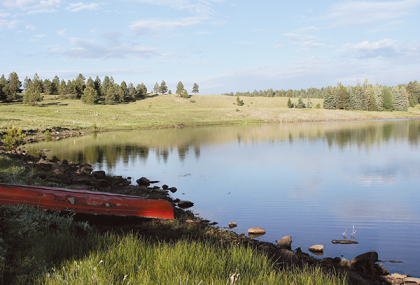 If you venture into a national forest's highly developed campground, you just might find the best camping experience ever. In addition to a community of fellow RV enthusiasts, you'll discover spacious campsites, reliable electric power, and good drinking water, all at reasonable prices (especially if you use your Senior/Golden Age Passport).
From your campsite, you'll hear a forest that is never completely silent and see a night sky awash with countless stars. Chances are, wildlife will wander by to check what's happening. In other words, your experience will have you looking forward to your next national forest campground discovery.
History of Our National Forests
National forests are part of the broad umbrella of public lands. This was an American concept established by President Theodore Roosevelt more than 100 years ago. Public lands in the United States are held in trust for the American people and their descendants by the federal government, either the Department of Interior or, in the case of national forests and grasslands, the Department of Agriculture. The U.S. Forest Service administers the 176 national forests and grasslands scattered across the country and Puerto Rico.
The mission of the Forest Service is to sustain the health, diversity, and productivity of the nation's forests and grasslands to meet the needs of present and future generations. Recreation has and will continue to be an important component in the Forest Service achieving its mission. Why? Since the end of World War II, with the increase in leisure time among working middle-class folks, national forests are a major source of many recreational activities, including camping.
Early in the 20th century, attitudes about camping changed. It became viewed as an adventure and tonic to the stress of modern life. In 1910, the first "auto campers" were built for commercial sale, and the RV industry was born. A few features touted in the earliest RV, such as storage and protection from the elements. It can still be found in today's motorhomes and towable RVs. Forest Service campgrounds with full hookups allow modern features such as air conditioning, microwave ovens, and televisions to operate. And, you have your own bed and bathroom.
RVing Enters the Scene
With the growth of outdoor recreation and the increasing popularity of RVs, the Forest Service has upgraded many of its campgrounds with hookups, and has even built some new ones. The accompanying chart lists national forest campgrounds with full hookups (sewer, electric, and water). Most will accommodate Type A motorhomes and large RVs.
In addition to the 26 Forest Service campgrounds with full hookups, 57 campgrounds have electric and water hookups, 115 have electric only, and 14 have only water hookups, according to our research for the U.S. National Forest Campground Guide.
Considering the U.S. Forest Service has more than 2,000 developed campgrounds in its inventory, 26 places with full hookups may seem like a tiny number. But those 26 offer campers a great way to discover the delights of camping on public land. True, Forest Service campgrounds do not have all the amenities of private campgrounds, such as meeting rooms, bingo nights, or pickleball courts. However, a few private campgrounds offer the features found in a national forest.
For example, Mendenhall Campground in Alaska's Tongass National Forest has its own glacier to explore. Salt Springs Campground in Florida's Ocala National Forest offers swimming in crystal-clear water from bubbling springs. Union Creek Campground in Oregon's Wallowa-Whitman National Forest is a short drive to the historic community of Sumpter. Also,   there is the Sumpter Valley Dredge State Heritage Area and the Sumpter Valley Railroad (a narrow-gauge steam operation). Additionally,  Serrano Campground in California's San Bernardino National Forest overlooks Big Bear Lake with its many attractions. How many private campgrounds can compete with the scenic beauty found in a national forest?
Little Something For Everyone Here
Don't let old misconceptions place limits on discovering the delights of camping in national forests because you'll find there's something for everyone at these campgrounds. From hiking among the redwoods of California and enjoying the fall foliage in Kentucky. And to landing your personal "blue ribbon" rainbow trout or walking among the towering Rocky Mountains of Colorado.
For the past 23 years, Fred and Suzi Dow have researched, visited, and surveyed approximately 2,400 developed campgrounds in 176 national forests and grasslands. The data (up to 55 fields) collected on each campground is posted on their website, www.forestcamping.com, and published in a series of e-books. Their aim is to provide enough information that campers will be able to select a U.S. Forest Service campground that best suits their needs.
National Forest Campgrounds With Full Hookups*
| State | National Forest | Campground Name | Amps |
| --- | --- | --- | --- |
| Alabama | Bankhead | Corinth | 50 |
| Alaska | Tongass | Mendenhall | 30/50 |
| Arizona | Apache | Apache Trout | 50 |
| Arizona | Sitgreaves | Fool Hollow Lake | 30/50 |
| California | Lassen | Merrill | 50 |
| California | San Bernardino | Serrano | 30 |
| Colorado | Uncompahgre | Matterhorn | 30 |
| Florida | Ocala | Salt Springs | 50 |
| Kentucky | Land Between the Lake NRA | Hillman Ferry | 30/50 |
| Kentucky | Land Between the Lakes NRA | Wranglers | 30 |
| Kentucky | Daniel Boone | Twin Knobs | 30/50 |
| N. Carolina | Pisgah | Lake Powhatan | 50 |
| N. Carolina | Pisgah | Davidson River | 50 |
| Oklahoma | Ouachita | Cedar Lake | 30/50 |
| Oklahoma | Ouachita | Shady Lake | 30/50 |
| Oklahoma | Ouachita | Charlton | 30/50 |
| Oregon | Rogue River-Siskiyou | Union Creek | 50 |
| Oregon | Wallowa-Whitman | Union Creek | 30 |
| Pennsylvania | Allegheny | Kiasutha | 50 |
| Pennsylvania | Allegheny | Red Bridge | 15 |
| Pennsylvania | Allegheny | Twin Lakes | 15 |
| Pennsylvania | Allegheny | Willow Bay | 15 |
| Tennessee | Land Between the Lakes NRA | Piney | 30/50 |
| Texas | Sam Houston | Cagle | 30/50 |
| Texas | Sam Houston | Double Lake | 50 |
| Utah | Uinta-Wasatch-Cache | Strawberry Bay | 50 |
*Information was current as of October 3, 2017. Visit www.forestcamping.com for detailed descriptions.