A few years of full-timing have helped to put life in perspective for an FMCA couple.
By Kerensa Durr, F437547
January 2018
As you're reading this, my husband, Brandon, and I will be entering our fifth year as full-time RVers, with a few additional years under our belts as weekend campers. RVing has helped open up new worlds and new experiences to us. We've been able to go places we never would have visited while living in one spot, and to meet people we may never have seen. Traveling the country in our RV has highlighted three universal truths for us.
People are more alike than they are different.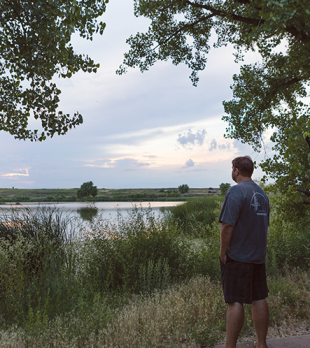 We are all individuals, with varied perspectives and regional differences. But underneath it all, we have the same needs and concerns. We've met people from all over the country, and we've found everyone wants similar things. People are striving to be happy, and doing the best they can. We're not the first ones to notice this or write about it either. In his book Travels With Charley: In Search Of America, John Steinbeck writes about his journeys throughout the United States in his truck camper with his dog, Charley, in tow, and he expressed a similar sentiment. Fifty-eight years later, we've found that not much has changed with Americans.
What's great about RVing is that you actually can stay and temporarily become part of a community. You can dive in and learn a little bit more about the people in the place you are visiting and the commonalities you have. We've met teachers in tiny towns out West with only 10 students in the whole school; business owners carving out a niche in their hometowns; and park rangers protecting our nation's treasures. It's interesting to learn different perspectives while bonding over similarities. The search for happiness binds all these people together. RVing creates enlightened travelers.
The RV Community
RVers are a lucky bunch, because we're pretty happy right out of the gate, given that we're able to enjoy traveling in our RVs. Within the RVing community, we've met retirees, empty-nesters still working, and newlyweds on their honeymoon — more than a few, actually. Everyone has a yearning to explore and see what this country and continent have to offer. We've also found that RVers have a giving spirit and are almost universally willing to lend a helping hand or offer a wave as you drive by. The RVing community is very friendly and very strong out on the road.
We've met more than a few RVers we now consider close friends, and these friendships have lasted even when someone comes off the road. We started out with a desire to see all that the United States and Canada have to offer, but now some of our destinations are more about the people and friends we'll see that they are about the place. Which brings us to our next truth . . .
Experiences are better than things.
Most Americans and Canadians fall into the consumer trap, and we were no different. We had our clothes and our furniture and our car, and the weekends might involve more shopping. There is just no way to maintain this in an RV. You only have so much room to put things, and you really don't need to take it all with you anyway.
You could even say we were part of the problem, since our jobs involved designing products for people to buy. We were actually creating items that we downsized to hit the road. We have always valued experiences, but this is true even more so now.
Shoes may last a season, but a memory can last forever. Having the experience of visiting the Badlands of South Dakota is something no one can ever take away from me, and something that I cherish. Similarly, experiencing the August 2017 solar eclipse with a bunch of RVing friends in Idaho is something I will remember forever, and was more important to me than a T-shirt with eclipse artwork on it.
We believe so much in RVing and the experiences that it creates that we've even changed the focus of our careers from creating physical products to helping create new RVers. We built RV to Freedom as an online course and community to help people learn how to transition their life to the road as full-time RVers. The public Facebook group is where seasoned and new RVers alike can interact and ask questions. The prospect of helping others achieve their RVing dreams is so much more fulfilling to us than creating products people may throw away the next season. It better aligns with how we've changed throughout our RVing journey.
Quantity VS Quality
RVers tend to value experiences over physical possessions. And we have a built-in community and can make fast friends at any campground we visit. Most RVers are up for having a great time together, whether it's around a campfire, at a brewery, or while playing a game.
Although the destination and spending time with friends can be fantastic experiences, the RV and the journey itself are wonderful, too. Spending time with loved ones in your traveling house is something no one will forget. Personally, driving down the highway with Brandon and our dog by my side makes me pretty happy; we wholeheartedly agree with Steinbeck that dogs make great traveling companions.
The journey is what you make of it, whether you find places to stop along the way, sing silly songs, play games, or just enjoy each other's company, but it can be one of the best experiences of any trip.
The journey always ends somewhere, even though we may not know where that will be when we embark on our trip. For us, it's not hard to imagine we don't know where we'll end up because . . .
We could travel North America our entire lives and not see everything.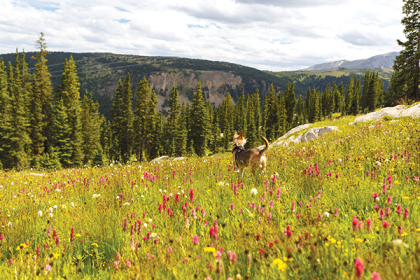 The United States alone is so vast that in our four years of full-time travel, we have yet to visit certain states. We have made return trips to some of our favorite places, but we've left so many destinations untouched. Even when we return to the same location, we find things we missed the first time. You can return to the same place again and again and have a different experience every time.
Our continent is so diverse that you can see one region and then travel a few hundred miles and encounter a totally different landscape. This really blows my mind. I find it fascinating, and I love being able to drive from the wooded mountains down to the desert within a few hours. The landscape often varies even within a state's borders. In Colorado, for instance, we spent four months exploring, from Great Sand Dunes National Park to the Rocky Mountains to the high desert in the Western Slope. We spent all that time in one state, and we still missed some of the plains and famous ski resort areas.
The Bucket List
Our first year on the road, we thought we would go all the way to Maine. Instead, our extended visits along the southern part of the East Coast meant we had to quickly escape the heat and head directly to Vermont before attending meetings we had scheduled in New Jersey and New York. By that time, it was already fall, and we had my brother's wedding to attend, so we sidelined the trip to Maine. So, that state is still on our RV bucket list, along with many other places, among them Puget Sound in Washington and the Alabama Hills in California.
We hope to see a lot more of the United States, Canada, and other countries before our RVing journey ends, but I know I'll never see it all. Even so, RVing makes me happy, and I enjoy all that I experience. Maybe that's a fourth truth: RVing is happiness. I think so.
Visit Kerensa Durr and Brandon Hatcher in their Facebook group at RVtoFreedomGroup.com. You can learn more about full-time RVing and their course at RVtoFreedom.com and read more of their personal adventures at DriveDiveDevour.com.