Bowlus Road Chief LLC Offers Two Trailer Models
This past February, a Bowlus Road Chief travel trailer appeared in a Super Bowl TV ad for website builder Squarespace. As a new football season approaches, RVers who enjoy traveling to games may want to check out two Bowlus Road Chief LLC models.
Both models are 24 feet long and feature the company's signature riveted-aluminum skin. The streamlined body is said to significantly reduce drag.
*The On The Road Edition has beds that convert from a king to twins; radiant-heated floors; a kitchen with stainless-steel countertops and a marine-grade refrigerator/freezer; and more. The price of the On The Road Edition starts at $137,000.
*The Limited Edition Endless Highways, priced at $219,000, includes all the features of the On The Road Edition plus additional amenities, such as two large skylights and a power system that is said to provide the ability to remain off the grid for up to seven days.
For more information, visit www.bowlusroadchief.com.
---
Venture RV Equips Towables With Wireless Leveling System
The LevelMatePRO wireless leveling system will be standard equipment on Venture RV towable RVs as a result of the RV manufacturer's exclusive partnership with LogicBlue Technology, which developed the leveling system.
Venture RV, based in Shipshewana, Indiana, is a division of K.Z. Inc., a Thor Industries subsidiary. Venture RV produces SportTrek Touring Edition, SportTrek, SportTrek Toy Hauler, Sonic, and Sonic Lite towable RVs.
Using Bluetooth technology to connect with a smartphone, LevelMatePRO calculates and displays the height required for an RV to achieve a level position. A red indicator on the phone shows the areas that need to be raised. The indicator turns green when the RV is level.
For more information, visit www.venture-rv.com.
---
"California 101" Video Series Launches
Visit California, a nonprofit organization that collaborates with the state's travel industry, has unveiled a digital video series titled "California 101." The 35 videos in the series are categorized into five themes: Beach, National Parks, Road Trips, Resorts, and "5 Amazing Things to Do
In . . . "
The series covers diverse experiences across the state, showcasing both iconic destinations and hidden gems. It also answers frequently asked questions about California travel. To view the videos, visit www.visitcalifornia.com/dream365tv.
---
REV Introduces 2019 Fleetwood Flair
REV Recreation Group has redesigned the gas-powered Fleetwood Flair for 2019. The entry-level Type A motorhome has a starting retail price of $111,988.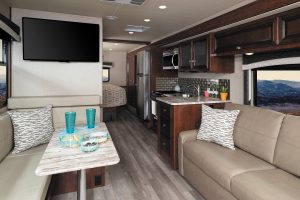 Five floor plans offer features such as a king bed, an open living area, a Hide-A-Loft drop-down queen bed, ducted air-conditioning, and automatic generator start. A residential refrigerator is available on certain models. In addition, the Flair is equipped with 50-amp electrical service, heated holding tanks, and pass-through storage, as well as optional items such as theater seating, an upgraded suspension package, and a power driver's seat.
For more information, visit www.fleetwoodrv.com.
---
Mount Comfort RV Donates Travel Trailer To Make-A-Wish
Lizzie Crouch is a 5-year-old from Pittsboro, Indiana, who battles hypoplastic left heart syndrome, a birth defect that affects blood flow through the heart. After telling the Make-A-Wish Foundation that she wanted to go camping with her family, Lizzie's wish was granted, thanks to Mount Comfort RV, an FMCA commercial member based in Greenfield, Indiana.
While attending an April 2018 fundraiser in Indianapolis for the Ohio, Kentucky, Indiana chapter of the Make-A-Wish Foundation, Lizzie and her family learned that they would receive a 2017 Salem Cruise Lite travel trailer donated by Mount Comfort RV. The donation marked the fifth time Mount Comfort RV has supplied an RV to Make-A-Wish. The fundraiser brought in nearly $700,000.
For information about Mount Comfort RV, visit www.mountcomfortrv.com.
---
Air Lift Co. Redesigns Air Springs For Ram 1500
Air Lift Company has redesigned its LoadLifter 5000 series kits for 2009-2018 Ram 1500 pickup trucks. The kits work with the vehicle's existing suspension system to help eliminate common towing problems such as sagging, trailer sway, rough rides, and bottoming out. Installation time for the new kits is said to be 50 percent faster, with no vehicle modifications required.
The LoadLifter 5000 offers up to 5,000 pounds of load-leveling capacity. The LoadLifter 5000 Ultimate has the same features, plus an internal jounce bumper. Additional features of the LoadLifter Ultimate Plus+ include stainless-steel air line, roll plates, and air spring hardware.
The company also makes kits for Chevrolet, Ford, and GMC vehicles. For more information, visit www.airliftcompany.com.
---
New York RV Dealer Completes Expansion
Alpin Haus has expanded its RV sales facility in Saratoga County, New York. The 3,600-square-foot addition includes new service bays, a new parts and accessories store, and a redesigned sales lot.
Alpin Haus RV of Saratoga, located at 30 Gordon Lane in Gansevoort, New York, sells and services new and used Type A, B, and C motorhomes; travel trailers; and fifth-wheels. Company officials said the expansion would result in the hiring of 12 new employees.
Alpin Haus also sells RVs in the New York cities of Amsterdam and Port Jervis. For more information, visit www.alpinhaus.com.
---
Thor Industries' School Program Is A Hit
Representatives from Thor Industries plan to visit schools and interact with more than 10,000 fifth-graders, eighth-graders, and high schoolers during the 2018-2019 school year through the company's LEAP program, which stands for Learn, Engage, Achieve, and Perform.
"Thor Industries wants to inspire excitement in local students about the RV manufacturing industry and the lifestyle it creates for thousands of Americans," said Rick Schutt, Thor's director of community engagement and one of the employees who visits schools.
Thor officials introduced the program early in the 2017-2018 school year, and it grew to include 21 schools in 11 school districts near the company's Elkhart, Indiana, headquarters. More schools are expected to participate this year. The program includes team bonding activities, problem-solving, Lego assembly, RV tours, introductions to manufacturing processes, discussion of career opportunities, and more.
Mr. Schutt said feedback from participants shows a 94 percent satisfaction rate.
---
Founder Of Recreational Vehicle Directory Dies
Dave Hanley, the longtime publisher of Hanley's Recreational Vehicle Directory and a former advertising sales representative for FMCA, died May 12, 2018. The Lake Geneva, Wisconsin, resident was 85.
Mr. Hanley and his brother, Tom, created the directory, which was an advertising and buyers guide. Dave Hanley also created Hanley's Buyers Guide to Van Conversions, which he modeled after the RV directory.
In the mid-1970s, Mr. Hanley formed a relationship with FMCA that lasted approximately 30 years. He hired Beverly Gardner to sell advertising in FMCA's magazine. They regularly attended industry events, including FMCA conventions, and developed longstanding relationships with RV industry leaders.
---
USGS Studies Low-Impact Ways To Enjoy Nature
The hundreds of millions of annual visitors to national and state parks, wildlife refuges, and federally designated wilderness areas take a toll on the natural environment. U.S. Geological Survey scientists are studying the impacts, and that information is being used by organizations to develop and communicate low-impact outdoor practices. For example:
*Most visitors to protected natural areas hike on designated trails with hardened treads. But heavy hiking traffic, as well as visitors venturing off trails, can compact soils and increase water runoff and erosion. USGS scientists are collaborating with universities on sustainable trail design and actions to deter off-trail hiking.
*Feeding wildlife, whether intentional or not, is common in many national parks. The practice can bring dangerous animals, or those that spread disease, close to humans. The practice also harms wildlife, which become dependent on unreliable food sources. USGS has helped land managers develop effective visitor messages to dissuade people from feeding wildlife.
*The book Leave No Trace in the Outdoors, by USGS research ecologist Jeffrey Marion, discusses ways to enjoy the outdoors while minimizing environmental and social impacts.