EarthRoamer's super high-tech, tricked-out motorhomes are designed to tackle terrain other RVs cannot, and they offer luxury accommodations off the grid and in the campground.
By Lazelle Jones
March 2019
To some readers, historic adventures by the Corps of Discovery, Admiral Richard Byrd, and Sir Ernest Shackleton define the word "expeditionary." Today, a Colorado company is light years ahead of that. In the town of Dacono, just north of Denver, EarthRoamer designs and builds motorhomes — which it calls "Xpedition Vehicles" — that break the mold of traditional RV manufacturing.
EarthRoamer Xpedition Vehicles, or XVs, can be found poking around the four corners of the world. In fact, one of the company's units has circumnavigated the globe. For the RV enthusiast who has never thought about this kind of alternative vehicle, or the possibilities such a bold motorhome offers, what follows may be a "wow" moment.
On a recent trip to Colorado, I visited the EarthRoamer facility, where I met with Curtis DesEnfants, director of production. Enjoying a ride-along into the countryside in their demo unit, I was impressed by the capabilities this revolutionary vehicle exhibited.
Earthroamer Models
EarthRoamer has been in existence for 20 years; for most of that time, Ford chassis have been the rails of choice. However, a Jeep-based model, the XV-JP, was produced on a limited basis from 2007 to 2012. Even today, some of those Jeep-based units traverse the backcountry, where off-road adventures take place.
Today, EarthRoamer builds on Ford Super Duty trucks exclusively. The reason? Ford parts and service are available virtually around the world. This can be especially important to RVers who enjoy far-flung adventure. Owners often ship their EarthRoamer units to faraway sites, including Australia for use in the outback.
Most EarthRoamer customers order the XV-LTS, a four-person, four-wheel-drive unit that is built on the F-550 ladder-rail platform. Each passenger has a comfortable captain's seat covered in the same leather upholstery as seating aft in the cabin. A pass-through between the rear two captain's seats makes it easy to move from front to back.
The Ford F-550 is powered by the 6.7-liter Power Stroke diesel engine. Air-ride suspension and 41-inch wheels and tires assist the XV-LTS in navigating destinations a standard motorhome cannot. Of course, the coach is equally suited for use in a traditional campground with hookups. The unit carries a gross vehicle weight rating (GVWR) of 21,060 pounds and is rated to accommodate trailer towing up to 12,500 pounds. The manufacturer's suggested retail price begins at $490,000.
Custom orders also can be placed for the even higher-line, off-the-grid, four-wheel-drive vehicle: the recently introduced EarthRoamer XV-HD. This more spacious model, based on Ford's F-750 chassis, accommodates six passengers. Its base manufacturer's suggested retail price approaches $1.5 million.
The Ford F-550-based EarthRoamer XV-LTS has a fresh-water holding tank capacity of 80 gallons, and a 25-gallon gray-water holding tank. Both are heated and insulated. There is no black-water tank, because a marine-style toilet in the high-end residential bathroom flushes directly into a 5-gallon cassette, which is manually removed from the rear of the coach for dumping. This means it can be emptied at a dump station or wheeled to a bathroom.
Two diesel fuel tanks hold 40 and 55 gallons, respectively. Together they give this coach a respectable driving range of 900 miles between refueling stops.
Systems
The heart and soul of the EarthRoamer's electrical system is a 3,000-watt pure sine wave Xantrex inverter. DC power from the house batteries runs through the inverter to produce 120-volt-AC power. Because of the electrical design, an auxiliary generator is not needed. In national parks and other sites where noise restrictions are strictly enforced, this is especially useful.
House battery power comes from a bank of four 8D Lifeline deep-cycle marine-style batteries that are wired in parallel and develop 1,020 amp-hours of DC electricity. The XV-LTS uses a 12-volt system; the XV-HD has a 24-volt setup. These batteries are charged several different ways. When the coach is motoring down the road, or the diesel engine is idling, the engine-driven 300-amp alternator charges the house batteries. Plus, while in camp, Ford's remote-engine-start function allows the diesel engine to be started and stopped from anywhere inside the cabin. You do not need to be behind the wheel. The house batteries recharge in a short time using the diesel engine.
Another charging source is the 1,320-watt roof-mounted solar system, which incorporates four solar panels. Together the solar panels yield approximately 110 amps of continuous charging power. Yet another option is 30-amp shore power, which can be utilized when parked in an RV campground.
EarthRoamer's heating and air-conditioning system is state-of-the-art. Air-conditioning consists of two 7.5-kw units. The condenser is mounted on the roof, while the A/C units themselves are inside the cabin; one is located behind the microwave, and the second is placed behind the rear interior cabin wall. One of the units can be powered by the house battery pack for an eight-hour span, such as overnight, in an already cooled environment.
Curtis explained that if you start the day with a cool interior, the two 120-volt-AC units will sustain a comfortable interior temperature, even in places such as Moab, Utah, in August. This can be accomplished by opening the interior to outside air during the night and utilizing natural convection or powered ventilation, then closing up the RV when the daytime temperature begins to rise. Several features make this possible: the cabin construction, which includes two layers of fiberglass with a balsa wood core; a recirculating air system; and dual-pane acrylic windows throughout the unit.
Keeping the interior cool on hot days can be facilitated further by running the engine and precooling the cabin interior using the Ford chassis' A/C system, which puts out 7,000 Btu of cold air per unit. Remember, all of these items together assist the twin 7.5-kw, 7,000-Btu high-efficiency air conditioners in providing stand-alone cooling throughout a hot day.
The demo unit was equipped with an optional exterior rear kitchen. It included a two-burner propane grill, fueled by two one-gallon portable propane tanks.
Central heating incorporates a diesel-fired system made by Eberspacher, rated at 13,600 Btu. Diesel fuel is drawn from the chassis fuel tank and delivered to a burner that heats a closed-loop boiler, which in turn circulates the sealed fluid to registers throughout the RV. This forced-air heating system is thermostatically controlled; the heat is delivered via ducting in the living and dining areas and into the king-size sleeping area above the four-passenger Ford cab.
Construction
The EarthRoamer XV-LTS cabin — which includes the salon, galley, cab-over bed area, closet, pantry, and bathroom — consists of a one-piece molded composite laminate body. As noted earlier, the exterior walls, roof, and floor are constructed with an outer layer of fiberglass, followed by a layer of balsa wood and an inner layer of fiberglass; all are applied by hand. (The XV-HD incorporates a foam core in place of balsa wood. Its body is created using an injection-molded fiberglass process.)
The roof and floor lines are rounded — thus, no seams that can become potential leak points. This continuous exterior shell is interrupted only by the penetrations that are made to install windows and vents. Standard automotive paint is used on the exterior and is matched to the Ford chassis. Custom graphics are available.
The seamless cabin structure is attached to the Ford chassis at three points. In the front are two solid mounts that do not move; in the rear, a single attachment is designed to pivot and flex to accommodate the twisting of the ladder-rail chassis, especially during off-road driving.
Interior Features
The XV-LTS is available in five floor plans. It all starts with a long list of standard features, including such luxuries as vaulted ceilings with a premium soft-touch headliner, cedar-lined closets, and an oversized 82-inch-by-80-inch memory-foam mattress. Maple hardwood cabinetry is used; drawers feature dovetail construction and full-extension ball-bearing slides. Dimmable LED lighting appears throughout the living space, bunk, and task areas; additional LEDs light the floor and ceiling.
Galley highlights include a 10-inch-deep stainless-steel sink with an electronic-touch faucet and a retractable sprayer; a butcher-block cutting board that doubles as a sink cover; and a slide-out pantry. Cooking needs are met with an induction cooktop and a 6-cubic-foot stainless-steel DC electric refrigerator and 2-cubic-foot upper freezer.
The wet bath is an enclosed unit with a shower and can function as a convertible changing room. A sink, medicine cabinet, and vanity mirror are included, along with toiletry dispensers. As noted earlier, the toilet is a 5-gallon cassette model.
EarthRoamer vehicles are sold factory-direct and are built to customer order. Clients select a floor plan with amenities most suited to their needs, be it ample counter space, a large dinette, more seating, etc. Many items are customizable, including the choices of wood, flooring, leather, countertops, backsplashes, etc. The result: one-of-a-kind interiors suited to each individual customer. The most popular floor plan, the Breckenridge, offers a driver's-side dinette area with a 30-inch-by-30-inch table that converts to a 6-foot bed, and a medium-size galley and sofa on the curb side.
Folks curious to learn more about EarthRoamer's Xpedition Vehicles can schedule a factory tour. Under environmentally controlled conditions, various stages of production take place within 44,000 square feet of enclosed floor space; six units typically are being built at any one time. Here also you will see their complete service and maintenance center, along with the in-house shops (wood, metal, electrical, plumbing) where most of the appurtenances and appointments are fabricated. In addition to specialized shop personnel, additional workers support the operation. With 70-plus full-time employees, EarthRoamer is a major player in this very specialized slice of the RV market.
Out front sits the demo unit that is used to take those who are interested in the EarthRoamer out into the field. Because EarthRoamer has many repeat customers, the Dacono, Colorado, factory also maintains a selection of previously owned units that are offered on a consignment basis.
Another way to find out more about the company's vehicles is to go online and play with the design software that allows you, at your leisure, to create your dream model. At this writing, more than 200 Earthroamer Xpedition Vehicles units are traversing the four corners of the world, with more to come.
---
SPECS | EARTHROAMER XV-LTS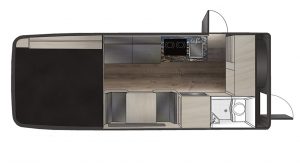 MANUFACTURER
EarthRoamer, 5073 Silver Peak Ave., Dacono, CO 80514; (303) 833-7330; www.earthroamer.com
MODEL
XV-LTS
FLOOR PLAN
Breckenridge
CHASSIS
Ford F-550 Crew Cab, four-wheel-drive
ENGINE
6.7-liter Power Stroke diesel
TRANSMISSION
6-speed automatic
TIRES
Continental 41-inch MPT-81
WHEELBASE
203 inches
BRAKES
4-wheel power disc with antilock braking system
SUSPENSION
air ride with iLevel
SHOCK ABSORBERS
heavy-duty remote reservoir
STEERING
power
ALTERNATOR
300 amps
BATTERIES
house — (4) 8D Lifeline deep-cycle marine;
chassis — (2) Type 65, lead acid, 650 cca
ELECTRICAL SERVICE
30 amps
SOLAR POWER
1,320 watts
EXTERIOR LENGTH
29 feet
EXTERIOR WIDTH
96 inches
EXTERIOR HEIGHT
11 feet 2 inches
INTERIOR HEIGHT
6 feet 8 inches
GROSS VEHICLE WEIGHT RATING (GVWR)
21,060 pounds
GROSS COMBINATION WEIGHT RATING (GCWR)
40,000 pounds
FRESH WATER CAPACITY
80 gallons
HOLDING TANK CAPACITIES
gray water — 25 gallons;
black water — N/A
FUEL CAPACITY
95 gallons
FUEL REQUIREMENTS
diesel
WATER HEATER
5 gallons
WATER SYSTEM
demand
HEATING SYSTEM
13,600-Btu diesel air heater
AIR CONDITIONING
(2) 7,000 Btu
REFRIGERATOR
6 cubic feet with 2-cubic-foot freezer; 12-volt-DC
TOILET
5-gallon cassette
WARRANTY
coach — 3 years/36,000 miles;
chassis — 3 years/36,000 miles bumper to bumper;
powertrain — 5 years/100,000 miles
MANUFACTURER'S BASE SUGGESTED RETAIL PRICE
starts at $490,000