Built for pleasurable driving and comfortable living, this solidly constructed Super C motorhome should appeal to active RVing families.
By Mark Quasius, F333630
August 2019
Renegade RV has carved out a niche in the motorhome market, producing vehicles ranging from large custom Super C coaches on Class 8 truck chassis to compact RVs utilizing the Mercedes-Benz Sprinter chassis. One of the most popular models is the Verona, a midlevel product in Renegade's lineup.
Recently, I tested a 2020 Verona 36VSB, a 36-foot unit built on the Freightliner M2 chassis and featuring a split-bath floor plan. The 36VSB is one of four floor plans; lengths range from 34 to 40 feet.
Construction
Similar to its siblings, the Verona reflects attention to detail in its construction. Three-inch steel longitudinal floor beams are laid atop the chassis frame rails and separated by a ¾-inch corrugated HDPE barrier. This barrier absorbs vibration and eliminates squeaks between the chassis frame and floor support rails. Next, 2-inch welded tubular steel cross members are placed laterally over that and around the perimeter to serve as the platform for the ¾-inch fir plywood deck.
The Verona's "Super Sandwich" residential framed floor construction begins with a galvanized steel sheet that serves as a vapor barrier. The 2×4 residential floor framing is laid atop that and filled with 3 inches of Johns Manville Mineral Wool sound and thermal barrier insulation before being capped off with the plywood floor.
The Verona's sidewalls rest on steel angle rails welded to the frame. Large self-tapping bolts placed every 6 inches attach the sidewalls to the frame. Every structural member in the sidewall is tubular aluminum. Wood is used only for interior wall construction. Vetroresina XL4.7 fiberglass forms the outside of the sidewall sandwich; inside, Azdel composite panels (impervious to water) are vacuum-laminated with foam insulation board.
The roof consists of a one-piece crowned fiberglass cap over the joists and foam insulation. To maximize its effectiveness, insulation runs through the roof and is not cut for ductwork. Ducting and wiring lie beneath the roof in a lower cavity built down to the flat ceiling.
Chassis
The Verona's Freightliner M2 chassis is powered by a 350-horsepower Cummins L9 engine with a two-stage Jacobs engine compression brake. The engine's 1,150 pound-feet of torque pass through an Allison TRV3200 electronic six-speed automatic transmission and reach the ground via 295/75R22.5 radial tires. Dual 50-gallon fuel tanks and a 6-gallon DEF tank feed the engine. Air brakes with ABS provide plenty of stopping power. The Airliner rear air suspension provides a stable yet soft ride without sacrificing handling.
With a gross vehicle weight rating (GVWR) of 34,300 pounds and a gross combination weight rating (GCWR) of 60,000 pounds, the Verona can tow most anything RVers may have in mind using its 20,000-pound-rated Class IV hitch. Our test unit tipped the scales at 25,120 pounds unloaded, with 10,500 pounds recorded on the 13,300-pound-rated front axle and 14,620 pounds on the 21,000-pound rear axle. These numbers yielded an effective cargo carrying capacity of 9,180 pounds.
Exterior
The Verona test coach was finished in the attractive three-color Coastline graphics design, one of four available full-body paint schemes. The sculpted, one-piece molded front cap with side transitions blends the cab-over area with the main body; this ensures a leak-proof seal and a quiet ride. Beneath each cab entry door, fiberglass enclosures fitted with stainless-steel nonslip tread inserts cover the dual diesel fuel tanks and the driver-side DEF tank. LED taillights, headlights, and clearance lights are standard, as is a three-piece chrome front bumper with integrated fog lights.
A standard Girard power lateral-arm patio awning with LED lighting eliminates vertical awning support rails. Frameless, tinted windows and a keyless entry system come standard, as does an outside entertainment center with a 32-inch LED TV.
A couple of exterior options on the review unit really added a touch of class. The Caliber 9 bright-finish grille package, a contemporary chrome mesh grille with an attractive Renegade RV emblem in its center, replaces the standard Freightliner grille. Additional air inlet areas beneath the grille and in the front bumper also are finished with this mesh treatment. Another option: wheels from American Racing (Accuride polished aluminum wheels are standard). These roulette-style aluminum rims feature black accents and attractive black center caps with American Racing logos.
The Verona's basement compartments are made of welded steel for maximum strength. All utilities are on the driver's side, to free up compartments on the patio side for easy-access storage. Each basement compartment door features dual latches; one near the top and one near the bottom. Each latch connects to an easily adjusted U-bolt. This design prevents door flexing and eliminates the slamming common to many basement doors.
Cockpit
The cab is fitted with a premium sound and heat insulation package, which makes it easy to carry on a normal conversation in this front-engine diesel-powered chassis.
The cockpit area is comfortable. During construction, the standard Freightliner seats are removed and custom-upholstered in soft-touch synthetic leather to match the rest of the interior. These air-ride seats are a real treat. Simply press the lever to adjust a seat to your weight, and it absorbs any bumps or jolts to give you a nice, smooth ride. Each seat is equipped with triple air-adjustable lumbar supports and swivels to face the rear when camping.
The Equalizer Smart Level dual-acting leveling jacks can be operated remotely via a smartphone app and from the cockpit's on-board control panel.
The Garmin RV-BBT601 Touch Screen Infotainment Hub features a Garmin GPS navigation system with RV directories and specific routing, as well as the usual entertainment functions and Bluetooth phone connectivity. Images from the color side-view and rearview cameras also display on the dash hub. A portable tablet can be removed from the dash hub's magnetic dock for remote use via Wi-Fi. JB Lansing speakers and a surround-sound system complete the audio experience.
Interior
The 36VSB I inspected was finished in the Cappuccino interior décor scheme, one of three available interiors, and Spiced Brandy maple hardwood cabinetry and woodwork. Traditional-style mitered cabinet doors and satin-nickel hardware are used throughout. Drawers have soft-close ball-bearing guides.
All countertops are solid surface, and the ceiling is covered with a soft-touch padded vinyl material. Armstrong Luxe Plank flooring ran throughout the test unit, although bedroom carpet is standard. Lighting and other accessories are controlled by a multiplex panel and also can be operated via a smartphone app.
The cab-over area houses an entertainment system and controls for the Equalizer jacks, solar panels (if so equipped), and energy management system. Plenty of space remains for a DVD player and assorted gear. Over the entry door, a 43-inch LED TV is mounted on a swing arm that allows viewing from anywhere in the main living area.
In this coach, the standard sofa bed in the front street-side slideout was replaced by optional theater seating, complete with a fold-down center armrest with cup holders. When the armrest is down, it exposes a large storage area built into the backrest of the sofa. The booth dinette is also in this area; its soft, comfortable bench seats have large drawers for additional storage. The Verona incorporates custom-built Mastercraft-brand furniture upholstered in a soft-touch synthetic leather.
Opposite the dinette, the galley in our all-electric test coach contained a dual-element induction cooktop, an overhead microwave-convection oven, and a flush-mounted sink backed by a stone backsplash. An 18-cubic-foot French-door stainless-steel residential refrigerator stands to the right of the galley workspace, along with a spacious pantry. An optional propane package changes appliances to a 13-cubic-foot Dometic two-way refrigerator with ice maker (propane, 110-volt) and a three-burner propane cooktop.
Aft of the galley is the split bath and laundry center. The latter, on the street side, holds an optional stackable washer and dryer behind louvered doors. To the left is the bathroom vanity, sink, and mirrored medicine cabinet. Across the aisle on the curb side, a porcelain electric macerator toilet and a fiberglass shower with circular surround are enclosed for privacy.
In the rear bedroom, the head of a 72-inch-by-74-inch king-size bed with an iRelax memory-foam mattress rests against the curbside slideout wall. The bed is flanked by nightstands, USB charging outlets, and overhead storage cabinets. The opposite wall holds a complex of dresser drawers, two wardrobe closets, and a 32-inch LED TV.
Utilities
As noted, our Verona test unit was all-electric (a propane package is available), and its 120-volt power needs are supplied by a 50-amp power cord, an Onan 8-kw diesel generator with auto start, and a Magnum 2,000-watt true sine wave inverter. Three Group 27 AGM batteries provide power for the inverter and the 12-volt house accessories.
The Verona comes prepped for solar panels, which can be ordered as an option from the factory or installed later. An energy management system monitors incoming power and controls loads to prevent tripping pedestal breakers. The Verona also is cable-TV-ready and equipped with a Winegard in-motion satellite dish, or it can be ordered with a Winegard Trav'ler satellite dish.
The utility bay has a nice feature. Renegade technicians use a water jet to cut labels into the steel panel for the various valves and controls that manage the fresh-water and waste-water systems. They'll never fall off or fade with this method, which also adds an upscale look. This compartment also holds the whole-house water filter, an optional power hose reel, and the exterior shower connection with slinky hose. Holding tank sizes are huge: 150 gallons of fresh water, and 75 gallons each for gray and black water.
The holding tank dump valves are in a separate compartment from the fresh-water system and controlled in the wet bay by remote cable-operated valves. The gray and black holding tanks are equipped with 12-volt heat pads for cold-weather use.
An Aqua-Hot 250D hydronic heating system completes the all-electric coach. The diesel-electric burner provides "clean" heat to the coach interior and provides unlimited domestic hot water.
Two roof-mounted 15,000-Btu air conditioners are equipped with heat pumps for additional warmth in cool weather. Purge pumps and drain lines deliver A/C condensation all the way to the underside of the coach, eliminating water runoff and sidewall streaking.
Final Impressions
The Verona fills a great spot in the Super C arena. It's not an entry-level coach with minimal features, yet neither is it in the price range of high-end custom coaches. It offers an abundance of attractive features. Renegade's attention to detail is evident throughout this motorhome, from basic construction features to attractive design of everything from the key block in the slideout crown molding to the contemporary grille.
The drive is solid and comfortable. The coach handled well. The suspension and the air-ride seats afforded a smooth ride. I also found the front-engine diesel to be markedly quiet. The 9-liter Cummins L9 engine was a treat to drive and offered more torque than the more commonly used 6.7-liter Cummins B series engine, which will make a big difference when traveling in the mountains or when pulling a trailer.
The dual-slide 36VSB floor plan appeared well thought out and offered plenty of room. Whether RVers select this layout or another in the Verona line, the overall quality of construction and details will be evident.
SPECS | RENEGADE VERONA 36VSB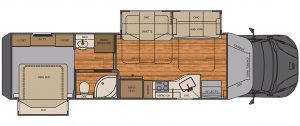 MANUFACTURER
Renegade RV, 52216 S.R. 15, Bristol, IN 46507; (888) 522-1126;
MODEL
2020 Verona
FLOOR PLAN
36VSB
CHASSIS
Freightliner M2
ENGINE
Cummins L9; 350 horsepower at 2,000 rpm; 1,150 pound-feet torque at 1,400 rpm
TRANSMISSION
Allison TRV3200 Series 6-speed electronic
AXLE RATIO
4.56 to 1
TIRES
295/75R22.5
WHEELBASE
285 inches
BRAKES
Disc air with antilock braking system
SUSPENSION
Airliner rear air
SHOCK ABSORBERS
Sachs
STEERING
tilt and telescoping
ALTERNATOR
180 amps
BATTERIES
chassis — (2) DTNA, 2,250 cca;
house — (3) Group 27 AGM
ELECTRICAL SERVICE
50 amps
AUXILIARY GENERATOR
8-kw Onan diesel
INVERTER
Magnum 2,000-watt true sine wave
EXTERIOR LENGTH
36 feet 10 inches
EXTERIOR WIDTH
99.25 inches
EXTERIOR HEIGHT
12 feet 8 inches (with roof A/C)
INTERIOR HEIGHT
7 feet
GROSS VEHICLE WEIGHT RATING (GVWR)
34,300 pounds
GROSS COMBINATION WEIGHT RATING (GCWR)
60,000 pounds
GROSS AXLE WEIGHT RATING (GAWR)
front — 13,300 pounds;
rear — 21,000 pounds
AS-TESTED WEIGHT
(with full fuel, fresh water, optional accessories)
25,120 pounds
FRESH WATER CAPACITY
150 gallons
HOLDING TANK CAPACITIES
gray water — 75 gallons;
black water — 75 gallons
FUEL CAPACITY
(2) 50-gallon tanks; 6-gallon DEF
FUEL REQUIREMENTS
diesel
PROPANE CAPACITY
all-electric coach; propane package available with 24.2 gallons
WATER HEATER
Aqua-Hot 250D hydronic heating
WATER SYSTEM
demand
HEATING SYSTEM
Aqua-Hot 250D hydronic heating
AIR CONDITIONING
(2) 15,000-Btu with heat pumps
REFRIGERATOR
18-cubic-foot residential
TOILET
porcelain with macerator
WARRANTY
1 year/12,000 miles limited;
5 years limited structural
MANUFACTURER'S BASE SUGGESTED RETAIL PRICE
$294,533
PRICE AS TESTED
$313,579