Campground Spotlight
Buckeye Lake KOA, Buckeye Lake, Ohio
October 2019
It's been 50 years since Buckeye Lake/Columbus East KOA opened, and this past July, the anniversary was commemorated with a special celebration. In attendance were members of the local tourism authority, city council, campground guests, team members, as well as past and current campground owners.
But this area's fascinating history goes back way before KOA existed. The namesake Buckeye Lake was created as a water source for a portion of the Ohio-Erie Canal in 1826. After the canal days ended, Buckeye Lake became a recreation spot. A popular amusement park operated there from the early 1900s up until 1970. And today the lake is part of a state park — Ohio's oldest. Local memorabilia can be examined at a small historical museum at 4729 Walnut Road, very near the KOA.
Buckeye Lake KOA is the closest KOA to Columbus, Ohio, 30 miles east of downtown. It is conveniently right off Interstate 70, and useful for fans of Ohio State football; tourists visiting popular spots in town, such as the Columbus Zoo; and day-trippers exploring area sites such as Ohio's Amish country.
Buckeye Lake KOA has back-in and pull-through sites with water and electric hookups, as well as back-in and pull-through sites with full hookups. They also offer upgraded spots with the KOA Patio. The latter sites come with outdoor furniture, a swing, a fire ring, a grill, a picnic table, and more.
Dogs are welcomed with their own "Bark Park," where they can roam and try out agility structures. Children love the campground's game room, basketball and volleyball courts, jumping pillow, gem mine, and firetruck and wagon rides, among other things.
The Buckeye Lake KOA is so highly esteemed that it has won the franchise's President's Award and its Founder's Award.
Details
Buckeye Lake KOA, C6592
4460 Walnut Road
Buckeye Lake, OH 43008
(800) 562-0792
(740) 928-0706
www.koa.com/campgrounds/buckeye-lake/
Open April 1 – November 3
---
App File
Wi-Fi Hotspots
On occasion, you may need to use free, public Wi-Fi. Just remember that such networks are less secure than your private one, so whenever possible, stick to well-known networks and don't give away personal info.
WiFi Finder: Frederik Lipfert developed this app, which uses a crowdsourced database that is said to encompass hundreds of thousands of Wi-Fi hotspots around the world. Expected download and upload speeds are shown for each hotspot. Hotspot sites can be filtered for location type, such as hotels, cafes, restaurants, and more. Free for iOS and Android. An "Offline Maps" feature, available for a fee, allows you to download maps so that you can find the best Wi-Fi spots even when you are offline.
WiFi Map: App users add and update the list of Wi-Fi hotspots, which are said to number in excess of 100 million worldwide. By selecting "recently connected" on the filter tab, users can find the most reliable, recently used Wi-Fi. After identifying a Wi-Fi you'd like to connect to, press the "navigate" button for directions to that location. Free for iOS and Android. A paid version offers a virtual private network (VPN) and use of Wi-Fi maps even when the internet is not available.
---
Bookshelf
A Dog's Tale
Anyone who has traveled with a furry companion, especially in an RV, understands the dynamics. Susan Williams, a pet lover and retired teacher, put herself in her golden retriever's place to weave a tale of the road: Adventures In An RV: A Dog's Tale ($19.99, Buoy Media LLC).
The book is intended for "people who love dogs, people who travel in RVs, and, of course, RV travelers with pets," Susan said.
Rocket, an energetic canine with a seemingly perpetual grin, recounts the Wilsons' adventures aboard "Harvey," their 40-foot motorhome. His crewmates include Susan; her husband, Don; and a mellow, three-legged cat named Cassie.
Rocket describes doggie topics, including his squirrel fetish, the wonders of his nose, his thoughts about the boring cat that always sleeps. He addresses these "postcards" to the furry friends he's met along the way. Color photos are sprinkled throughout.
Susan remembers Rocket as "a pretty awful puppy, but then a wonderful, funny dog that filled our hearts and lives with so much." When he succumbed to cancer, and Cassie died soon after, the Wilsons faced a void in their lives. Once Susan began writing the book, she noted, "It seemed to bring him back into our lives."
The Wilsons remained petless for a couple of years until they welcomed a new dog to the family this past spring: a goldendoodle named Booster. "The smiles and chuckles are back in our lives," Susan said. Will he join the literary fraternity with a book of his own? Too early to tell.
Adventures In An RV: A Dog's Tale is available from Amazon.
---
Safety
Campfire Cautions
August 9, 2019, marked the 75th birthday of Smokey Bear. The famous bruin is still helping humans prevent forest fires today as a mascot for fire safety around the United States.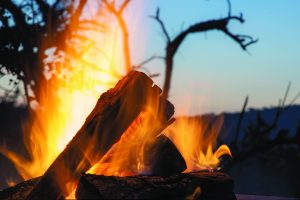 As cool autumn days take hold, it's a good idea to "Remember, Only YOU Can Prevent Wildfires!" And, only you can make sure your loved ones stay safe around any fire, wherever your RV takes you.
Hot Tips
*Gather the wood in the daytime, so you don't have to wander in the dark. Make sure you have enough firewood to start your fire and keep it going before you get out the matches.
*Beware of the wind. Sudden gusts can blow sparks outside your fire ring and start new fires. Do not attempt a blaze when it is windy.
*Do not use flammable liquids to start a fire. Do not burn glass, cans, plastics, or garbage.
*Keep your fire small. And keep a bucket of water and a shovel handy.
*Have a designated fire tender who also can make sure children and pets stay away from the flames.
*Keep all flammable items at least 10 feet away from the fire.
*Extinguish the fire until all traces of heat are gone. Mix water, dirt, or sand and stir with a shovel until the embers are cool. "Remember, if it's too hot to touch, it's too hot to leave," Smokey says. Don't bury warm/hot coals or ashes in a campfire pit.
For more campfire safety tips, visit Smokey's website, www.smokeybear.com.
---
Fun Stop
Where The Trek Begins
If you find yourself in the Hawkeye State, boldly go to Riverside, Iowa, to visit the future birthplace of Captain James Tiberius Kirk.
If the above paragraph makes no sense, perhaps you're not a "Trekkie" — a fan of the wildly popular Star Trek science fiction franchise. The original "Star Trek" television series, starring actor William Shatner as Captain Kirk, aired from 1966 to 1969. Despite its relatively short run, it spawned a dizzying number of other TV series and full-length feature films, not to mention books, figurines, and more. Star Trek retains a strong fan following to this day.
According to this futuristic tale, Kirk will be born in Riverside on March 22, 2288, and go on to lead the U.S.S. Enterprise starship on a five-year mission beginning in 2264.
The Kirk monument is tucked away in this town of 1,000, approximately 15 miles south of Iowa City via Highway 22. A banner marks the alley that leads to the birthplace monument.
Why Riverside? In 1985 a city councilman read a book about the making of "Star Trek," which said the Captain Kirk character hailed from Iowa. So, why not Riverside? "Star Trek" creator Gene Roddenberry gave his blessing, and the idea blasted off.
Each year during the last weekend in June, Riverside invites "the entire universe" to attend Trekfest. Attendees view exhibits; see Borgs, Lieutenant Uhura look-alikes, and others during the parade and costume contest; and sometimes enjoy appearances by "Star Trek" actors. During the 2018 festival, a bronze James T. Kirk statue was unveiled in Riverside's Hall Park.
Visitors also can tour the Voyage Home Riverside History Center, which combines the city's history with its official designation as Kirk's future birthplace.
Learn more at www.trekfest.org or https://www.cityofriversideiowa.com/.
---
Travel
Did You Just Say "Pee-can"?
As you travel around North America, you expect to hear different accents. But it might startle you one morning when a person nearby requests "sear-up" for their pancakes. At the same time, the speaker might want to give you the "Miss-Pronunciation" award for saying "sir-up."
But there's no need for an argument. Dictionary authors often allow for different pronunciations of the same word. Besides, different ways of saying words can give away where your fellow RVer is from. People who study such things have found that most of the time, pronunciations can indicate one's origin. Here are a few examples.
Mayonnaise: People who say all three syllables are most likely from the western and midwestern United States. They are probably right. "Man-aze" is easier for some to say, though.
Caramel: If you pronounce all three syllables, you're likely from the Southeast or East. As you travel west and north, you will hear "car-mull."
Lawyer: Those who pronounce the first syllable exactly as it is written ("law") are most likely from the south or central parts of the U.S., researchers note. The remainder say "loyer," rhyming the front half of the word with "boy." They plead innocent.
Pajamas: Southerners generally give the second syllable the "ah" sound. Why not? Nightclothes are usually comfy.
Crayons: If you say "cray-awns," you are in the majority. But other versions include "cray-ans" (used mostly in the Southeast) and "crans." Regardless, if we all color between the lines, we'll get along.
Speaking of getting along, if there is some pecan pie at the next potluck, don't join in any time-wasting discussions about whether it's pi-cahn, pi-can, or pee-can. Just get some before it's gone.
Source: https://www.thejournal.ie/maps-americans-pronounce-different-words-938575-Jun2013/