Gear, Gadgets, And Gifts
Practical accessories and assorted goods designed to make life easier and more enjoyable for RVers.
By John Johnston, Associate Editor
RV Mat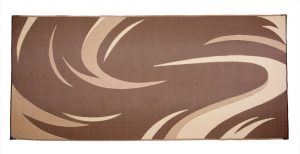 An RV patio mat may be just the thing to bump up the curb appeal of your campsite. Stylish Camping offers dozens of designs, including graphic, patriotic, and floral styles; deer, horse, and dog designs; a checkered flag pattern; and an RV motif, "Home is where we park it."
The reversible mats are made of virgin polypropylene material, which is coated with ultraviolet protection to help prevent fading. The woven design aids in quick drying, making the mats resistant to mold and mildew. Mats are available in a variety of color combinations and sizes, the largest being 8 feet by 20 feet. A carry bag is included. Prices range from about $35 to $90 on Amazon (search "Stylish Camping").
Stylish Camping
(877) 955-6868
https://stylishcamping.com
---
Drying Rack
A towel bar is just a towel bar, except when it's also a five-bar drying rack. Then it's the Leifheit Telegant 36 Protect Plus Wall Mount Clothesline Drying Rack, from Household Essentials.

Folded up, it looks like an aluminum towel bar. But opening the top case reveals five powder-coated-steel drying rods, which slide out. The 28-inch-wide rack, with towel bar, can hold up to 27 pounds — including up to 3 pounds on each drying rod. Clothes can be draped over the rods or pinned with clothespins for quicker drying time. The color is white. The suggested retail price is $29.99
Household Essentials
(800) 922-5524
www.hhestore.com
---
Exterior Surface Protection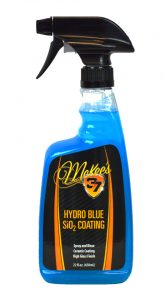 Spray it on and then rinse it off with a hose. That's all that is required to achieve three months or more of protection using McKee's 37 Hydro Blue Sio2 Coating, according to the product description. The water-activated ceramic coating produces a high-gloss finish and is said to be safe for all exterior surfaces, including paint, wheels, and glass.
The best time to apply the product is immediately after washing your vehicle, while it's still wet. Spray it on, rinse it off, and then dry the vehicle. Hydro Blue is formulated with ultraviolet A and ultraviolet B light absorbers to help prevent dulling or fading of paint. The price of a 22-ounce bottle is $24.99; a 64-ounce container is $59.99; and a 128-ounce container is $99.99.
McKee's 37
(844) 852-5300
www.mckees37.com
---
Smart Thermostat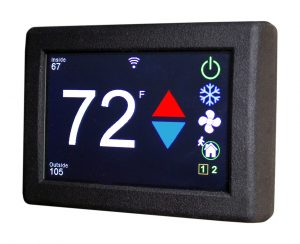 Micro-Air has introduced EasyTouch RV, a smart thermostat made exclusively for RVs. It allows users to monitor and control RV cabin comfort from anyplace that Wi-Fi or cell service is available. Pet owners especially may find peace of mind in being able to monitor their RV's cabin temperature and change it remotely.
EasyTouch RV works with Coleman single-zone and Dometic single-zone and dual-zone rooftop air conditioners. An Android/Apple app allows remote programmable access via smart devices. Temperatures also can be changed using the EasyTouch RV's digital color touch screen (3 inches high, 3.9 inches wide, and 1.06 inches deep). The price of the EasyTouch RV is $249.
Micro-Air Inc.
(609) 259-2636
www.microair.net
---
Storage Bins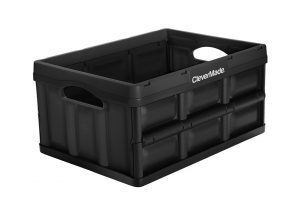 RVers who don't have a place for everything and don't put everything in its place might want to check out the variety of collapsible storage crates, bins, and baskets from CleverMade. It's all about being organized, people.
The product selection includes the 32-Liter Collapsible Storage Bin. It has solid walls; weighs 2.5 pounds; and locks into its open position of 18.7 inches long, 13.8 inches wide, and 9.3 inches high. The black bin has side-grip handles and can carry up to 66 pounds. The bin collapses to a height of 2.8 inches. The bins are stackable when open or folded. The price for a three-pack is $54.
CleverMade
(760) 814-3577
www.clevermade.com
---
Lap Desk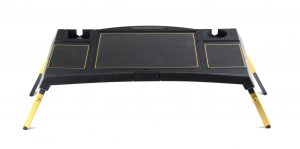 Can't fit a big honkin' executive desk in your RV, eh? Form and function still can be yours with the Lagio Luxury Lap Desk from Aeon Gold. It features a black leather center area, retractable legs, built-in mouse pads, a cup holder, and a note tray.
The ergonomically designed desk is 25.6 inches wide, 16 inches high, and 1.4 inches deep. The adjustable legs allow you to sit, stand, or lie down while using a laptop or other digital devices. Optional accessories include Bluetooth speakers; a power bank; an LED light; a storage companion for the desk and laptop when they're not in use; and comfort webbing that raises the desk off the user's legs. The suggested retail price of the Lagio desk is $249.
Aeon Gold
(888) 959-2943
www.aeongold.com
---
Neck Light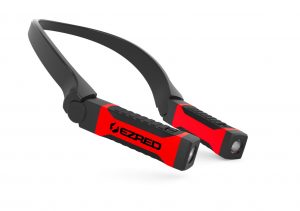 Your hands sometimes have better things to do than to hold a flashlight, which is why Ezred's patented Anywear Neck Light was developed. It rests on the back of your neck, leaving the hands free. Its two water-resistant lights can be operated independently, and the heads can be adjusted vertically up to 90 degrees.
Two models of the Anywear Neck Light are available. The NK10, powered by two AA batteries, features four brightness levels ranging from 50 lumens to 200 lumens; the suggested retail price is $24.99. The NK15, a rechargeable model, is dimmable and produces up to 300 lumens; the suggested retail price is $54.99.
Ezred Company
(800) 522-7947
www.ezred.com
---
Plasma Lighter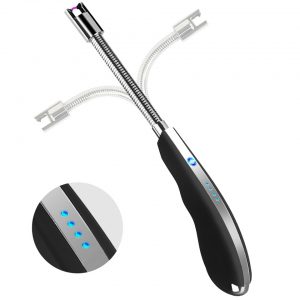 Popular Mechanics calls plasma lighters "the greenest way to get an instant spark." Since they can be recharged, plasma lighters are far less likely to end up in a landfill with traditional butane and plastic disposable lighters.
The Megatriz Candle Lighter, from Sipoe, is a 9.5-inch-long plasma lighter with a 3.9-inch-long flexible neck that can rotate 360 degrees, so it can be used in many positions. Plus, the flameless, windproof lighter can be used in any weather. Its 280-milliamp-hour battery recharges via an included USB cable in about an hour. The battery is said to be good for 800 charges, and each charge can last weeks, depending on usage. Features include a battery power indicator and a safety switch to prevent use by children. The price is $19.99.
Sipoe Co. Ltd.
(617) 221-5604
www.sipoe.com
---
Water Sanitizer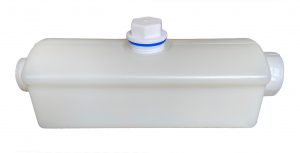 Under the right conditions, bacteria can thrive in holding tanks, so it's important to periodically sanitize an RV's fresh-water system. The RV Inline Sanitizer was developed to make the task easy.
The product consists of a molded plastic canister with hose fittings on each end. Using your own hoses, you connect one end of the RV Inline Sanitizer to a fresh-water source, and the other end to the RV's fresh-water fill inlet. Then add bleach to the canister (refer to your RV's owners manual for the amount). Turning on the fresh-water source sends bleach into the holding tank. The price of the RV Inline Sanitizer is $28.
RV Inline Sanitizer
(701) 532-2050
www.rvinlinesanitizer.com
---
RV Products Submissions
To have a product considered for this column, please send information and a high-resolution photograph to [email protected].