Available on the Freightliner XCR Super Raised Rail chassis, the 40 IH floor plan boasts a continuous flat floor and expanded storage capacity.
By Mark Quasius, F333630
June 2021
The Phaeton Type A diesel pusher is Tiffin Motorhomes' most popular model. In fact, it's been a top-selling diesel pusher since at least 2007. The 2021 Phaeton described here reflects annual feature upgrades and improvements; more are incorporated in the 2022 models. Perhaps most noteworthy for 2021: The 40 IH floor plan is offered with Freightliner's new XCR Super Raised Rail chassis as an option.
The 40 IH features a flat-floor design from front to rear, with no step up in the bedroom or rear bath. Freightliner and Tiffin technicians custom-designed the XCR Super Raised Rail chassis to Tiffin's specifications. Its 14-inch-high raised rail adds 5.25 inches of height to accommodate the 40 IH's flat floor; 9-inch formed rails support the engine underneath. This design also increases basement storage height. More than 34 inches of space exists between the basement floor and the bottom of the floor structure, and more than 24 inches between the basement floor and the bottom of the frame rails.
Chassis
The XCR chassis comes with a 450-horsepower L9 Cummins diesel engine, an Allison 3000 MH six-speed automatic transmission, ZF independent front suspension (IFS), front disc brakes, and HWH hydraulic automatic leveling jacks. It also includes Freightliner's V-Ride rear suspension, which has been upgraded for 2021, offering improved antiroll stability and handling.
The XCR chassis also incorporates Freightliner's RoadWatch, a suite of electronic safety features. They include adaptive cruise control, which adjusts the motorhome's speed to maintain a set distance interval when following a slower vehicle; collision mitigation with forward warning and active braking; electronic stability control; roll stability control; an antilock braking system; and automatic traction control. The optional Mobileye camera system provides lane departure warnings, among other aids.
Freightliner's OptiView digital instrument cluster puts most of the necessary information right in front of the driver. Steering wheel controls toggle through various menus and displays; operate the cruise control; and activate a Bluetooth-connected smartphone. Transmission controls are placed on a stalk on the right side of the steering column. The tire pressure monitoring system (TPMS) interfaces with the OptiView display also.
The IH 40's increased basement height allows for 232 cubic feet of basement storage space. With a 39,600-pound gross vehicle weight rating (GVWR), a 49,600-pound gross combination weight rating (GCWR), and a 10,000-pound-rated hitch, this motorhome has plenty of towing capacity. The test coach tipped the scales at 35,590 pounds, yielding a 4,010-pound occupant and cargo carrying capacity (OCCC). The as-tested front and rear axle weights of 13,530 pounds and 22,060 pounds, respectively, indicate plenty of available capacity on either axle, so the placement of cargo shouldn't be a concern.
Construction
The Phaeton incorporates a seamless fiberglass roof with aluminum trusses and 5.5 inches of formed insulation. Vacuum-bonded sidewalls are laminated with gel-coat fiberglass and fitted with aluminum studs. Steel framing supports a floor with foam board sandwiched between oriented strand board (OSB) material and a lauan underbelly. Molded fiberglass front and rear caps and a one-piece windshield finish off the coach.
Exterior
The test unit featured Fire Opal full-body paint, one of Tiffin's seven Generation 10 paint scheme choices. In 2021, buyers may opt for two Girard Vision roof-mounted power awnings that blend into the front and rear caps in place of the standard awnings that attach to the side of the coach.
Flush-mounted, tinted dual-pane windows come with painted frames. Window awnings, keyless entry, chrome baggage compartment latches, and Girard power patio and entry door awnings are standard.
Interior
Trend Beige II interior décor, one of three choices, graced the interior. In this article, the coach is pictured with cabinets featuring the Pure Linen finish, one of five selections; Ultraleather upholstery in White Maple, one of three choices; and standard Vicinity matte-finish ceramic tile flooring. The latter can be replaced by optional glossy Bianco Navaro porcelain tile flooring and heated via an electric grid beneath the tile. With such a wide selection, it should be easy for customers to find a design that suits them.
Soft-close drawer slides are used throughout the motorhome, as is LED lighting; the latter can be controlled by a central touch-screen display panel that also actuates other functions within the networked coach, such as slideouts, heating and air conditioning, entertainment systems, etc. Handcrafted raised-panel cabinet doors and fascias and a soft-touch padded vinyl ceiling add touches of class to this bright interior. A central vacuum system comes standard. The living area sports slow-rise manually operated daytime solar and nighttime privacy shades; the cockpit shades are electrically powered.
The cockpit is designed for maximum driver comfort and convenience. Its Ultraleather six-way power chairs include integrated seatbelt brackets; the copilot's seat comes with a power footrest. Both chairs recline and can be rotated to face the living area when parked. The OptiView dash puts most everything at the driver's fingertips and on the digital display. Others, such as switches and controls for the heating and air-conditioning systems and miscellaneous other accessories, are also within reach. The optional Garmin GPS uses the screen of the radio/entertainment system. In addition, a large TripleVision color monitor shows views from the rear camera and the turn-signal-activated side cameras. A touch screen just right of the copilot controls the power step cover, lighting, locks, and dual windshield fans. A 43-inch LED TV resides in the cabinetry above the windshield.
The main living area can be fitted with an optional passenger-side Ultraleather-covered sofa bed backed by a 55-inch LED TV on a power lift. An optional recliner and a fireplace beneath the TV are also available. Directly opposite is an air-coil sofa bed; optional theater seating makes this the perfect location for viewing the TV. The standard passenger-side booth dinette can be replaced by a U-shaped dinette or a dinette with chairs and a computer workstation. The dinette is adjacent to a large residential refrigerator and a pull-out pantry.
The galley, immediately opposite, includes a pull-out cabinet for additional workspace. A stainless-steel dual-basin sink with a tall sprayer faucet is mounted beneath the solid-surface countertop. The cooktop is mounted beneath the countertop as well and comes with hinged removable covers. A microwave-convection oven resides in the overhead cabinetry. The test coach included an optional drawer-type dishwasher beneath the countertop. One especially desirable feature is a wide panoramic window in the wall behind the galley.
A street-side half bath aft of the galley is equipped with a sink, a mirrored cabinet, a toilet, and an exhaust fan.
The bedroom can be closed off from the front of the coach and the rear bath via sliding panel doors. In the test unit, the standard 60-inch-by-80-inch queen bed was replaced by an optional 72-inch-by-80-inch king bed with a memory-foam mattress. The bed lifts up for access to storage below. Overhead cabinets provide plenty more storage space. A dresser with overhead cabinets, a laundry hamper, and a 43-inch LED TV occupy the opposite wall. A ceiling fan circulates air throughout this area. The test coach also came with an optional rear exit, which drops down to provide an emergency egress if needed.
The rear full bath is equipped with a macerator toilet and a fiberglass shower stall that has a glass enclosure, a skylight, and overhead LED lighting. The solid-surface vanity contains two flush-mounted porcelain sinks, while the overhead medicine cabinet sports a triview mirror. A stackable washer and dryer are on the back wall, adjacent to mirrored sliding wardrobe doors.
Utilities
The standard configuration incorporates a pair of 30,000-Btu propane furnaces, a Truma on-demand propane water heater, and a propane-electric refrigerator. But most Tiffin Phaeton buyers opt for an all-electric coach, which removes the propane tank and converts that space to storage. The propane-electric fridge is replaced by a large residential refrigerator; a 2,000-watt true sine wave inverter is added to supply the refrigerator and electrical outlets with 120-volt-AC power when shore power is not available and the generator is off. The all-electric option also includes the Aqua-Hot 450D system to provide hydronic heat and unlimited domestic hot water via its diesel burner or electric heating element. The basement areas and holding tanks also are heated by this system, and it includes an engine preheat function. Three 15,000-Btu rooftop air conditioners with heat pumps can keep the coach cool or warm inside as needed.
The Phaeton has 50-amp electric and comes with a power reel to manage the shore power cord. The 10-kilowatt Onan Quiet Diesel generator is available when shore power is not available. The Surge Guard 50-amp automatic transfer switch has been upgraded this year to include surge and high- or low-voltage protection. Six deep-cycle batteries handle the 12-volt-DC needs of the motorhome and in the test coach could be charged by the three optional roof-mounted solar panels. The test unit came with optional Lifeline AGM house batteries.
The Phaeton's entertainment systems can be fed by several sources. In addition to standard off-air broadcasts and Blu-ray players, the unit is ready for satellite TV. The test unit came with an in-motion satellite dome, but various prewire options are available for connection to a Winegard Trav'ler automatic satellite antenna for DirecTV or DISH. The unit also was outfitted with the Winegard ConnecT 2.0, which can access a cellular signal or campground Wi-Fi to provide a wireless hot spot inside the RV.
Final Impressions
The 2021 Phaeton 40 IH is packed with features and amenities, among them an extensive options list that enables RVers to customize to their needs and preferences. The optional Freightliner XCR Super Raised Rail chassis enables a flat-floor design, expands the basement cargo area, and brings a host of safety and driver-aid features that put this motorhome more in line with premium luxury automobiles. The 40 IH is likely to be on the radar of many RVers seeking value in a feature-filled coach.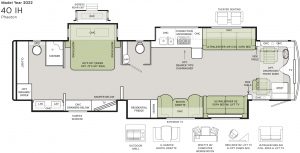 SPECS | TIFFIN PHAETON 40 IH
MANUFACTURER
Tiffin Motorhomes (part of the Thor Industries family of companies), 105 Second St. N.W., Red Bay, AL 35582; (256) 356-8661; www.tiffinmotorhomes.com
MODEL
Phaeton
FLOOR PLAN
40 IH
CHASSIS
Freightliner XCR Super Raised Rail, optional; Tiffin PowerGlide XSH, standard
ENGINE
Cummins L9, 450 horsepower at 2,100 rpm; 1,250 pound-feet torque
TRANSMISSION
Allison 3000 MH six-speed automatic
TIRES
295/80R22.5
WHEELBASE
266 inches
BRAKES
antilock front disc; rear drum air
SUSPENSION
ZF independent front suspension; Freightliner V-Ride rear suspension
SHOCK ABSORBERS
Sachs
STEERING
18-inch Smart Wheel
ALTERNATOR
240 amps
BATTERIES
chassis — (2) 12-volt, 950 cca;
house — (6) 6-volt
ELECTRICAL SERVICE
50 amps
AUXILIARY GENERATOR
10-kilowatt Onan Quiet Diesel
EXTERIOR LENGTH
41 feet 4 inches
EXTERIOR WIDTH
101 inches
EXTERIOR HEIGHT
13 feet 3 inches
INTERIOR HEIGHT
6 feet 11 inches
GROSS VEHICLE WEIGHT RATING (GVWR)
39,600 pounds
GROSS AXLE WEIGHT RATING (GAWR)
front — 15,600 pounds;
rear — 24,000 pounds
GROSS COMBINATION WEIGHT RATING (GCWR)
49,600 pounds
AS-TESTED WEIGHT
35,590 pounds
OCCUPANT AND CARGO CARRYING CAPACITY (OCCC)
4,010 pounds (as tested)
FRESH WATER CAPACITY
100 gallons
HOLDING TANK CAPACITIES
gray water — 100 gallons;
black water — 55 gallons
FUEL CAPACITY
100 gallons plus 13 gallons DEF
FUEL REQUIREMENTS
diesel
PROPANE CAPACITY
N/A (as tested); all electric
WARRANTY
1 year/12,000 miles, limited;
5 years/50,000 miles delamination, limited;
10 years/50,000 miles unitized construction, limited
BASE MANUFACTURERS SUGGESTED RETAIL PRICE
$396,575 (2021 model)