This new diesel pusher from Thor Motor Coach comes with a wide array of standard features, including a 100-watt solar charging system and an integrated basement foundation.
By Mark Quasius, F333630
May 2017
The Aria is the newest Type A diesel motorhome produced by Thor Motor Coach. First, introduced for the 2017 model year, this attractive coach leads the way with a modern, stylish front cap that incorporates LED lighting, a look that further identifies the Aria as a fresh design rather than a previous model tweaked with a few upgrades.
Then, as manufacturers unveil motorhome models in seemingly endless configurations, it's growing increasingly difficult to categorize them as entry level, midrange, or high end. The Aria is uniquely positioned among such classifications. It's priced as an entry-level diesel pusher yet is packed with many standard features that separate it from the pack and move it up to a midlevel category. In fact, the Aria 3901 that I recently reviewed came with a rich array of standard amenities . . . and no options.
Construction
Next, the Aria incorporates the Atlas Foundation, a steel structure welded to the frame that is designed to support the coach. It is built for Thor by MOR/ryde International, also in partnership with Freightliner Custom Chassis.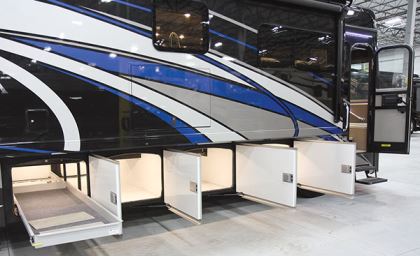 Using laser-cut parts, the Atlas Foundation is customized for each particular floor plan and is said to maximize basement storage space without sacrificing strength.
Next, the entire structure is built on a fixture table and welded to a Freightliner chassis to ensure that everything is within 1/8-inch tolerances from corner to corner. The welded steel floor support is matched by welded aluminum sidewalls and roof framing. The walls are made with a vacu-bond lamination process, while the laminated roof receives a TPO covering.
The 3901 floor plan that I spent time with is one of three available in the Aria line and, at 39 feet 11 inches, is the largest. It features a 24-foot full-wall slideout on the patio side of the coach, and two slideouts on the driver's side.
Most everything is standard on the Aria, and only a handful of options are even available. That was evident in the pricing. The as-tested suggested retail price of my test unit was $281,330 — the same as the Aria's base suggested retail price. Such pricing can be a plus at resale time, when dealers tend to look at the base cost and ignore options as they determine trade-in or resale value.
Chassis
The Aria is built on the Freightliner XC-R raised-rail chassis with a rear radiator. This foundation comes with full air-ride suspension and front disc air and rear drum antilock brakes. Freightliner's V-Ride suspension handles the 21,000-pound-rated rear axle, while a 14,320-pound-rated solid I-beam axle is located on the front. Michelin XZA3+ 275/80R22.5 tires are mounted on aluminum rims.
Power is supplied by a 6.7-liter Cummins ISB-XT diesel engine that produces 360 horsepower and 800 pound-feet of torque, which is delivered through an Allison 3000 series transmission. An exhaust brake paired with a variable geometry turbocharger (VGT) helps to control speed on downgrades and assists with braking. A 100-gallon diesel fuel tank has dual fills to enable fueling on both sides of the motorhome; the 13-gallon DEF tank is on the driver's side to allow easy refills from DEF pumps at truck stop refueling islands.
The stated gross vehicle weight rating (GVWR) of this coach is 35,320 pounds, with a gross combination weight rating (GCWR) of 45,320 pounds. When it was driven onto a four-point scale, each front tire weighed exactly 5,600 pounds, for a total axle weight of 11,200 pounds. This is remarkable, because most motorhomes have a weight imbalance on the front axle. The rear axle weighed 18,960 pounds, so the real-world cargo carrying capacity of 5,160 pounds is a good number for this coach.
So, automatic hydraulic leveling jacks and a 10,000-pound-rated trailer hitch complete the chassis.
Exterior
Next, when describing the Aria's exterior, it seems logical to begin with the front. Its freshly designed front cap is modern, yet tasteful. LED lighting is arrayed in two semi-vertical panels on either side, a look that should not become outdated for years to come. The cap is protected with 3M invisible front paint protection to ward off damage from stone chips or love bugs.
My test coach was finished in the Sapphire full-body exterior paint scheme, one of four available choices. The frameless dual-pane, flush-mounted windows are deeply tinted to help protect the coach interior from the sun's ultraviolet rays. A ladder provides access to the roof.
The heated chrome mirrors have side-view cameras that are embedded into the convex blind-spot mirror portion. In addition, a 40-inch LED HDTV and sound bar reside in a recessed enclosure to provide entertainment in the patio area. A power entry door awning and a power patio awning with LED lighting accent the curb side.
Interior
The 39-foot-11-inch, full-wall-slideout floor plan is versatile and roomy. The 3901 is capable of sleeping up to eight when the optional power drop-down bed is installed over the cockpit area, although this particular unit did not contain that option. The interior featured the Hazel Harbor décor scheme and was enhanced with high-gloss Glazed Pacific Cherry cabinetry.
Leatherette furniture, polished porcelain tile floors, and overhead recessed LED lighting are all standard on the Aria. All cabinetry features solid hardwood doors with nickel-finish hardware. Both solar and privacy roller shades are used in the living area. All three of the Fan-Tastic vent fans in the coach are equipped with vent covers to allow use of the fans during light to medium rain.
Cockpit Area
A modern-looking instrument panel greets RVers in the cockpit. Its raised position brings the gauges up high while allowing the dash to remain lower. The center dash area holds a 6.5-inch dedicated monitor for the backup camera and the side-view cameras; the latter cameras are automatically actuated by the turn signals.
The dash entertainment center features a radio and CD/DVD player. It is Bluetooth-capable and contains a 6.5-inch touch screen display. This system also has a dual mirror capability, meaning you can view Google Maps, iMaps, or any other smartphone app on the touch screen.
Comfortable, six-way power cockpit chairs can be rotated to face the rear when relaxing at a campsite or elsewhere; the copilot's chair has a power footrest. The side windows in the cockpit have manual roller shades; powered windshield shades are controlled by rocker switches near the driver, as is the power step cover.
Living Areas
The Aria 3901's spacious salon contains a leatherette sofa that converts to a 54-inch-by-74-inch bed for additional sleeping space. Directly behind it is a 55-inch LED HDTV mounted on a power lift that raises into position for viewing. Immediately across the way is "theater seating" — a pair of recliners with built-in cup holders and storage in the center armrest. The chairs fully recline, enabling occupants to find a comfortable position for viewing the large-screen TV. Each seat is independently controlled.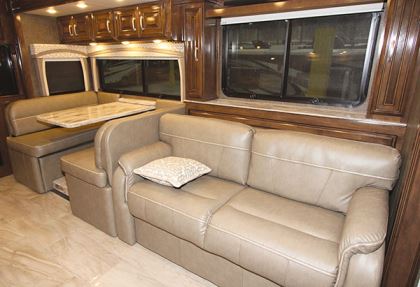 Just left of the sofa is the Dream Dinette, a booth-style table that makes into an additional 48-inch-by-74-inch sleeping area. Drawers are located beneath the booth cushions.
A Yamaha sound bar with Bluetooth capability, a Sony Blu-ray player, and an HDMI distribution system ensure that any entertainment source can be delivered in high definition to any TV in the coach. The Aria is also satellite-ready, so a dealer or handy owner can add a roof-mounted satellite dish of the owner's choosing.
The well-designed galley resides in the full-wall curbside slideout, next to the theater seating unit. The roomy, solid-surface countertop affords plenty of workspace. It is equipped with a dual-bowl stainless-steel sink, an induction cooktop, and a designer tile backsplash. Solid-surface covers convert the sink into additional counter space. A large pull-out extension, which also is equipped with a solid-surface countertop, creates even more galley workspace.
A recent motorhome trend I've noticed is the lack of a window over the galley sink. I like the fact that the Aria 3901 does have a nice-sized sink window in this area, which allows in additional light and offers a view of the patio. The window is equipped with a manual roller shade.
A Whirlpool 1.9-cubic-foot convection-microwave oven is mounted between overhead cabinets. A 16-cubic-foot Whirlpool residential refrigerator with ice maker is placed between the galley countertop and a large pull-out pantry.
Then, a small half bath is located directly opposite the refrigerator and pantry. This finishes off the front living area of the coach.
Bedroom Area, Rear Bath
Just aft of the main living area is the bedroom. A 72-inch-by-80-inch king-size bed with a Denver Mattress resides in its own bedroom slideout and features a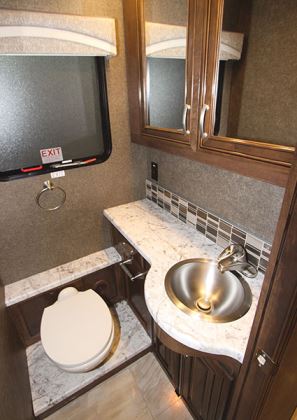 Tilt-A-View mechanism. This power-lift feature allows occupants to raise the head of the bed to easily view the bedroom TV, read a book, or just relax. As the head of the bed raises, the base of the mattress moves toward the headboard. USB ports in the nightstands that flank the bed provide recharging access for cell phones, tablet PCs, iPods, etc.
The area opposite the bed finishes off the full-wall slideout. Here, a pair of full-height wardrobe closets contain clothes poles as well as adjustable, removable shelving; this allows each user to configure the space to individual needs. Between the cabinets is a dresser with a countertop. And, directly above it is a 32-inch LED HDTV, along with room for bedroom entertainment components such as a second Sony Blu-ray player and space to add a second satellite TV receiver.
Occupants step up into the rear bath, where a 42-inch-by-30-inch shower with a glass door is on the street side; the opposite corner holds a macerator toilet with push-button electronic controls. A vanity with a recessed stainless-steel sink is on the rear wall, along with a mirrored medicine cabinet. Left of the vanity is a Whirlpool stackable washer-dryer pair; on the right is a linen closet. With that said, this spacious area allows plenty of room for laundry work as well as personal grooming.
Utilities
The Aria's basement storage is finished with easy-to-clean, glossy-white fiberglass panels and flooring. Add the LED basement lighting and the result is a bright area where locating items is easy. A large cargo slide tray in one of the pass-through storage bays is accessible from either side of the vehicle.
The coach is equipped with an Onan 8.0-kw Quiet Diesel generator and a 50-amp shore power cord. Next, both connect through a TRC 40350 automatic transfer switch, which supplies surge suppression and protection from low and high voltage, so the owner doesn't need to purchase an additional surge protection device. Then, the generator also has automatic start capability; it will begin operating if the battery voltage drops too low or the thermostat calls for cooling. Therefore, an energy management system prevents pedestal breakers from tripping because of excessive current.
A bank of four 6-volt deep-cycle batteries supply 12-volt power. So, they are charged via the Magnum 2,000-watt sine wave inverter-charger, which will also utilize battery power to operate the entertainment system and various 120-volt receptacles in the motorhome. A 100-watt solar panel array connects to a digital charge controller for additional battery charging capability.
The on-board propane tank holds 104 pounds, which fuels the 10-gallon gas-electric water heater and the 35,000-Btu furnace. A 91-gallon fresh-water tank, a 51-gallon gray water tank, and a 51-gallon black-water tank handle plumbing needs. Two 15,000-Btu ceiling-ducted air conditioners have heat pumps that help warm the interior in cool weather.
All house systems are handled by a multiplex wiring network from Firefly Integrations. This network is accessed via a "Full House" display panel that can control the lighting, vent fans, slideouts, heating and cooling, and bed lift. Also, it monitors system voltages and tank levels.
General Impressions
Lastly, the Aria was easy to drive. It was nimble and maneuvered well through twisty country roads; it also performed well on the freeway. The ride was comfortable, quiet, and smooth. The 360-horsepower Cummins engine had plenty of power to move the coach down the road.
Then, the driver's-side diesel fuel fill is higher than usual, which eliminates splashing when the high-speed truck pump clicks off.
The dash radio's dual-mirror function eliminates the need for a dedicated GPS system, whose maps can become outdated over time. Instead, I was able to pull up the Google Maps app on my smartphone and display it on the larger touch screen while I was driving.
The coach was easy to move around in while parked, or when passengers needed to access the bathroom during travel. The refrigerator can be opened even with the slideouts retracted — a nice bonus for rest area lunch stops. And when the slides are extended, more than enough room exists to comfortably enjoy the interior.
The Tilt-A-View bed is another great feature. It makes a nice spot to sit during the evening. And, when the slideout room is extended and the bed is fully inclined, it opens up an unencumbered aisle to the rear bath — no need to crawl over the bed. I expect to see this bed in more motorhomes in the future.
Finally, combine these features with plenty of storage, an attractive modern design, and a great entertainment system, and it seems the Aria has hit a sweet spot. Its long list of standard amenities provide unexpected value in this price range.

SPECS
MANUFACTURER
Thor Motor Coach, P.O. Box 1486, Elkhart, IN 46515; (800) 860-5658; www.thormotorcoach.com/aria
MODEL
2017 Aria
FLOOR PLAN
3901
CHASSIS
Freightliner XC-R raised-rail, rear radiator
ENGINE
Cummins ISB-XT 6.7-liter; 360 horsepower at 2,400 rpm; 800 pound-feet torque at 1,800 rpm
TRANSMISSION
Allison 3000 MH Series 6-speed automatic
AXLE RATIO
4.78 to 1
TIRES
Michelin XZA3+ 275/80R22.5
WHEELS
polished aluminum wheels
WHEELBASE
272 inches
BRAKES
front — antilock disc air;
rear — drum
SUSPENSION
full air ride;
front — solid I-beam axle;
rear — Freightliner V-Ride
ALTERNATOR
160 amps
BATTERIES
chassis — (2) 12-volt, maintenance-free;
house — (4) 6-volt
INVERTER
2,000-watt Magnum true sine wave
ELECTRICAL SERVICE
50 amps
AUXILIARY GENERATOR
Cummins Onan 8.0-kw Quiet Diesel
EXTERIOR LENGTH
39 feet 11 inches
EXTERIOR WIDTH
101 inches
EXTERIOR HEIGHT
12 feet 6 inches
INTERIOR HEIGHT
7 feet
GROSS COMBINATION WEIGHT RATING (GCWR)
45,320 pounds
GROSS VEHICLE WEIGHT RATING (GVWR)
35,320 pounds
GROSS AXLE WEIGHT RATING (GAWR)
front — 14,320 pounds;
rear — 21,000 pounds
AS-TESTED WEIGHT
front axle — 11,200 pounds;
rear axle — 18,960 pounds;
total — 30,160 pounds
OCCUPANT & CARGO CARRYING CAPACITY (OCCC)
5,500 pounds
FRESH WATER CAPACITY
91 gallons
HOLDING TANK CAPACITIES
gray water — 51 gallons;
black water — 51 gallons
FUEL CAPACITY
100 gallons;
plus 13 gallons DEF
FUEL REQUIREMENTS
diesel
PROPANE CAPACITY
104 pounds
WATER HEATER
10-gallon gas-electric
HEATING SYSTEM
35,000-Btu, propane
AIR-CONDITIONING
(2) 15,000-Btu with heat pumps
REFRIGERATOR
Whirlpool 16-cubic-foot residential with ice maker
TOILET
mid bath — Thetford foot-flush porcelain;
rear bath — Thetford porcelain with macerator
WARRANTY
coach — 12 months/15,000 miles;
chassis — 36 months/50,000 miles
BASE SUGGESTED RETAIL PRICE
$281,330
PRICE AS TESTED
$281,330