The Phoenix Cruiser 3100 is available in nine floor plans, with many customizable features. This B+ motorhome may be "just right" for RVers searching for a unit larger than a typical Type B but smaller than many Type As.
By Mark Quasius, F333630
November 2017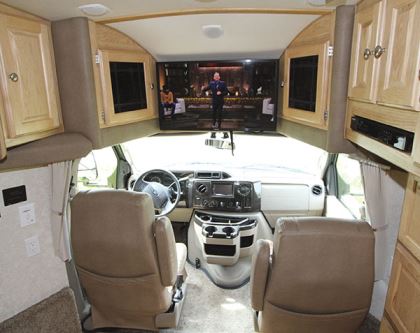 Phoenix USA is celebrating its 20th anniversary in 2017. The Elkhart, Indiana, manufacturer, which sells factory-direct, has established a favorable reputation among owners who are looking to downsize from a larger RV, but don't want to go too small. Company employees place considerable pride in producing motorhomes to high quality standards, paying attention to the details and striving for innovation in every area.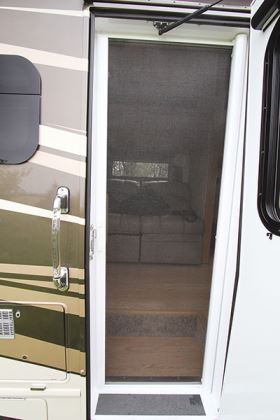 The factory-direct relationship enables the company to add custom features upon buyer request, in addition to the usual options. Most Phoenix Cruiser floor plans can be built on a Mercedes-Benz Sprinter diesel-powered chassis or a Ford E-Series gasoline-powered chassis. Many also can be constructed on a four-wheel-drive Ford chassis.
I recently reviewed a Phoenix Cruiser 3100, the largest of nine available floor plans. This unit was based on a Ford E-450 chassis and powered by a 6.8-liter V-10 engine that delivers 305 horsepower through a six-speed automatic transmission with tow-haul mode. A 4.56-to-1 rear axle ratio provides plenty of towing power via the motorhome's Class III hitch.
The gross vehicle weight rating (GVWR) is 14,500 pounds, while the gross combination weight rating (GCWR) is 22,000 pounds. The front axle carries a 5,000-pound gross axle weight rating (GAWR), and the rear has a 9,600-pound GAWR. The unloaded weight of this coach was 12,785 pounds, providing an occupant and cargo carrying capacity (OCCC) of 1,715 pounds.
The coach is built on a 220-inch wheelbase, utilizes LT225/75R16 tires, and has a 55-gallon fuel tank. It is outfitted with HWH hydraulic leveling jacks.
General Construction
Phoenix Cruiser begins by creating a steel subframe assembly that mounts to the chassis frame rails via rubber puck dampeners. This isolates vibrations and minimizes noise inside the coach during travel. At the base of the floor assembly is 1 1/2-inch steel tubing framework topped with 5/8-inch exterior-grade plywood. A 1/4-inch-thick corrugated laminated plastic sheet is applied to the bottom to further dampen vibrations and serve as an indestructible vapor barrier. This sandwich is filled with block foam insulation just prior to being capped off, producing a quiet and comfortable coach interior.
The sidewalls and roof are framed with structural aluminum tubing, and the sidewalls are vacubond-laminated. The seamless one-piece fiberglass roof blends with the curved sidewalls for an attractive styling touch. The transition between cab and coach is accomplished with fiberglass panels that contribute to the overall aerodynamic styling of the Phoenix Cruiser.
All of the wiring throughout the motorhome is done by hand. It is one continuous length, which eliminates any wiring harness connectors that could potentially fail later as the coach ages.
Exterior
The test unit was finished in the Toast full-body paint scheme, one of 12 optional paint selections. Hidden running boards blend into the door panels and are protected from the elements. An integrated spare tire cover and a roof storage rack and ladder come standard. Frameless, deep-tinted automotive-style windows are used throughout the motorhome, and a 17-foot patio awning is equipped with LED lighting. A chrome bumper and grille adorn the front of the vehicle.
One nice touch is the screen door. Instead of a hinged model that attaches to the entry door, the Phoenix Cruiser incorporates a retractable screen door. Its bordered fabric screen retracts into a roller housing on one side of the door frame. When the screen is desired, you simply pull the screen out by its handle and clip it onto the opposite side of the door frame. When you no longer want the screen, you unlatch it and it self-retracts into the roller housing, out of sight.
The 3100 measures 30 feet 10 inches long. With a 93-inch overall width and a 10-foot-1-inch overall height, it's compact enough to park in areas with heavier tree cover, yet its 6-foot-4-inch interior height won't cramp taller occupants.
Interior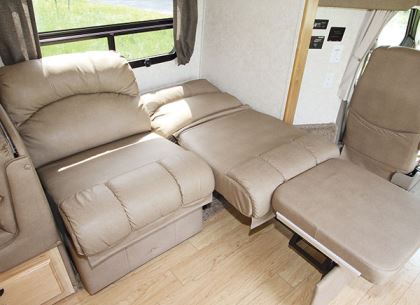 The interior is roomy, even when the coach's lone slideout, in the living area, is retracted. The test unit was finished with the Toast interior décor, which complements the Toast exterior paint scheme. It was adorned with attractive hickory hardwood cabinetry, which comes standard. Cherry cabinetry is available as an option, but considering how great the hickory looks, I suspect most buyers will opt for the hickory woodwork.
This motorhome also was equipped with optional wood laminate flooring, which perfectly matches the hickory cabinetry. Raised-panel cabinet doors and drawers are standard on Phoenix Cruiser motorhomes, as are slow-rise day-night roller shades. LED lighting is used throughout the motorhome to conserve power and minimize heat. The coach is prepped for satellite TV.
The 3100's main living area incorporates a street-side slideout. In the test unit, this large slideout held an optional power sofa bed and a dinette, both covered with Ultraleather fabric. The dinette includes a hickory wood table that blends with the overall interior décor. Each side of the booth contains a storage drawer that pulls out from beneath the seats for easy access. The power sofa is both comfortable and versatile. Each half of it is power-operated and can recline to an individual's needs. When both sides are fully reclined, a 54-inch-by-74-inch bed is created. Memory foam cushioning makes it quite comfortable, especially compared to most other sofa beds.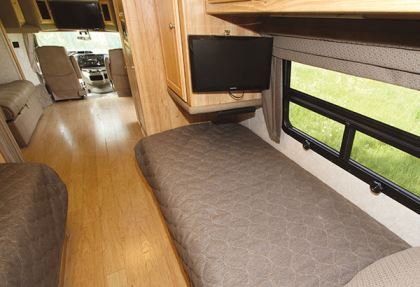 At the front of the coach, the seamless molded-fiberglass overhead cap held an optional 32-inch LED TV, plus compartments for the entertainment center components and the surround-sound system. An optional 19-inch LCD TV was also located in the bedroom area.
This floor plan comes standard with two 34-inch-by-74-inch twin beds, which are comfortable. Power sliding beds that move together to create a single 74-inch-by-90-inch bed can be ordered as an option.
The bath area, located across the rear of the 3100, is equipped with a large fiberglass shower that has a glass surround. The vanity encases a solid-surface sink recessed into the solid-surface countertop. A porcelain toilet and a large mirrored wardrobe complete the area.
The curbside galley is fitted with a solid-surface countertop that has a flip-up extension. A stainless-steel sink is flush-mounted beneath the counter and comes with a solid-surface cover to create additional counter space. Full-extension drawers with metal drawer guides are used throughout. The two-burner gas cooktop also comes with removable solid-surface panels.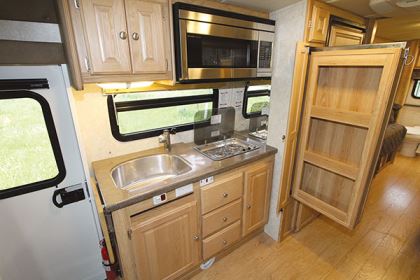 A large pull-out pantry is located aft of the galley. Flanking it on the other side is a 6.3-cubic-foot absorption refrigerator, which is fitted with wooden panels that match the rest of the woodwork. A convection-microwave oven resides in the overhead cabinetry.
The cockpit is outfitted with a gold carbon-fiber dash panel and drink tray, which gives it an upscale look. Power heated remote-control mirrors and power door locks are part of the Premium Convenience Package, which contains a number of must-have features for many buyers; more on that later.
The test coach came with an optional six-way power driver's seat; the copilot seat can be similarly equipped if desired. In coaches larger than 25 feet, the standard copilot's seat swivels to face the living area.
The touch-screen in-dash entertainment center comes with a conventional radio/CD player/Sirius satellite radio/media player features, as well as Bluetooth capability for smartphones and other devices. It includes the Pioneer NAV navigation system as part of its Pioneer stereo; the monitor doubles as a screen for the backup camera. An optional mirror with compass and outside temperature display also was present in my test coach.
Utilities
A 30,000-Btu propane furnace keeps the coach toasty warm on cold nights, while the optional 15,000-Btu air conditioner with heat strip provides cooling. A six-gallon propane-electric water heater supplies domestic hot water to the Phoenix Cruiser's fixtures, including an optional outside shower attachment. Power for the motorhome's 120-volt-AC needs is supplied by a 30-amp shore power cord or an Onan 4,000-watt generator. In addition, an 1,800-watt inverter can supply the entertainment center and some receptacles from the two 6-volt deep-cycle house batteries, which are mounted on a slide tray for easy service access.
The coach has a 46-gallon fresh-water tank, a 23-gallon black-water tank, and a 50-gallon gray-water tank. Electric dump valves provide easy access when servicing the latter two.
Final Impressions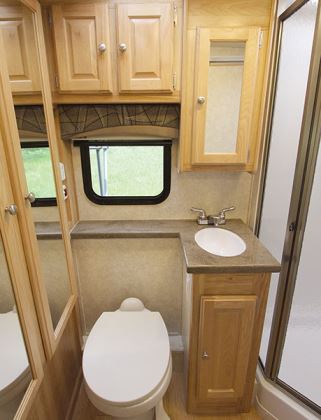 During my test drive, I found the Phoenix Cruiser to be quite maneuverable. Its 220-inch wheelbase allowed for nice, tight turns and helped make backing into sites easy, yet the coach felt stable when we were under way. Even on long treks, I suspect RVers will remain comfortable behind the wheel. Power and acceleration provided by the V-10 engine were good, and I had no problems moving out into traffic.
Phoenix Cruiser designers strive to offer an affordable luxury coach with innovative features. And during my examination of the 3100, the construction quality and attention to detail were among the best I've seen. It was easy to move around inside the coach without having to extend the slideout. Plus, the furniture was very comfortable.
The factory-direct model ensures good communication with the customer; this also gives Phoenix USA the ability to handle custom options and features a buyer requests.
The Premium Convenience Package includes a number of popular features: Onan generator; outside shower/faucet; roof air-conditioning with heat strip; TV antenna and booster; Class III hitch; Fan-Tastic roof vent; convection-microwave oven; 32-inch Samsung LED TV; electric step; gas/110-volt DSI water heater; heated remote mirrors; gold carbon fiber dash and drink tray.
Talking with Phoenix Cruiser owners, I found an enthusiastic and loyal following. They seem to truly enjoy their motorhomes.
For anyone who is looking for a coach that's a little bit bigger than a Type B, the Phoenix Cruiser should make their A list.
SPECS

MANUFACTURER
Phoenix USA Inc., 2601 Marina Drive, Elkhart, IN 46514; (877) 754-8535; www.phoenixusarv.com
MODEL
2018 Phoenix Cruiser
FLOOR PLAN
3100
CHASSIS
Ford E-450
ENGINE
Ford 6.8-liter V-10; 305 horsepower at 2,450 rpm; 420 pound-feet torque at 3,250 rpm
TRANSMISSION
6-speed automatic
AXLE RATIO
4.56 to 1
TIRES
LT225/75R16
WHEELBASE
220 inches
BRAKES
antilock disc
SUSPENSION
Ford leaf spring, rear
ALTERNATOR
120 amps
BATTERIES
house — (2) 6-volt deep-cycle;
chassis — (1) standard Ford
INVERTER
1,800 watts
ELECTRICAL SERVICE
30 amps
AUXILIARY GENERATOR
4,000-watt Onan
EXTERIOR LENGTH
30 feet 10 inches
EXTERIOR WIDTH
93 inches
EXTERIOR HEIGHT
10 feet 1 inch
INTERIOR HEIGHT
6 feet 4 inches
GROSS COMBINATION WEIGHT RATING (GCWR)
22,000 pounds
GROSS VEHICLE WEIGHT RATING (GVWR)
14,500 pounds
GROSS AXLE WEIGHT RATING (GAWR)
front — 5,000 pounds;
rear — 9,600 pounds
AS-TESTED WEIGHT
(full fuel, propane, fresh water)
front — 4,230 pounds;
rear — 8,555 pounds;
total — 12,785 pounds
OCCUPANT & CARGO CARRYING CAPACITY (OCCC)
1,715 pounds
FRESH WATER CAPACITY
46 gallons
HOLDING TANK CAPACITIES
gray water — 50 gallons;
black water — 23 gallons
FUEL CAPACITY
55 gallons
FUEL REQUIREMENTS
gasoline
PROPANE CAPACITY
42 pounds
WATER HEATER
6 gallons, propane-electric
HEATING SYSTEM
30,000-Btu propane furnace
AIR-CONDITIONING
15,000-Btu with heat strip
REFRIGERATOR
6.3-cubic-foot Norcold
TOILET
porcelain
WARRANTY
coach — 12 months/12,000 miles;
chassis — 36 months/36,000 miles
bumper-to-bumper
MANUFACTURER SUGGESTED RETAIL PRICE
$150,206
FACTORY-DIRECT PRICE
$113,247