Gear, Gadgets, And Gifts
Practical accessories and assorted goods designed to make life easier and more enjoyable for RVers.
By Skip Tate, Associate Editor
Canvas Picnic Table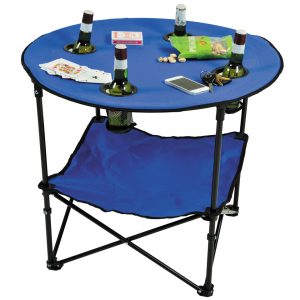 All too often, the most scenic vistas or best picnic sites require a bike or a hike to get to. That usually means the ground is your unstable table. The solution: a portable Picnic at Ascot pop-up table. The canvas table folds up like a lawn chair; is light enough to carry; and has four mesh drink holders, a tabletop for snacks, and a bottom shelf for Wi-Fi speakers or blankets. The table is sold at authorized online retailers, including Amazon, for approximately $44.
Picnic at Ascot
(877) 676-9266
www.picnicatascot.com
---
Creepy Camper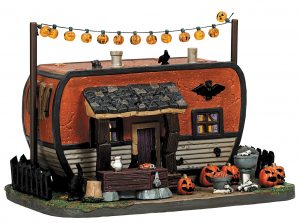 Not all campgrounds are happy to see campers get into the Halloween spirit and decorate their RVs with spooky and scary items. If that's the case where you are, then live vicariously through Lemax's tabletop Creepy Camper. The tiny trailer has everything you could want outside your own RV — black cats, jack-o'-lanterns, a coffin with a boney arm hanging out, a bucket of brains, and, of course, a string of pumpkin lights. The camper illuminates from inside for that extra-scary nighttime effect. It is sold through authorized retailers, including Amazon, for $39.99.
Lemax
(888) 536-2988
www.lemaxcollection.com
---
Coffee Mug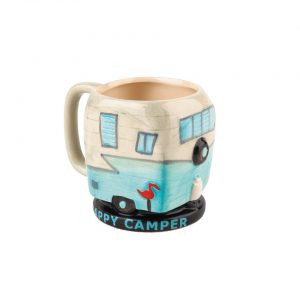 For some of us, the joy of camping only comes after the joy of that morning cup of coffee. Fortunately, the big brains at Big Mouth Inc. found a way to combine the two in the form of the Happy Camper coffee cup, a 16-ounce ceramic mug designed to look like a vintage trailer, complete with spare tire, propane tank, and a painted-on pink flamingo. Warm up with a camper cup before warming up for the day. Price is $14.99.
Big Mouth Inc.
(855) 969-2345
www.bigmouthinc.com
---
Power Washer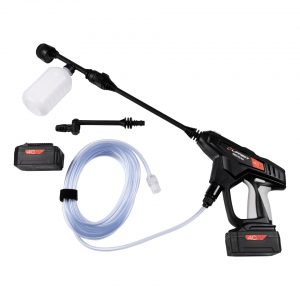 Fall is falling. But before you batten down the hatches and put the RV in hibernation for the winter, it's best to first scrape off the summer's grime. Lippert's Power Pro Max battery-operated portable pressure washer makes quick work of pretty much any cleaning job. Fill the soap container; drop the water line in a bucket, pool, lake, creek, stream, river, or pretty much any body of water; and then point the nozzle and pull the trigger. The cleaner shoots out suds up to 520 psi, meaning even the grimiest of grit can be vanquished. It weighs 3.6 pounds and comes with an attachment that has six nozzle settings, plus two 40-volt lithium-ion batteries that last around 30 minutes each. Price is $241.95.
Lippert
|(432) 547-8900
store.lci1.com
---
Patio Kit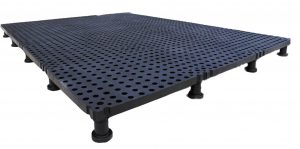 Sitting outside your RV and getting back to nature is the joy of camping — except when it rains and your chair legs sink in the mud. Or you walk outside in your bare feet and step onto the gravel pad. Ouch, ouch, ouch. Jody and Kristy Rowell know the feeling all too well, so they came up with a solution: a series of 2-foot-by-2-foot panels that join to create a deck that keeps you up off the ground. The Travel Easy Decks come with height-adjustable legs to account for uneven terrain or settling, and you can connect as many panels as desired. The panels are made of heavy-duty plastic, so they're durable and lightweight; each panel weighs just under 7 pounds. Individual panels cost $30.32 each, or prepackaged kits of two, four, eight, or 12 panels are available. The 12-panel patio kit costs $488.38.
Travel Easy Decks
(855) 685-3500
www.traveleasydecks.com
---
Cargo Tray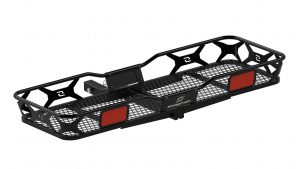 Sometimes, you just need a little extra space to carry life's essentials in or on your RV, such as coolers or firewood or your personal espresso machine. Swagman just found you that space. Its new Expanse cargo tray connects to your trailer hitch and has all the requirements you expect from a cargo tray — reinforced sides and corners and reflective decals. It also is strong enough to hold 400 pounds of your stuff. Plus, an optional cargo net keeps everything from bouncing out on bumpy roads, and a compatible bike rack lets you take your two-wheeled ride with you as well. Price of the tray is $309.
Swagman
(800) 469-7924
www.swagman.net
---
Dice Game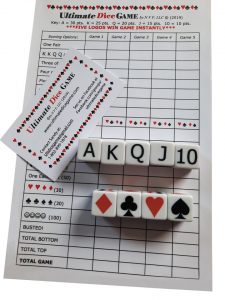 For those who like to roll the dice for fun and — maybe — profit, shooting craps at the campground can be, well, a dicey idea. Fortunately, three women in Vermont who wanted something to do in their retirement years came up with an alternative, the Ultimate Dice Game, which is like playing rummy and poker at the same time. Players roll nine dice and try to come up with combinations that match the options on the scorecard. Each roll creates a new twist or a new challenge. The dice are larger and lighter than traditional dice, and the scorecard has large print as well to make the game even more enjoyable for older eyes. Price is $22.
Ultimate Dice Game
www.ultimatedicegame.com
---
Pet B&B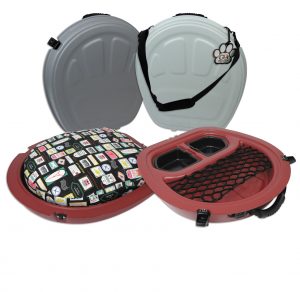 Dogs and cats love three things: eating, sleeping, and the humans who give them a good place to do the first two. Officials at Duo Form, which has a long history of making RV original-equipment products, realized this, so the company added a new division to its business, Duo-Pets, and launched its first product earlier this year: the Pet B&B. Its two-part hard plastic case opens with two clasps, revealing a padded bed on one side and bowls for food and water on the other. A handle makes transportation easy should your adventures involve hitting the trails. Designed for small pets, it measures 20 inches by 20.5 inches by 6 inches when closed. The Pet B&B costs $165 and comes in three colors — red, green, or gray.
Duo Form
(269) 663-8525
www.duo-pets.com
---
Air Filter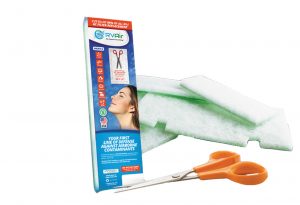 Ah-choo. Setting up camp in the great outdoors brings with it plenty of fresh air — and fresh allergens. Pollen, decaying leaves, tree mold. It's enough to make anyone's hay fever go haywire. RVAir understands the airborne impact of life on the road and just made it easier to install one of its RV-specific air filters that capture allergens before they invade your RV — and your nose. Eliminating the need to buy a specific filter for your specific air conditioner, its AC-300 universal filter measures 16.5 inches by 9 inches and can be cut to fit. Round, square, rectangular — it doesn't matter. It still has 40 layers of unwoven polyester, each sprayed with antimicrobial tackifier to capture those microscopic particles and kill mold. All you need to make it work is a pair of scissors. That's nothing to sneeze at. The filters cost $9.97 and are available only at Walmart.
RVAir
(844) 782-4746
www.rvair.com