A comfortable travel trailer for the budget-minded RVer.
By Bruce W. Smith
November 2022
Thinking about transitioning from your current motorhome or camper van to a tow-behind RV? Looking for a travel trailer that has an attractive price and is light enough to tow behind a half-ton pickup truck? The 2023 Nash 24M from Northwood Manufacturing could be the one. This 27-foot-long, 9,200-pound-GVWR travel trailer could sleep five in a pinch but is really best-suited for a couple or a family of four.
Northwood Manufacturing was founded in 1993 by Ron Nash in La Grande, Oregon, and quickly established itself as a premier builder of travel trailers, fifth-wheels, toy haulers, compact campers, and pickup campers. Northwood has several RV lines; among them are Nash and Arctic Fox travel trailers. Nash is the moderately priced line, while Arctic Fox is the premium brand.
Of the eight floor plans in the Nash lineup for 2023, the 24M is the only one that offers a dinette on the curb side positioned opposite a jackknife sofa in the street-side slideout. This model also includes dual entry doors — one that leads into the living room/galley and the other into the bedroom area up front. There's also a full bath across the rear. The 24M floor plan provides a lot of elbowroom for lounging, as well as a nice galley arrangement.

Built For Four-Season Use
Northwood constructs its own "off road" travel trailer chassis, which includes tandem E-Z Lube axles equipped with Nev-R-Adjust self-aligning brakes. Welded, thick-wall aluminum framing is covered with one-piece multilayer polyurethane walls and roof. Inside the floor, ceiling, and walls, insulation rated at R-14 and R-15 is used. The roof incorporates a bonded truss system that helps to create an arched, cathedral-type interior ceiling. The fiberglass front cap has an aerodynamic contour and includes a diamond-plate gravel guard. Holding tanks are heated and enclosed for true four-season use.
The 25,000-Btu forced-air furnace quickly takes the chill off, and a 13,500-Btu air conditioner keeps the heat at bay. The combination of build quality and heating and cooling systems allows occupants to stay comfortable regardless of what Mother Nature throws their way. And for those
who wish to spend time outdoors with a little protection from the elements, the 24M includes a 17-foot Carefree Travel'r 12-volt LED awning.
Interior Appointments
One of the first things I noticed while touring a 2023 Nash 24M was the floor. The woodgrain vinyl sounded a little "clicky" when walked on. According to Northwood officials, the sound may be attributed to the 5/8-inch weatherproof marine-grade tongue-and-groove plywood flooring that the company uses in place of oriented strand board (OSB). Tongue-and-groove plywood is utilized in residential construction and provides a positive fit at the joints while allowing for expansion and contraction; sometimes this produces a creaky sound.
In my view, many of the interior appointments portray quality and nice decor. Alder hardwood is used on all Northwood units. Ball-bearing drawer roller guides and hidden hinges on cabinet doors are also standard features. Others include LED lighting, fabric night shades, and a custom Nash key rack. An AM/FM/CD/DVD player with Bluetooth, a digital thermostat, and an interior command center also come standard.
I liked the bathroom, located at the rear, with a shower that someone over 6 feet tall would feel comfortable using. The optional ceiling vent fan operates quietly, and a skylight provides plenty of natural lighting. A roomy double-door wardrobe/shirt closet is positioned against the opposite street-side wall. The 24M's 10-gallon DSI propane-electric water heater is another nice touch for bath (and kitchen) use, providing hot water instantly with quick recovery. The porcelain toilet gives a bit of an upscale feel.
Immediately outside the bathroom door is the galley. Appliances include a high-output three-burner cooktop, a conventional oven, a residential-size microwave oven, and a one-piece countertop that extends around the corner to encompass a dual-basin stainless-steel sink. The arrangement provides ample room to prepare meals.
Nash designers have placed the 7-cubic-foot refrigerator, plus a small pantry, in a floor-to-ceiling cabinet between the rear entry door and the dinette, tastefully blending it with the wood panel overlay that matches the rest of the trailer's trim.
Storage in a sub-30-foot travel trailer can sometimes be an issue. But that is not the case in the Nash 24M. In addition to a spacious exterior pass-through compartment, the interior contains overhead cabinets in the living room, galley, and bedroom; a wardrobe in the slideout; and a pair of shirt-length wardrobes on each side of the bed. More storage is available under the jackknife sofa (which converts into a bed), the dinette seats, and the queen-size bed.
Exterior Amenities And Options
The Nash 24M comes prewired for a generator and a satellite dish. As with every Northwood unit, the 24M comes standard with a 45-watt solar panel to assist with battery maintenance; 100-watt or 170-watt solar panels may be added as options.
Marine-grade external speakers are standard equipment. The unit also includes a 12-volt power tongue jack, stabilizer jacks, 15-inch tires, and shocks on all four wheels that help absorb road surface impacts and give better trailer control while scooting down the road.
The battery disconnect is conveniently located inside the pass-through storage compartment. The 24M comes with a 42-gallon gray-water tank, a 35-gallon black-water tank, and a 40-gallon fresh-water tank for multiday or week-long camping trips at unimproved campsites.
If you plan on using the Nash 24M during the winter (or in the summer where heat is an issue), I'd highly recommend the optional thermal-pane windows, which should greatly reduce the effects of severe cold/heat. Options include a 15,000-Btu A/C upgrade, a 3,600-watt Onan propane generator, and power vents for the kitchen and bedroom. (The bathroom comes with a traditional roof vent as standard equipment.)
Final thought: The 2023 Nash 24M is a moderately priced travel trailer that fits a couple or a couple with young kids quite well. It's structurally stout, has all the basic amenities and features needed to be comfortable for a weekend or a week on the road, and is light enough to be towed behind a full-size half-ton pickup.
Want to equip the 24M for more off-grid camping? The OTG Package, which is available as an option on all Nash floor plans, sets it up with more aggressive tires, an upgraded suspension, solar power, and other items for just such use.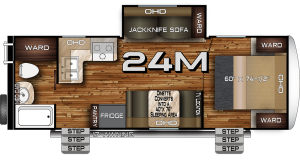 SPECIFICATIONS | NORTHWOOD NASH
MANUFACTURER
Northwood Manufacturing, 59948 Downs Road, P.O. Box 3359, La Grande, OR 97850; www.northwoodmfg.com; (541) 962-6274
MODEL
2023 Nash
FLOOR PLAN
24M
EXTERIOR LENGTH
27 feet 3 inches
EXTERIOR WIDTH
96 inches
EXTERIOR HEIGHT
11 feet 6 inches (with A/C)
INTERIOR HEIGHT
6 feet 6 inches
GROSS VEHICLE WEIGHT RATING (GVWR)
9,200 pounds
DRY WEIGHT
6,023 pounds
DRY HITCH WEIGHT
595 pounds
NET CARRYING CAPACITY (NCC)
3,177 pounds
TIRES
ST225/75R15
BRAKES
self-adjusting
FRESH WATER CAPACITY
40 gallons plus 10 gallons for water heater
HOLDING TANK CAPACITIES
gray water — 42 gallons; black water — 35 gallons
PROPANE CAPACITY
60 pounds
WATER HEATER
10 gallons; propane-electric with direct-spark ignition
ELECTRICAL SERVICE
30 amps
HEATING SYSTEM
25,000-Btu furnace
AIR CONDITIONING
(1) 13,500-Btu, standard; or (1) 15,000-Btu, optional
REFRIGERATOR
7-cubic-foot Norcold N7LX propane-powered with cold-weather kit
TOILET
porcelain
WARRANTY
1 year
MANUFACTURER'S BASE SUGGESTED RETAIL PRICE
$52,737