Nebraska residents gave FMCA convention attendees a warm welcome, and event organizers kept the RV owners busy with seminars, exhibits, entertainment, and more.
By Robbin Gould, Editor  •  Photos By Lindsay Prince, Graphic Designer
November 2022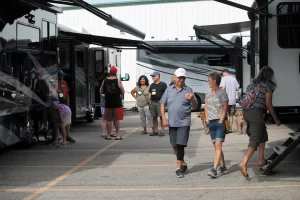 The month of August means many things to many people: late-summer road trips; back to school preparations; picnics, parties, and family reunions among them. For a fun-seeking group of RVers, it also included time spent in Lincoln, Nebraska, for FMCA's 105th International Convention & RV Expo Presented By Blue Ox, August 24 through 27.
FMCA's "Golden Getaway" convention took place at the Lancaster Event Center, a multipurpose facility that hosts rodeos, equine shows, the annual Lancaster County Super Fair, and many other activities throughout the year. Much of the FMCA action — such as supplier exhibits, seminars, meetings, and entertainment — took place in several large, interconnected buildings.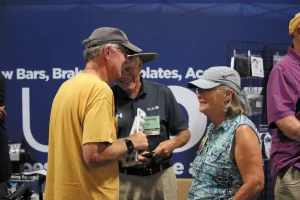 Lincoln, the state capital, features a mix of small-town charm and big-city attractions, including a revitalized downtown. It has a population of nearly 300,000 and is home to the University of Nebraska-Lincoln. The city also boasts two world-renowned sites — the International Quilt Museum and the Speedway Motors Museum Of American Speed — that opened their doors to convention attendees for special prearranged tours.
The official RV count for this convention was 690; the number included 613 family RVs and 77 commercial RVs. First-time convention attendees made up 30.7 percent of the total.
Several factors likely played into the lower-than-usual attendance figures, primarily high fuel prices throughout the summer and lingering concerns about COVID-19.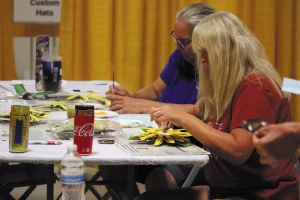 "While we didn't get the attendance that we expected, those who did come to Lincoln were treated to a terrific time," said Doug Uhlenbrock, director of events. "The convention featured plenty of activities for attendees to enjoy both on grounds and throughout the city. Judging by the smiles I saw during the event and the comments we received on our post-convention surveys, I'd say the show was a success."
Convention Firsts
The "Golden Getaway" was FMCA's first international convention held in the Cornhusker State. It originally was scheduled to take place in August 2020; however, the COVID-19 pandemic forced its cancellation and rescheduling. The Lancaster Event Center was able to accommodate FMCA two years later.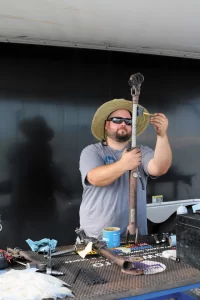 The Lincoln gathering claimed another milestone: the first FMCA event to have a title sponsor. Blue Ox is an internationally known manufacturer of tow bars, base plates, sway control products, and weight-distributing hitches. The company is based in Pender, Nebraska, and has a location in Lincoln. Blue Ox regularly exhibits and presents educational seminars at FMCA international conventions. Why not welcome attendees into their own backyard?
"We have an amazing team of hard-working folks, in both Pender and Lincoln. To welcome the FMCA members to Lincoln, and highlight our team, brand, and products, was a no-brainer," commented Kevin Molland, Blue Ox director of marketing. "Nebraska has a lot more to offer than many people think as they drive through, so to help FMCA showcase our capital and state was a great opportunity."
On Tuesday, August 23, before the official start of the convention, the company co-hosted the "Blue Ox Bash," a welcome-to-Lincoln celebration in the Historic Haymarket District downtown. Attendees arrived at the Lincoln Station Great Hall to enjoy refreshments before setting off to explore area shops and restaurants. Many rejoined the party later. Music provided a festive atmosphere throughout the evening, beginning with disc jockey Craig Estudillo, who played favorites from many decades. Craig was followed by the energetic High Heel Band, featuring lead singer Lisa Larsen in her white, high-heeled boots. The dance floor stayed busy throughout the night.
"The venue was top-notch, the band came with all the hits, and the crowd came ready to party," said Molland, calling the Blue Ox Bash "a great way to kick off the week, getting everyone ready for all the fun to come."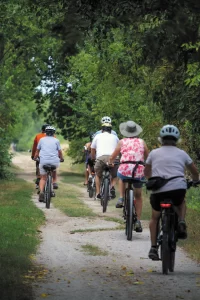 Busy Bees
The convention program and event app listed a schedule packed with seminars, social gatherings, entertainers, games, and more. Where to go; what to do? First-time convention attendees received valuable tips on how to organize their time at an orientation designed especially for them. In addition, the "Discover LEC Walkabout" helped everyone get the lay of the land via a walking tour of the Lancaster Event Center grounds.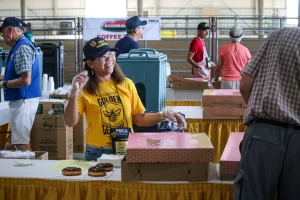 Early risers had several ways to shake a leg. A group gathered each morning for stretches and low-impact cardio routines. Afterward, they could amble over to the Cummins Town Center for Roadmaster Coffee Hour and join other attendees for a cup of joe and a doughnut or two while listening to FMCA's own Frustrated Maestros musicians. Bicyclists also met throughout the week for several morning and afternoon group treks to sites around Lincoln.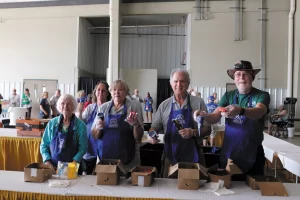 Book lovers met Jonis Agee, who appeared as part of FMCA's Super-sized Book Club series. She discussed Bones Of Paradise, her multi-generational saga set in Nebraska's Sand Hills in the years following the massacre at Wounded Knee.
Those who checked out the Miller Insurance Ice Cream Social were rewarded with a sweet after-noon snack, plus more music by the Frustrated Maestros. Other midday events included the Ladies' Luncheon, complete with prizes and entertainment, and two "Lunch + Learn" sessions — presentations by local speakers discussing the culture of bees and the history and lore surrounding Lincoln's Robber's Cave.
Daytime and evening entertainers appeared throughout the week. The evening lineup included Kenny Ray Horton, who delivered a solo acoustic show featuring country and bluegrass tunes. The Rusty Rierson Band thrilled lovers of country music, and Lincoln's own Out Loud Band mixed decades and genres, including dance music. The Whitesidewalls, in their matching vintage shirts, warmed those with a soft spot for Elvis, Buddy Holly, the Everly Brothers, and other musicians of the era.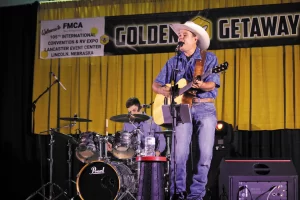 Karaoke, anyone? Following the evening performances, folks made tracks to Late Night Karaoke With A Keck, hosted by FMCA's own Lamar Keck. Who knew FMCA had so many singers in its ranks?
The FMCA Connection
The "Golden Getaway" convention presented many opportunities to learn more about FMCA. The Chapter Fair was abuzz with FMCA chapter representatives meeting and greeting folks interested in finding a group to join. FMCA Area Gatherings gave attendees a chance to meet officers and others in their geographic area, and those from the International Area, which hosts non-geographic chapters. The Annual Membership Meeting included the installation of newly elected national area vice presidents and reports on the state of the association, among other business.
Throughout the week, seminars highlighted FMCA member benefits, such as the FMCAssist Medical Emergency and Travel Assistance Program and the Roadside Rescue® plan. And among the indoor exhibits, the "FMCA Connections" area included booths staffed by many member partners that provide FMCA benefits — along with a membership booth staffed by employees from FMCA's national office.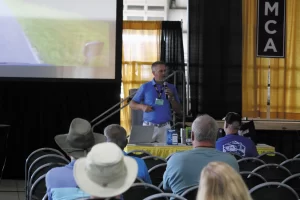 Also among the 100 or so seminars presented during the week, sessions focused on diverse technical and lifestyle topics: RV travel and caravans, technology, RV maintenance, towing, tires, crafts, genealogy, and many more. And just prior to the convention, some RVers took part in the comprehensive RV Basics program, plus RV Driving/RV Backing sessions from the RV Driving School.
Games And Competitions
How about a bean bag or "cornhole" tournament, or a water balloon toss? A team trivia challenge or an evening of card bingo? Folks participated in these games, all sponsored by Demco.
Men sporting facial hair competed in the FMCA Whisker Games By Demco. Volunteer judges scrutinized contestants in three categories — mustache, goatee, and beard — and chose a semifinalist from each. Next, the audience selected the overall winner with their applause. It was a close contest, but Wayne Baumann and his goatee took top honors.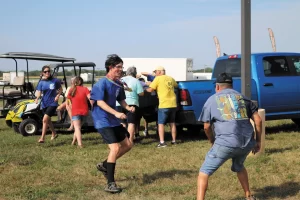 Youth And Family Activities
Thanks to FMCA's Youth and Family Activities Committee, the youngest attendees buzzed from event to event with their parents or guardians. The fun began early in the week at an informal get-together. They also participated in youth-oriented crafts sessions, a scavenger hunt, a ladderball toss game, and other events.
Many in this group might say the kickball game — kids versus adults —was their favorite activity. Players ranged from 8 to 81 years old. The adults managed to pull out a win, but the kids fought hard to keep up. Charlsanne Miskell, committee chair, said they hope to have even more kickball participants at FMCA's 2023 Perry, Georgia, convention, "especially to give us adults a little break. We were worn out!" she said jokingly.
"It's so rewarding hearing how much the families are appreciated at the various FMCA events, and getting feedback that the families were glad their children, grand-children, etc. attended and had great activities to keep them occupied throughout the [Lincoln convention]," Charlsanne added.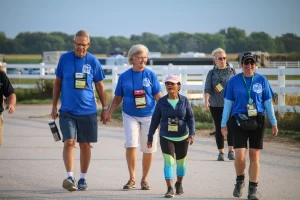 Community-Minded
FMCA members left a positive — and significant — mark on the Lincoln area by supporting FMCA's "Driven To Care" initiative. They took part in several events to benefit Friendship Home, a Lancaster County organization that provides crisis services, emergency shelter, and transitional housing for victims of domestic abuse.
Attendees contributed to the cause by their registration and participation in the Magic Mile Fun Run/Walk. They traversed a route through the Lancaster Event Center grounds. Dogs were welcome, too!
The Driven To Care Silent Auction showcased an array of items donated by convention attendees: theme baskets, stuffed animals, crafts, even concert tickets. Shoppers perused the items and placed ever-increasing bids. Once the bidding window closed, the winners picked up and paid for their new treasures.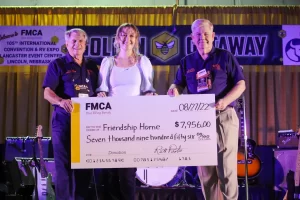 The Quilts For Kids display highlighted the talents of many quilters within FMCA's ranks. Their colorful quilts and blankets were given to Friendship Home to serve as comfort items for children in crisis situations. FMCA's On-Road Quilters group also donated $220.
Dane Bailey, who emceed the evening entertainment programs, showed his skills as the "singing auctioneer" by seeking the highest bids for pies from a local bakery. The result: several hundred dollars raised by the sale of the pies, plus additional audience donations.
The proceeds from these events came to $3,978, which FMCA matched. On Saturday evening prior to the entertainment program, Whitney Werger, Friendship Home's development coordinator, was presented a check for $7,956. Another $1,310 was collected that evening, bringing the total donation to $9,266.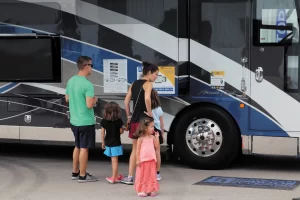 To All Who Made It Happen
A round of applause goes out to the hundreds of attendees who volunteered their time to assist with parking, security, seminars, information, activity carts, and other areas. Many activities and services were made possible because of their help. Thanks go out to the participating companies as well for their sponsorships, exhibits, RV displays, service center participation, and seminars.
Rally Season: Alive And Well
Despite the challenges that have impacted RV travel in recent years, FMCA events are back in the swing. As for the "Golden Getaway" Convention Presented By Blue Ox, attendees seemed to give it a thumbs-up. See for yourself — or, if you attended, look for yourself — by viewing the official convention video: https://youtu.be/Z3UXZiTJLaM.
Registration is open for FMCA's 106th International Convention & RV Expo, nicknamed "Lucky 13," which will take place March 15 through 18, 2023, in Perry, Georgia. It marks the association's 13th event to be held at the Georgia National Fairgrounds & Agricenter. Register at FMCA.com or call (800) 543-3622.