Highlights from FMCA's 106th International Convention & RV Expo.
By Robbin Gould, Editor
Photos By Lindsay Prince, Graphic Designer
June 2023
Consider these images.
A colorful parade on a blue-sky day. Poodle skirts twirling to '50s favorites. Attentive students in "class." Shoppers strolling along rows of products on display. Country music, dueling pianos, and four-part harmonies on the nighttime stage. Folks mingling at evening "block parties."
Those who attended FMCA's 106th International Convention & RV Expo in Perry, Georgia, March 15 through 18, 2023, enjoyed these experiences and many more.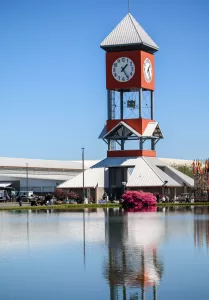 The total RV count for FMCA's spring fling was logged at 1,932. This number included 1,847 family registrations and 176 commercial RVs.
The event theme — "LUCKY 13" — acknowledged it as FMCA's 13th convention at the Georgia National Fairgrounds & Agricenter, making it FMCA's most-visited site ever (the first took place there in 1996). Several FMCA members were recognized for having attended all 13: Peter and Jean Crean, Carole Sawyer, George Schipper, Richard and Katie Taddeo, and Marvin and Patricia Voyna.
Adding more fuel to the festivities, St. Patrick's Day took place during the event. To get an early start on the celebrating, The Kinnigans, an Atlanta band, treated listeners to traditional Irish music on Thursday, March 16. And all throughout the week, wearin' o' the green was visible everywhere.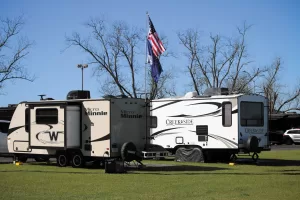 "The Perry event felt like our first 'normal' FMCA event since 2019," commented Chris Smith, FMCA's chief executive officer. "The pandemic wiped out both conventions in 2020; it negatively impacted attendance in 2021; and gas prices and economic factors hurt attendance in 2022. While the economy and gas prices are still not at normal levels, the pressures were much less, which resulted in our best-attended event since Perry in 2019."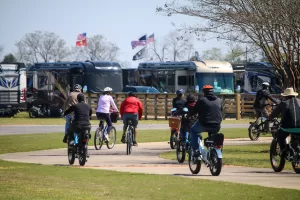 March can be unpredictable in many parts of the country, including this central Georgia location. "Although the weather didn't cooperate as it had in previous years, the chilly temperatures didn't stop attendees from having a great time," said Doug Uhlenbrock, FMCA director of events. "We had big crowds at all of the different events; the seminar rooms were packed; and the exhibit hall and display area were buzzing every day."
A PACKED SCHEDULE
Veteran attendees know that the activities planned for an FMCA convention fill a magazine-size program. To help first-time attendees navigate the maze, national senior vice president Gary Milner provided them tips and suggestions on how to get the most out of their first convention. Informal "walkabout" tours were led by volunteer mentors as well to acquaint folks with the grounds and show them the locations of various activities.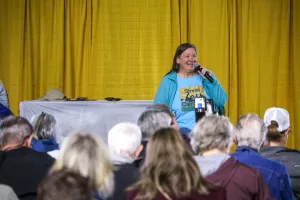 SEMINARS
Want to learn more about your RV and its components? Looking for destination ideas? Need an update on the newest technology? Wondering about FMCA member benefits? These topics and many others were addressed in 100-plus seminar sessions held throughout the week. Ahead of the convention, folks who signed up for the RV Basics course received bonus info about the care and feeding of their homes on wheels in a classroom setting. Other early birds opted for hands-on instruction using their own RVs by registering for the RV Driving and/or RV Backing sessions presented by the RV Driving School.
EXHIBITS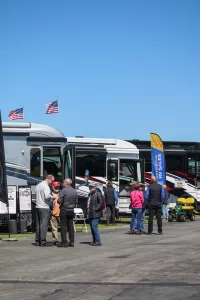 As the center of commercial operations, the bright, airy Miller-Murphy-Howard Building brimmed with shoppers who perused RV-related components and accessories and consumer products on display. They also chatted with representatives from RV resorts, campgrounds, tour operators, insurance providers, and finance companies. FMCA-affiliated partners in the designated "FMCA Connections Area" offered information about the association's member benefits and services. Outdoors, 100 or so motorhomes, travel trailers, and fifth-wheels enticed visitors to stop in for a tour. In all, 135 companies exhibited at the Perry convention.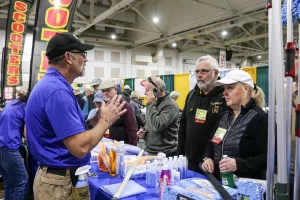 On the first official day, the opening of the exhibits signaled the start of the event — and folks were ready! To make things even more exciting, an opening-day parade kicked things off. The procession included 30 or so groups and individual entries, including the FMCA and Southeast Area executive boards and numerous FMCA chapters. About 100 or so golf carts joined bikes, scooters, and motorized wheelchairs. One would be hard-pressed to count the number of shamrocks and shimmering strands of green garland that decorated golf carts and people. Waving spectators lined the streets, cheering on participants and hoping to get candy, beads, or other items tossed to them.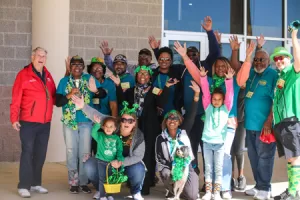 The parade concluded at the exhibit building, where singer-songwriter-guitarist and FMCA member Sol Varon was entertaining the crowd with a kickoff concert. The Northeast Florida Campers RV Club was announced as winners of the Grand Marshal Trophy for their parade entry. FMCA national president Rett Porter declared the "LUCKY 13" convention to be officially underway. Here we go!
OTHER SPECIAL EVENTS
It's difficult to describe all the goings-on at an FMCA convention, but here are some highlights.
Coffee hour, a convention morning tradition, revved up attendees with a hot beverage and a doughnut or two to counter the chill in the air. FMCA's Frustrated Maestros braved the cold and performed during the event each day. And even though it wasn't exactly ice cream weather, the Maestros played as attendees gathered for the Ice Cream Social.
The FMCA Town Center served as the venue for these events and others, including the FMCA Whisker Games. In this friendly competition, gents sporting beards, goatees, and mustaches vied for the Perry version of the Mr. Whiskers trophy. Top honors went to Gary Barna and his beard. A brand-new event, the Great Hat-A-Tude contest, attracted 40 or so ladies of all ages. Each modeled a hand-decorated headpiece in one of four categories: most creative, gaudiest, prettiest, and ugliest. Renee Schupp was proclaimed the overall winner.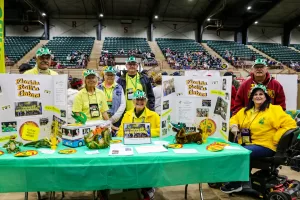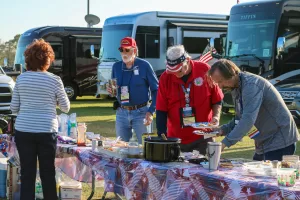 FMCA chapters participating in the Chapter Fair offered info about their groups, which encompass geographic areas across North America or are focused on special interests and activities. More informal socializing took place during the Chapter Block Party. At this evening event, about 45 chapters spiffed up their designated areas and welcomed guests with food, drink, and casual conversation. From many accounts, the get-together was a hit.
FMCA's Supersized Book Club, which features a visiting author at each convention, welcomed Justine Cowan to Perry. A rapt audience listened as Justine provided background about her book, The Secret Life Of Dorothy Soames, which described her mother's childhood years spent in a "foundling hospital" in England.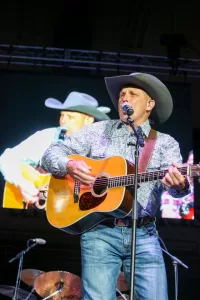 Families who attended the convention with kids and grandkids were invited to participate in the Family Activities Program. Youngsters and their adult charges gathered for their kickoff event, a meet-and-greet hot dog bash. Other activities included a scavenger hunt and a bean bag baseball tournament — kids versus adults.
MUSIC, MUSIC, MUSIC (AND DANCING)
Reaves Arena was the site of great evening performances throughout the convention. Kazual displayed four-part family harmonies with renditions of old-school melodies and modern tunes, many sung a cappella. The Andrews Brothers Dueling Pianos took requests and wowed the crowd with their musicianship and energy, which people were still talking about the next day. Back by popular demand from FMCA's 2022 Lincoln, Nebraska, convention, Kenny Ray Horton performed a just-right mix of traditional country music and original tunes. Fans of the late John Denver enjoyed Tom Becker's uncanny vocal resemblance to the popular folk singer and songwriter.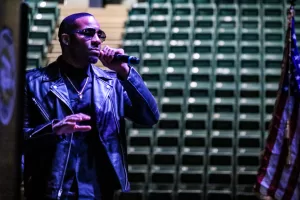 The Rock Til You Drop Sock Hop was a bona fide dance fest. Participants included a sister duo, 16-year-old Maddy and 13-year-old Maci Miskell, with their energetic performance to "Blue Suede Shoes." Although encouraged but not required, many twirly poodle skirts and other 1950s attire were spotted in the crowd.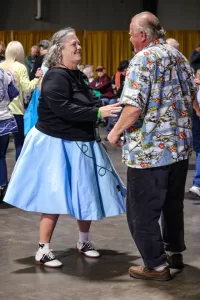 GIVING BACK
FMCA's Driven To Care Silent Auction was created to provide funds to the designated charity at each convention – this time, the Genesis Joy House, which benefits female military veterans. Attendees perused several tables overflowing with an astounding variety of gift baskets, décor items, RV tools, and more. Bidding seesawed for several days until the conclusion of the auction, resulting in the collection of $4,436 from the top bidders.
More than 200 attendees registered for the Magic Mile Walk/Run/Ride, traversing a designated route through the fairgrounds. Thanks to their participation, along with donations from others, the event earned $2,120 for the Genesis Joy House.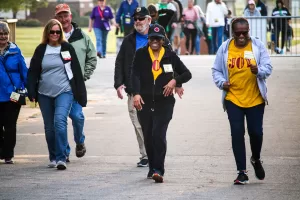 On the final night prior to the evening entertainment program, a check for $7,500 was presented to this charity.
The Quilts For Kids display showed off the handiwork of FMCA members who donated colorful handcrafted items. After the convention, they were presented to the Perry-based Crossroads Quilt Guild for distribution to those in need.
VOLUNTEERS ARE THE BEST!
FMCA conventions are able to include the activities described here, and many more, because of the help of hundreds of members who devote time to volunteer throughout the event. Whether it's parking arriving RVs, handling security duties, assisting with seminars, or performing a variety of other duties, they make these events possible. Perry volunteers: Thanks to you all!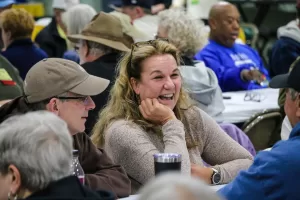 FROM GEORGIA TO WYOMING
The "LUCKY 13" convention clearly did not disappoint. "The atmosphere was great, and our attendees and exhibitors were happy. We hope these trends continue, because conventions are one of the key benefits to being a member of FMCA," CEO Chris Smith noted.
The next opportunity to experience the fun and camaraderie of an FMCA international convention will be August 23 through 26, 2023, at the CAM-PLEX Multi-Event Facilities in Gillette, Wyoming. The convention, dubbed "Celebrating Sixty," will honor FMCA's 60th birthday. Join the party! Register at FMCA.com or by calling (800) 543-3622.