This Florida company specializes in building luxury Type B-plus motorhomes, including a model based on the Ford E-450 cab chassis.
By Mark Quasius, F333630
June 2023
Coach House, a family-owned business headquartered in Nokomis, Florida, has been creating distinctive Type B-plus motorhomes since 1985. More recently, a Type B model, the Arriva, has joined the lineup. With a motto of "Build it right. Build it to last," the company's employees take pride in being innovators in the RV industry.
The Platinum series of B-plus coaches has expanded to several models over the years. The Platinum and Platinum IV are built on the Ford E-450 cab chassis, the Platinum II on the Mercedes-Benz 3500 chassis, and the Platinum III on the Ford Transit chassis. For this review, we'll focus on the latest Platinum IV floor plan, the 272-IV, a 27-foot unit with dual slideouts.
CONSTRUCTION
Typical recreational vehicle construction begins with a floor platform; walls are attached to it, and a roof structure is joined to the walls. Front and rear caps are added to finish off the unit. Instead, Coach House RVs feature a patented one-piece design, which eliminates the numerous connection points and reduces the potential for water leaks.
Coach House begins by molding a one-piece fiberglass shell. Experienced craftsmen lay the fiberglass by hand to ensure a consistent thickness, something that cannot be achieved with automatic chopper guns often used to apply fiberglass. The material is then reinforced with carbon fiber, which increases its strength while retaining a light weight. In fact, a typical Coach House shell weighs only 800 pounds.
The interior is completely insulated. The floor frame is composed of 4-inch channel aluminum, with 1½-inch structural aluminum tubing welded around the perimeter of the one-piece molded body. This helps to keep the structure strong in the event of a side-impact accident. Then, insulation is added to the body, and the floor is topped with a single piece of linoleum or textured flooring, creating a water-resistant enclosure.
CHASSIS
As noted, the Platinum IV is built on Ford's E-450 Super Duty chassis, which offers plenty of power and carrying capacity. The Ford 7.3-liter V-8 gasoline engine is rated at 350 horsepower and 465 pound-feet of torque. A six-speed automatic transmission and a 4.56-to-1 axle ratio deliver all that power to the ground.
The motorhome's gross vehicle weight rating (GVWR) is 14,500 pounds; the typical coach in this series has a dry weight of around 12,200 pounds, so that leaves around 2,300 pounds of cargo capacity. The gross combination weight rating (GCWR) is 22,000 pounds, providing 7,500 pounds of towing capacity. The coach is equipped with a heavy-duty hitch receiver.
MORryde rear suspension enhances the ride and handling, and an HWH automatic hydraulic leveling system facilitates setup upon arrival at a campsite. LT225/75R16 tires on steel wheels with stainless-steel trim rings are standard, but Alcoa aluminum wheels are an available option.
A full safety suite comes standard, offering stability control, avoidance alerts, distance alert and indication, adaptive cruise control, lane departure warning, and automatic high-beam control. The in-dash entertainment center includes GPS navigation as well as satellite radio and interfaces with the color rearview camera. Heated remote power mirrors and keyless remote entry door locks and power windows are standard.
EXTERIOR
The Platinum IV's sleek, curved body shell is very aerodynamic, resulting in less wind resistance and a quiet drive. Four full-body, two-tone base paint schemes are standard, with two optional deluxe paint schemes available.
A full-size entry door with a screen affords access to the coach from the patio area. The legless power awning sports LED accent lighting. Tinted, frameless jalousie windows keep out excessive sun while still providing adequate natural ventilation. With an overall height of 10 feet 9 inches, this B-plus coach may even be able to slide into spots with overhanging tree branches. Rear skid wheels protect the vehicle from damage if it bottoms out when entering a steep slope or driveway approach.
INTERIOR
The Platinum IV series is available in a choice of five interior decors, which gives the buyer a wide selection. The unit I reviewed was equipped with the Cypress décor package. The windows are paired with MCD slow-rise day/night roller shades. All countertops consist of solid-surface material. The cabinetry features "lite ply" construction, with hardwood doors added in most areas. Residential-grade Blum-brand soft-close hardware is used.
Premium linoleum is the standard floor covering, and textured flooring is available as an option. The cockpit features a six-way power seat for the driver and a swivel seat for the passenger that enables it to face the rear living area when parked.
The 272-IV floor plan has two slideouts. The front driver-side slideout can be equipped with one of three configurations: a booth dinette that makes into a 34-inch-by-70-inch bed; dual power recliner theater seats with a pair of swivel tray tables; or a power sofa/sleeper with two pedestal tables that are removed to convert the sofa into a 54-inch-by-70-inch bed. A 32-inch HDTV is mounted to a swivel arm near the entry door and can be seen from anywhere in the living area. An optional sound bar will provide premium audio.
Opposite the slideout is the galley area, which features an extended countertop with a flush-mounted stainless-steel sink and cover, a three-burner propane stove, and storage beneath. Overhead cabinetry includes a range hood and convection-microwave oven, both stainless steel. A sliding pantry flanks the galley work area; directly across from it is one of two available refrigerators:  a standard 6-cubic-foot, stainless-steel two-way absorption unit (AC/propane) or an optional 6-cubic-foot AC/DC high-efficiency compressor refrigerator.
Just aft of the galley is the walk-through bath area. The driver's side features an enclosed room that houses a porcelain toilet; a vanity; an overhead medicine cabinet; and a vessel raised-bowl sink. The passenger side holds a 28-inch-by-28-inch shower enclosure.
Continuing on to the rear of the coach, we arrive at the bedroom, which is outfitted with a 60-inch-by-71-inch queen bed that incorporates under-bed storage; the head of the bed is located in a curbside slideout. A comfortable hybrid mattress is standard. Opposite the bed is a wardrobe and entertainment center. An optional HDTV can be mounted in this area. An emergency egress window is located at the rear of the bedroom.
UTILITIES
Heat in the Platinum IV is provided by a 30,000-Btu propane furnace. The 40-gallon fresh-water tank, the water pump, and all water lines are located above the floor to eliminate freeze-ups in cold weather and allow true four-season camping. The 27-gallon gray-water and 25-gallon black-water holding tanks in the basement are electric thermo heated to prevent freezing as well. Two remote power roof vent fans provide airflow. A 15,000-Btu air conditioner with heat pump completes the heating and cooling system for this coach. Domestic hot water is supplied via a Whale 6-gallon electric/engine-assist water heater, which can utilize the engine's radiator coolant or 120-volt-AC power for heating.
Electrical needs are met by a 25-foot removable shore power cord. An automatic transfer switch will connect the 30-amp service to either shore power or the Onan 4,000-watt MicroQuiet generator. A 45-amp converter provides 12-volt-DC power to recharge the dual lithium-ion batteries and to run any 12-volt accessories in the coach, such as the 12-volt vent fans, the water pump, and the LED lighting. A 2,000-watt pure sine wave inverter provides 120-volt-AC power to operate the entertainment center components as well as 120-volt and USB receptacles throughout the coach. An automatic generator start ensures that the interior HVAC unit will keep the RV comfortable. In addition, a 200-watt solar panel and charge controller provide a bit of free battery charging power when the sun is shining. An optional second 200-watt panel also is available.
The furnace, propane cooktop, and propane/electric refrigerator (if so equipped) draw fuel from a 15-gallon on-board propane tank. This tank also supplies an external quick disconnect in the patio area for operating a propane grill.
The basement utility bay has the usual connections and controls to manage the fresh-water and waste systems and also includes an exterior shower connection.
The coach is prewired for satellite TV; an optional in-motion satellite dish and receiver are available for either DirecTV or DISH Network. A Blu-ray player is located in the front entertainment center in the overhead cabover area; an optional player can be placed in the bedroom.
FINAL IMPRESSIONS
The Coach House Platinum IV is a unique recreational vehicle. Its patented one-piece shell provides a sturdy housing with minimal weight and a seamless, leakproof design. It's designed for RVers who desire an upscale product with quality features in a touring-size package. The Ford E-450 chassis kicks it up a notch over the Mercedes-Benz and Ford Transit chassis in the other Platinum models, providing more cargo and towing capacity. In addition, Coach House RVs are sold direct from the factory, rather than through dealers, so certain custom requests are possible depending on the degree of change and engineering desired.
When you put it all together, there are a lot of reasons to consider the Coach House Platinum IV when evaluating Type B-plus motorhome models.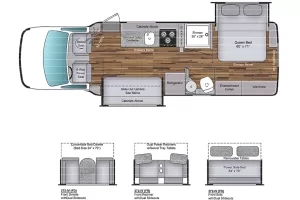 SPECIFICATIONS | PLATINUM IV
MANUFACTURER
Coach House, 3480 Technology Drive, Nokomis, FL 34275; (941) 867-3060; www.coachhouserv.com
MODEL
2024 Platinum IV
FLOOR PLAN
272-IV
CHASSIS
Ford E-450
ENGINE
7.3-liter V-8; 350 horsepower; 465 pound-feet torque
TRANSMISSION
6-speed
AXLE RATIO
4.56 to 1
TIRES
LT225/75R16
WHEELS
stainless steel, standard; Alcoa aluminum, optional
WHEELBASE
176 inches
BRAKES
front — disc;
rear — disc
SUSPENSION
front axle — heavy-duty;
rear axle — MORryde
ALTERNATOR
240 amps
BATTERIES
chassis — lead acid;
house — (2) lithium-ion
ELECTRICAL SERVICE
30 amps
AUXILIARY GENERATOR
4,000-watt Cummins Onan MicroQuiet
EXTERIOR LENGTH
27 feet 4 inches
EXTERIOR WIDTH
96 inches
EXTERIOR HEIGHT
10 feet 9 inches (with A/C)
INTERIOR HEIGHT
6 feet 6 inches
GROSS COMBINATION WEIGHT RATING (GCWR)
22,000 pounds
GROSS VEHICLE WEIGHT RATING (GVWR)
14,500 pounds
GROSS AXLE WEIGHT RATING (GAWR)
front — 3,585 pounds;
rear — 9,950 pounds
OCCUPANT AND CARGO CARRYING CAPACITY (OCCC)
approximately 2,300 pounds
FRESH WATER CAPACITY
40 gallons
HOLDING TANK CAPACITIES
gray water — 27 gallons;
black water — 25 gallons
PROPANE CAPACITY
15 gallons
FUEL CAPACITY
55 gallons
FUEL REQUIREMENTS
gasoline
WATER HEATER
Whale 6-gallon electric with engine assist
HEATING SYSTEM
30,000-Btu
AIR CONDITIONING
(1) 15,000-Btu with heat pump
REFRIGERATOR
6-cubic-foot stainless-steel 2-way absorption (AC/propane), standard; 6-cubic-foot 12-volt AC/DC high-efficiency compressor model, optional
TOILET
porcelain with sprayer
WARRANTY
chassis — 3 years/36,000 miles bumper to bumper;
drivetrain — 5 years/60,000 miles;
coach — 3 years/36,000 miles
MANUFACTURER'S BASE SUGGESTED RETAIL PRICE
$261,000