Folks gathered in Gillette to celebrate camaraderie and fun at FMCA's 103rd International Convention & RV Expo.
By Robbin Gould, Editor
September 2021
July in Wyoming. At this time of year, popular sites in the state normally are bursting with visitors: Yellowstone, Devils Tower, and five other national parks. Visitors come for hot springs, scenery, cowboys, and rodeos — and, this year, FMCA's 103rd International Convention & RV Expo.
Many RVers explored the Equality State's wonders before or after attending "The Spirit Of Wyoming" convention, July 7 through 10 in Gillette. The event was FMCA's second international convention held in 2021 and the first after most COVID-19 restrictions were lifted.
Enjoying the freedom after more than a year of precautions, attendees seemed eager to return to business as usual. They partook of five S's: seminars, shopping, shows, special events, and socializing.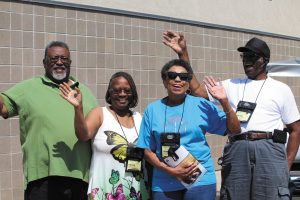 Gillette is situated on the rolling plains of northeastern Wyoming and boasts a heritage of railroads, homesteading, ranching, agriculture, and coal production. Today the city is home to CAM-PLEX Multi-Event Facilities, a 1,000-plus-acre property equipped to host conferences, livestock shows, rodeos, and three FMCA conventions to date. (FMCA also convened at CAM-PLEX in 2013 and 2018.)
"The success of any event hinges on many factors, one of the biggest being the facility. And, really, you'd be hard-pressed to find a better place to hold a convention of our size than CAM-PLEX," said Doug Uhlenbrock, FMCA director of events. "With more than 1,600 electric [parking] sites; several great buildings for our exhibits, seminars, and meetings; and a professional, responsive grounds staff to work with, our attendees were treated to a first-class event at a first-class facility."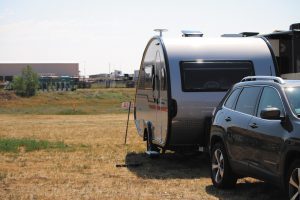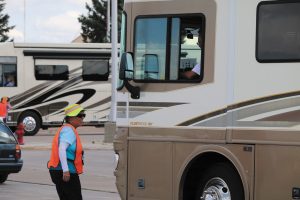 True to the summer season, Gillette welcomed visitors with daytime temperatures that ranged from the upper 70s to the upper 90s. The mostly sun-filled days included some rainy episodes that came and went quickly.
"The Spirit Of Wyoming" RV count came to 1,342, including 1,212 family RVs and 130 commercial RVs. Approximately 30 percent of folks were attending their first FMCA international convention.
"Gillette, Wyoming, is not only a beautiful place to visit, but it is a great place to hold a convention," said Chris Smith, FMCA chief executive officer. "Like the Perry, Georgia, convention this past March, our attendance was a bit lower than we have come to expect from an FMCA event, but that did not dampen the spirits of attendees and exhibitors."
Seminars
FMCA conventions are known for their comprehensive seminar programs, and more than 100 instructional sessions took place at this event. Some attendees also registered for preconvention classes: driving and backing sessions presented by instructors from the RV Driving School, including hands-on work in attendees' own RVs; and RV Basics, a 2½-day workshop covering RV systems, operation, and maintenance. The remainder of seminars, open to all, focused on technical, lifestyle, and travel topics, plus crafts and FMCA business.
Shopping
RV exhibits and demonstrator displays welcomed attendees outdoors, while the multipurpose Wyoming Center housed indoor vendors. In total, 107 companies were on hand.
Because of supply chain issues and other challenges that have affected the economy, many companies have struggled to meet the demand for RV components and accessories, especially among RVers who recently resumed traveling. A couple exhibitors were forced to cancel, citing lack of products to bring. However, many companies reported positive reactions from the convention crowd.
"On the last day, a longtime vendor stated to me that they broke their FMCA event sales record by 20 percent. That is encouraging and a testament to the strength of the RV market in 2021," noted CEO Chris Smith.
Shows
Those who love live performances had some great opportunities to be entertained. Legendary pop-rock group Three Dog Night stole the show, led by original members Danny Hutton (lead singer/cofounder) and Michael Allsup (guitarist). As audience members heard hit after hit from the '60s and '70s, they likely were amazed by how many they remembered, including "Joy To The World," "Mama Told Me (Not To Come)," "Shambala," and "Black And White." Attendees often were up and out of their chairs, dancing and singing along. The band also performed their a cappella rendition of "Prayer Of The Children," an emotional ballad set to appear on an upcoming album.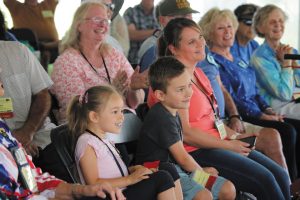 On the opening evening, humorist Jim Pelley got 'em giggling with many relatable stories, including his "You Might Be An RVer . . ." observations. And on the final night, Narrow Gauge combined easy conversation with a mix of country and rock numbers.
Daytime entertainment included magic; karaoke led by FMCA member Lamar Keck; and performances by local groups Lazy 3 and the Unknown Knowns, FMCA's own Frustrated Maestros, and Dane Bailey — the "Singing Auctioneer."
Special Events
Following a comprehensive orientation for first-time convention attendees, representatives from FMCA chapters welcomed everyone to visit with them at the Chapter Fair. Many chapters reported signing up new members —more than 15 each for at least two groups.
The convention schedule included numerous other events for all activity levels. Folks stretched and did light cardio work, led by Vallarie Erickson-Smith, an ACE-certified trainer. Bean bags and water balloons were flying in separate competitions; in the latter, splashing water didn't seem to bother throwers one bit on that warm afternoon. Card bingo drew a crowd, and the FMCA Trivia Challenge tested teams' knowledge in a variety of general and specific subjects.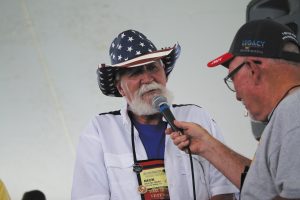 The FMCA Whisker Games attracted a couple dozen participants and a packed house in the FMCA Town Center tent. After some good-humored beard pulling to verify authenticity, with one contestant playfully disqualified for fake facial hair, the judges selected finalists from three categories: beard, mustache, and goatee. Audience applause determined the grand-prize winner: a bearded Rick McHenry.
Of course, what would a Western-themed convention be without a Western-themed event? Contestants decked out in boots, fringed jackets, and cowboy hats filled the stage at the Dressed For The Wild West contest. Judges and then audience members selected the honorary "Spirit of Wyoming" cowboy and cowgirl: Wayne Baumann and Tori Gonzalez.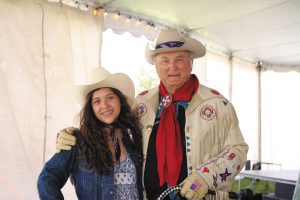 Doughnuts! Ice cream! Coffee Hour has been a convention tradition since FMCA's earliest get-togethers. In Gillette, the doughnuts were made fresh on the grounds in the wee hours each day, then served by Coffee Hour volunteers along with coffee, tea, and hot chocolate. The Ice Cream Social came at the right time one hot afternoon; volunteers from the Full Timers chapter dispensed the frozen treats in record time.
Those attending the Ladies' Luncheon enjoyed a buffet meal served by Executive Board members, as well as prizes. Featured speaker Louise Butler discussed two books in the Chicken Soup For The Soul series: Age is Just a Number and Making "Me Time." Her essays appear in both.
Reid Lance Rosenthal — rancher, cattleman, and bestselling author — acquainted attendees with his Threads West book series during FMCA's Supersized Book Club. His historically themed fiction features diverse characters based on actual individuals who played a part in the migration to and the settling of the West.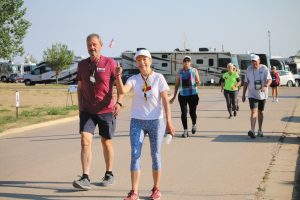 The Magic Mile Fun Run/Walk couldn't have had better weather. The morning sun sparkled and seemed to mirror folks' moods. Approximately 100 participants and some dogs — as well as a rubber gecko on a leash — gathered at the starting line. At the sound of a siren that signified "Go!" they took off on a run, a trot, or a walk along the designated route. Many smiles could be seen as folks crossed under the flags at the finish line. Whether completing the course in record time or leisurely walking, the attendees' goals were simple: Get some exercise, have fun, and give back to the community. Afterward, all proceeds collected from participants and others, including FMCA, were donated to the Youth Emergency Services (Y.E.S.) House Foundation in Gillette. Total: $2,400.
Among official business conducted during the Annual Membership Meeting, newly elected or re-elected FMCA national officers received the oath of office to begin serving their two-year terms. They included the four nationally elected officers selected during the July 7 Governing Board meeting: Rett Porter, national president; Gary Milner, national senior vice president; Kathie Balogh, national secretary; and Barbara Smith, national treasurer.
Socializing
Handshakes and hugs were seen all around as attendees met up with friends, many of whom they had not seen since before the pandemic.
"I think that, in general, our members were excited about being able to get back on the road," commented Jon Walker, outgoing national president. One day, he toured the activity areas with "Spirit," a large stuffed bison mascot resembling the one on the convention logo. "I introduced him to people as 'the spirit of our convention . . . and the spirit of Wyoming.' I had hundreds of members want to pet and talk to him. Their reaction was amazing."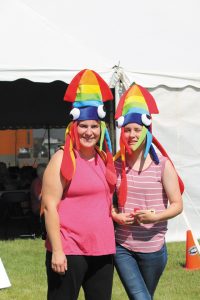 Volunteers are a special segment of convention attendees who reap the benefits of fun and friendship as they pitch in to help. Many chapters volunteered as groups, assisting with information, parking, security, seminars, special events, and other areas. Individuals also signed up as needed — including numerous first-time attendees. What better way to get to know people?
"Volunteering is one of the fun and rewarding things about going to an event," said Pam Meier, Coffee Hour volunteer chair. Members of her chapter, the Ramblin' Nodaks, have served coffee and doughnuts at several FMCA conventions. "Our group totally enjoys volunteering, and we have fun seeing the people as they come in for their coffee. It is a bonding time for our club, plus we have the benefit of getting to visit with new people." It also gave the chapter the opportunity to add five new memberships to their roster, she added.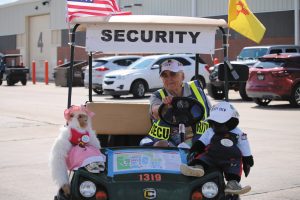 We appreciate the hundreds of attendees who carved time out from their convention schedules to lend a hand. We couldn't have done it without you!
Next: Sunsets + Saguaros
As RVers broke camp and steered their "wagons" out of CAM-PLEX, they left with great new memories. And the road ahead promises more good times.
FMCA's 104th International Convention & RV Expo, "Sunsets + Saguaros," takes place in Tucson, Arizona, March 23 to 26, 2022. Lincoln, Nebraska, will be the site of FMCA's 105th convention, August 24 to 27, 2022.