By Robbin Gould, Editor
Photos by FMCA Staff
November 2023
Convention attendees had a gas "Celebrating Sixty" — FMCA's 60th birthday — in Gillette, Wyoming.
In July 1963, a couple dozen families drove to Hinckley, Maine, for a weekend get-together to witness a much-talked-about solar eclipse. They all owned "house cars" and were eager to see how others had outfitted theirs. In addition to establishing new friendships, the families who gathered decided to form an association for RV owners: FMCA.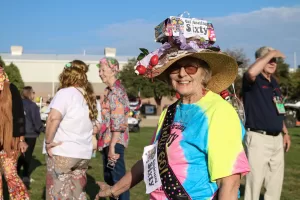 Sixty years later, FMCA continues to bring together individuals and families who own RVs to share in education, fun, and friendship. A generous amount of all three were served up August 23 through 26, 2023, during the association's "Celebrating Sixty" convention in Gillette, Wyoming.
FMCA's 107th International Convention & RV Expo took place at CAM-PLEX Multi-Event Facilities in Gillette. This sprawling facility hosts a variety of rodeos and related events, a setup that's also well-suited for RV parking, exhibits, and scheduled activities. Combined with Gillette's proximity to national parks and landmarks just begging to be explored, you have yourself a great convention venue.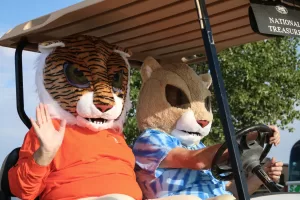 RVers filled their days with an array of activities: perusing indoor exhibits and touring RVs on display; soaking up knowledge in seminars; participating in games and events; enjoying live entertainment; and mingling with friends old and new.
The official RV count for FMCA's "Celebrating Sixty" convention — so named to recognize FMCA's founding in Maine 60 years ago — was 892. That number included 788 family registrations and 104 commercial RVs, with 228 attending their first FMCA convention.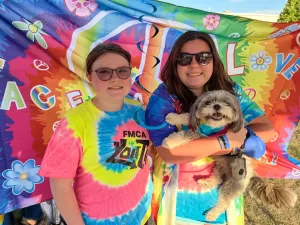 A RIGHTEOUS TIME
Attendees were in celebration mode, especially on "Feelin' Groovy" Friday. Mother Nature dressed her best that day. Attendees did their part, too, donning tie-dyed shirts, bell-bottoms, flowery dresses, wigs, wacky sunglasses, headbands, and more signs of the '60s.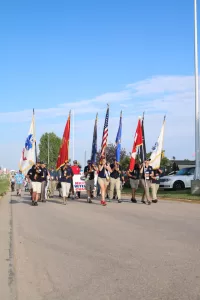 Late that afternoon, many participated in the "Feelin' Groovy" Parade. Individuals, chapters, and other groups marched along the parade route and were cheered on by spectators who lined the streets. The procession ended at a large grassy area known as The Plaza. There, Mark and Mary Glover from the Cumberland Travelers chapter were awarded the grand marshal trophy for their Sonny and Cher imitation.
Next came party time! The "Good Vibrations" Chapterfest got underway as FMCA chapters greeted attendees at their hospitality areas and invited them to enjoy a little food and drink. Folks mingled and soaked in the "Kazual experience" — a performance by Atlanta-based Kazual, a vocal group composed of three brothers and a cousin, who showed off their family harmonies as they mixed the sounds of R&B, hip-hop, and pop.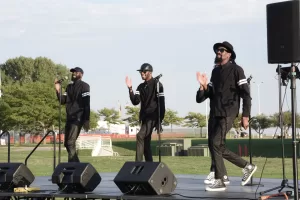 MORE FAR-OUT MUSIC
FMCA member Pete DeJesse made his convention entertainment debut in Gillette, though he's no stranger to the stage. Pete showed his vocal mastery of various musical genres, including crooner favorites from the likes of Frank Sinatra, Dean Martin, and Elvis Presley. Singer Dane Bailey treated a noontime audience to his repertoire. And FMCA's own Frustrated Maestros chapter members played for the coffee hour crowds each morning and before the Ice Cream Social one afternoon.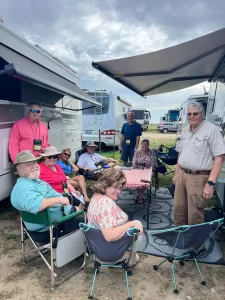 Evening performances included dueling pianos and sing-along fun with the Colorado Keys; three decades of country, rock, and more presented by the LeadSlingers; and contemporary music played "with a Viking twist" by The Pillage People.
Not everyone was ready to return to their RVs following evening entertainment. Lamar Keck gave them another option with his nighttime karaoke sessions. He provided the music; attendees selected their tunes and took the mic.
TAKING CARE OF BUSINESS
The FMCA Governing Board met in Gillette to address a variety of association matters. One was voting on FMCA's four nationally elected officers for the 2023-2025 term: Gary Milner, F409834, president; Paul Mitchell, F165576, senior vice president; Pamela Richard, F455687, secretary; Barbara Smith, F329936, treasurer. These officers, along with the national area vice presidents elected or re-elected earlier in the year for the upcoming term, were sworn in during the annual membership meeting.
Governing Board members also reviewed proposed changes to the FMCA Constitution, which are now set forth to the FMCA membership for a vote (see page 22 of this issue or visit www.fmca.com for more information).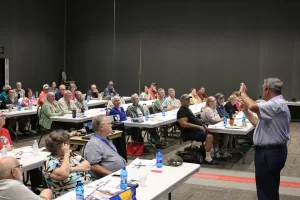 DIGGIN' THE RV LEARNING
Similar to those 1960s RV pioneers, FMCA members continue to seek more, more, more info about outfitting and operating their rolling homes. In Gillette, attendees had their choice of 100-plus seminars. Technical topics focused on generator operation and maintenance, hydronic heating, chassis, tires, and towing. Nontechnical presentations covered RV caravans, internet safety, choosing a home base, full-time RVing, FMCA benefits . . . you name it; you could learn about it. Crafts sessions involved creating candles, suncatchers, fabric wreaths, and other take-home masterpieces.
Just prior to the convention, those new to RVing had the opportunity to attend an additional 2½-day "RV Basics" class, where they absorbed pointers about their RV's various systems. Early hands-on instruction also was provided to folks who elected to enroll in the "RV Driving" and "RV Backing" sessions, which included practice using their own RVs.
A presentation dubbed "FMCA's Supersized Book Club" featured literary insights from author Mark Spragg. The Wyoming native discussed his experiences growing up on the largest dude ranch in the state, and developing the characters that fill his novel An Unfinished Life. Mark and his wife, Virginia, adapted the book into a screenplay for a Miramax film of the same name, which was shown during the convention. Audience members asked questions about the process — and challenges — of turning the book into a movie.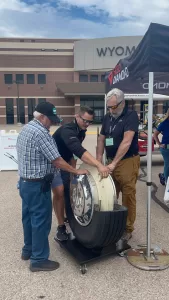 SHOPPING
Attendees found an RV showcase: products to enhance RVs and RVers, along with RVs themselves displayed by commercial exhibitors. Millennium Luxury Coaches featured a custom coach conversion; RV Country welcomed tours of a variety of units. They were joined by Shyft Group USA/Spartan RV Chassis. Indoors, well-known names filled the supplier and component area: Blue Ox, Cummins, Demco, Fantasy RV Tours, Michelin, Roadmaster, and numerous others.
FUN AND GAMES
Those who delight in friendly competition could take part in everything from beanbag baseball and ladderball tournaments to card bingo and a balloon toss.
The Great Hat-A-Tude Contest attracted contestants sporting their gaudiest, prettiest, ugliest, and cutest creations. Cuteness won; the overall prize went to the youngest participants — twins Amiyah and Brody McHone. FMCA Whisker Games, a best-facial-hair contest, pitted gents with beards, mustaches, and goatees against one another. John Vehar and his beard emerged victorious.
Folks who have adopted the wildly popular sport of pickleball were likely pleased to see a pair of courts set up during the event. They were open for informal play, and instructors also were on hand to school newbies on the rules and techniques.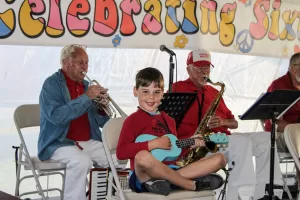 FMCA's Family Activities Program invited adults and the children who accompanied them to participate in these activities and others, such as a scavenger hunt and a kids-versus-adults kickball tourney.
DRIVEN TO CARE
FMCA conventions include activities designed to give back to the host community. In Gillette, FMCA's efforts were earmarked for Energy Capital Habitat for Humanity, the local Habitat affiliate that builds and repairs homes for area families at a low cost. Attendees pitched in via purchases from the Driven To Care silent auction; proceeds from the "Magic Mile" walk; a contribution from the Diesel RV Club chapter; "fill-the-bag" donations at evening entertainment; and pie auctions conducted by FMCA chaplain Dane Bailey, the "Singing Auctioneer." With an FMCA match, proceeds totaled an impressive $17,360, presented to the Habitat group.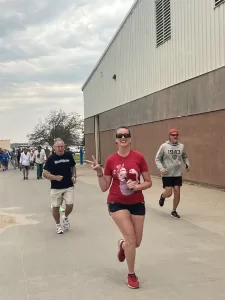 Another convention tradition is collecting quilts and other items handcrafted by members of the On-Road Quilters group and the On The Road Stitchers chapter. FMCA members brought dozens to the Gillette convention — at least 60 quilts, afghans, and hats — for the "Quilts For Kids" display. The items were donated to Y.E.S. House — Youth Emergency Services Inc. — which has assisted Gillette families in need for over a decade.
SALUTING THOSE WHO SERVED
FMCA recognized attendees who have served to protect the freedoms we all enjoy, along with current or retired police, fire, and EMS/EMT personnel. Event organizers collected their photos and info, which became part of a pictorial presentation titled "Salute To Service" before entertainment on the last evening.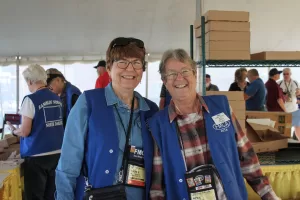 HAPPY TOGETHER
The "Celebrating Sixty" convention was able to rock and roll thanks to the efforts of 400 or so volunteers who pitched in throughout the event. Whether assisting with security or trams, parking or seminars, or in a host of other areas, volunteers made the experience more enjoyable for everyone. We also salute the commercial sponsors for their generous financial support.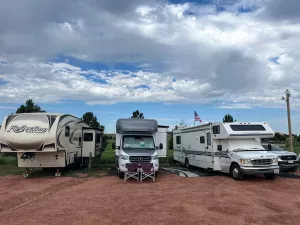 2024 CONVENTIONS
FMCA has announced its 2024 international convention lineup: Tucson, Arizona, March 20 through 23, and Redmond, Oregon, August 14 through 17. Registration is now open for Tucson. Won't you join us? See the ad in this issue or visit www.fmca.com.