PLEASE NOTE: Because of concerns over the escalating COVID-19 virus, FMCA's 101st International Convention and RV Expo, scheduled for March 26-29, 2020, has been cancelled.
Technical sessions, RV maintenance talks, lifestyle presentations, and more await Tucson convention attendees.
February 2020
Plenty of "doing" goes on at each FMCA International Convention and RV Expo. Folks stay busy browsing exhibits, socializing with friends, meeting new ones, attending entertainment and special events, playing games . . . and learning, driving, and backing.
Seminars and workshops scheduled before and during the upcoming "Sunsets + Saguaros" convention will involve those last three activities. FMCA's 101st International Convention and RV Expo will take place March 26 through 29, 2020, at the Pima County Fairgrounds in Tucson, Arizona.
The accompanying seminar list, current at press time, illustrates the depth and breadth of educational topics that will be presented during the Tucson convention. Please refer to the event program for additional information, and consult the event app for real-time updates.
But first, just prior to the convention, RVers can glean information about the preparation, operation, and maintenance of their homes on wheels in the 21/2-day RV Basics workshop, powered by the FMCA Academy. From March 23 through 25, new RVers and veteran travelers desiring a refresher will learn from industry experts in a relaxed classroom setting.
The two-day RV Driving and one-day RV Backing sessions, presented by FMCA and the RV Driving School, combine classroom instruction with behind-the-wheel driving experience. These will run multiple times between March 19 and 22.
Additional fees and registration are required for RV Basics, RV Driving, and RV Backing. For more information, see pages 20 and 70 in this issue, or visit https://www.fmca.com/fmca-tucson-2020-learn-more.
Get Literary!
Tucson convention attendees will have the opportunity to meet New York Times bestselling author J.A. Jance, the featured speaker at FMCA's Supersized Book Club, on Sunday afternoon, March 29. Readers may be familiar with her J.P. Beaumont, Joanna Brady, and Ali Reynolds mystery series, or her five interrelated thrillers about the Walker family. She also has written a volume of poetry.
Ms. Jance was raised in Bisbee, Arizona. Today she lives in Seattle, Washington. Reflecting this "bioregional" background, she has books set in Arizona locales and in Seattle.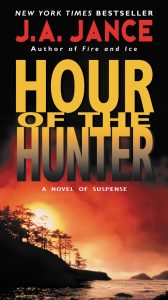 The prolific author — she's written 60-plus books — will discuss two in particular in Tucson. Hour Of The Hunter, the first title in the Walker Family Mysteries series, is set on the Tohono O'odham Reservation, west of Tucson, where Ms. Jance once taught school. In this novel, a convicted psychopath returns to the reservation, perhaps in search of the teacher whose testimony put him behind bars? In Second Watch, a J.P. Beaumont novel, "Beau" is a Seattle investigator and Vietnam veteran who seeks to solve a perplexing mystery, as his past collides with his present.
If you'd like to participate in FMCA's Supersized Book Club at the "Sunsets + Saguaros" convention, 1) RSVP at https://www.fmca.com/fmca-tucson-2020-entertainment. 2) Pick up a copy of Hour Of The Hunter and/or Second Watch to bring with you to the convention.
---
Special Event
Lunch + Learn Series with Pima County Natural Resources, Parks & Recreation
Bring your lunch, relax, and enjoy learning about the unique environment that surrounds you during your visit to Tucson.
The Luch + Learn sessions will be presented from 12:00 p.m. until 12:45 p.m. in Seminar 13:
Thursday – Plants Of The Desert
Friday – All About Saguaros
Saturday – Wildlife Of The Sonoran Desert
Sunday – Venomous And Poisonous Animals Of Arizona
---
Tucson Seminar List
CRAFTS
American Indian Design Necklace And Earrings (NEW)
Arizona Prairie Dog — Colored Pencil (NEW)
Arizona Sunset — Acrylic Painting (NEW)
Crocheting Edges (NEW)
Fused Glass Bracelet
Fused Glass Watch
Greeting Card Making On The Road
Hexies, Hexies Anywhere (NEW)
Modified Quilt As You Go
Paint And Sip — Arizona Sunset — Acrylic Painting (NEW)
Red Eye Men's Bracelet (NEW)
Sunset Necklace Bracelet And Earrings (NEW)
Tucson Saguaros Necklace And Earrings (NEW)
FMCA SEMINARS
Information
Chapter Bylaws Workshop
FMCA President's Forum
Orientation For First-Time Attendees
Member Benefits
FMCA Roadside Rescue®: Never Leave Home Without It!
FMCAssist Benefits & International Travel Presentation
Understanding Your RV Insurance Policy
Training
FMCA University
Secretaries' Roundtable
Treasurers' Roundtable
INFORMATION & TECHNOLOGY
Satellite TV & Sound
I Want To Watch TV And Get Online (NEW)
Website & Blogs
Documenting The Journey (NEW)
LIFESTYLE
Cooking
Micro-Convection & Instant Pot™ Cooking (NEW)
General
Bye, Bye Bra! Ruby Ribbon — Celebrate Confidence
Choosing A Home Base
Hobby
Beginning Genealogy: How To Start your Search
Breaking Through Your Genealogy Brick Walls & DNA
Grandma/pa And Me Easy Art Projects (NEW)
Have You Ever Thought About Writing?
Hexies Swap (NEW)
On-Road Quilters
What Makes A Good Story?
Where Is The Writing Inspiration?
Personal Finance & Health
CBD Oil — Everything You Want To Know But Are Afraid To Ask
Keto-Ketogenic-Ketosis-Ketoacidosis . . . What? (NEW)
Simple First Aid On The Road
Stop The Bleed — Save A Life
Tai Chi For Health (NEW)
The "TO GO" Bag, Are You Ready?
We Are Not Designed To Be Wrecks (NEW)
RV Interior
Honey, Let's Clean The RV!
Wash Wax All-Leather/Vinyl Cleaning (NEW)
RV Remodeling — Inside and Out
RV Living
Boondocking — It's Easier Than You Think (NEW)
Full-Time RVing
RVers' Retirement Options
Rally Boondocking (NEW)
Solo Female RVing (NEW)
Special Interest
Finding Your Purpose. Living Your Dream (NEW)
Fine Art Of Navajo Weaving (NEW)
Travel
Africa RV Safari
Alaska RV Tour For FMCA Members
Alaska: Is A Caravan Right For You? (NEW)
Australia & New Zealand
Canada's Eastern Atlantic Provinces
Grand East Coast
Mississippi River Road Caravan
Northeastern USA Fall Tours
Planning A Trip To Alaska In Your RV (NEW)
RVing In Europe — Discover Colorful Greece By RV
RVing In Europe — Travel Through Scandinavia By RV
RVing To Alaska
Stress-Free Travel — Guided RV Vacations
The Land of Enchantment — Traveling New Mexico (NEW)
Understanding Guided RV Tours
Wholesale Travel — Exclusive Travel Club (NEW)
RV MAINTENANCE & OPERATION
Driving, Towing, & Parking
Better Diesel Driving Through SilverLeaf
Mud Flaps — The Good, The Bad And The Ugly
Properly Matching Trucks To Trailers/Fifth Wheels
RV Driving Safety Tips
Supplemental Towed Car Braking Roundtable
Towing Roundtable
Understanding & Testing RV Air Brakes
Woulda, Coulda, Shoulda When RVing — RV Accessories
Exterior Maintenance
Detailing The Outside Of Your RV In One Hour
Foggy Window? Cracked Windshield? We Can Help!
Wash Wax All — Benefits Of Polymer Products
Your RV's Last Roof Leak (NEW)
General Maintenance And Operation
Ask The Experts
Fast-Paced, Fun-Laced RV Challenges & Solutions (NEW)
Let's Talk About RV Travel
Complete RV Remodeling
House Systems
Aqua-Hot Hydronic Heating Systems
Holding Tank Solutions
LED Lighting Education For First-Timers
Lithium Batteries For RVs — Why Lead Is Dead
Monitoring And Protecting The RV Electrical System
Optimum Waste Management Practices
The Holding Tank Monitor That Works
Understanding Battery Balance
Insurance and Warranties
Be Medicare & Health Insurance Savvy (NEW)
Insurance — What Is Going On In The Insurance World
Understanding Your RV Insurance Policy
Personal Safety
Couples On The Road With Coach & Toad! (NEW)
Get FIRE-PROTECTED
Lighting For Safety And Security For First-Timers
RV Electricity — What You DON'T Know May Shock You!
RV Road MAP — Maintenance Awareness Preparedness (NEW)
The Latest In Collision Avoidance Technology
Powertrain & Chassis
CAT Diesel Engines Problems On The Road
Cummins Diesel Vs. Gas
Cummins Engine Maintenance
Onan Generator Operation & Maintenance
Problems On The Road With Cummins Engines
RV Steering And Tracking Solutions
Suspension Roundtable — Coach Ride and Handling
Taming The Open Road
Tires
RV Weight And Tire Safety
The Care And Feeding Of RV Tires
The TireMinder Seminar
Tire Knowledge — Advanced
Tire Knowledge & TPMS
Tire Safety & Tire Pressure Monitoring Systems