The Bear Necessities
For many seasoned RVers, camping protocols and best practices are second nature, and they are keenly aware of the need to ensure a safe environment for humans while respecting the home and habitat of neighboring wildlife. Thanks to the Great American Outdoors Act, Stanislaus National Forest in Sonora, California, now has the right resources to help campers and any wandering bears avoid accidental encounters.
"We're sandwiched between Lake Tahoe and Yosemite National Park. Both have a huge number of yearly visitors, who are used to having bear boxes or food lockers at campsites to store their food, ice chests, and toiletries," said Casey Jardine, public services staff officer for Stanislaus National Forest. "So, when folks showed up at our campsites and we didn't have the bear boxes, they just didn't know what to do."
The Stanislaus' Big Meadow Campground is along the California State Route 4 corridor and just 23 miles south of the iconic Ebbetts Pass. The area is regularly visited by black bears, which means the lack of food lockers at the campground previously resulted in increased bear encounters and significant damage caused by food-hungry bears.
"People's cars were getting broken into. Coolers were destroyed. It wasn't a good situation at all," Jardine said. "Add to that the dangers caused to the bears who become habituated to eating human food and then teach that practice to their young. Together, it creates an unfair and untenable situation."
To remedy the growing problem, Stanislaus leveraged Great American Outdoors Act funding to install food boxes and other upgrades. In addition to 35 new food boxes placed at Big Meadow, the funding enabled the Forest Service to tackle other improvements to the campground, such as new picnic tables that can withstand the heavy Sierra Nevada snowfalls and are more accessible, because it is possible to slide into the seats.
"All of these improvements were very much needed and will greatly enhance our campers' experience — especially the accessibility upgrades we made," Jardine said. "This creates a situation where bears do not continue to be conditioned to eating human food. They're less likely to visit this campsite, and that keeps everyone safer."
---
Thetford Celebrates 60 Years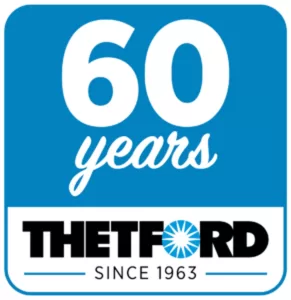 Thetford LLC, a leader in RV and marine toilets and sanitation solutions, recently unveiled a new logo to celebrate the company's 60 years. Thetford was founded in 1963 by Frank Sargent and his two sons. Unhappy with the troublesome black-water drain valve on their RV, the three engineering-minded fellows decided to create a better one. As a result of this experiment in industrial design, in May 1963 the Sargents founded Thetford Engineering in a Thetford Township garage near Flint, Michigan. With headquarters in Ann Arbor today, the company remains based in Michigan.
Throughout 2023, company officials intend to celebrate everything Thetford has accomplished since 1963. They have plans for an interactive social media campaign that will highlight the company's 60 years in the RV industry. Company officials encourage everyone to follow Thetford and participate on Facebook @thetfordRV, on Instagram @thetfordnorthamerica, and on LinkedIn all year long.
---
RV/MH Hall Of Fame Class Of 2023
The board of directors of the RV/MH Heritage Foundation has announced the names of the people who will be inducted into the RV/MH Hall of Fame as the class of 2023. The class officially will be welcomed during a dinner at the Hall of Fame in Elkhart, Indiana, this summer.
From the RV industry, the class of 2023 includes the following:
Ron Breymier, executive director of the Indiana Manufactured Housing Association-Recreation Vehicle Indiana Council (IMHA-RVIC) since 2015. He previously served as the association's executive director from 1986 to 1991. He is a current board member of the RV/MH Heritage Foundation and also served in the late 1980s and early 1990s when the industry first developed the RV/MH Hall of Fame and Museum. He is a partner in LegisGroup Public Affairs, a government-relations firm that has represented the RV and manufactured housing industries in Indiana for over 30 years.
Forrest and Jeri Bone, founders and "Retired Royal Exalted Tin Can Opener and Royal Exalted First Lady" of the Tin Can Tourists, an RV owners club whose 2,000-plus members have an affinity for vintage RVs. The formation of the Tin Can Tourists dates to 1919 at Desoto Park in Tampa, Florida; however, the club fell on hard times until the Bones resurrected the organization in 1998.
Tom Manning Jr. started as an electronics engineering technician but changed his career path in 1985 when he joined Tom Manning & Associates as a salesman. With his father's guidance, he learned sales and business acumen that served him throughout his career. He has worked in all segments of the RV market: distributors, dealers, coach builders, and consumer. He also serves as president of AP Products, a supplier of RV replacement parts.
Karen Redfern, chief marketing officer/senior vice president of Go RVing, the 25-year-old industry-wide marketing initiative. In her role as chief marketing officer, Redfern leads a team of marketing and communications professionals responsible for the industry's brand marketing campaign. Prior to assuming this role in 2022, Redfern served as vice president of brand marketing and communications for Go RVing for 33 years.
Tim Veurink recently retired as president of Grand Rapids, Michigan-based Veurink's RV Center, a multi-time RVBusiness Top 50 Dealer that was founded by his father, Howard Veurink, in 1963 and is now being led by Tim's son, Matt, and daughter, Mollee.