FMCA grew up during the '60s and will celebrate its beginnings with a funky festival of RVing fun in the Wyoming plains.
By Doug Uhlenbrock, Director Of Events
July 2023
Are you ready for a righteous RVing experience this summer? Gillette, Wyoming, will be the scene for FMCA's "Celebrating Sixty" International Convention & RV Expo, where beautiful people will come to celebrate the club's 60th birthday and the happenin' lifestyle it promotes.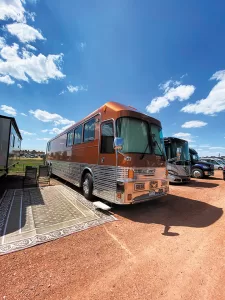 This roll-in rally will take place August 23 through 26, 2023, at one of the primo places for RV rallies, the CAM-PLEX Multi-Event Facilities in northeast Wyoming. With national parks, monuments, and other far-out places to visit along the way to Gillette, you'll want to make sure you are part of this outta-sight gathering.
LET'S GET TOGETHER
Born in July 1963, FMCA became part of the early RV movement that featured mostly self-made rolling homes. While many considered this form of travel to be a fad, association leaders saw these vacation-mobiles as the wave of the future. And they were right on!
FMCA staged what would later be considered its first convention in the summer of 1964, a gathering of 106 motorhomes at Fort Ticonderoga in upstate New York. At this rally, owners showed off their creations and conveniences; shared travel and technical information; and formed professional alliances and social friendships that would last a lifetime.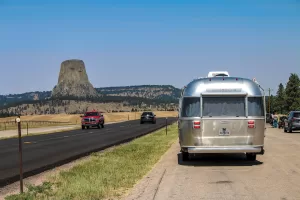 Now, as we roll toward FMCA's 107th convention, members once again will reconvene to see the latest RVs and related products, become more educated about the lifestyle, and greet old friends while making new ones over the four-day event.
It'll be a gas!
THIS LAND IS YOUR LAND
For those new to FMCA conventions, seeing thousands of people all in one place sharing the joy of motorized travel is enough to blow your mind. But what first-time attendees soon discover is that these RV lovefests are where it's at.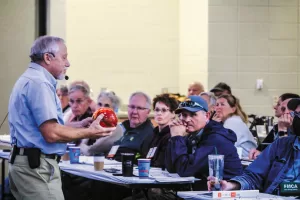 In Gillette, there will be so much to see and do that even four days might not be enough. Participants will get in the groove in no time, with activities slated on Monday night for early arrivers and Tuesday for all attendees. Convention newbies will get hip to convention proceedings during the First-Timer's Orientation on Tuesday afternoon, immediately followed by the Chapter Fair. During the latter gathering, participating groups will do their best to turn on wannabe members to their chapters and all the fab things they do when they get together.
Later Tuesday night, opening ceremonies will mark the official start of the event, followed by the Colorado Keys dueling pianos. Get ready for a killer sing-along session, where you'll find yourself belting out the words to songs you know by heart. This ultimate icebreaker will establish the festive mood for the rest of the show.
HERE COMES THE SUN
Come Wednesday, FMCA's famous educational sit-ins will commence as RVing gurus of all disciplines begin dispensing their knowledge and expertise about the parts and pieces that make an RV operate; things to see and do while calling that wheeled residence home; and ways to save cash and stay safe with the help of FMCA Connections partners. One thing's for certain: Before you split the scene at the end of the event, your mind will be overflowing with incredible RVing information.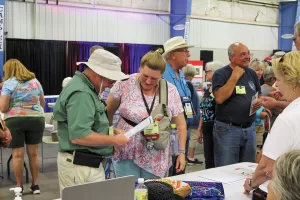 When you're not becoming more educated about RVing, there will be an abundance of other activities to keep your feet movin' and your attitude improvin'. Find all sorts of items you need to make RVing a positively unreal experience as the RV Expo portion of the program gets rollin' Wednesday afternoon. Check out the mechanical equipment, gadgets and gizmos, travel opportunities, health and welfare offerings, and much more inside the Wyoming Center exhibit hall. Just outside that spacious building, souped-up RVs of all shapes, sizes, and denominations will be available for personal review. Don't be afraid to open cabinets, pull out drawers, sit on the furniture, and ask questions of the laid-back dealer reps on hand.
GLAD ALL OVER
On Wednesday night following the first full day of activities, get over to the Central Pavilion Receptions Area for a night of card bingo with equal amounts of fun and prizes. If you don't dig that scene, maybe you'll be more into FMCA's big-screen flick, An Unfinished Life, starring Robert Redford, Jennifer Lopez, and Morgan Freeman. This movie is based on author Mark Spragg's book of the same name, which just so happens to be the FMCA "Supersized Book Club" selection for the event.
HAPPY TOGETHER
Look for many other awesome get-togethers during the event, including coffee hour Thursday, Friday, and Saturday mornings; an ice cream social on Friday; special contests and competitions; trivia; karaoke; youth events; a ladies' lunch; and more. Local favorites the LeadSlingers will have the main stage rocking on Thursday night, with other evening and daytime entertainment still to be scheduled.
IMAGINE . . .
. . . RVers from all over North America in their mobile pads moving toward Gillette for this one-of-a-kind FMCA birthday celebration. The hip and happenin' crowd will be there, so come hang out for a week and see what the hype surrounding these FMCA conventions is all about.
Don't flip out if you haven't signed up for this far-out RV festival yet. It's all cool. To register for the event, simply call (800) 543-3622 and ask to rap with someone in the Events Department, or visit the Events site at FMCA.com to get your name on the list.
If RVing is your thing, then you'll definitely want to be part of this cosmic collective experience.
BECOME ONE WITH YOUR RV – THROUGH FMCA EDUCATION
FMCA conventions provide numerous educational opportunities for folks who want to learn firsthand from instructors who are experts in their respective fields.
Two additional learning opportunities are held before these conventions and have become very popular with new or inexperienced RVers. One is the RV Basics Program, which, as its name suggests, teaches students the fundamentals of RVing. Topics covered include electricity, propane, plumbing, appliances, tires, and other need-to-know info. It's the perfect introduction to RVing.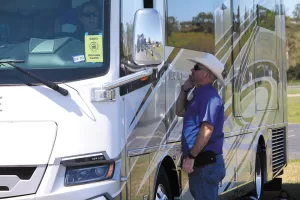 The second is the RV Driving Program, which involves hands-on driver's training in the attendee's own motorhome or towing vehicle/RV combo. The RV Driving Class includes a half-day of classroom work and four hours of on-the-road training with the instructor. The RV Backing Class also features a combination of classroom instruction and hands-on training in backing a vehicle. The objective of both classes is to give beginning or inexperienced drivers the ability to get behind the wheel and navigate their RV with confidence.
If one or both of these preconvention in-person learning programs appeal to you, call the Events Department at (800) 543-3622 and ask to sign up. Additional information about each can be found at fmca.com/education.