Reminders of the past are everywhere in these small towns along Cape Cod.
By David Hilbert
September 2009
If you're intrigued by American history, take time to explore the village of Sandwich, Massachusetts, one of the most picturesque and historic villages in the land of the Pilgrims. It can be just the start of discovery in this area, where the town of Plymouth is only 19 miles away.
Sandwich offers many attractions for visitors interested in Colonial history. What makes it even nicer is that the town has bicycle trails, museums, a beach, and three large parks that can handle RVs of any size. You might even find a relative among the first Pilgrims who settled Sandwich in 1637 and built houses and farms.
Several antique homes are open for touring today. The 1637 Hoxie House, one of the oldest homesteads on Cape Cod, welcomes visitors from mid-June to the end of September. Inside this home, which reflects classic Cape Cod saltbox architecture, the Rev. John Smith and his wife raised their 13 children. It was purchased by retired whaling captain Abraham Hoxie in the 1850s and inhabited by his heirs until the 1950s.
Today the home has been accurately restored to its late-17th-century condition. Docents give lively lectures about cooking on a Colonial hearth, spinning fibers for clothing on the huge wheel, and the life of a pilgrim family.
Yet another important landmark is on the same street: the Deacon Eldred house, which was home to Thornton Burgess (1874-1965), the famed children's author of the Peter Rabbit stories. A museum in the house commemorating Burgess and his work is open May through October "" a delightful assortment of Peter Rabbit-related books, toys, games, and even art prints. For more details, call (508) 888-4668.
The Burgess Museum and the Hoxie House are near the water-driven gristmill of Thomas Dexter. The mill operated from 1654 until 1881 and was one of the most important buildings to the colonials, a place where they would have their corn ground into meal while they exchanged gossip and allotted a portion of the grain to the miller as his fee. Just outside, pure water flows from a spring and folks still come from miles around to fill containers. The mill is open to visitors from mid-May through early September, and a small admission fee is charged. You can buy fresh cornmeal there, too, if you like.
Right across the street is the Sandwich Glass Museum. This town once was home to a large glass-making factory; the glassworks prospered by innovating metal molds to mass-produce high-quality glass. In 1850 the plant employed 500 workers. It thrived until the 1880s, when the factory switched to producing high-quality blown glass. By 1890 changing conditions forced an end to production, and the factory was abandoned.
The Sandwich Historical Society bought the factory site in 1907 and assembled a collection in 14 display galleries featuring more than 5,000 examples of prized Sandwich glass. But that is just the beginning. Glass-making demonstrations, a multimedia theater, and a new museum shop are available there as well. Plan on spending a few hours in this fascinating place. The museum is open year-round except January.
The Heritage Museum and Gardens in Sandwich is a combination of sprawling gardens, a fine antique auto museum, and more. Outside, a sprawling 100 acres of naturalized plantings and formal gardens include a massive display of rhododendrons (flowering from May through mid-June), 1,200 varieties of day lilies, 136 cultivars of hostas, and 62 varieties of heather and heath, along with herb gardens, a planting of ginkgo trees, and century-old European Beech trees.
The park's great Americana collection was assembled by J.K. Lilly III, of the pharmaceutical family. A replica Shaker round barn houses Mr. Lilly's fabulous antique automobile collection, numbering approximately 40 classic vehicles, including Model Ts and a 1930 Duesenberg Model J roadster once owned by actor Gary Cooper. Other displays include the American History Museum, antique American firearms, antique toys, military miniatures, American Indian artifacts, and the Cape Cod Baseball League Hall of Fame. The site also has an operating hand-carved carousel that was built in 1912, and an art museum with American folk pieces, Currier and Ives lithographs, scrimshaw, and A. Elmer Crowell bird carvings. Also on the property in a flower garden setting is a restored windmill built in 1800 that ground grain for more than 100 years before a 1968 move brought it to Sandwich. The Heritage Museum and Gardens is open daily through October 31.
Sandwich also offers ample parking at the boardwalk that leads to the dunes of Town Neck Beach, and 14 miles of paved bicycle trails along both sides of the Cape Cod Canal. The latter connects the bay with the waters of the Cape, saving ships from having to sail all the way around the "boot."
A day-trip option from Sandwich would be to head south on the Old Kings Highway, Route 6A, which goes all the way to Provincetown at the tip of the Cape. Between Sandwich and the 30 miles of the old road to Brewster, you can stop at several landmarks, such as the 1685 Benjamin Nye Homestead, the New England Fire and History Museum, the Cape Cod Museum of Natural History, and many antiques galleries.
To get the flavor of the people who built these village and saltbox houses, a reading of the poem written in 1858 by Henry Wadsworth Longfellow might be in order. "The Courtship of Miles Standish" tells a love story involving passengers aboard the famed vessel Mayflower, which sailed from Southampton, England, to Plymouth in 1620: John Alden, the youngest man on the voyage, and Priscilla Mullins, a young woman who traveled with her family.
Many of the original Pilgrims who made the journey died during the harsh first year "" half of the 103 settlers, including Priscilla's parents and brother, as well as Rose, the wife of military adviser Captain Miles Standish. According to Longfellow's account, Standish sent the young John Alden to act on his behalf and inform Priscilla that Captain Standish would like to court her.
"If I am not worth the wooing, I surely am not worth the winning," Priscilla answered, and then asked, "Why don't you speak for yourself, John?"
Priscilla and John were married in 1621, and in 1627 they moved to a 100-acre homestead located in Duxbury, where they built a house that would be home to their 11 children and their heirs until 1921. You can visit the Alden House Historic Site today, the oldest house in the country continually inhabited by one family, which now includes a museum. But save that visit for last, for it's a 10-mile drive north and east of Plymouth.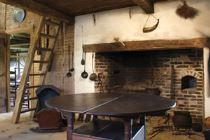 First, head north from Sandwich 19 miles to see Plymouth, where in 1622 that love story came to fruition. Plimoth Plantation, a re-created 1627 village and living history museum, features meticulously designed period rooms and costumed guides that reveal the stark days of John Alden, Priscilla Mullins, and the first English settlers who came to America in November of 1620. Plimoth Plantation includes a replica called the Mayflower II, docked on the Plymouth waterfront, and the re-created 1627 English Village, crafts center, home site, and more, all located 3 miles south of town. Call (508) 746-1622 or visit www.plimoth.org for details.
Pilgrims who survived the first year soon built the village of Sandwich to the south and Duxbury to the north, naming them after towns they knew in England. Here they would construct their wood-frame houses so well that some, like the home of John and Priscilla Alden, still stand.
While you might not find your ancestors in the villages of Cape Cod, you will discover great legends and poignant tales to keep your imagination full of the struggles, the triumphs, and the love stories of the first settlers. At every turn you learn how much they suffered just to find shelter, and you might wonder just how amazed John and Priscilla Alden would be if you arrived at their doorstep in your modern home on wheels.
Further Info
Destination Plymouth
170 Water St., Suite 10-C
Plymouth, MA 02360
(508) 747-7533
www.visit-plymouth.com
Sandwich, MA Visitors Service Board
P.O. Box 888
Sandwich, MA 02563
(508) 833-9755
www.sandwichvacation.com
Area Campgrounds
The following is not a complete list, so please check your campground directory or FMCA's Business Directory, published in the January and June issues of FMC, and online at FMCA.com.
Bay View Campgrounds Inc., C11399
(FMCA commercial member)
260 MacArthur Blvd.
Bourne, MA 02532
(508) 759-7610
www.bayviewcampground.com
Dunroamin' Trailer Park
5 John Ewer Road
Sandwich, MA 02563
(508) 477-0541
www.dunroamintrailerpark.com
Peters Pond RV Resort
185 Cotuit Road
P.O. Box 999
Sandwich, MA 02563
(508) 477-1775
www.peterspond.com
Pinewood Lodge Campground
190 Pinewood Road
Plymouth, MA 02360
(508) 746-3548
www.pinewoodlodge.com
Sandy Pond Campground
834 Bourne Road
Plymouth, MA 02360
(508) 759-9336
www.sandypond.com
Scusset Beach State Reservation
Scusset Beach Road
Sandwich, MA 02563
(508) 888-0859
www.mass.gov/dcr/parks/southeast/scus.htm