Shoebox Organizers
Don't throw away those empty shoeboxes. They are great to use in your cabinets to keep small items, such as canned goods, from moving around while you're driving.
Arlene Jeknavorian, F193524
Orlando, Florida
---
Wine Glass Cushions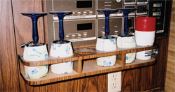 We cover our wine glasses with thin can cooler sleeves and place them upside down in our six-cup rack. The holes in the rack are 3 inches in diameter and provide a nice no-shake-rattle-and-roll holder. We have had this same set of wine glasses (actual glass) for more than 10 years without a mishap.
Ralph & Charlotte Fullenwider, F248513
Duncan, Oklahoma
---

Curtain Containment
On occasion, while we are driving with the cockpit windows open or parked in pleasant weather, the windshield privacy curtain can come loose and blow around in the breeze. This can be distracting and dangerous while driving, and annoying while parked. My wife, Linda, discovered a simple solution. Using an old pair of pantyhose, she made a cut at the top and in the toe, and then inserted the refolded curtain into the hose. The section of cut pantyhose holds the curtain nicely, while keeping the folded material in shape. When you're ready to use the curtain, simply pull off the hose piece and deploy the curtain. A bonus is that some shades of hose match the interior woodwork of the motorhome.
Chip Buehrle, F338179, Hartland, Wisconsin
---

Sun Shade Pull
The sun shade on the driver's-side window in my motorhome has to be manually pulled down. This becomes necessary when you round a corner and are blinded by the sun, or when you are on the road and the sun coming in the driver's window is so intense it makes you feel as though you are on fire. I had difficulty reaching this shade, so I attached an 8-inch length of chain to the sun shade knob. Now it can be reached easily when needed.
Arlene Chiarolanzio, F181694, Florham Park, New Jersey
---
Towed Vehicle Observation
I can't see my towed vehicle's steering wheel through my motorhome's rearview camera, so tying a rag to it to make sure the vehicle is tracking correctly while under tow doesn't work. However, I've found that it really isn't necessary, since I can use the motorhome's side mirrors. When making the first right or left 90-degree turn (which usually happens very shortly after getting under way), toss a gander into the mirror to check that the wheels of the towed vehicle are turning. This indicates that the parking brake has been released. You also can tell whether the front wheels of the towed vehicle are tracking correctly, indicating that the key is in the correct ignition position. Of course, none of this applies when taking off in the dark . . . but who takes the road in the dark after hitching up the towed vehicle?
Michel De Repentigny, F338513, Quebec City, Quebec, Canada
{loadpositionEndBlurbTips}