Model EXT-3542 fits shower stall openings from 35 inches to 42 inches wide. It replaces the current straight shower curtain rod with an angled fixture that expands the space inside the shower area when the curtain is closed. When a bather is finished, the device pivots back into the shower stall to remain out of the way.
The Extend-A-Shower has a manufacturer's suggested retail price of $39.95.
Stromberg Carlson Products Inc.
2323 Traversefield Drive
Traverse City, MI 49686
(231) 947-8600
www.strombergcarlson.com
---
Multibit screwdriver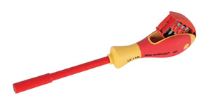 The BitFlip screwdriver from Wiha Quality Tools features a flip-out bit drawer in the handle that contains eight different bits, making it possible for the user to manipulate several types of fasteners with the same tool.
The BitFlip 1,000-volt insulated driver includes a hardened tool steel shaft, a 1/4-inch magnetic bit insert, and an ergonomic cushioned grip. When a different bit is required, the user flips open the bit drawer in the handle and the bits automatically rotate to an upward position for easy access. Three BitFlip sets are available with different combinations of slotted, Phillips, square, and TORX bits.
The BitFlip has a manufacturer's suggested retail price of $29.98.
Wiha Quality Tools
1348 Dundas Circle
Monticello, MN 55362
(800) 494-6104
(763) 295-6591
www.wihatools.com
---
All-purpose lubricant

According to product literature, Corrosion Block from Lear Chemical Research Corporation is a super-duty anticorrosion lubricant spray that has numerous applications for motorhome owners.
Corrosion Block is said to kill corrosion on contact and to prevent corrosion from starting. The nonconductive spray can be used to protect and lubricate switches, locks, electronics, hinges, awnings, steps, batteries, connectors, locking pins, light sockets, valves, fuse panels, and more. Plus, it can be used as a penetrant to loosen seized parts.
A 4-ounce can of Corrosion Block has a manufacturer's suggested retail price of $6.95, while a 12-ounce can is priced at $13.95.
Lear Chemical Research Corporation
P.O. Box 1040
Station B
Mississauga, ON
Canada L4Y 3W3
(800) 256-2548
(905) 564-0018
www.learchem.com
---
Ceramic stovetop cleaner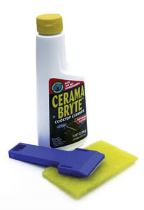 According to product literature, the Cerama Bryte Ceramic Cooktop Cleaning Kit from Golden Ventures Inc. will quickly and safely remove stains from all glass ceramic cooktops.
The kit includes a 10-ounce bottle of Cerama Bryte Cleaner, which reportedly is safe to use on all radiant or halogen cooktops; a single-edge razor blade scraper to remove burnt and baked-on deposits; and a cleaning pad for scouring away grease and stubborn stains. The cleaner also is said to clean faux marble, stainless-steel and porcelain sinks, and stainless-steel cookware.
The Cerama Bryte Cooktop Cleaning Kit has a manufacturer's suggested retail price of $10 and is available at Home Depot, Lowe's, Walmart, and other retail outlets.
Golden Ventures Inc.
P.O. Box 781343
Indianapolis, IN 46278-7343
(800) 578-4663
www.ceramabryte.com
---
Water repellent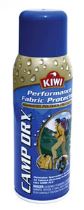 Kiwi Camp Dry Performance Fabric Protector from Sara Lee Corporation is said to repel water, dirt, and stains on many types of fabric, including lightweight, light-colored synthetic, nylon, and high-performance fabrics such as Gore-Tex brand.
The spray-on product contains an advanced polymer, nonsilicone formula that creates a surface barrier, dries quickly without darkening or discoloring materials, and maintains the appearance and breathability of the articles. It reportedly is ideal for apparel such as coats, jackets, fleeces, hats, gloves, ski wear, and light-colored footwear, as well as outdoor furniture.
A 10.5-ounce can of Kiwi Camp Dry Performance Fabric Protector has a manufacturer's suggested retail price of $6.99.
Sara Lee Household & Body Care USA
707 Eagleview Blvd.
Suite 200
Exton, PA 19341
(800) 392-7733
www.kiwicampdry.com
---
Wheel refinisher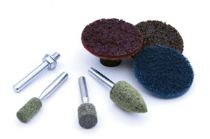 The Megabrite Wheel Refinishing Kit from Rex-Cut Products Inc. is said to blend scratches and remove curb rash from alloy and aluminum wheels.
The kit includes a selection of nonwoven synthetic mounted points in conical and cylindrical shapes and mini discs in coarse, medium, and fine grits that all feature 1/4-inch-diameter shanks to fit an electric hand drill or a Dremel tool. This kit is not intended for final finishing and polishing.
The Megabrite Wheel Refinishing Kit has a manufacturer's suggested retail price of $36.95.
Rex-Cut Products Inc.
960 Airport Road
Fall River, MA 02722
(800) 225-8182
www.rexcut.com
---
Battery disconnect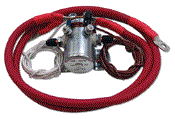 The Automatic Battery Disconnect from Roadmaster Inc. is said to end the hassle of disconnecting the battery when preparing a vehicle to be recreationally towed behind a motorhome, as recommended by several automobile manufacturers.
According to product literature, once the Automatic Battery Disconnect is installed, users can tow and drive the vehicle without ever needing to adjust the battery again. The device provides a constant 12-volt-DC current to the vehicle's battery during towing, charging it to full capacity. It also supplies a positive current source for other vehicle accessories that require power while towing. The unit features a marine-grade, high-amperage solenoid and silver contacts for longer life.
The Automatic Battery Disconnect has a manufacturer's suggested retail price of $176.90.
Roadmaster Inc.
5602 N.E. Skyport Way
Portland, OR 97218
(800) 669-9690
(503) 288-9898
www.roadmasterinc.com
---
Nonslip ear buds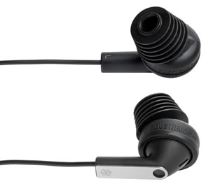 According to product literature from Burton Technologies LLC, Acoustibuds earphone adapters will help keep earphones from slipping, even during extreme activity, while also improving sound quality.
Acoustibuds are made of flexible, hypoallergenic silicone rubber and fit securely around most ear buds. The flexible design allows them to contour to the individual's ears. Closely spaced fins prevent the earphones from slipping out, even with perspiration and movement. The device's twin cone core is said to deliver high-fidelity sound by better directing the sound waves inside the ear canal while reducing unwanted outside sound.
Acoustibuds are available in two sizes "" five-fin and six-fin "" and have a manufacturer's suggested retail price of $19.99.
Burton Technologies LLC
202 N. Park St.
Ludington, MI 49431
(231) 845-5516
www.acoustibuds.com
---
Recycled grocery bag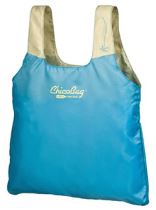 According to product literature, the rePETe from the ChicoBag Company is made almost entirely of recycled materials selected to have the utmost durability and effect on reducing waste.
The fabric used to make the bag comes entirely from recycled plastic bottles (polyethylene terephthalate, or PET). The bag measures 18 inches tall and approximately 14.5 inches wide and has a carrying capacity of 25 pounds. When not being used, the bag compresses into a handy self-contained pouch that includes a drawstring also made entirely of recycled PET; a cordlock made of 100 percent recycled polyurethane; and a carabiner for easy carrying that's made of 97 percent recycled aluminum.
The ChicoBag rePETe is available in five colors and has a manufacturer's suggested retail price of $9.
ChicoBag Company
345 Huss Drive
Chico, CA 95928
(888) 496-6166
(530) 342-4426
www.chicobag.com
{loadpositionEndBlurbProducts}