Visitors with a taste for theater, music, and a variety of foods will find themselves satisfied by stops in these four cities.
By Anna Lee Braunstein, F351629
July 2010
Whether you recite Shakespearean sonnets as you drive along the road or are glad to have left the old bard back in high school, Southern Oregon, home of the internationally famous Oregon Shakespeare Festival, can offer you a great variety of entertainment. The area is rich in both outdoor and indoor activities, including fishing, shopping, wine-tasting, dining, and, of course, theater. Each of the small communities off Interstate 5 is worth a stop, so stay and play.
Ashland
To celebrate the Fourth of July in 1935, Angus Bowmer put on a Shakespearean play in this small Oregon town. That first event grew to become a Tony-award-winning festival that presents works by Shakespeare as well as more recent playwrights over a 10-month theater season. With up to 11 plays at three venues, including the outdoor Elizabethan stage patterned after the Globe Theatre of London, the playbill includes comedies and tragedies from classical to contemporary.
Backstage tours, actor-led discussions, and a Green Show (pre-play outdoor entertainment) are also part of the festival. For the play schedule and tickets, see www.osfashland.org. For more theater excitement, check out the Oregon Cabaret Theatre (www.oregoncabaret.com).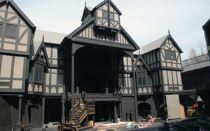 Ashland's offerings go beyond the performing arts. Lovely Lithia Park was designed by John McLaren, famous for San Francisco's Golden Gate Park. Hikers and walkers enjoy the many trails through this green expanse. The city's streets are lined with gourmet restaurants, clothing and gift boutiques, art galleries, craft stores, and wine shops. Chocolate connoisseurs will love samples from Dagoba Organic Chocolate, and ice cream aficionados will appreciate three shops in town, too. Even more stores await in the Ashland Historic Railroad District. To learn more about Ashland, visit www.southernoregon.org.
Medford
Developed in the late 1800s as a lumber and agricultural center, today Medford is known for wild waters that teem with fish. There are 153 streams and 17 lakes in the area stocked with abundant trout, bass, salmon, and more. No wonder the visitors bureau brags, "Fishing for fierce-fighting native steelhead in remote wilderness setting filled with abundant wildlife can be an angling experience of a lifetime."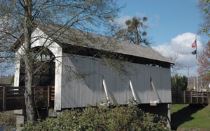 If you're not an angler, don't worry, though. An alterative to fishing is a boat ride out of Grants Pass, 30 miles west of Medford. There the Rogue River churns away, supplying a great and, occasionally, wet adventure.
Train buffs of all ages are drawn to Medford Railroad Park, where displays include a logging train among the rolling stock. Operated by a group of volunteers from railroad, historical, and telegraph clubs, the park is one of the few in the United States to have full-size as well as miniature trains. Entrance to the park is by donation. On the second and fourth Sunday afternoons from April through October, passengers can board scale-model trains for a ride.
Medford is the center of production of one of Oregon's most famous commodities: wine. Many farms that were pear orchards in the 19th and 20th centuries now are vineyards. Tasting rooms are located throughout the area. In the summer, wineries augment wine-tasting with farmers' markets, art shows, and concerts. To learn about where to taste the wines and what is happening at the wineries, go to www.oregonwine.org.
Medford is also home to Harry & David, a company famous for gourmet food and fresh fruit. Visitors can board a bus for a tour of the company's facilities. The excursion starts with the aroma of luscious candy and continues through the making and packaging of delights, culminating with a gift of a small goodie box. The $5 tour fee can be applied to purchases of $40 or more at the store. Reservations are advised; call (877) 322-8000 or visit www.harryanddavid.com.
The Medford Visitors Center, located next door to the Harry & David complex, can provide more tips about the area. One likely will be about Pear Tree Factory Stores, an outlet complex located at exit 24 off of Interstate 5, a few miles south of Medford.
Central Point
In the heart of the area known as Artisans Corridor, which includes Medford and Jacksonville, is the town of Central Point. This is where some very tasty and beautiful items are created. Cheese lovers, especially those who savor blue cheese, will find The Rogue Creamery a tangy treat. Under Ignazio Vella's guidance, the creamery gained international acclaim. Today's owners carry on the tradition.
Other local treats are not edible, but just as appealing. Nature's colorful creations are on display at the Crater Rock Museum in Central Point. For $4 or less, visitors can spend hours wandering through rooms lined with geodes, crystals, thunder eggs, and petrified wood. Rocks may be purchased for cutting in the workshop, and lapidarists can be seen cutting and polishing their own stones to reveal the hidden beauty.
Hand-created beauty also can be found at Red Oak Glass. Under the guidance of Louis Colosimo, student interns learn to make glasswork that attracts the eye with brilliant and gleaming colors.
Just outside of town is Dogs for the Deaf, the world's largest and oldest hearing dog training center. Free tours of the facility are offered on weekdays; visit www.dogsforthedeaf.org for more information.
Nearby at Eagle Point Golf Club, golfers of all abilities can find their level of excellence on Oregon's top-ranked links. Designed by Robert Trent Jones Jr., the course offers four sets of tees. To arrange a tee time, go to www.eaglepointgolf.com. Four additional courses in the area welcome every level of player.
Eagle Point is home to Antelope Creek Covered Bridge, one of the four covered bridges in Jackson County. The only one you can drive through (in a car) is the 85-foot Wimer Covered Bridge, seven miles northeast of Rogue River.
Up the road from the Antelope Creek Bridge is the Butte Creek Mill, the only water-driven flour mill west of the Mississippi River (www.buttecreekmill.com). Rescued by love and hard work, the mill has been restored to operation by Bob and Debbie Russell. The first thing visitors notice is the aroma of spices toasting on the old wooden stove, or the scent of hand-hewn timbers. The next thing is the room filled with paraphernalia from businesses of the 19th and early 20th centuries. A tour of the small mill is a lesson in the art, rather than the business, of milling grain. Following the scent of the spices leads to the shop, whose shelves are laden with antique containers and packages of products from the mill. The antiques shop next door contains more of the owners' collection.
Jacksonville
Like so many towns in the West, Jacksonville was built by gold. After the discovery of the first glittering rock was made there in 1851, the town grew as a typical commercial district, with saloons, gambling halls, brothels, and a bank. Thirty years later, the luster was gone, leaving a hundred historic buildings frozen in time. Today the less-savory establishments have been replaced by restaurants, gift shops, and clothing stores.
The most entertaining way to tour the town is on the trolley that rolls along daily in the summer months. Costumed drivers narrate the history of the area. Another fun way to see the town is to rent a Segway.
Like other gold towns, Jacksonville had characters who came for gold and left treasures behind. Among the buildings worth a visit are the home and bank owned by C. C. Beekman. Beekman knew that one certain way to get gold was to run a bank. In the early 1900s, resisting changes in banking laws, Beekman closed his bank and walked away, leaving the furnishings intact. Both his home and bank are open for tours during summer afternoons.
A man named Peter Britt was also significant in the creation of the town. He, too, came for gold but found his fame and fortune in photography instead. A man of many talents, he also was a wine maker, beekeeper, rancher, and orchardist. He was among the pioneers who established the agricultural industry that is the "gold" of Jackson County today.
Britt's photographs are among the treasures on display in the town, but he's best known for his namesake, the Britt Music Festival. Each summer and early fall, the Britt estate is filled with the sounds of classical, country, bluegrass, and more. The outdoor performances are held in a spot with naturally outstanding acoustics. Check out www.brittfest.org for more details.
To get another view of the history of Jacksonville, visit its pioneer cemetery, with its sections for Masons, Odd Fellows, Orders of the Redmen, Catholics, and Jews, as well as a Potter's Field.
Southern Oregon is the gateway to many wonderful sights you'll find in the state. Be sure to get off of Interstate 5 for a while to explore it.
Further Info
Southern Oregon Visitors Association
P.O. Box 1645
Medford, OR 97501
(800) 448-4856
(541) 552-0520
E-mail: [email protected]
www.southernoregon.org
Area Campgrounds
The following is not a complete list. Please check your favorite campground directory or the RV Marketplace, published in the January and June issues of FMC and online at FMCA.com.
Emigrant Lake County Park
5505 State Route 66
Ashland, OR 97520
(541) 774-8183
www.jacksoncountyparks.com
Glenyan RV Park & Campground
5310 State Route 66
Ashland, OR 97520
(877) 453-6926
(541) 488-1785
www.glenyanrvpark.com
Holiday RV Park
201 Fern Valley Road
Phoenix, OR 97535
(800) 452-7970
(541) 535-2183
www.holidayrvpark.net
Lakewood RV Park, C8767
(FMCA commercial member)
2564 Merry Lane
White City, OR 97503
(541) 830-1957
www.lakewoodrvpark.com