Increase your knowledge of motorhoming and other subjects that enhance the lifestyle when you attend FMCA's 85th International Family Reunion & Motorhome Showcase in Perry, Georgia.
By Peggy Jordan, F401999, Associate Editor
February 2011
One of the best aspects of attending an FMCA Family Reunion has to be all the learning opportunities that are available. First, you're surrounded by fellow Family Motor Coach Association family members who, as motorhome owners, too, have had valuable experiences they can share. Second, you're in the company of FMCA commercial members who are experts in specific areas of the RV industry. And in the organized learning sessions that are presented during the gathering, you are certain to gain knowledge about a topic you care about.
FMCA's "Southern Homecoming" Family Reunion and Motorhome Showcase, March 14 through 17, 2011, in Perry, Georgia, will include a long list of seminars from which to choose. This four-day event will take place at the Georgia National Fairgrounds & Agricenter, conveniently located along Interstate 75 in the heart of the Peach State.
Together with RVers who share your love of the lifestyle, you can attend a cooking class, learn how to use a GPS, or focus on digital photo-making. If your motorhome's battery system is confusing, or you want to know what's needed to tow a vehicle behind your motorhome, you can hear experts talk about that, too. And have you wondered what the fuss is about Facebook? You can learn more about it as well.
As at past FMCA international conventions, the seminars during this event are presented under Technical, Educational, and Crafts categories. New for this year, however, is a category called Product-Specific seminars. Vendors presenting these seminars will be expounding upon their company's caravans, travel software, campground membership resales, and other products.
Speaking of new seminars, several additions have been made to the lineup for Perry. Technical topics such as "RV Electrical Systems" and "General RV Maintenance" will be presented by Steve Roddy, technical services manager of Lazy Days RV Supercenter in Seffner, Florida. The new Facebook seminar will be presented by popular GeeksOnTour.com folks Jim and Chris Guld. The Gulds also will provide an interesting look at their lives as full-timers making a living on the road in a session titled "Geeks On Tour: Our Internet Love Story."
The newest FMCA member benefit, FMCAssist, will be explained fully in a seminar in Perry. Learn more about this emergency medical evacuation benefit for members, which includes repatriation of remains, return of vehicle, and accidental death and dismemberment coverage, among other features.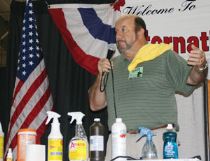 Another FMCA member benefit is a reduced cost for having your motorhome weighed by experts from the Recreation Vehicle Safety & Education Foundation (RVSEF). The RVSEF Motorhome Weighing Service uses certified scales to determine individual wheel position loads. You can be assured you are traveling safely and not causing harm to your home on wheels by signing up for this service in Perry. The retail cost is $49, but the FMCA member benefit price "" valid only for the Family Reunion "" is $34. The RVSEF seminars titled "RV Driving Safety Program" and "RV Weight & Tire Safety" also will be presented.
New travel-oriented learning sessions will include "Polar Bear Express By RV, Train, And Tundra Buggy" "" a fun travelogue featuring videos and photos that share the thrill of seeing polar bears in Canada. Then go to the other end of the world by attending the "Motorhoming in Australia" travelogue.
Are you new to motorhome travel, or looking for better ways to enjoy it? You can learn how to better fill your motorhome with "RV Packing Tips" and glean advice from a veteran of the road with "Basic Training for RVers."
Several crafts seminars are new, too, including "Sock Monkey," "Mobile Flagpole," "Papercraft Techniques," "Southern Homecoming Scrapbook," and a variety of jewelry-making adventures: "Fabric Beads Bracelet," "Fused-Glass Beaded Bracelet," and "Fused-Glass Beaded Watch."
Some seminars have limited class sizes, so preregistration may be necessary; some sessions require an additional fee. So be sure to check your "Southern Homecoming" convention program for details when you arrive on grounds. With all of these choices and new options, you won't want to miss out on a thing!
Perry Convention Seminars
The following seminars were scheduled as of press time. Last-minute changes could alter the list. Please check your convention program for dates, times, locations, and seminar descriptions. Sessions listed in italics are new seminars.
Technical
Aqua-Hot and Hydro-Hot Heating Systems
Ask The Experts
Basics Of Refrigeration
Caterpillar Engine
Cummins Engine
Driving With The Allison World Transmission
General RV Maintenance
Generator Maintenance Roundtable
Optimizing Your RV Battery System
Photovoltaics And Recreational Vehicles
RV Chemicals & Toilet Care
RV Electrical Systems
RV Weight & Tire Safety
Spare Parts & Key Questions
Spartan Chassis Maintenance
Steering, Suspension, And Coach Ride
Supplemental Towed Car Braking
Ten Maintenance Tips Every RVer Should Know
Towing Roundtable
What Is A Green Product & How Can You Tell?
Workhorse Chassis Maintenance
Educational
Basic Training For RVers
Care And Purchasing Fine Jewelry
Clean Like A Pro
Computer Safety & Security For Your RV
Don't Go Without Velcro
Driving A Motorhome For The Co-Pilot
Every RVer Needs A Blog
Facebook
Fire & Life Safety In Your RV
FMCAssist
Full-Timing
Full-Timing For The New And Used RVers
Geeks On Tour: Our Internet Love Story
Geocaching 101 "" Introduction To Geocaching
Getting The Most From Your Digital Camera
Google Earth
GPS & Navigation With Microsoft Streets & Trips
Health Considerations For Hypertension, Diabetes, And Heart Disease
High-Speed Internet
Insider Cleaning Tips
Joint Health And Living With Arthritis
Knee-Hip-Ankle Health
Learn The Ins And Outs Of Campground Memberships – Save Money, Time, And Confusion
Low Voltage, Spikes, And Surges – And What You Can Do About Them
Microwave-Convection Cooking – Beginner ABCs For Sharp Oven Owners
Microwave-Convection Cooking For One or Two
Microwave-Convection Cooking-On-The-Go
More All About RVing
Motorhoming In Australia
On-Road Quilters
Orientation For First-Time Attendees
Picasa: A Free Program For Managing Digital Photos
Picasa: Beyond The Basics
Polar Bear Express By RV, Train, And Tundra Buggy
President's Forum
RV Destinations Idea Exchange
RV Driving Safety Program
RV Packing Tips
RV Travel To Canada
RVing Atlantic Canada
RVing In Alaska
RVing In Alaska "" How To Do It On Your Own!
RVing In Europe
RVing To Alaska
Sudden Cardiac Arrest And The Use Of The AED
Tire Safety Tips & Monitoring Methods
Travel By RV Through Central Europe
Understanding, Monitoring, And Protecting RV Electrical Systems
Water Filtration, Purification, And Conditioning
Wrinkle-Free RV Laundry
Crafts
Cheery Cherry Recipe Box
Fabric Beads Bracelet
Fused-Glass Beaded Bracelet
Fused-Glass Beaded Watch
Kiln-Fused Glass Jewelry
Mobile Flagpole
Paint Along With Josephine
Papercraft Techniques
Peach Blossom
Scarlet
Sock Monkey
Southern Homecoming Scrapbook Layout
Spread Your Wings Workshop
The Stress Cross
Think Spring Necklace And Earrings
Product-Specific
Campground Membership Resales "" MEI
Australia And New Zealand By RV, Plus South Africa RV Safari
Making Memories Last With Nomads Notes Travel Diary Software
Canadian Maritimes By RV And Ferry
Greatest RV Rallies In The World
RV Interior Updating/Upgrading
RVing Atlantic Canada
RVing To Alaska
Fun, Games & Exercise
Early Morning Workout
Ladies' Social
Strength Training Programs For Women