Advance your knowledge of the RV lifestyle, motorhome maintenance, and miscellaneous other topics, including many offered for the very first time, by attending one or more of the seminars presented at FMCA's upcoming Family Reunion in Madison, Wisconsin.
By Doug Uhlenbrock, Associate Editor
July 2011
FMCA members who travel to Madison, Wisconsin, for FMCA's 86th Family Reunion and Motorhome Showcase, August 10 through 13, 2011, at the Alliant Energy Center, will discover a wealth of information to support their motorhome lifestyle. That's because more than 120 different seminars, including more than 40 new titles, covering technical, educational, and product-specific topics, plus craft classes and gatherings for fun, games, and exercise, will be on the agenda.
While many new seminars will be offered, the lineup also includes updated versions of FMCA's most popular technical seminars, providing attendees with cutting-edge information regarding their motorhomes' different components and systems.
Whether you're interested in doing preventive maintenance on your motorhome, joining with others on a caravan trip to a faraway location, or finding out how to make a unique piece of jewelry for yourself or a friend, the seminar slate for Madison should have something that satisfies your quest for knowledge. Here's a preview.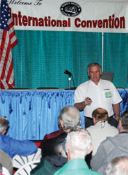 Gary Bunzer, the "RV Doctor," will present four separate technical seminars related to the motorhome's various systems. Two of his classes will examine RV plumbing "" one involving the fresh water system, the other the waste water system. He also will offer advice on maintaining the rooftop air conditioner as well as caring for the motorhome's exterior. Gary will preside over the "Generator Maintenance Roundtable" discussion and participate in the "Ask The Experts" gathering with fellow RV technical authorities Brett Wolfe and Walter Cannon.
Brett Wolfe, technical moderator for FMCA.com's Motorhome Forums, will present "Suspensions "" Coach Ride & Handling," an in-depth look at the factors and equipment that determine the stability and comfort you feel when driving your motorhome. He also will preside over the "Supplemental Towed Car Braking" seminar.
Walter Cannon, executive director of the RV Safety & Education Foundation, will present a pair of safety-related seminars. "RV Weight & Tire Safety" provides detailed information about determining your motorhome's weight ratings; making sure your vehicle fits within those guidelines; and the correct tire pressures to use in accordance with your motorhome's weight. During the two-part "RV Driving Safety Program," attendees learn how to become more conscientious operators according to road, weather, and traffic conditions; better understand the vehicle or combination of vehicles they are driving; and identify their specific driving abilities.
Other technical seminars will include topics related to chassis maintenance (Freightliner and Spartan), engine maintenance (Caterpillar, Cummins, and MaxxForce), satellite TV, and towing.
For many members, a laptop, a tablet computer, or some type of souped-up cell phone has become standard equipment whenever the motorhome hits the road. FMCA convention planners have included a variety of seminars to help attendees decide which of these devices is best for their purposes and will provide numerous fun and productive ways to use them. Along with reprising popular seminars presented at previous conventions that cover photo management programs, high-speed Internet options, navigation software, blogging, Facebook, and Web site publishing, the Madison Family Reunion will feature two new seminars specifically for Mac users: "Apple Computers & The Macintosh Operating System" and "Macintosh Operating System Tips & Tricks." Other first-time seminars will include "Handheld Multimedia & Navigation Devices" and "Mobile TV & Internet Solutions."
Once you get your photo management program up and running, you'll want to fill it with plenty of pictures taken during your motorhome journeys. Seminars detailing the sights you'll see on caravan trips to Alaska or the national parks of the West will be presented, along with product-specific travelogues highlighting motorhome excursions to places throughout the world.
Dog lovers who have a difficult time getting great photos of their canine companions won't want to miss the seminar "How To Take Great Pictures Of Your Dog: Ten Top Tips For Perfect Pup Pics." Professional photographer James "Alex" Alexander will discuss many of the mistakes that people make when photographing dogs and provide tips on how to capture great images. Many of the tips will apply to photographing people and other subjects as well.
Those interested in RV history will find Al Hesselbart's "100 Years Of RVs In America" presentation fascinating. Mr. Hesselbart, the official historian, archivist, writer, and librarian for the RV/MH Hall of Fame Museum in Elkhart, Indiana, will take attendees through the evolution of RVs, from the earliest homemade vehicles through today's most sophisticated homes on wheels. He also will present a special RV journey geared toward the next generation of motorhomers who are in Madison with their parents or grandparents during the "A Special Look At RVs Thru The Years" seminar.
Educational sessions will address a variety of RV lifestyle concerns, such as cleaning and cooking in the motorhome, fire safety, full-timing, health matters, FMCA topics, improving fuel mileage, and more. Product-specific seminars about maintaining the Aqua-Hot system and water heater, and interior and exterior motorhome renovations/restorations also are included on the schedule. Those who enjoy making things with their hands will find 20 different crafts classes to attend. And there will be several opportunities to exercise those muscles during the "Early Morning Workout For All" and "Strength Training For Women" gatherings.
So make plans now to attend the "Family A'Fair" in Madison, where you can learn more about your motorhome and the RVing lifestyle.
Madison Convention Seminars
The following seminars were scheduled as of press time. Last-minute changes could alter the list. Please check your convention program for dates, times, locations, and seminar descriptions.
Technical
Air Conditioner Maintenance
Ask The Experts
Basic Principles Of Generator Operation
Caterpillar Engine
Cummins Engine
Driving With The Allison World Transmission
Freightliner Custom Chassis Preventative Maintenance
Generator Maintenance Roundtable
Introduction To RV Satellite & What Is Available
Motorhome Exterior Care
RV Plumbing "" The Fresh System
RV Plumbing "" The Waste Systems
RV Weight & Tire Safety
Satellite TV Technical Talk
Spartan Chassis Maintenance
Supplemental Towed Car Braking
Suspensions "" Coach Ride & Handling
Technology And Maintenance Of MaxxForce Engines
Tire Basics For the RV Owner
Towing Roundtable
Educational
100 Years Of RVs In America
Apple Computers & The Macintosh Operating System
Basic Training For RVers
Beautifying & Protecting Your Coach
Care & Purchasing Fine Jewelry
Clean & Green RVing "" What Really Matters
Computer Safety And Security For The RV
Cooking Cool & Fast With The Induction Cook Top
Designing & Publishing Your Own Web Site
Detailing Outside In Less Than One Hour
Every RVer Needs A Blog
Facebook, Not Just For Kids
Fire & Life Safety In Your RV
FMCA Member Benefits
FMCAssist
Free Camping At Wineries And Farms
Full-Timing
G.R.O.W. "" Go Recruiting On Wheels
Genealogy 101 "" Beyond The Basics
Genealogy For Beginners
Getting The Most Out Of Your Digital Camera
Google Earth
GPS & Navigation With Microsoft Streets & Trips
Handheld Multimedia & Navigation Devices
Health Considerations For Hypertension, Diabetes, And Coronary Heart Disease
High-Speed Internet
Honey, Let's Clean The RV
How To Take Great Pictures Of Your Dog: Ten Top Tips For Perfect Pup Pics
Improve Engine Performance & Fuel Mileage
Insider Tips For Cleaning Coaches; Professional Secrets Revealed!
Joint Health And Living With Arthritis
Key To Dry Camping "" Water Conservation
Knee-Hip-Ankle Health
LED Upgrades "" If I Only Would Have Known
Learn The Ins And Outs Of Campground Memberships "" Save Money, Time, And Confusion
Macintosh Operating System Tips & Tricks
Making A Difference Through Habitat For Humanity®
Microwave-Convection Cooking "" Beginner ABCs For Sharp Oven Owners
Microwave-Convection Cooking For One or Two
Mobile TV & Internet Solutions
Oh My, What Do I Do With My Microfiber
On-Road Quilters
Orientation For First-Time Attendees
Photo Story 3
Picasa Photo Editing Workshop
Picasa: A Free Program For Managing Digital Photos
Picasa: Beyond The Basics
President's Forum
Quilt Trunk Show
Resolve Your Sugar And Carb Cravings
RV Destinations Idea Exchange
RV Driving Safety Program
RV Tire Care And Maintenance
RVing Alaska, The Last Great Frontier
Saving Money With A Quality Windshield Chip Repair
Senior Survival Course
Shoulda, Coulda, Woulda "" Safety Tips And Other Things You Should Know
Sudden Cardiac Arrest And The Use Of The AED
Velcro "" The Quicker Sticker!
Weigh Less, Live More
Western National Parks By RV Caravan
Why Didn't I Think Of That?
Product-Specific
Aqua-Hot Maintenance/Annual Service
Australia & New Zealand By RV "" PLUS South Africa RV Safari
Canadian Atlantic Maritimes By RV & Ferry
Controlling Odors & Water Heater Maintenance
Exterior Renovations/Restoration/Aftermarket Slideout Installation
Greatest RV Rallies In The World!
Interior Renovations/Restorations/MCD Shades
Polar Bear Express By RV, Train, And Tundra Buggy
RVing To Alaska
RVing To Mexico
SkyMed Takes You Home
Verizon Wireless
Fun, Games, & Exercise
Bean Bag Baseball
Bean Bag Toss
Card Bingo
Early Morning Workout For All
Ladies Social
Square Dancing
Strength Training Program For Women
Crafts
Advanced Swedish Weaving
Beginning Swedish Weaving
Cardinal Whirlee Giggle
Chinese Carry Out Box and 2 Fortune Cookies
Dimensional Ornament
Dressy Vest For Your Wine Bottle
Family A'Fair Necklace
Fused-Glass Beaded Bracelet
Garden On Your Wrist
Kiln-Fused Beaded Watch
Kiln-Fused Glass Jewelry
Learn To Make A Swarovski Crystal Bracelet
Mobile Flagpole
Paint Along With Josephine
Paper Bead Bracelet
Rose Light
Starry Night Necklace
The Stress Cross
T-Shirt Weaving
Venetian Lace Snowflake