Electric Or Propane Heating?
Motorhomers may wonder which power source is more economical when heating their RV: electricity or propane? Here's a way to figure out which is best for you.
First, you need to know that 1 kilowatt of electricity converts to 3,412 Btu/hour. One gallon of propane converts to 91,690 Btu/hour. So, it would take 26.87 kilowatts of electricity to equal the amount of energy available in 1 gallon of propane. Gas furnaces are not 100 percent efficient, as some heat is lost in the exhaust, so let's use a factor of 30 rather than 26.87 to allow for this loss.
Take the price you are paying for electricity per kilowatt and multiply it by 30. Compare that number to the price you pay for 1 gallon of propane to determine which is more economical. For example, if you are paying 12 cents per kilowatt of electricity, the total would be $3.60 (12 cents x 30 = $3.60). If you are paying $4 for a gallon of propane, using electricity would be a more cost-effective way to heat your motorhome.
Bill Hendrix, F761S
Erie, Colorado
---
Awning Latch Plug
My motorhome's awning blew off when two or three unexpected gusts of wind caused the small spring-loaded, finger-operated latch that holds the rear awning leg onto the coach to open. It was a clear day and we were gone only for a short time when this occurred. Only a very small movement of the latch is required to release the leg, which is used for vertical positioning of the awning and staking to the ground. As I found out, even a slight wind gust can dislodge the latch. I remedied the problem by placing a wine bottle cork that I carved to fit between the back of the latch and the side of the motorhome. A small piece of wood or any other removable object that would keep the latch from opening but not mar your motorhome's finish will do. It's inexpensive insurance and can be replaced easily if lost. I still recommend retracting the awning if you leave your motorhome unattended for even an hour.
Roger Clapp, F412931
Florence, Mississippi
---
Graphics Touch-Up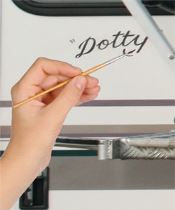 Our 17-year-old motorhome has held up well, but last year we made the mistake of having it pressure-washed. This took its toll on the exterior graphics. The areas where the graphics chipped away were unsightly. We struggled to find an adequate way to repair this problem until we thought of the sample paints sold at home improvement stores such as Home Depot and Lowes. With the help of a sales associate in the paint department, we were able to closely match the two colors that were damaged. We used a couple of good sable brushes and masking tape to make sure the paint was applied only to the missing areas. Of course, the touch-up cannot precisely match all of the qualities of the original graphic, but it does keep one's eye from going directly to the damaged area.
Robert Van Bodegon, F128408
Manchester, New Jersey
Editor's Note: Many automotive paint stores can match the color of your original graphics by using spectrophotometer analysis.