Three days of speed, excitement, and fun at Talladega Superspeedway.
By J. Glenn Dupree, F362282
December 2011
If you've never experienced a NASCAR race at Talladega Superspeedway in Talladega, Alabama, you need to put it on your bucket list. Earlier this year, my son Jason asked if I would take him and several friends to Talladega in the motorhome for the Aaron's Dream Weekend, April 15 through 17, 2011. He was able to secure two motorhome parking passes in the Frontrunners Club I, which is located on the infield just past turn four and right before pit road. This puts you in a pretty good location to watch the races. Since he already had the passes, it was easy to say yes.
With two parking passes in hand, we needed to find someone with another motorhome. I immediately thought of my good friend and Louisiana State University tailgating buddy, George Boudreaux. I knew he was a huge NASCAR fan and had sponsored a car in the Nationwide Series for several years. George is the Louisiana pharmacist who brought Boudreaux's Butt Paste, a diaper rash product (it also has many other uses), to the national market. Although he sold the company five years ago, George affectionately named his motorhome, a new 45-foot Tiffin Zephyr, "The Buttmobile." George accepted the invitation to join us, and the planning began.
George had everyone who was going provide him with a photocopy of their driver's license and said he would work on getting us access to the garage and pits on race days through his racing connections. NASCAR requires anyone seeking access to the pits and garage areas to display credentials and have a photo ID before they are admitted. NASCAR has different types of "pit passes" available. Some are "cold passes," which allow credential-holders access to the garage and pit areas for a limited time before the races. A "hot pass" gives access to the pit and garage areas at all times, even during the races. What a treat! It is really fun to watch the races from the pit area and be able to wander around the pits and garages to see the crews performing their jobs before and during the race.
I was responsible for planning the menu and purchasing the food for the trip. Although there are concessions available at the track, nothing is better than tailgate food, such as gumbo, grilled steaks, hamburgers, and such. Plus it is easier on the budget to fix your own meals. I planned all the meals in advance and bought all the ingredients at local markets before we left. I had different meals packaged so it they be easy to prepare, including chicken wings and hamburger patties for the grill, plus whole tenderloins to make thick filets, and all the ingredients for a good Cajun seafood gumbo. We would not go hungry.
Jason purchased bottled water, Gatorade, and some adult beverages for the trip and packed them in the motorhome prior to leaving. Each individual was told to bring any special food or drinks he might want that weekend. All the supplies were purchased and packed in the motorhome before we left town, which meant we wouldn't need to go out for supplies once we got to the track.
To get to the infield parking at Talladega, you actually drive your motorhome across the race track. Obviously, you can't cross while the track is being used for racing activities, so it's best to arrive very early in the morning or at night if you have an infield camping spot. A tunnel under the track is large enough for automobiles to pass through, but it cannot accommodate motorhomes.
We arrived at Talladega a little after 10:00 p.m. and, after parking, we decided to wait until the next morning to put out the canopy, rugs, grills, and chairs. Since we all were tired from the drive (about 7 hours from Baton Rouge), a good night's rest was a wise choice for our mostly rookie crew. We knew Friday would be a busy day.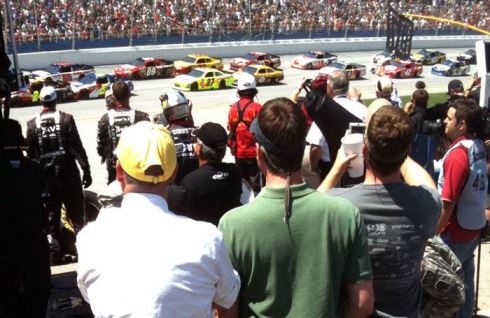 After getting our "hot passes" on Friday morning, we spent most of the day touring the garage and pit areas, watching car inspections, and viewing the qualifying runs. The Automobile Racing Club of America (ARCA) crews were getting their cars ready for the race scheduled for Friday afternoon, and the Nationwide Series drivers were running their qualifying laps for their Saturday race. Unfortunately, it began to rain and track officials postponed the ARCA 250 race until 8:00 a.m. Saturday.
It turned out to be a wise decision, because bad weather arrived in Talladega around 4:00 p.m., pounding us with heavy thunderstorms and rain into the late hours of the night. The tornado sirens sounded and track officials provided warnings and instructions to secure any loose items due to high winds and the possibility of tornadoes. Some of the guys felt safer waiting in the cinder-block building where the public bathrooms and showers were located. It did get scary, and a tornado actually touched down about a mile or two away from the track. Fortunately, heavy rain and wind were all we experienced, and no injuries or damage were reported.
I awoke at 6:00 a.m. Saturday to the roar of jet engines. If I didn't know any better, I would have sworn an airplane was circling 100 feet overhead. However, the sound was being made by jet dryers on the track. These machines are actually trucks with jet engines mounted in the rear that blow hot air across the surface of the track to help the drying process. Soon this was followed by the sound of revving car engines as crews prepared their cars for the ARCA race. With all the noise, our rookie crew was up early and ready for action.
George had brought some of his "Boudreaux's Butt Paste" team racing shirts from his NASCAR sponsorship days, and we all decided to "suit up" and wear them for the Nationwide Series race on Saturday afternoon. We were rooting for Jeremy Clements, driver of the #51 car, because he drove the car George used to help sponsor. George had introduced us to Jeremy and his dad, Tony, one of the owners, on Friday. This made the anticipation of the Saturday afternoon race much more interesting for us. They were super-nice folks who treated us really special, and we all felt a connection to them. That added to the sense of community that grew during the weekend.
Most of the guys wanted to watch the ARCA race from the pits so they could see what takes place before the start of a race and watch the crews in action while the race was taking place. I opted to watch from the motorhome so I could begin to prepare a huge seafood gumbo for lunch. I had planned to make it Friday night, but like the ARCA race, it got postponed until Saturday.
We decided to have lunch between the two Saturday races. I made enough to share with our neighbors and it was a big hit. A good Cajun shrimp and crabmeat gumbo is hard to beat and always seems to draw a crowd. In fact, one of the security guards who had tried some asked if he could come back with his family. His daughter, son-in-law, and grandchildren had flown in from California and he thought they might like to try some real Cajun cuisine. We even found a few extra Butt-Paste ball caps to give the guard's grandchildren as souvenirs. After that, we seemed to have a lot of track officials dropping by who had heard about our seafood gumbo.
During the Nationwide Series race we watched various pit crews work to keep their drivers in the race despite the wrecks and other mechanical issues. Our driver, Jeremy Clements, didn't win, but he did finish 24th. I don't know how he was even able to complete the race, after looking at his car. His crew did a great job to keep him running even after his involvement in several pretty bad wrecks, none of which were caused by him.
The finish of the Nationwide Series race was even more exciting than the ARCA finish. The race produced 56 lead changes, 11 cautions and two red flag periods to clean up debris, and ultimately a green-white-checkered finish. Even Kyle Busch, the eventual winner, got caught up in the mayhem. He spun out in the biggest crash of the day, a 21-car pileup 28 laps from the finish, and restarted near the rear of the field. When the race resumed, Busch hooked up with Joey Logano to charge back to the front. The duo passed leader Trevor Bayne and Carl Edwards on the second attempt at a green-white-checkered finish. It couldn't have been any closer or more exciting.
Following the race we went back to the motorhome to unwind, take showers, have a beverage, and eat a good grilled steak and a cup of gumbo. I had cut the tenderloins into thick filets to be cooked on the grill. I used one of George's secret recipes to marinate and prepare the steaks. First, we soaked them in a mixture of 1/2-part soy sauce and 1/2-part Kentucky bourbon for about 15 minutes. After taking them out of the marinade, we seasoned them with salt, pepper, and a few other spices and put them on a very hot grill. One of the firemen working the race was just getting off duty, and we asked him to join us. After dinner, he said it was the best steak he'd ever had.
Well, just when we thought the races could not get more exciting, along came the Sprint Cup Series weekend finale on Sunday. That finish easily topped the other two races. It was a three-wide thriller at the end. Jimmie Johnson won by just 0.002-second, tying the record for the closest finish in NASCAR history since electronic timing was introduced. The top six cars all crossed the finish line within a second of one another. How much closer or more exciting could a race be?
While the main attraction at Talladega is the racing, even those who are not avid NASCAR fans can have a great time. Talladega is an experience that you will never forget. Just the size of it all is mind-boggling. There must have been 300,000 to 400,000 fans coming and going over the weekend at all the races, festivities, and various campgrounds around the track and on the infield. The area around the track becomes a sizable city for the weekend.
A tremendous sense of community develops over the weekend. Just think; not only do you get to see the races, but being at such a spectacle and creating memories is what makes it all worthwhile. You will meet and make new friends from all over the country. It is like attending Mardi Gras in New Orleans, but instead of watching parades, you get to see cars racing at unimaginable speeds. When races are not taking place, there is still plenty to see and do: concerts, camping for the long weekend, and great food being cooked and shared with all, not to mention around-the-clock parties.
I have tailgated a long time, but no fans are more fun to be around than those at a NASCAR event. It is one trip that you need to make if you ever get a chance. I promise you will never forget it.