Steve Stephenson found the solution to his vintage motorhome's mechanical problems with a little help from a fellow FMCA member and friend.
By Doug Uhlenbrock, Associate Editor
September 2011
Irvin "Steve" Stephenson, F38075, has always been a fan of vintage motorhomes. His fascination began with Superior motorhomes, and during the 1980s he owned a series of these coaches. After purchasing his first Superior, a 1973 25-foot model in 1979, he was impressed with its quality construction. So, he'd buy a Superior, fix it up, use it for a while, sell it, and then buy another. Eventually, he switched brands, purchasing a 1978 33-foot Apollo built on a Dodge M600 chassis that he refinished with new paint, carpet, and upholstery. This was to be his last motorhome. Of course, it wasn't.
In 1995 Steve happened upon a 1982 Apollo Sceptre that was for sale. When he went to look at the motorhome, he discovered that it was in pristine condition. "The coach spent seven years in an airport hangar before I bought it," he said. "It was well cared for and looked like new."
The previous owner told Steve that he decided to sell the motorhome because it was underpowered and the transmission would overheat whenever he tried to pull the large trailer he had. The Sceptre was 35 feet long and weighed 24,000 pounds, with a 100-gallon fresh water tank and a 150-gallon fuel tank. It was built on an Oshkosh chassis with a rear-mounted Caterpillar 3208 diesel engine and an Allison 545 transmission. The problem, according to Steve, was that the power-train combination was ill-suited for the size of the motorhome "When the coach was built, they put the wrong transmission in it," Steve said. "The 545 transmission didn't have a lockup, so it was always slipping and overheating."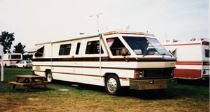 Despite this problem, Steve purchased the motorhome because of its many other qualities. "The Apollo is extremely well built with steel frames," he said. "The body is like a fiberglass bathtub. It's 3/8-inch-thick and it has a fiberglass roof. It came with few options "" it had it all. It had a countertop blender, an ice maker, a leather steering wheel, and more." The motorhome also was equipped with air-ride suspension on the front and rear, plus air brakes.
While Steve enjoyed touring in the stout, well-appointed motorhome, he experienced the same power-train problem as the previous owner. So, he resigned himself to moving into the slow lane when traveling over hilly roads and to taking occasional breaks when the transmission began to overheat and slip. He believed that would be the norm as long as he owned the Sceptre.
It wasn't until FMCA's 1996 international convention in Perry, Georgia, that a possible solution was presented to him. During a walk through the family parking area, Steve noticed a sharp-looking motorhome that reminded him of his own. After further inspection, he realized that it was exactly the same as his Apollo Sceptre, only with a fresh paint job. So, he introduced himself to the owner, Tom Houston, F212240, from Merritt Island, Florida. The two became fast friends and kept in touch following the convention.
During their subsequent conversations, Steve brought up his ongoing power-train problem. Tom said he'd had the same trouble with his coach but was able to solve it with a new turbocharged engine and a different transmission. He told Steve to consider making the same retrofit. With Tom's encouragement and promise to help, Steve began prospecting for the necessary equipment to give his motorhome the extra boost it needed.
He first found a used Allison MT 643 transmission from a freight company in Ohio and had it rebuilt. He then purchased a used Caterpillar 3208 turbocharged engine rated at 250 horsepower. Although the original coach was equipped with a Caterpillar 3208, it did not have a turbocharger, and Steve found out that it wasn't possible to just add one to the existing power plant.
The next step was to find a place where the work could be done, so Steve rented a truck stall and a forklift for a month from Stone Transportation Company, not far from where he lived. With the equipment purchased and arrangements made, he contacted his friend Tom. In the summer of 1997, Tom packed up his motorhome and drove to Steve's home in Williamstown, Vermont, to begin the engine and transmission change-out. Steve also enlisted his grandson, Terry Winters, to assist.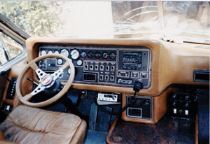 Tom lost the use of his legs as a result of a construction accident years ago, yet it hasn't held him back from enjoying the motorhome lifestyle or doing the type of heavy-duty mechanical work this retrofit required. "He uses a power wheelchair he designed and built himself, and there is nothing he can't do," Steve said.
The trio began the job by removing the radiator, engine, and transmission and installing new engine mounts, U joints, fuel lines, and wiring. Because the new engine had a turbocharger, the exhaust system had to be reconfigured and a new radiator core was added, as well as an extension from the side grille to the air cleaner for better airflow. Once the preliminary work was accomplished, the engine and transmission were installed. From start to finish, Steve said that the job took about two weeks to complete and cost approximately $16,000. He believes the improvements were well worth the cost.
Since the modification, Steve has put more than 35,000 miles on the motorhome, and he truly appreciates the difference it has made. "The engine has so much power now it's hard to believe," he said. "It has 250 horsepower compared to the 175 horsepower on the previous engine." He's also noticed the additional benefits. "I find that traveling at 65 mph pulling a Neon car in flat country, I get 11 to 12 mpg and the transmission temperature stays around 175 degrees."
When not traveling, Steve, now 83 years old, drives a school bus in the Williamstown area, shuttling students to outings and sporting events. He also has a collection of antique cars that keep him busy.
He hopes his story will inspire others who are mechanically inclined to resurrect some of the vintage coaches hidden away in barns, under canopies, or in storage areas. "There are a lot of older coaches sitting around with potential if people took the time to fix them up," he said. "And most of them are well built. It's a shame they're rotting away."