FMCA's 86th Family Reunion and Motorhome Showcase in Madison, Wisconsin, offered members plenty to see and do, plus opportunities to gather with friends old and new.
Watch FMCA Madison 2011 Slide Show on Youtube
Watch Madison product videos on FMCA.com
By Doug Uhlenbrock, Associate Editor
October 2011
Bright sunshine and refreshingly cool temperatures welcomed thousands of motorhome enthusiasts who poured into Madison, Wisconsin, for FMCA's 86th Family Reunion and Motorhome Showcase, held August 10 through 13, 2011, at the Alliant Energy Center.
For those who suffered through the sweltering summer heat that enveloped most of North America, the pleasant Wisconsin weather provided welcome relief. In fact, some attendees reported that they had to turn on their heaters as the temperature dropped into the 50s for a couple of nights. Of course, it wouldn't have been an FMCA gathering without some precipitation. Fortunately, the rain was limited to some hit-and-miss showers on Friday night and Saturday.
But it wasn't just the splendid weather that kept people in great moods during the "Family A'Fair" convention. With a terrific host facility, lots of things to see and do both at the Family Reunion and in the surrounding area, and the camaraderie common to FMCA gatherings, there was plenty to smile about. The event drew a total of 2,143 coaches — 1,910 family coaches and 233 commercial coaches.
Back In Madison
This was FMCA's second international convention in Madison, the capital city of Wisconsin. Twenty-seven years ago thousands of motorhomes filled the Dane County Exposition Center for FMCA's 21st annual summer convention. At the time, many hailed the facility as the ideal site for an FMCA gathering. Changes to the facility (renamed Alliant Energy Center in 2000) since FMCA's 1984 visit made it an even more attractive Family Reunion site. The 164-acre venue featured plenty of paved parking areas for families and outdoor exhibitors; Veterans Memorial Coliseum, which offered comfortable floor and arena seating for evening entertainment and the Governing Board meeting; and the spacious Arena Building that was utilized for Coffee Hour, activities in the Entegra Game Zone, and other functions.
The biggest difference since FMCA's last visit to Madison was the addition of Exhibition Hall, which served as the hub for many of the activities during the "Family A'Fair" Reunion. The 225,000-square-foot building provided ample space for hundreds of indoor exhibitors, the majority of seminar rooms, the Information Center and its various services and displays, and even Tony Stewart's #14 Office Depot NASCAR racing machine. The close proximity of these convention attractions — with the entrance to the coach exhibits just across the street — made it convenient for attendees to plan their days with one central destination in mind.
Several hundred motorhomes also took up residence at Lake Farm Park, a beautiful 328-acre reserve run by Dane County Parks, located just a few miles away from Alliant Energy Center.
Looking northward from Alliant Energy Center, it was easy to spot the rotunda of the Wisconsin Capitol. From the capitol building, streets heading in many directions were filled with restaurants, pubs, and interesting shops that attendees visited during their stay. Other off-site shopping and dining opportunities in the metro area greeted FMCA members with open arms, great food, and good times.
Let The Fun Begin
With the majority of motorhomes parked and attendees acquainting themselves with their neighbors and the facility on Tuesday, many folks were ready to get out and do something. That night in the Arena Building, Jim and Chris Guld of GeeksOnTour.com presented an interesting demonstration about the power of social media leading up to the Movie Night feature, Social Networking, the 2010 film about Mark Zuckerberg and his hugely popular social networking site, Facebook.
After a good night's sleep, folks flooded into Exhibition Hall early Wednesday morning to sign up for crafts and other specialty seminars, ask questions at the Information Center, and attend the first round of seminars slotted for the convention. Later that day, the street just outside the hall filled in anticipation of the Parade of Lights Motorhome Preview. This three-hour event gave attendees a head start touring the nearly 200 motorhomes on display.
Attendees also had the opportunity to sign up for a variety of area tours through Outta Here! Travel. The Essen Haus Dinner, Dance, Drink outing and a private dinner cruise on Lake Mendota aboard the Betty Lou were crowd favorites.
Beginning on Thursday and continuing each morning through the rest of the Family Reunion, folks rolled out of bed early for Coffee Hour in the Arena Building. There, a hot cup of coffee (or hot chocolate) and fresh doughnuts greeted sleepy-eyed attendees. Adding to the festive atmosphere in the arena was the upbeat music provided by members of the FMCA's Frustrated Maestros chapters on stage at the Entegra Game Zone.
The Entegra Game Zone also was the place to be for other fun activities throughout the event. On Thursday afternoon, Ron and Kay Rivoli took the stage to perform their Rivoli Revue, a performance packed with music about discovering new places and meeting different people while traveling. Later that evening, Jack Ingle provided the calls for square, round, and line dancing. And on Thursday and Saturday, fun and games commissioner Al Vormittag presided over Bean Bag Toss and Bean Bag Baseball tournaments.
On Friday afternoon, thousands of people poured into the Exhibition Hall lobby for the Ice Cream Social, with music provided by the Frustrated Maestros.
On Saturday, the first-ever FMCA Road Chef Competition was held. During this cook-off, which was taped to be shown on Rollin' On TV (www.rollinontv.com) at a future date, three contestants were selected to prepare their favorite on-the-road dishes in front of the camera, and then have the food evaluated by a select panel of judges. The competition was heated, but the "Crawfish Corn Chowder" prepared by Benola Robinson was selected as the winning dish. During the awards presentation held at the Arena Building, Benola received a first-place plaque, a Wisconsin gift basket, and $100. Dianne Wolfe's "Chicken with Peppers and Olives" was given the nod for second place, and LeeAnn Leroy's "Corned Beef Hash" finished third.
Evening entertainment was held in Veterans Memorial Coliseum and featured terrific musical performances on Friday and Saturday nights. On Friday, the piano-playing duo of Deborah Johnson and Wayland Pickard, better known as Double Grande, took center stage to perform a selection of past hits with some slight — often hilarious — changes to the lyrics.
On Saturday, the six-man a cappella group Street Corner Symphony, which finished runner-up during the 2010 season of NBC's hit show "The Sing-Off," performed a playlist of songs that had the audience singing along.
Seminars
While there were many fun activities to keep attendees busy each day, they also had plenty of opportunities to learn about all aspects of motorhoming at one or more of the seminars conducted during the "Family A'Fair." A whopping 159 seminars were presented throughout the event, covering a total of 145 technical and lifestyle topics. Attendees filled the comfortable, air-conditioned rooms for discussions about towing, supplemental braking, batteries, RV plumbing, generator and air conditioner maintenance, and many more technical-related sessions. On the educational side, seminars about GPS, computer-related subjects, genealogy, cleaning the motorhome, insurance, safety, and myriad other topics gave attendees plenty of information to make their time on the road more productive and enjoyable. Reunion-goers had the opportunity to listen to a pair of authors, Jeff Siegel and former Maine governor Angus King, talk about their books and the impact RVing has had on their lives.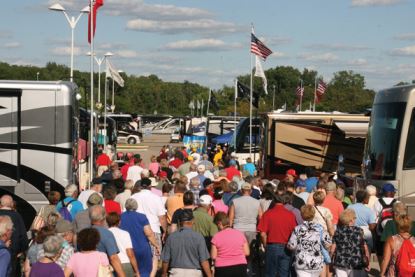 Exhibits
As noted, attendees were given the opportunity to see the new motorhomes on display Wednesday evening. Then, both indoor and outdoor exhibits experienced big crowds when the doors and gates opened at 9:00 a.m. Thursday, putting smiles on the faces of the representatives from the 242 companies that participated in the event. A wide variety of motorhomes — easy-to-maneuver Type Bs, family-friendly Type Cs, and ultraluxurious Type As — were open and ready for inspection.
Inside Exhibition Hall, convention-goers filled the aisles to examine products or services made available to them in Madison. While some searched for components or accessories for their motorhomes, others spent time with representatives learning more about tour or resort opportunities. For those who had FMCA matters to take care of, the FMCA Connections Area provided a convenient place to shop for FMCA merchandise, update member records, find out more about member benefits, speak with area national vice presidents, and consult with FMCA Connections partners.
Giving Back
FMCA Family Reunions bring a significant economic benefit to their host communities through the purchases of groceries, fuel, meals, and other items. A report from the Greater Madison Convention & Visitors Bureau calculated that FMCA brought more than $4 million to the area. It's also become something of a tradition for the association to "give back" to the communities it visits to help make each of them a better place for residents.
A mainstay of this charitable approach has been the eyeglass collection to benefit the Lions Foundation Eye Program. In Madison, attendees donated 94 pairs of used but still usable eyeglasses.
A food collection sponsored by the Professional RV Vendors Chapter (PRVVC) was set up in the Information Center to receive nonperishable food items for the Second Harvest Foodbank of Southern Wisconsin. The food drive netted a barrel and a half of food items and more than $100 in cash donations.
On Friday, August 12, FMCA and the Alliant Energy Center teamed with the American Red Cross to hold a blood drive in Exhibition Hall. Attendees responded by donating 34 units of blood, exceeding the drive goal by nine units.
The On-Road Quilters — a group of FMCA members who enjoy quilting — donated 62 quilts to a pair of groups. Project Linus is a national organization with numerous local chapters that provide comfort to children who are seriously ill, traumatized, or otherwise in need through the gifts of new handmade quilts, blankets, and afghans. The second group to receive quilts was the Community Action Coalition for South Central Wisconsin, which provides assistance to individuals and families living in poverty.
A new and exciting charitable project that FMCA introduced at the Madison Family Reunion was the Purses For A Purpose silent auction. Various individuals and groups donated themed purses and bags packed with all types of goodies. Throughout the Family Reunion, attendees had a chance to inspect and bid on the purses. At designated times, the auction for a particular item closed and the person with the highest bid was notified as the winner. A total of 31 purses were auctioned, raising $2,435 for the Big Brothers Big Sisters of Dane County. Thanks to all who donated items and purchased these "purses."
Thanks, Volunteers!
We salute the 725 volunteers who worked in various capacities during the "Family A'Fair" Family Reunion, including Coffee Hour, FMCA Store, Frustrated Maestros, greeters, handicapped and activity golf carts, Ice Cream Social, information, parking layout crew, security, seminars, trams, welcome crew, and youth program. Thanks for helping make this Family Reunion a huge success.
Convention Sponsors
FMCA's 86th Family Reunion and Motorhome Showcase was made possible in part by the generous support of the following commercial sponsors:
Super Star Sponsor
Coach-Net/NMC, C4055
Five Star Sponsors
Adventure Caravans, C6954
Alliance Coach, C11904
GEICO RV, C11529
Hearthside Grove Motorcoach Resort, C11369
NASCAR RV Resorts, C12265
Pilot Flying J, C12183
Roadmaster Inc., C2952
Three Star Sponsors
Coastline Cover, C6069
GMAC Insurance, C10328
RV Safety & Education Foundation, C5999
Two Star Sponsors
Bradd & Hall RV Interiors, C5391
Camping World of Madison, C12227
Entegra Coach, C9334
Hale Expo Services, C974
Miller Insurance Agency, C3045
One Star Sponsors
Kiley Mold Co., C7252
Rollin' On TV
Tiffin Motorhomes, C1717
Twin Peaks RV Insurance, C7669
Lost and Found
Were you separated from any of your belongings during the "Family A'Fair" Family Reunion? The following items remained unclaimed at the close of the gathering. If you think that any of them may belong to you, contact the Events Services staff at the FMCA national office — (800) 543-3622, conventionregistration@fmca.com.
Found Items:
Chair cushion
Black umbrella
White and blue umbrella
Maroon and gray umbrella
Ladies' green fleece jacket
6 pairs of eyeglasses
1 pair of eyeglasses in black case
Focus assist eyeglasses
Hitch pins
"Alpine Recreation" water bottle
Blue stainless-steel water bottle
Munich beer mug
Cobra MicroTalk radio
2 small keys on ring
1 single key
2 keys on ring with a blue lanyard
U.S. flag pin
Silver Kokopelli earring
Bag of beads
Laptop power source
"Preserve our Freedom" package