Coastal and urban attractions make a visit to this Alabama area a bountiful delight.
By Diane Sitton
November 2011
A travel guide for Mobile Bay, Alabama, aptly describes it as the place where fun floats. Along the bay's northern perimeter, a network of rivers forms a wildlife-rich delta that beckons canoeists and nature-lovers. Fishermen and sailboat enthusiasts relish the bay itself. On the south shore, where the bay meets the Gulf of Mexico, white sand beaches lure swimmers, shell hunters, and sunset photographers.
But Mobile's unique mingling of waterways and the activities they offer is only part of the appeal of this Gulf Coast destination. Here, you can explore the catacombs of a 200-year-old battle fortress, stroll the trails of a bird sanctuary visited by migrating species, photograph the action of monster "gators" at feeding time, or tour one of America's most decorated battleships.
Dauphin Island
We will start south of the city of Mobile on Dauphin Island, a narrow, 14-mile-long outdoor playground that juts from the mouth of Mobile Bay into the Gulf of Mexico. In 1707 French colonists named the barrier island "Isla Dauphine" to honor French royalty.
At the Dauphin Island Sea Lab, the "Estuarium" combines aquariums, displays, and interactive exhibits to focus on the four ecosystems that make up the Mobile Bay estuary: Mobile-Tensaw River Delta, Mobile Bay, the barrier islands, and the Gulf of Mexico. Most visitors begin their self-guided tour by watching a video titled A World of Water. It explains water's journey from the delta through the 35-mile-long estuary to the Gulf. The estuary is so abundant that fishery scientists labeled the north-central Gulf of Mexico the "fertile crescent."
Highlights in the 10,000-square-foot exhibit hall include live snakes, baby alligators, and aquariums containing sharks and other exotic sea creatures. At a touching table, you can stroke the spiny shell of a horseshoe crab, a prehistoric species more closely related to scorpions than to crabs.
From here, head over to nearby Fort Gaines, with its 22-foot-tall exterior brick walls and storied military heritage that spans 1821 to 1946. The fort is most highly recognized for its role in the Battle of Mobile Bay, a famed Civil War naval conflict. It was during this three-week battle that Union rear admiral David Farragut roared the command, "Damn the torpedoes; full speed ahead!" (It's interesting to note that the word "torpedoes" in this case referred to hidden enemy mines, and not submarine weapons.)
Start your self-guided tour by picking up a map at the gift shop. The comprehensive guide includes 26 points of interest along with facts about the fort's tunnels, bastions, blacksmith shop, and disappearing gun mounts, among dozens of other features. You can examine the huge anchor of Farragut's flagship, gaze toward Sand Island lighthouse from atop the southeast bastion, or browse the museum. Fort Gaines numbers among the best-preserved 19th-century brick seacoast fortifications in the East.
Just 1/2-mile west of Fort Gaines is the Audubon Bird Sanctuary. There, you may see ospreys feeding fish to their nestlings, bluebirds catching insects in flight, or migrating monarch butterflies. The 164-acre sanctuary is called a "globally important bird area" by the American Bird Conservancy.
For a quick sampling of the sanctuary's flora and fauna, you can hike the 1/2-mile interpretive loop trail that visits a freshwater lake, sand dunes, Gulf beach, and swamp. The wharf overlooking the lake is a favorite site for observing egrets, herons, blue-winged teals, pond turtles, and pig frogs. Longer trails invite further exploration.
If you like, return north toward downtown Mobile by way of County Road 59 (Bellingrath Road) and complete your day outdoors with a visit to Bellingrath Gardens and Home. This beautiful historic site on 65 acres offers a variety of tour packages, so you can choose what you want to see, depending on your schedule and preferences. Check the Bellingrath Web site, www.bellingrath.org, to learn about events that may be taking place at the time of your visit.
Downtown Mobile
Mobile is the United States' 10th largest port. It was founded by French settlers in 1702 and was not a part of the United States until 1813. Over the years it was claimed by France, Great Britain, and Spain. "LoDa," short for Mobile's Lower Dauphin Street Business and Entertainment District, is now listed on the National Register of Historic Places. It's a must-see.
Start at the Fort Conde Museum (150 S. Royal St.), which was scheduled to reopen in October 2011 after renovations. The gift shop at the re-created 1723 fort houses Mobile's official visitors center. There, you can pick up a copy of the "LoDa Shopping & Dining Guide." In addition to a list of nearly 50 free things to do in historic downtown Mobile, the directory contains the route map of Mobile's free trolley. You'll also want to pick up the "Dauphin Street Historic District Walking Tour" brochure, which features 52 points of interest. Admission is free to the Fort Conde Museum.
At the Museum of Mobile, a short walk from the fort, you can view a 14th-century dugout canoe and other artifacts from native peoples, relive the voyages of slaves who arrived in Mobile, and hear tales of Civil War soldiers. The museum occupies the old city hall/Southern Market building (circa 1867), a National Historic Landmark. Permanent exhibits span 300 years of regional history, and changing exhibits focus on various individuals and events that shaped the area.
The museum's permanent collection contains more than 85,000 artifacts, which range in size from a button to a fire truck. The collection includes items gathered by 19th-century citizens in their travels around the world.
The Aaron Friedman Dollhouse display numbers among the museum's crowd-pleasing contemporary collections. Crafted by Friedman for family members, the five elaborately furnished miniature houses are replicas of local homes.
The Museum of Mobile is open Tuesday through Sunday, and a small admission fee is charged.
Several blocks away, at the Mobile Police Museum (320 Dauphin St.), you can view law enforcement memorabilia such as weapons, badges, and police uniforms.
Nearby, "Miss Ruby" T. Moore's restaurant, Spot of Tea (310 Dauphin St.), serves up memorable meals in a 173-year-old building. One brunch delight is "Eggs Cathedral," an English muffin piled high with a crab cake and eggs, and doused with seafood sauce. It is named after Cathedral-Basilica of the Immaculate Conception (circa 1834), the oldest Christian church in Alabama. The historic cathedral sits across the street overlooking Cathedral Square, a tree-shaded park whose design reflects the basilica's floor plan.
A stroll along historic Dauphin Street isn't complete without a stop at A&M Peanut Shop (209 Dauphin St.), where peanuts in the shell are roasted hourly in a 90-year-old roaster.
Glitz and glitter characterize the Mobile Carnival Museum (355 Government St.), another must-see attraction. As visitors discover from an introductory film, in 1704 Mobile held the first carnival celebration in the United States, thus earning bragging rights as "the birthplace of Mardi Gras."
Whether you explore the two-story museum on your own or take a guided tour, you'll marvel at the displays of extravagant gowns and trains once worn by Mardi Gras royalty. "The King and Queen design their own trains," said tour guide Charlie Groves. "The hand-sewn trains weigh up to 85 pounds and cost up to $70,000."
The museum is open Monday, Wednesday, Friday, and Saturday, and a small admission fee is charged.
Oceangoing History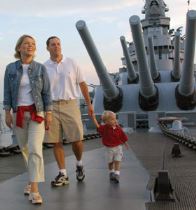 Before heading to the east shore of Mobile Bay, be sure to stop at Battleship Memorial Park (2703 Battleship Parkway). On self-guided tours of the 175-acre military attraction you can view the cockpits of some two dozen aircraft, check out tanks from years gone by, inspect a Vietnam patrol boat, and take the controls of a lifelike flight simulator.
For most visitors, however, the highlight is touring the USS Alabama, a decorated World War II battleship. Designated a National Historic Landmark, this vessel stretches 680 feet long and stands 20 stories tall. Called "Mighty A" during its 37 months of active duty in World War II, the enormous ship carried a 2,500-man crew. It boasted 129 guns.
Just as fascinating is the submarine USS Drum, also open to the public. It is the oldest American sub on display, and during its World War II career it was awarded 12 battle stars and sunk 15 ships.
Ample parking for RVs ($2 fee) is available at the adjacent lot, but overnight parking is not permitted. Admission to the park is $12 for visitors age 12 and up.
Back To Nature
On the east side of Mobile Bay, just north of Interstate 10, a relatively new attraction called 5 Rivers "" Alabama's Delta Resource Center beckons families who want to explore the biologically diverse Mobile-Tensaw Delta. The 80-acre nature complex is the gateway to the delta, a 250,000-acre wetland playground designated a National Natural Landmark by the National Park Service. Besides the more than 300 bird species, 126 fish species, and 500 plant species found there, the delta is the exclusive home of Alabama's state reptile, the endangered Alabama red-bellied turtle.
Begin at the Shellbank Visitors Center, where movies preview this free facility's recreational opportunities. A stroll across an observation deck brings you to a museum filled with artifacts and displays depicting the delta's rich cultural, historical, and ecological heritage. Picnic facilities, nature trails, and a gift shop occupy the site, too.
For up-close explorations, you can rent a canoe or kayak or launch your own. Canoe, kayak, and pontoon boat tours are offered. Camping platforms are available for rent for canoeists retracing naturalist/explorer William Bartram's 1702 route. |
Another nature attraction on Mobile Bay's east side is Alligator Alley, which all started as a place to relocate 200 or more alligators deemed "nuisance animals." On guided tours you can hold baby alligators or follow an elevated boardwalk through the marsh to observe 13-foot-long "Captain Crunch," world record holder for the strongest bite. The most dramatic moments occur during three daily alligator feedings. You can safely photograph the action from bleachers or an observation platform.
Many more sights await in the Mobile Bay area, including Gulf Coast Exploreum Science Center, Mobile Botanical Gardens, and numerous historic mansions "" even a weekend flea market said to be the largest on the Gulf Coast. Contact the area visitors bureau (listed below) to find out about these and other attractions. Whether you plan to stay a week or a month, the area's welcoming hospitality, sun-drenched climate, sparkling waterways, and wide range of activities will have you, too, describing Mobile Bay as the place where fun floats.
Further Info
Mobile Bay Convention & Visitors Bureau
1 S. Water St.
Mobile, AL 36602
(800) 5-MOBILE (566-2453)
(251) 208-2000
www.mobilebay.org
Area Campgrounds
The following is not a complete list. Please check your favorite campground directory or FMCA's RV Marketplace, published in the January and June issues of FMC and online at FMCA.com, for additional listings.
Dauphin Island Campground
109 Bienville Blvd.
Dauphin Island, AL 36528
(251) 861-2742
www.dauphinisland.org
Payne's RV Park
(FMCA commercial member)
7970 Bellingrath Road
Theodore, AL 36582
(251) 653-1034
www.paynesrvpark.com
Shady Acres Campground
2500 Old Military Road
Mobile, AL 36605
(251) 478-0013
www.shadyacresmobile.com