Underinflation can reduce tire life, tread life, and fuel economy, so monitoring your tire pressure by any means is like putting money in the bank.
By Bill Hendrix, F761S
November 2011
Tire Monitoring Systems — a print-ready PDF version of this article with photographs
Loss of inflation pressure is a major factor in tire damage. Heat buildup from low pressure can easily exceed 200 degrees Fahrenheit, leading to devulcanization, ply separation, or a blowout. Sometimes an underinflated tire on the motorhome can be detected because of a possible change in handling characteristics, but this is extremely subjective. A towed vehicle is at greater risk, since you just can't feel any difference from the motorhome driver's seat.
Tire monitors are for the motorhome and towed vehicle feature technological advancements that have extended battery life and improved reliability of the products.
Several years ago our coach picked up a small piece of metal in the right rear tag axle tire. The loss of tire pressure evidently was very slow, generating enough heat to cause a blowout. The separating tire tore off the coach mud flap and ripped out the brake line and air bag hose. Long story short — $2,400 and four days later we were on our way again. All this could have been prevented for a fraction of that amount with a tire monitoring device.
Here is a brief review of eight tire monitor systems that currently are available for motorhomes and towed vehicles.
DORAN 360RV
The Doran 360RV tire pressure monitoring system features a monitor with a backlit display for better visibility. The display can be customized to fit a particular motorhome and towed car setup, and it operates via a 12-volt adapter. Multiple options are provided for mounting the system on the dash or on a sun visor. A "Green Means Good" LED indicator light provides confidence that the system is working as programmed.
The system will respond to multiple alarms with a red warning light and an audible alert. Low- and high-pressure warnings are activated at preset levels. The patent-pending Fast Leak alert is triggered by a sudden drop in pressure, signaling the need for an immediate tire check. A high-temperature alert activates at 248 degrees Fahrenheit.
Each sensor, with etched laser code, indicates a wheel position. After programming at the monitor, the installer simply screws the sensors onto the valve stems. The sensors have lithium-ion batteries that are encapsulated to protect and minimize damage to the electronics. The sensor batteries have an anticipated life of three to five years. When the sensor life is expended, a replacement sensor can be purchased for $29.99.
The price for the six-tire system is $399.99; the 10-tire system costs $599.99. If the #3624 interior booster is needed (for coaches with multiple slides over wheel wells or with metal obstructions such as a propane tank or generator in front of a wheel position), the cost is $99.99. The Doran 360RV comes with a two-year limited warranty.
For additional information, visit www.doranmfg.com or call (866) 816-7233.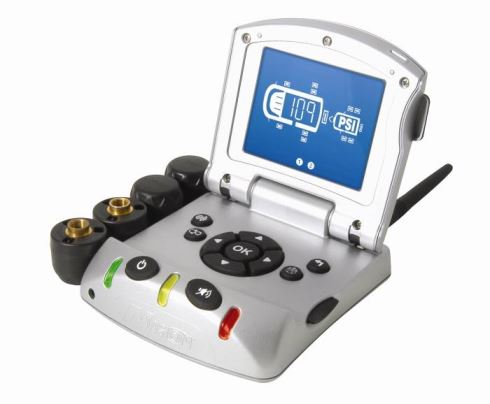 nVISION TOTAL TIRE SAFETY SYSTEM
Hopkins Manufacturing Corporation, the maker of BrakeBuddy, has introduced the nVISION Total Tire Safety System. The nVISION TPMS has four memory position settings. Users can monitor the exact number and configuration of tires associated with the vehicle they are driving and/or towing. The memory positions can be recalled at the touch of a button, eliminating the need to reprogram each time a different vehicle and/or towed vehicle is driven.
The nVISION TPMS provides added safety via high-pressure and high-temperature alerts.
The sensors have an estimated 4.5-year battery life and are non-replaceable. The company's concept is that because of wear and tear from road elements, it is best to simply replace the entire sensor. New sensors, when needed, are available for $99 per pair.
The price for the six-tire system is $399; the 10-tire system costs $599. A signal repeater is recommended for any vehicle greater than 38 feet in length and carries a retail price of $89.99. The nVISION TPMS comes with a one-year warranty.
For more information, visit www.nvisionsafety.com or call (800) 835-0129.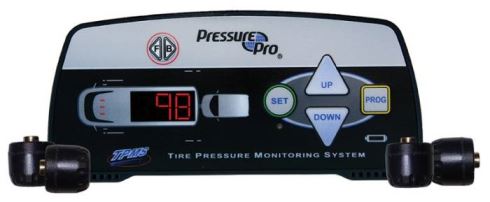 PRESSUREPRO
PressurePro offers a series of monitor models to cover virtually any type of vehicle configuration, up to 64 tires. PressurePro systems require no professional tools or installation and contain two main components: a monitor and sensors. The sensors, which weigh 2/3-ounce each and fit on the valve stems, sample the tires' pressures every seven seconds. Those readings are then transmitted to the monitor every five minutes. If an alert threshold is crossed, the sensors automatically override the five-minute interval and immediately send an alert signal to the monitor.
The monitor — installed in the cockpit by plugging into a 12-volt source — displays readings and alerts initiated by the sensors. If an alert is received, PressurePro monitors will indicate the specific location, display the current pressure, and provide both audible and visual alerts. Two levels of low-pressure alerts — the first at a 12.5 percent drop in pressure and the second, more urgent, alert at a 25 percent drop in pressure — as well as a user-programmable, variable upper pressure alert parameters, help to ensure that tires remain at optimal pressures at all times.
PressurePro units allow users to continuously monitor pressures, whether moving or parked, at any pressure range from 10 to 299 psi. The system comes with a full one-year warranty. PressurePro sensors, which recognize tire pressure at the time of installation as their "baseline," can be reset or reprogrammed, providing users versatility.
The expected battery life for a PressurePro sensor is five years. The sensors are closed systems to help reduce failure points, so battery replacement is not possible. PressurePro offers a complete sensor replacement program, with new sensors that feature the latest technology, at a cost of $35 each.
The price for a six-tire system is $505; the 10-tire system costs $705.
For more information, visit www.advantagepressurepro.com or call (800) 959-3505.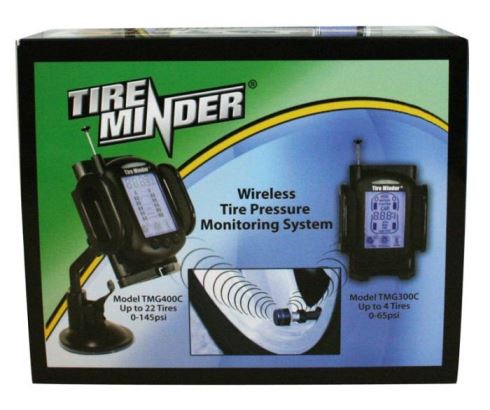 TIREMINDER
The TireMinder TPMS from Minder Research Inc. allows RVers to monitor each tire's pressure and temperature (up to 22 tires operating between 0 and 145 psi), warning the user of critical air loss and overheating. The system offers both visual and audible alarms. The TireMinder transmitters screw directly onto the existing valve stems and continuously monitor tire pressure and temperature in real time (updating every six seconds), whether the vehicle is moving or stationary.
The monitor continuously searches for alert warnings, which if issued by a transmitter will be received within six seconds. Most critical are a 3 psi loss in less than two minutes (blowout) and at 165 degrees Fahrenheit (overheating). Company literature indicates that TireMinder's exclusive software has eliminated "false" alerts. Several levels of alerts exist and vary in style and intensity depending on the severity of the malfunction. The user may scroll through all positions at any time to see the real-time pressure and temperature of each tire.
TireMinder transmitters are compact and lightweight (0.3 ounce) and can be used on rubber, stainless-steel, and brass valve stems. They will not affect tire balance. Transmitter batteries are user-replaceable and last nine months to one year on average. The TireMinder TPMS comes with spare batteries, and additional batteries cost $20 for six via the Minder Research Web site.
Available as well are all-aluminum transmitters specifically made for newer towed vehicles with a factory TPMS. Minder Research is currently offering a seven-year free transmitter battery exchange to TireMinder TPMS owners.
Under ideal conditions, the system functions well up to 60 feet. Given the number of wireless products found in today's modern RVs, the addition of an optional booster ($65) is highly recommended to minimize signal loss due to electronic interference.
The price for the six-tire system is $378; the 10-tire system costs $536. The system comes with a one-year warranty.
For more information, visit www.minderresearch.com or call (772) 463-6522.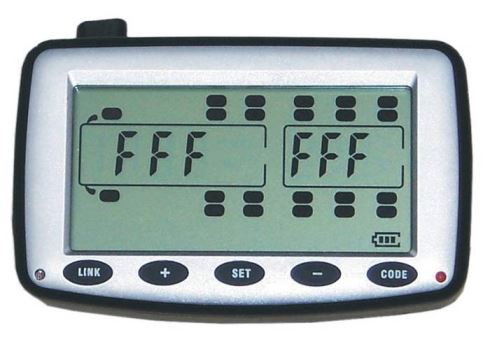 TIRE-PROTECTOR
The Tire-Protector monitors the tire pressure and the tire temperature for up to 22 tires with infinite alert settings. The low-profile LCD-display module can be mounted at a convenient viewing location inside the cockpit. The iconic display shows tire statuses. The low- and high-pressure warning thresholds are user-adjustable, as is the high-temperature warning threshold. The display also features user-programmable tire rotation settings.
The wireless Flow-Through Sensor-Transmitter Module (one per wheel) automatically monitors a vehicle tire and reports pressure and temperature to the receiver (display). With a battery life of two to three years, the module reportedly will work reliably for a very long time. New batteries may be installed without changing the sensor. With this style, the user can fill the tire without removing the sensor. Batteries can be changed by the user and cost approximately $3 each.
Also available is the Cap-Style Sensor-Transmitter, which includes a locking collar for additional security.
The price for the six-tire system is $490; the 10-tire system costs $640 (including free freight). A booster is generally not needed. The system comes with a two-year limited warranty for parts and labor.
For more information, visit tireprotectorusa.com or call (800) 659-6339.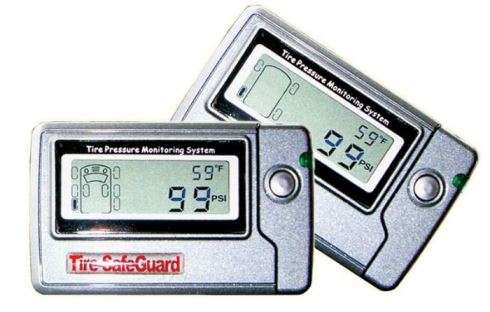 TIRE-SAFEGUARD
HCI Corporation offers a comprehensive line of tire pressure monitoring products for motorhomes under its Tire-SafeGuard brand. Tire-SafeGuard TPMS offers different kinds of tire sensors: internal rim-mounted, internal valve-mounted, external stem-mounted cap sensor, and external flow-through sensor.
The external cap sensor battery is user-replaceable ($2 each) and has an expected life of two-plus years. The patented flow-through type has a battery life of five-plus years (sensor replacement cost is $30 each) and enables tire refilling without sensor removal. A patent-pending dual-tire pressure monitor and equalizer adds wireless tire monitoring to pressure equalization, and is said to be the only one available on the market.
The portable monitor has an LCD screen showing pressure and temperature readings for each tire and is powered by a rechargeable battery; the user can take the monitor along when refilling air and see the current pressure readings from the screen. The Tire-SafeGuard monitor supports user-adjustable settings, including per-axle low-pressure warning levels, sensor programming, and changing vehicle configurations. Tire-SafeGuard monitors tires continuously and upon detection of abnormal tire conditions, such as low or high pressure, high temperature, or slow leaks, alerts the user immediately by an audible warning, a flashing status light, and warning icons on the display.
HCI designed and developed all products in the United States using proprietary technologies, and manufactures the devices at its own factories.
The price for the six-tire system is $460 (on sale until year-end at $299); the 10-tire system costs $660 (on sale for $499). Add $5 per tire if opting for flow-through sensors. Most installations will not require a signal booster, but if one is needed, the cost is $90.
For more information, visit www.tiresafeguard.com or call (818) 400-9976.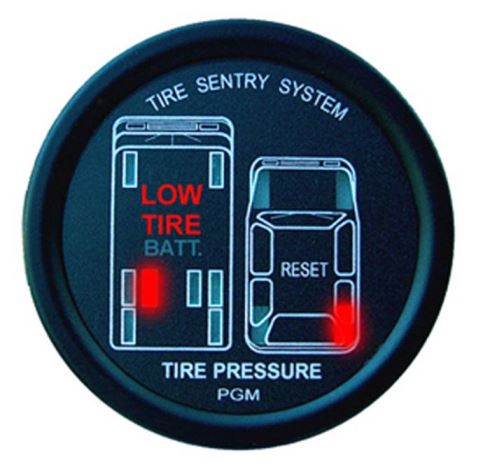 TIRE SENTRY
The Tire Sentry is a wireless remote tire pressure monitoring system built in the United States and incorporating advanced RF microchip technology. The system monitors tire pressure by wireless remote sensing. The instrument display fits standard 2-inch instrument panel cutouts or may be mounted with a standard accessory mounting bracket to display all wheel locations of a motorhome and a towed car.
The Tire Sentry will automatically monitor all of the coach tires by installing a set of sensors (or electronic valve caps) that contain a pressure sensor and a microchip transmitter. The dash-mounted instrument display receives signals from each tire and indicates when a tire is losing air pressure before the tire becomes unsafe to drive on, or is damaged.
The tire sensors continuously monitor the air pressure of each tire (regardless of whether the vehicle is moving or parked) and will warn when tire pressure drops below the normal operating pressure.
RV systems start at $465 for the TMA-06B, which covers six tires; the 10-tire TMA-10B system costs $665. The sensor batteries have an expected life of 2 to 3 years under normal operating conditions and can be replaced by the owner. The cost per battery is $2.50. When also monitoring a towed vehicle, an external antenna is mounted under the RV to help pick up signals from the towed vehicle sensors. This is included with the system at no additional charge. All Tire Sentry RV models come with a three-year warranty.
For more information, visit www.tiresentry.com or call (800) 350-3556.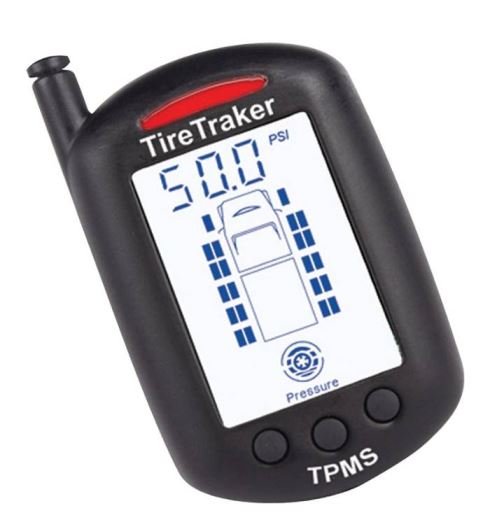 TIRETRAKER
The TireTraker TT-400C is a wireless electronic tire pressure monitoring system designed to monitor and display tire pressures from 0 to 145 psi, and also to monitor tire temperatures from 14 degrees to 185 degrees Fahrenheit. The system can monitor motorhomes and towed vehicles and is capable of keeping track of up to 22 tires.
The system consists of two basic components: tire sensors/transmitters, which screw onto the valve stems of the tires, and a monitor/receiver. Sensors transmit a coded RF signal and alert if pressure drops, pressure increases, or temperature increases. The monitor displays each tire's pressure and temperature per tire position and will display an audible and visual alert if tire pressure or temperature changes.
The TireTraker TT-400C offers sensors with user-replaceable batteries to save on future costs. The anticipated battery life is approximately 12 to 18 months. A replacement battery costs $1.50. Each sensor weighs only 0.3 ounces, so there is no need to rebalance tires. And the state-of-the-art monitor has a small footprint and a rechargeable battery that will hold a charge for up to 30 days.
The price for the six-tire system is $289; the 10-tire system costs $429. A booster generally is needed for motorhomes 40 feet in length and up, especially diesel pushers. Both 12-volt and battery-powered boosters are available at a cost of $49. The TireTraker comes with a three-year limited warranty.
For more information, visit www.tiretraker.com or call (936) 329-2364.