Disposable Moisture Absorber
The DampRid Hi-Capacity Moisture Absorber from W.M. Barr & Company is said to absorb excess moisture from the air to reduce humidity and eliminate musty odors.
The 4-pound absorber has a sealed cover to prevent spills if knocked over and to keep kids and pets from getting into the absorption material. The unscented absorber is said to last up to 60 days when used in a 1,000-square-foot space and up to six months when used in a 250-square-foot room. When the absorber is full, simply dispose of it.
The DampRid Hi-Capacity Moisture Absorber has a manufacturer's suggested retail price of $10.99.
W.M. Barr & Company
P.O. Box 1879
Memphis, TN 38101
(888) 326-7743
www.damprid.com
---

Moisturizing Nose Wipes
Saline Soothers from Little Busy Bodies Inc. are moisturizing nose wipes designed to keep your nose from becoming raw from wiping and blowing during allergy and cold seasons.
The wipes are premoistened with saline, vitamin E, and aloe to soothe dry, irritated skin around the nostrils. The saline cleans and helps dissolve mucus, while the moisturizing aloe and vitamin E will keep your nostrils from becoming chapped. The wipes are hypoallergenic and alcohol-free, and are available in cool menthol, light lavender, and fragrance-free scents.
A 15-count package of Saline Soothers has a manufacturer's suggested retail price of $1.99.
Little Busy Bodies Inc.
7874 S.W. Nimbus
Beaverton, OR 97007
(877) 469-8877
www.salinesoothers.com
---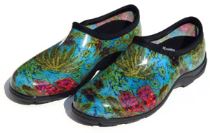 Rain Shoes
According to product literature, Sloggers garden shoes for women from That's A Good Idea Inc. are stylish, waterproof, and comfortable.
These tough, long-wearing shoes are made of resilient resin and feature heavy-duty treads; are lined with polypropenol fabric to wick moisture away, preventing perspiration and odor; have premium insoles for durability and comfort; and feature a slip-on design for convenience. When dirty, simply hose them off. The shoes come in several different designs and are available in women's sizes 6 to 11, with half-size insoles available.
Sloggers garden shoes have a manufacturer's suggested retail price of $34.95.
That's A Good Idea Inc.
231 VZCR 4104
Canton, TX 75103
(800) 336-0088
www.thatsagoodidea.com
---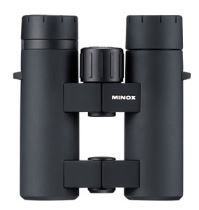 Binoculars
According to product information from Pulsar Systems USA Inc., Expert VM 8×40 binoculars have a sophisticated design and built-in lens filter to satisfy the optical needs of serious outdoorsmen.
The Expert VM features an antireflection coated lens system that has three modes: reflection, which neutralizes glare from snow or water; contrast, which enhances images in low light; and daylight. It is built of glass-reinforced plastic, making it durable and lightweight, and has a texturized surface to provide better grip. The optical system is nitrogen purged and sealed, making the unit fogproof, water-resistant, and dustproof, while the cushion eye cups block out excess light. The front lens caps are hinged to prevent loss.
The Pulsar Expert VM has a manufacturer's suggested retail price of $299.99.
Sellmark Corporation
North American Pulsar Distributor
2201 Heritage Parkway
Mansfield, TX 76063
(817) 225-0310
www.pulsaramericas.com
---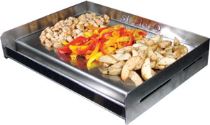 Griddle
The Griddle-Q from Little Griddle Innovations is a heavy-duty grill-top griddle that makes it possible to cook virtually anything on a grill.
The griddle, which is made of 12-gauge, 430 stainless steel, features high sidewalls to keep the food from sliding off the griddle, a full grease trough, and vented cross bracing to prevent bending and twisting. The griddle is available in three sizes to fit any grill and comes with a lifetime warranty.
The Griddle-Q has manufacturer's suggested retail prices that range from $169.99 to $209.99, depending on size. A lighter-weight version for $69.99 is also available, as are griddles for kettle-style grills and large party grills.
Little Griddle Innovations
40735 Brentwood Drive
Sterling Heights, MI 48310
(586) 268-2100
www.littlegriddle.com
---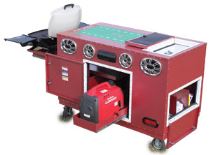 Tailgate Equipment
The PortaParty Griller from JJ Kar Products LLC is an all-in-one tailgating unit that transports to your next event on a Class III hitch receiver.
The PortaParty includes a Weber Q 200 propane grill; a Generac IX 2000 generator; a Pioneer 200-watt stereo with removable faceplate and Polk Audio marine-grade speakers; a 52-quart built-in cooler; and a six-plug surge protector for plugging in electrical devices. The 370-pound unit is constructed of powder-coated aluminum and also features a storage compartment for supplies, a large tabletop area, 6-inch caster wheels, and a PortaSeries lift to make attaching to the receiver easier. It also includes working taillights, brake lights, and turn signals, and a seven-blade electrical connection.
The PortaParty is available in custom colors and has a manufacturer's suggested retail price of $4,950.
JJ Kar Products LLC
P.O. Box 33
New Bremen, OH 45869
(419) 956-0619
www.jjkar.com
---

Hitch Receiver Lock
BOLT Receiver Locks for Class I through Class V hitch receivers feature Strattec Security Corporation's one-key lock technology, making it possible to program the lock to your towed vehicle's ignition key.
The locks are available in 1/2-inch (Class I and II) and 5/8-inch (Class III, IV, and V) sizes. They are plated with a cast zinc cylinder and case for corrosion resistance and feature a durable stainless-steel pin, a rugged cover jacket and automotive-grade lock shutter to keep out moisture and debris, and a six-plate tumbler sidebar that prevents picking and bumping. The locks work with most General Motors, Ford, and Chrysler/Jeep vehicles, as well as several other makes.
BOLT Receiver Locks have a manufacturer's suggested retail price of $38.99.
Strattec Security Corporation
3333 W. Good Hope Road
Milwaukee, WI 53209
(877) 251-8798
www.boltlock.com
---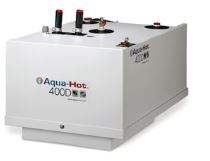 Hydronic Heating Unit
Aqua-Hot Heating Systems Inc. has added the 400 series hydronic heating system for use in new motorhomes or to be retrofitted into existing RVs.
The 400 mounts in a motorhome's storage bay and produces quiet, even heat by circulating water through eight heat exchangers, with five separate thermostatic heating zones and two circulation loops to ensure consistent warmth throughout the interior. It also provides 120-degree Fahrenheit water on demand without the need for an external storage tank. The 400 has a flow rate of 1.25 gallons per minute and can generate up to 75 gallons of hot water per hour. The unit also is energy-efficient, using 0.1 gallon of diesel fuel per hour when driving or parked. The compact 400 heater measures 12 inches high, 18.5 inches wide, and 30 inches long, and weighs 140 pounds empty.
The 400 series hydronic heating system has a manufacturer's suggested retail price of $7,500.
Aqua-Hot Heating Systems Inc.
15549 E. Highway 52
Fort Lupton, CO 80621
(800) 685-4298
(303) 659-8221
www.aqua-hot.com
---

Filtered Water Bottle
The Gottawatta filtered water bottle is said to provide a convenient and affordable way to enjoy clean drinking water from virtually any water source.
The 22-ounce bottle includes a unique filter that removes bacteria and chemicals from water, but does not remove fluoride, which is beneficial to dental health. The bottle is made of BPA-free Lexan, and features a folding antimicrobial straw; a locking lid with a finger hook; and a carabiner to strap the bottle to a bag or backpack. The filter reportedly will last through 500 tap water uses or 160 uses with untreated water.
The Gottawatta bottle has a manufacturer's suggested retail price of $19.99 and can be ordered online or by phone. Replacement filters are available for $14.99.
Gottawatta
33501 Trinity Wood Drive
Loxley, AL 36551
(866) 761-7441
www.gottawatta.com
{loadpositionEndBlurbProducts}