A beautiful region in southern British Columbia, Canada, is loaded with opportunities to sample world-class beverages.
By Carol Ann Quibell
April 2012
Crossing the international border between tiny Oroville, Washington, and British Columbia, Canada, via U.S. 97 brings you into one of the most exciting wine-producing areas in all of Canada. The semi-desert Okanagan (pronounced oak-a-NOG-in) Valley is well known for its abundant vineyards, world-renowned wineries, and fruit-laden orchards, as well as beautiful, sparkling lakes and dazzling scenery.
The wait to cross the border at Oroville is rarely very long. You'll enter Osoyoos ("oh-SUE-use"), which should be considered the first stop on your journey. The Tourist Information Centre, located at the first traffic light, is the best place to gather material on things to see and do, not only in Osoyoos but for the whole Okanagan region.
A few miles to the east is the Nk'Mip Resort ("IN-ka-meep"), where you can visit the Cultural Centre to experience life as it was for area natives; tour Nk'Mip Cellars, the first North American aboriginal-owned-and-operated winery; and even stay at Nk'Mip RV Park, situated on the banks of Osoyoos Lake. The resort also offers a one-of-a-kind desert links-style golf course.
Whether you take two hours, two days, or two weeks to meander your way north over the 80 miles between the towns of Osoyoos and Kelowna ("co-LOAN-a"), there will be many opportunities to explore and experience everything that this enchanting region has to offer. Relatively hot, dry summers and low rainfall make the Okanagan region perfect for growing a large variety of grapes for producing world-class award-winning wines. Reds, whites, bubbly brut wines, ice wines, and more grace the tasting tables you will visit.
The Okanagan Valley has more than 100 wineries, so you will have numerous opportunities to swirl, savor, and sample. With the help of a guide or guidebook, you will be on your way. Wine tour companies can take you behind the scenes, where you will visit some of the region's best wineries and sample some of the most remarkable wines in the world. For a very special experience, a helicopter touring service can treat you to breathtaking aerial views of thousands of acres of outstanding vineyards and actually take you to a few of them for tastings.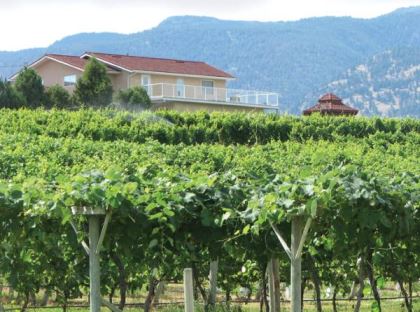 As you leave Osoyoos and travel north along Highway 97, also called the Okanagan Highway, look to your far right. You will see Burrowing Owl Estate Winery, which offers wine tasting, and has a restaurant that serves lunch and dinner.
The next 18 miles are lined with rolling hills covered with vineyards, fruit-producing orchards, and quaint little roadside stands where you can purchase seasonal local produce and enjoy seeing the sites along the way.
Oliver, called Canada's Wine Capital, is your next stop. More than 40 wineries are within 10 minutes of the center of town. All are easily accessible by car. The majority are open daily for wine sampling, fine dining, and a chance for visitors to gain an educational experience while learning more about the local wine industry.
This small town, population 5,000, offers a mixture of inviting parks, golf courses, and paths for cycling or walking. A charming museum in what once was a provincial police station; a cultural center for the whole family; and an arts center all await visitors in this sun-filled desert community.
A 10-minute drive north brings you to Okanagan Falls, situated at the southern tip of Skaha Lake and considered by many to be the beginning of the heart of wine country. The many small wineries that dot the hills around the area are charming and their vintages exceptional, providing a fantastic reason for visitors to spend a day touring the back roads looking for winery signs and sampling fine beverages.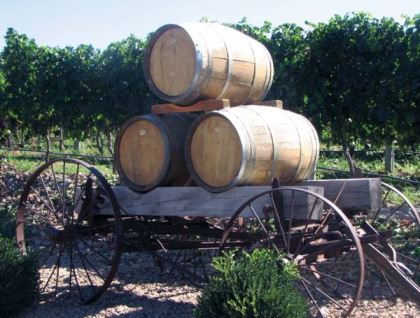 Penticton ("pen-TIC-ton"), situated between Skaha Lake to the south and Okanagan Lake to the north, has sunny beaches that are considered the place to be on a hot summer's day. (In summer, average highs here are in the low 80s.) The beautiful beach is actually along the edge of the Okanagan River, and taking a ride on an inner tube along the river channel is a popular summer activity. Rock climbing, kayaking, or bicycling or walking the Kettle Valley Railway Trail also are enjoyable pursuits.
The Penticton and Wine Country Visitor Centre in Penticton is filled with local wines and information about area wineries. The knowledgeable staff will help you to create a plan for exploring on your own. And if you really want to experience what the locals enjoy, attend the Farmers Market on Saturday morning, where vendors line Main Street selling vegetables, fruit, and herbs as well as scrumptious baked goods.
From Penticton, take Naramata Road, a meandering country drive (20-mile round trip) that leads to Naramata, a little village known for its general store, art studios, the Naramata Centre, and more than 24 boutique wineries. Use a towed car for this trip, because you will want to stop and visit, and very little roadside parking is available.
North of there via Highway 97 alongside Okanagan Lake are Summerland, Peachland, and West Kelowna. Area attractions include an antique car museum, golf courses, and rides on the historic Kettle Valley Steam Railway. The latter, near Summerland, runs from mid-May through early October and uses original track. The Nixdorf Classic Car Museum, also in Summerland, displays restored vehicles — the majority from the 1950s and '60s — that make enthusiasts drool. It is open from May through mid-October.
Your final destination after crossing the bridge that spans Okanagan Lake is the largest and most vibrant city in British Columbia's Okanagan Valley, Kelowna. This is a perfect location to stay in a comfortable RV park, check out the golf courses, or just saunter along the walkway by the lake.
Not to be missed on this tour are the large number of small wineries within the city and throughout the surrounding area. Many have large parking areas that easily can accommodate a tour bus, so a motorhome is no problem.
You can take it with you. After you've visited this region, you likely will want to take some of your favorite wines home with you. If you are a U.S. resident, verify with U.S. Customs how much you are allowed to bring back into the United States. A duty fee will be charged, and, generally, you need to make sure you're not mistaken for a retailer. But many U.S. citizens do return with delicious reminders of their journey to Okanagan, and plans for a return trip.
Travel Info
Tourism British Columbia
(800) 435-5622
www.hellobc.com
Canada Border Services Agency
(800) 461-9999
www.cbsa-asfc.gc.ca
U.S. Customs and Border Protection
(877) 227-5511
www.cbp.gov
Local wineries, maps, events:
www.kelownainfo.com
www.okanaganwines.ca
www.thewinefestivals.com
Area Campgrounds
Following ise only a sampling of the many campgrounds available in this area. RV parks are popular in summer, so be sure to make reservations. Check the RV Marketplace listings online at FMCA.com and in the June and January issues of FMC for additional area listings.
Nk'Mip RV Park
8000 45th St.
Osoyoos, BC
Canada V0H 1V6
(250) 495-7279
www.campingosoyoos.com
Desert Gem RV Resort
34037 Highway 97
Oliver, BC
Canada, V0H 1T0
(888) 925-9966
(250) 498-5544
www.desertgemrv.com
Oxbow RV Resort
198 Skaha Place
Penticton, BC
Canada V2A 7L1
(250) 770-8147
www.oxbowrvresort.com
Wright's Beach Camp RV Park
4200 Skaha Lake Road
Penticton, BC
Canada V2A 6J7
(250) 492-7120
www.wrightsbeachcamp.com
Apple Valley Orchard & RV Park
1980 Union Road
Kelowna, BC
Canada V1V 2E8
(250) 763-9840
www.applevalleyrv.com
Okanagan Wineries By Town: A Sampling
The following are just a few of the noted wineries in the Okanagan region. Contact the tourism sources listed with this article for more information.
Nk'Mip Cellars, Osoyoos
(250) 495-2985
www.nkmipcellars.com
This estate's wine has received more than 40 national and international awards. Its location affords some of the most spectacular views in the Okanagan.
Burrowing Owl Estate Winery, Oliver
(877) 498-0620
www.bovwine.ca
Check out premium world-renowned wines, guided and self-guided tours, and beautiful views overlooking the valley.
Gehringer Brothers Estate Winery, Oliver
(800) 784-6304
(250) 498-3537
www.gehringerwines.ca
Best known for Rieslings, this winery also offers dry, medium, and private label wines as well as ice wines.
Hester Creek Estate Winery, Oliver
(866) 498-4435
(250) 498-4435
www.hestercreek.com
A wide assortment of different kinds of wines is offered here. This Mediterranean-like estate also offers cooking classes and a patio overlooking 95 acres of vineyards.
Stoneboat Vineyards, Oliver
(888) 598-2226
(250) 498-2226
www.stoneboatvineyards.com
This wine producer specializes in small lots of premium Pinot varietals.
See Ya Later Ranch, Okanagan Falls
(250) 497-8267
www.sylranch.com
Formerly a working ranch, this winery now produces premium Chardonnay, Riesling, Pinot Noir, Semillon, ice wine, and Brut wines, among others.
Stonehill Estate Winery, Penticton
(250) 770-1733
This winery is known for its Pinot Noir, Cabernet Sauvignon, Riesling, and for producing British Columbia's first Zweigelt, a red wine grape variety.
Quails' Gate Okanagan Valley Winery, Kelowna
(800) 420-9463
(250) 769-4451
www.quailsgate.com
This family-owned-and-operated winery is said to offer one of the best tours in the Okanagan and is famed for its friendly, welcoming staff.
Volcanic Hills Estate Winery, Kelowna
(778) 755-5550
www.volcanichillswinery.com
This relatively new winery has a huge wine shop and a large patio where you can taste reds, whites, and ice wine.
Mission Hill Family Estate Winery, West Kelowna
(250) 768-7611
www.missionhillwinery.com
This well-respected winery offers outstanding events, culinary workshops, and seminars. All who appreciate wine are welcome to attend International Sommelier Guild courses.