A "Super C" that's packed with power and upscale features.
By Mark Quasius, F333630
Decemer 2012
Jayco's Seneca was a popular motorhome for 6 years until General Motors stopped producing the Kodiak chassis and the 8.1-liter Vortec gasoline engine in 2010, effectively ending Seneca production for the 2011 model year. During that hiatus, Jayco redesigned the motorhome and debuted the 2012 Seneca, built on the Freightliner M2 Business Class chassis. That has continued into the 2013 model year.
The Seneca, a "Super C," is available in four floor plans, including a 37RB rear bath model; a 36FK model complete with fireplace and large midcoach entertainment center; and a 37TS model with opposing front slideouts and third in the rear. For this review, Jayco supplied us with the very popular bunk bed floor plan, model 37FS, which can sleep up to eight people.
Construction
The Freightliner Business Class chassis features front leaf-spring suspension and hydraulic brakes. The 2012 model year and early 2013s came with leaf-spring rear suspension, but a change to a fully automatic air-ride rear suspension was made early in the 2013 model year. The motorhome shown in the photos accompanying this article was one of the last of the leaf-spring models, but I also have driven a newer unit with the rear air-ride suspension. The change in ride quality was remarkable. It rode more like a Type A diesel-pusher motorhome.
The Freightliner chassis uses a 6.7-liter Cummins ISB/XT engine that produces 340 horsepower and 660 pound-feet of torque and includes an exhaust brake. This is mated to an Allison 2500 MH six-speed automatic transmission. The gross vehicle weight rating (GVWR) of this chassis has been greatly increased to 26,000 pounds, while the gross combination weight rating (GCWR) shoots up to 33,000 pounds. The 55-degree wheel cut allows for excellent maneuverability in tight spots.
The fuel-efficient Cummins is fed by a pair of saddle tanks that collectively hold 74 gallons of diesel fuel, one on each side beneath the cab doors. The tanks are not cross-feeding so they need to be filled individually, but they do self-level and act as one common tank. A 6-gallon diesel exhaust fluid (DEF) tank is mounted on the driver's side for ease in filling via DEF pumps located at many major truck stops. DEF is part of the new selective catalytic reduction (SCR) technology developed to comply with stricter emission regulations. The urea-based exhaust fluid and a catalytic converter work together to significantly reduce oxides of nitrogen emissions.
The Seneca's flip-up fiberglass hood opens to the front to allow access to all engine components. A Quadra automatic leveling jack system provides a stable and level platform when the motorhome is parked at an RV site. Polished aluminum rims help set off the Seneca's stunning full-body paint. Our test coach came with the Espresso exterior paint décor and also included Diamond Shield paint protection film.
Exterior
The Freightliner cab features a massive chrome bumper that gives it a real "big rig" look. It's actually a three-piece bumper, so you won't need to replace the entire unit if you happen to make contact with something when parking. The powered chrome mirrors are heated and are augmented by convex mirrors to eliminate blind spots. Rear and automatic side-view cameras are also standard and will display on the entertainment/navigation system by selecting that option on its touch screen.
A single rocker switch operates the Carefree power patio awning. A keyless pad, conveniently located near the entry door, controls the power lock for this door. Deep-tinted, flush-mounted thermal-pane windows give the motorhome a clean look and minimize wind noise. The front and rear fiberglass caps have a unique design with no corner seams to ensure that those common leaks do not occur.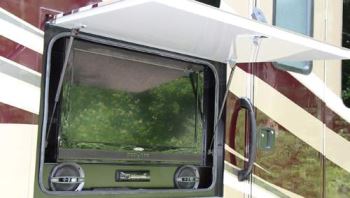 An exterior entertainment center contains a 32-inch HDTV, an AM-FM radio, and a DVD player, tucked away behind a weatherproof, lockable hatch cover in the patio area to allow folks to enjoy the game while relaxing outdoors. Both slideouts are fitted with awning toppers for protection against debris and the elements. Power steps and an illuminated stairwell facilitate access to the living area.
Living Area
Our Seneca was outfitted with Mocha décor, one of three packages available. The wood floor in the galley and the Washington Glazed Maple cabinetry with hidden hinges add a homey yet upscale look to the attractive interior. The laminated wood floors also provide a nice, warm surface as compared with ceramic tile. Looking around the interior, the attention to detail and quality that has been put into the Seneca's construction is obvious.
The slideouts in the 37FS open up the living and bedroom areas to provide more than ample floor space, and a 7-foot ceiling height ensures plenty of headroom. The soft-touch vinyl ceiling contains recessed halogen lighting throughout. The two 15,000-Btu ducted rooftop air conditioners and heat pumps distribute their output through a network of ceiling-mounted adjustable vents.
The large front cap area houses a queen-size bed. A 32-inch LCD TV on the passenger side of that area is mounted on a powered swivel mechanism. A rocker switch allows the TV to swing out effortlessly for whole coach viewing or to remain flat against the wall for bunk area viewing or when not in use. A removable ladder provides easy access to the overhead bunk, and curtains can be used to separate that area from the rest of the motorhome. As an option, the overhead area can instead be devoted to an entertainment center, complete with a 32-inch LCD TV and large storage cabinets on each side.
All seating is made by Flexsteel. The driver's-side sofa bed creates additional sleeping capacity when needed and is located in the main slideout. Additional seating is provided by the swivel chair opposite the couch. The Dream Dinette just aft of the couch features a legless table that makes into a bed by releasing a level to effortlessly lower or raise it as needed. The comfortable booth seating conceals storage space beneath. The Flexsteel furniture features attractive Ultraleather upholstery. Seat belts are provided at all locations, including the booth dinette.
The galley area is well-appointed. An LG brand solid-surface countertop features a hinged cover for the three-burner cooktop and matching panels that fit on the dual-basin composite sink next to it. A 30-inch microwave-convection oven with an exhaust fan that is vented to the outside hangs directly above the cooktop. A 12-cubic-foot Norcold four-door refrigerator with ice maker flanks the galley work area.
The street-side bathroom is equipped with a Thetford porcelain toilet with foot flush, and the shower is fitted with a circular enclosure with sliding frosted-glass doors to prevent water drips on the floor. An overhead skylight provides warm, ambient lighting and additional height in the shower stall. The bathroom vanity features a thermofoil top and a sink paired with an overhead medicine cabinet.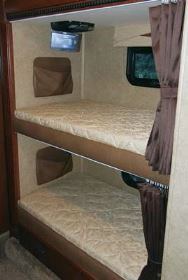 The bunk bed area is what separates this motorhome from the rest. A pair of stacked bunk beds offers a place that's bound to be a big hit with young RVers. Each sleeping area has individual lighting, windows, and privacy curtains. An optional entertainment center is mounted in the ceiling above each bunk. Each flip-down display has an integral DVD player so that the occupant can view his or her own movie. External jacks for game machines and headphones are provided, as is a storage pouch for any game machines or auxiliary equipment when not in use. A cavernous drawer fitted with ball-bearing slides is located beneath the bunk beds and offers plenty of storage space for bedding.
The rear bedroom is equipped with a king-size bed with pillow-top mattress on the street side. A large, mirrored wardrobe complemented by a number of sizable drawers is located in the bedroom slideout at the foot of the bed. A 22-inch LCD TV is also placed there, mounted on hinges, with a deep storage area behind it. Also in the bedroom area is a full-height cabinet. This particular unit had a set of drawers in the lower half and open storage in the top half; however, if desired, an optional washer-dryer combo can be placed here instead, or a stackable washer-dryer pair can also be ordered. The large window in the rear cap serves as an emergency exit if the need should arise.
Cockpit
The cockpit area is basic Freightliner Business Class layout. The switches that operate the cruise control are found on the dash. This was a bit inconvenient, in my opinion, and I would have preferred steering-column mounting for easier access. The Allison transmission's shift lever is dash-mounted to the right of the steering column and uses a T-grip control. The center dash area contains an entertainment and navigation system that features a touch screen to control the GPS functions, radio, DVD player, and rearview camera. Immediately beneath this is the control panel for the Quadra leveling jacks.
A side cabinet above the recliner contains various controls used for coach accessories. An Onan EC-30 automatic generator-start module is located here, along with a control panel for the Xantrex 1,800-watt true sine wave inverter, which supplies power for the microwave oven and the entertainment systems in the motorhome. This area also houses the holding tank monitoring panel and the slideout operation switch.
A six-way power seat provides comfortable seating for the driver. Power windows are also standard.
Basement Area And Utilities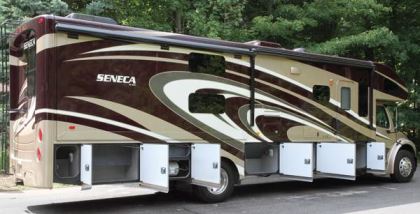 The basement storage space on the Seneca is nothing less than astounding. The side-hinged compartment doors conceal spacious compartments made of leakproof Roto Cast composite material. If you are one of those RVers who never has enough room to store your "stuff," you'll be very pleased with the Seneca. One compartment features an upper pass-through section that connected to the bay on the far side to allow storage of long items. Excellent compartment height and wide-swinging doors make it easy to load or unload cargo.
The bank of four house batteries, located in a forward driver-side compartment, is mounted on a slide-out tray for ease in battery maintenance. The rearmost driver's-side compartment contained the optional 8,000-watt Onan Quiet Diesel generator (a 6,000-watt unit comes standard), and a power cord reel made quick work of rewinding the 50-amp power cord. A 10-gallon propane-electric water heater is located at the driver-side rear of the coach, while the 40,000-Btu propane furnace is installed on the passenger side. A 56-pound chassis-mounted LP-gas tank provides fuel for the water heater, furnace, and cooktop.
The plumbing service bay is very spacious, offering plenty of room to store sewer hoses and fresh water hoses. A whole-house water filter feeds the coach's fresh water system, and a set of valves offers easy access to operations such as filling the 71.5-gallon fresh water tank or bypassing the water heater during winterizing. A paper towel holder, an outside handheld shower attachment, a black-water-tank flush attachment, and dump valves for the 52-gallon black water and 41-gallon gray water tanks finish off that area.
Driving The Seneca
Driving the Seneca imparted more of a big rig feeling than in a typical Type C motorhome. The fiberglass hood, which is aerodynamically sculpted, tapers down at the front, making it easy to judge distances. Likewise, the dropped fenders and curved bumper make it easy to know just where the corners of the vehicle are when maneuvering in tight spaces. The 340-horsepower Cummins diesel engine brought the motorhome up to speed rapidly, and the crisp handling of this chassis made the Seneca feel quite sporty for an RV.
The hydraulic brakes were adequate to bring this 21,000-pound vehicle to a stop in short order, although it does take a bit more pedal pressure than the air brakes I am used to on Type A diesel coaches. This is a front-engine diesel chassis, so you won't get the super quiet sound of a rear-engine diesel pusher, but I didn't find the noise to be objectionable at highway speeds.
The Seneca really does fill a sweet spot between typical Type C motorhomes and their ordinarily more expensive Type A diesel cousins. It is a great choice, from its solid-surface countertops to its laminated wood floor and hardwood cabinetry with screwed-stile construction, and may even exceed expectations.
Type A motorhomes typically aren't designed to sleep very many people. Conversely, the Seneca 37FS can sleep eight, so large families may find this particular floor plan desirable. For a couple who travels alone, the rear-bath 37RB floorplan is another great choice.
With the torque and power of the Cummins diesel, combined with a 10,000-pound-rated trailer hitch, you likely won't have any trouble hauling everything you want. But perhaps the most noticeable feature of the Seneca is its huge amount of storage space. The interior of the coach has deep cabinets in many locations. The extra-large basement storage bays probably will hold more cargo than you'll ever need. With a generous cargo carrying capacity in excess of 4,000 pounds, you can feel free to start packing.
Jayco has outfitted the Seneca with most items as standard equipment. In fact, our well-appointed test unit had only two options: a larger (8,000-watt) generator and the DVD players in the bunk beds. The only other available options that were not selected were a choice of combo or stackable washer-dyers and a front entertainment center to replace the overhead bunk. This method benefits the resale value as well, because RV dealers tend to look at base price without options when determining a trade-in value. Thus, the Seneca should fare well when it's time to trade up.
According to company officials, Jayco is the only manufacturer to offer a 2-year bumper-to-bumper warranty, which also adds to its value. With all these features packed into an attractive motorhome, the Seneca will be a tough act to beat.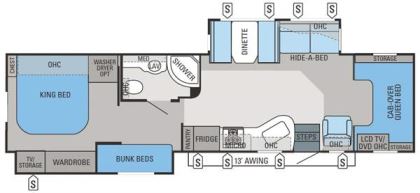 SPECIFICATIONS
MANUFACTURER
Jayco Inc., 903 S. Main St., Middlebury, IN 46540; (574) 825-5861; www.jayco.com
MODEL
2013 Jayco Seneca
FLOOR PLAN
37FS
SLIDEOUTS
(2)
CHASSIS
Freightliner M2 Business Class, front-engine diesel
ENGINE
Cummins 6.7-liter ISB/XT with exhaust brake; 340 horsepower @ 2,800 rpm; 660 lb.-ft. torque @ 1,600 rpm
TRANSMISSION
Allison 2500 MH six-speed automatic
AXLE RATIO
5.13 to 1
TIRES
Michelin XZE2 275/80R22.5, 14-ply, load range G
WHEELBASE
275 inches
BRAKES
hydraulic disc, front and rear
SUSPENSION
front — leaf springs;
rear — fully automatic air ride
SHOCK ABSORBERS
Sachs
STEERING
power
ALTERNATOR
12-volt, 160-amp 28SI
BATTERIES
chassis — (2);
coach — (4) on slide-out tray
INVERTER
Xantrex 1,800-watt true sine wave
ELECTRICAL SERVICE
50 amps; power cord reel
AUXILIARY GENERATOR
Onan 8,000-watt Quiet Diesel, optional (6,000-watt, standard)
EXTERIOR LENGTH
39 feet 1 inch
EXTERIOR WIDTH
102 inches
EXTERIOR HEIGHT
12 feet 11 inches with roof A/C
INTERIOR HEIGHT
7 feet
GROSS COMBINATION WEIGHT RATING (GCWR)
33,000 pounds
GROSS VEHICLE WEIGHT RATING (GVWR)
26,000 pounds
GROSS AXLE WEIGHT RATING (GAWR)
front — 8,500 pounds;
rear — 17,500 pounds
AS-TESTED WEIGHT
(weighed with full fuel tank and driver)
front axle — 8,180 pounds;
rear axle — 12,980 pounds;
total — 21,160 pounds
OCCUPANT AND CARGO CARRYING CAPACITY (OCCC)
4,639 pounds
FRAME CONSTRUCTION
Freightliner Business Class
INSULATION
R24
FRESH WATER CAPACITY
71.5 gallons
HOLDING TANK CAPACITIES
gray water — 41 gallons;
black water — 52 gallons
FUEL CAPACITY
74 gallons (30- and 44-gallon saddle tanks) plus 6-gallon DEF tank
FUEL REQUIREMENTS
diesel
PROPANE CAPACITY
56 pounds
WATER HEATER
10-gallon gas/electric DSI
WATER SYSTEM
demand
HEATING SYSTEM
40,000-Btu LP-gas furnace with auto ignition
AIR-CONDITIONING SYSTEM
(2) 15,000-Btu ducted air conditioners with heat pumps
REFRIGERATOR
12-cubic-foot two-way Norcold with ice maker
TOILET
Thetford porcelain with foot flush
WARRANTY
coach — 2-years/24,000 miles, bumper-to-bumper;
chassis — 2 years/unlimited miles
BASE SUGGESTED RETAIL PRICE
$216,720
PRICE AS TESTED
$218,779