Dramatic rock formations, made famous by several Hollywood movies, decorate the landscape near the Arizona-Utah border.
By Denise Seith
February 2013
Among members of the Navajo Indian tribe, every rock formation in Navajo Country seems to have a name and to tell a unique story. Some of the most picturesque examples of these buttes, mesas, spires, and arches lie within Monument Valley Navajo Tribal Park in northeastern Arizona. Covering 50 square miles, this park represents only a small portion of the vast 17-million-acre Navajo Nation, but it is one of the most impressive landscapes in the Southwest.
The park is accessible via U.S. 163 and is near the Utah-Arizona border. Its entry is 22 miles from Kayenta, Arizona, and 25 miles from Mexican Hat, Utah. Formations called the Mittens, Camel Butte, Totem Poles, and many others are anchored here by soft orange sand and green scrub, topped off by the bluest sky. The park's 17-mile scenic drive is the best way to see them all, from skinny rock spires to hulking buttes. The views are endless.
The Monument Valley Navajo Tribal Park Visitor Center should be your first stop. Plan to explore exhibits there about the past and present of the Diné, as the Navajo call themselves. A restaurant, rest rooms, a snack bar, and a gift shop filled with assorted creations also are at the visitor center. Next door is The View Hotel, and the park also has a no-hookup campground.
The panorama from the visitor center is spectacular, especially from John Wayne's Point. A sign marks the spot that is said to have been the Duke's favorite place from which to enjoy the beauty and serenity of Monument Valley. It's easy to see why.
After paying the park's entrance fee of $5 per person (children 9 and under are admitted free), you'll receive a driving tour map. The 17-mile unpaved loop road is not open to motorhomes, but it is navigable by most passenger vehicles. The road is dusty and rutted, and its first mile or so is the roughest. After that, the hard-pressed sand levels out. Be aware that this road can be impassable right after a rain.
If you prefer not to drive or just want to hear about the park and landscape straight from a Navajo, consider a guided horseback trip. The biggest benefit of booking a guided tour is gaining access to areas that are off-limits unless you're with a Navajo guide.
The Wildcat Trail lends itself to another form of travel — by foot. This 3.2-mile hike goes along the base of enormous West Mitten Butte. Bring plenty of water and sunscreen. No shade exists along the route.
The scenic driving route includes 11 marked overlooks and rock formations with names such as John Ford's Point, Totem Poles, Artist's Point, North Window, and Three Sisters. Thirteen miles of the 17-mile route is a one-way loop. Make sure you have sufficient fuel, and bring food and water. No services are available along the drive.
The Mittens buttes are named for their obvious shape, but the Navajo story is that they are hands left behind by their ancestors, the ancient Holy People, to signify they will rule again one day. Totem Poles and neighboring Yei Bi Chei rocks are said to be a line of prayer sticks held up by lightning. The view from Artist's Point makes one wish one had the talent to capture the colors and textures on canvas.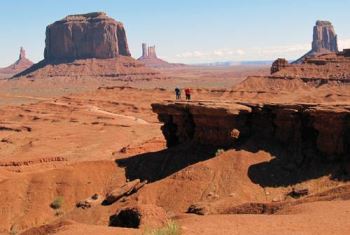 What's really interesting here in the valley is that the views and vistas constantly change while you drive. Go around a bend in the road and the same mesa or sandstone outcropping you saw a moment before now looks a bit different, depending on your angle and the sunlight. The light is usually better in early morning for taking postcard-perfect pictures, but it's nearly impossible to take a bad photo here, no matter the time of day.
Don't be surprised if wild sheep or stray dogs wander into your photos. If you include Navajo people, however, ask permission first. Everyone obliges and a small gratuity is expected. A lone Navajo horseman typically can be seen posing dramatically on the plateau at John Ford's Point.
Even if this is your first trip to Monument Valley, you might feel a sense of déjà vu. That's because much of the surrounding scenery has appeared in famous Westerns starring John Wayne — Stagecoach (1939), She Wore A Yellow Ribbon (1949), The Searchers (1956), and several others.
Hollywood discovered this area thanks to Harry Goulding and his wife "Mike," who named many of the area's landmarks. The couple bought 640 acres of former Paiute land in the early 1920s and began trading with the Navajo out of the back of a horse-drawn wagon. Goulding was known as an honest trader and friend to the Indians, and in the 1930s he built a stone trading post and house on his land. Goulding helped bring money to the tribe by publicizing the natural beauty of Monument Valley to legendary Hollywood film director John Ford. Many Navajo were cast in movie roles.
Goulding's Lodge and Trading Post complex is near the tribal park (you'll notice the sign for it as you enter the park). After your scenic drive, be sure to stop and look around. Harry and Mike's cozy living quarters look much like they did in the early days. See the excellent museum there, which has fun Western movie memorabilia. A cabin used in the John Wayne movie She Wore A Yellow Ribbon still stands behind the trading post. A campground with full hookups, a pool, and a convenience store, plus a hotel, a restaurant, and other modern amenities, are on the grounds — amenities you won't find at the park's primitive Mitten View Campground.
For generations, Navajo residents have herded sheep and goats and raised corn in Monument Valley. A dozen or so families still live in traditional circular hogans with dirt floors in Tse' Bii' Ndzisgaii, or "the valley between the rocks." Although you won't see any ancestral cliff dwellings or petroglyphs on your driving tour, thousand-year-old ancient Anasazi ruins are scattered about. Hiring a registered Navajo guide is the only way to see them. If you've been feeling a little stressed lately, perhaps the quiet beauty of Monument Valley Navajo Tribal Park will help to rebalance your hozho, a state of harmony with all things, which is the foundation of the Diné way of life.
Further Info
Monument Valley Navajo Tribal Park
P.O. Box 360289
Monument Valley, UT 84536
(435) 727-5870
www.navajonationparks.org/htm/monumentvalley.htm
Monument Valley Navajo Tribal Park is located off U.S. 163, 22 miles north of Kayenta, Arizona. The main visitor season is spring through fall, but Monument Valley Navajo Tribal Park Visitor Center is open daily year-round. The primitive (no hookups) Mitten View Campground located inside Monument Valley Navajo Tribal Park also is open year-round on a first come, first served basis.