A slice of early motorhome life.
By Sandra Guenther, L3508
December 2013
Thanks to Chris Guenther, F3508S, for sharing his mother's article.
January 1971 — Only 12 days away from home on our nine-month trip, 10 degrees above zero, my husband, Peter, is lying on his back in the frozen mud under the coach. A plaintive call comes from the rear lounge: "Mom, I don't know what to do."
Neither do I, kid. You have my deepest sympathy, but I've reached the end of my ingenuity at thinking up variations of games and would like to know how we ever wound up in this situation anyway.
————————————————
Oh, yes, it seems to me that after our three-week trip to Germany with the two children, the idea came to us to travel for a longer period of time, perhaps a whole year, in Europe, and we began thinking then about the least expensive way to accomplish this. Naturally, camping would be the only answer, but in what kind of vehicle?
My husband is married to a devout coward, who imagines all sorts of things. He had quite a time reassuring me that the 12-volt lights would not zap him against the opposite wall. My lack of rapport with things mechanical precluded our hauling a trailer, no matter how luxurious, for I would always be expecting it to pass us on the highway, just after the hitch broke. Besides, those same two children who draw me the Mother's Day cards would be confined, right there with us in the towing car, and that would be unbelievably ghastly. In my imagination, slide-in campers are always sliding out as you drive down the highway, and a 5-year-old falls off a bunk and cracks his skull, not to be discovered until the next rest area.
Tents, in any form, were out from the start. They always get cold, and I have this thing about creepy-crawlers, and "things that go bump in the night." Somebody has to be able to put them up, and it always seemed to me a better idea to strike a tent before it struck you, in a high wind, perhaps, or out of sheer spite. No; tents, trailers, and anything we were familiar with were out for us, and we were pretty discouraged with the lean prospects for any long-range trip "en famille."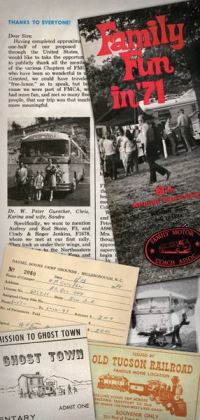 We were still dreaming, however, and it was from various camping magazines that we got the idea of a motorhome as a possible answer to our dreams. But the prices for new units seemed prohibitive to our budget, and after reading specs and floor plans, I'd sadly put the colorful brochures to one side. By September 1969, the collection of information from brochures and magazine ads on motorhomes had grown to monstrous proportions, and I could quote things like "limited slip differentials" and "Btu" with ease. Not that I knew what they were, you understand, but Peter said they were important, so I'd type them in the appropriate spot in the spec form that I had started for easy reference on all motorhome makes.
Then came a break. My dad, Frank Ellis, had known of our interest in getting a motorhome and had answered an ad in The Wall Street Journal about a home conversion of a Ford snub-nose city bus. The very night Dad showed us the pictures of the interior, we called the owner long-distance, with the result that we asked him to hold the bus until we could get down to his home in Maryland from our home in Connecticut.
To see it was to love it. After one quick look, I glanced at Peter and nodded, and he nodded back, with his silly German grin indicating his bemused state of mind at the thought of another engine to get his hands on and learn about.
From that first trip home, when Peter suddenly had to drive 26 feet of bus, plus 18 feet of car, plus 5 feet of hitch, until that first real camping weekend, our anticipation for a new adventure grew.
That first weekend was to be a trial run to see if we really could learn to handle this new toy, and if our family could adapt to this new mode of living, even part-time. One evening was enough to convince me. I was happily up to my elbows in dishwater just at dusk. Peter had been out with the kids for a walk, when suddenly the door burst open, and he called, "Where's some paper? Have you seen a pencil anywhere?"
Before my startled eyes, he grabbed a napkin and started drawing out the constellations of the stars for the two children. I just glowed. At last, no more part-time Daddy.
My euphoria continued as we sat in front of the campfire, a child on each lap, good music playing on the transistor radio hanging on a convenient tree limb. I melted. I silently vowed to do all I could to have frequent repeat performances. I guess Peter felt the same way, for the one who had been too busy mowing lawns, etc. to get away for an hour's drive on a Sunday afternoon in our pre-bus days found that we would have to ration ourselves on our weekends away, or we would soon have a Tobacco Road house set in a sickle-high lawn.
Now that we acquired our bus, we were bona fide motorhomers. We joined the Family Motor Coach Association and naively believed ourselves to be members of a small group. We drove to our first rally in the spring of 1970, stunned to find 96 other buses and motorhomes already parked in the field. Peter and I walked around all weekend with our jaws open, and whenever we'd meet, we'd fall all over each other with "You gotta come look at this," and "Have you seen that one?"
If the rigs were fantastic, the people who drove them, and in some cases had built them, were terrific. We knew that these were the kinds of people we wanted to see more of, and we went to as many rallies as we possibly could.
Going to rallies was only part of the fun we had with "Brunhilde," as we had named her. We used the bus to attend dog shows and to visit friends and relatives. We even went to a wedding in the bus, arriving comfortable and cool with the kids ready to be changed into their "good" clothes, and bathing suits handy for a swim after the reception.
We started looking for the "goose egg" membership plate that identified FMCAers, and while "practicing" full-time living in the bus at a campground that summer, we met Mr. John Perri, a member of FMCA. Naturally, we introduced ourselves and invited his family over to our campsite. We told him about our dream to go to Europe, pick up a used Mercedes bus, convert it for living, and take off for an extended trip on the continent. Mr. Perri had been looking in this country for a Mercedes bus, and when just by chance he found an ad in The Wall Street Journal for a converted Mercedes, he called Peter to go look at it together. The plans subsequently fell through, and we decided to go ourselves in Brunhilde to see this wonder.
It was beautiful. Thirty-five feet of upholstered comfort, all electric conveniences, and enough dials and gadgets to warm the heart of the most dedicated Rube Goldberg. On that long ride back to Connecticut, we listened to the wheels on Brunhilde spinning us back home as our mental wheels spun in unison.
Suddenly, a new possibility had arisen. With a rig like that, we could scrap our European trip and travel around the United States instead. It would be an ideal way to find out where we might like to relocate. We had lived in New England for nearly 10 years now, and the challenge of adapting to a new environment beckoned. Peter had some practice teaching at the university level, and we thought that this was a good opportunity to get out of industry and into a position where we would have the same vacations as the children. On such a trip, we could take our time, talk to the people who lived in different areas, see different towns, and not feel any pressure to decide on a certain house or job, simply because we had no other place to live. The children would benefit, too, from such a trip, we thought, since Kari was 8 and Christopher 5 years old.
Oh, it was easy to figure out why we should buy that lovely coach, and by the next week, two important phone calls were made — one to confirm the purchase of the "Mercedes," and one to put our house on Pleasant Drive up for sale.
To coin a cliché, the die was cast. When we showed up at our first rally in September with "Siegfried," alias "The Jolly Green Giant," we created quite a stir among our friends. John Perri was barely speaking to us, and one wag said, "I know how they bought this — they sold one of their puppies. I'm going into the dog business!" It was at this rally that we learned that we had a 1957 Fitzjohn Roadrunner, not a Mercedes. We didn't even know what we had bought!
It was so exciting to start rally-planning itineraries. I wrote to the recreation departments of various states, and the maps, pamphlets, and brochures started arriving. Sitting on the living room floor, surrounded by all these dazzling possibilities, and the addresses of relatives whom we "had" to see, we wondered if nine months would be enough time to see and do all the things that this country has to offer the traveler.
At least two things helped us in scheduling and planning our trip — a 3×5 card filing system and a scheduling book Peter bought, dividing each day into 15-minute intervals. Yes, 15-minute intervals. Peter is the kind of guy who says in November that we will meet so-and-so in Florida at 1:00 p.m., January 11, and to my annoyance, he makes it, too, with seemingly no effort.
The 3×5 cards were arranged in a filing cabinet in three sections. One section held the cards listing attractions according to the states, gleaned from newspapers, camping magazine ads, and all the information the recreation departments had sent us. The second listed events to see filed according to dates, and the third group of cards held the addresses of friends and relatives.
We were to find the combination of cards and date book extremely helpful throughout the trip. The information from AAA and the World Book Encyclopedia was also handy, for as we entered each new area, we'd pull the suitable volume from the bookcase and have Kari read the historical facts and points of interest to us. Pretty good practice for a third grader!
But I'm getting ahead of myself. There were all the preparations and decisions that go with the closing of a house to make, and anyone who has ever moved knows what that means. The souvenirs of previous trips, the artwork done by a kindergartner, the furniture, and above all, the books — where does it all go? Please, let me draw a curtain over the next few weeks. The memory of trying to keep Christmas while running the obstacle course around mounting piles of boxes and diminishing furniture still pains.
At the last minute, the house was sold, the cars were sold (Oh! My dear '56 T-Bird!), and we finally left Cheshire on January 6, 1971 — 15 minutes late because of a burned-out alternator. With Siegfried loaded to the hilt with the clothing and impedimenta for two adults, two children, and two dogs, we started our nine-month trip of the United States. The delay in escaping the coldest winter New England had known in years was due to that aforesaid alternator. Rather than wait for parts, we decided to make a run for warmer climes, trusting our Kohler generator to charge the batteries and keep us warm until Old Sol could take over. Twelve days later, in a little campground in South Carolina, we got our comeuppance, for Peter spent two days under the coach, repairing the tired generator and replacing the alternator.
Unlike most motorhomes, which use propane for heat, this coach is entirely electric, with no LP gas. It is warmed either by the two water heaters from the main engine or by the zoned thermostatic heaters fore and aft, which run on 110 volts. Each electric heater takes 15 amps to keep it well-fed and happy, and if we use the shore line to plug into a campground's facilities, Peter's theme song is "I'm Forever Blowing Fuses."
————————————————
So there we sat, the kids and I, huddled around the one heater I dared turn on. I gritted my teeth to keep them from chattering and me from growling at anyone who came near. Suddenly, Peter burst in, his face pinched with cold, wearing a triumphant grin, ignoring my barely polite plea of "Shut that door, can't you?" He held aloft a little, insignificant spring. "See that?" he chortled. Of course I saw that, but now was not the time to point out the obvious. I held my tongue and waited for further enlightenment. "That was the problem with the generator!" he crowed.
"Really?" What a typical ninny comment. Heaven help me if we ever get women's lib, I thought, I'll just have to secede, or something. Back out under the coach he went, flat on his back in the frozen mud. Within half an hour, he was back.
"Cross your fingers. I'm going to try her now. I stretched out that spring and put it back in," he muttered, and concentrated on pushing buttons and flipping switches. All of a sudden, a mighty roar from the erstwhile silent Kohler filled the bus. We felt like celebrating with champagne, or at least dancing a jig, as Peter and I went around turning on heaters and lights again. How anyone can find the hum of a generator annoying is a wonder to me. To me, it means all the comforts of home, while enjoying a different view and different neighbors every day.